Since we're still fresh into a new year, and baby girl will be joining us in July, Todd and I took the time to sit down and go over our house project goals for 2020. We have several spaces and areas we'd like to finish this year, so it felt right to sit down and work up a list so we have a good idea what we're looking at, and which projects we need to budget for.
While living in a fixer upper, there's never a shortage of new projects that come up. We tackled so many big things last year… projects that really set the foundation for this house and the direction we see everything going. Now that the majority of those larger projects are finished (yay!), we get to add in all the fun elements that really make the house feel more like home.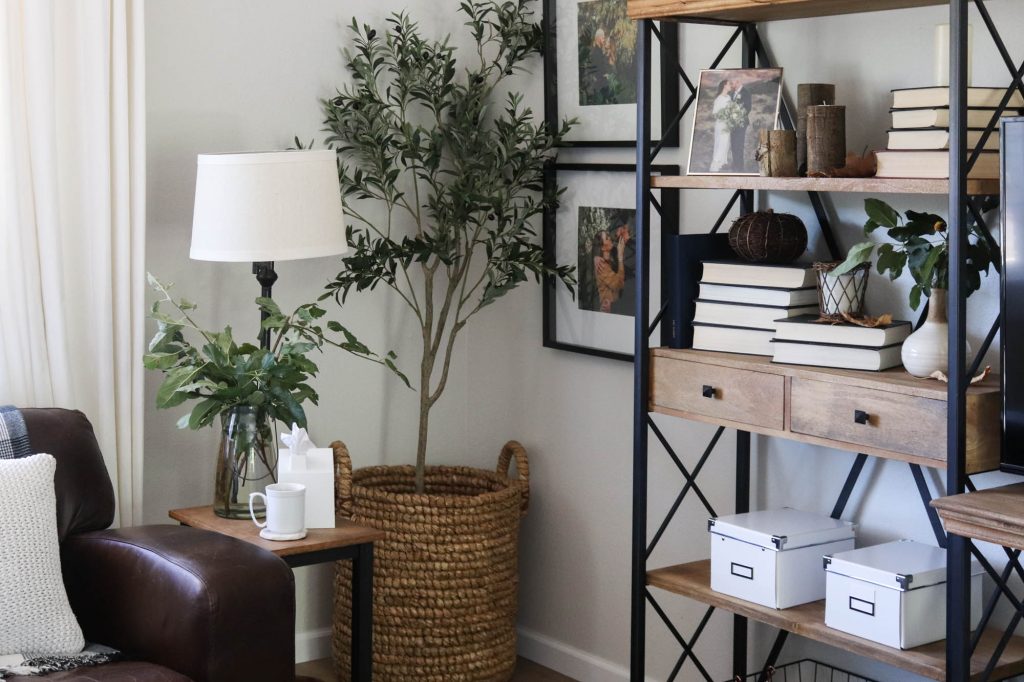 Here's Our Project Goals For 2020:
1. New Garage Doors:
We thought we might get to this last year before winter, but we decided to prioritize our back patio instead. Our current garage doors are in really rough shape. The previous owners of this home ran into them several times, leaving them bowed, bent and letting in a huge amount of cold air, making our garage an ice box. We're planning on installing them this spring, and not only are we looking forward to the improvement they'll make to the exterior of our home, but we'll also be able to park inside our garage… for the first time since buying the house.
2. Remodeling Our Master Bathroom:
This will be our first big project! Since we moved in last year, our master bathroom has been gutted, ready to start the remodel whenever we were. But since we spent the majority of our budget and time on the exterior last year, we decided to leave the bathroom as is, ready to start this year. We'll be hiring out much of the work and I'm knee deep in figuring out the design plan right now. More coming soon!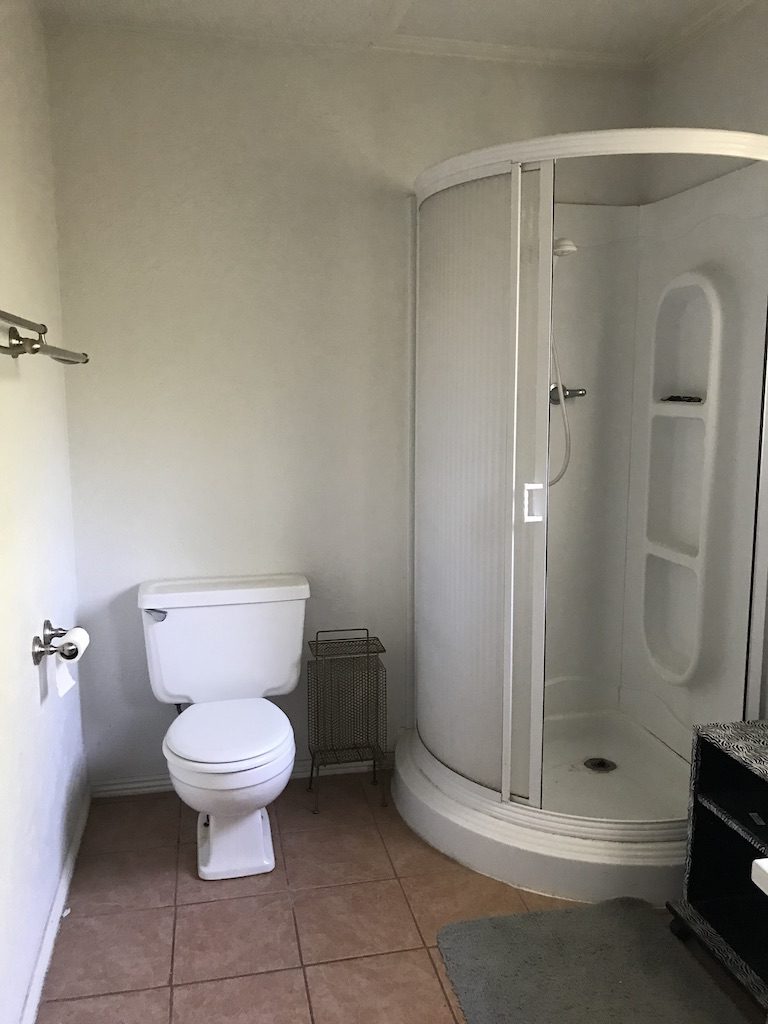 3. Finishing The Kitchen:
I'd be lying if I said I wasn't extremely anxious to have the kitchen finished. We're hoping to have it done by this summer and I can't wait! In all reality, we don't have a huge list of things left to finish, but there's a few larger things left, like building our range hood, installing the remaining backsplash, shelves and a few touch ups on the cabinets. Once all of that is done, we can officially organize the kitchen since we still have several boxes waiting to be unpacked and placed on the open shelves. Plus, I'll finally have the cabinet space for all the spices that live currently live on our countertop, or in a box.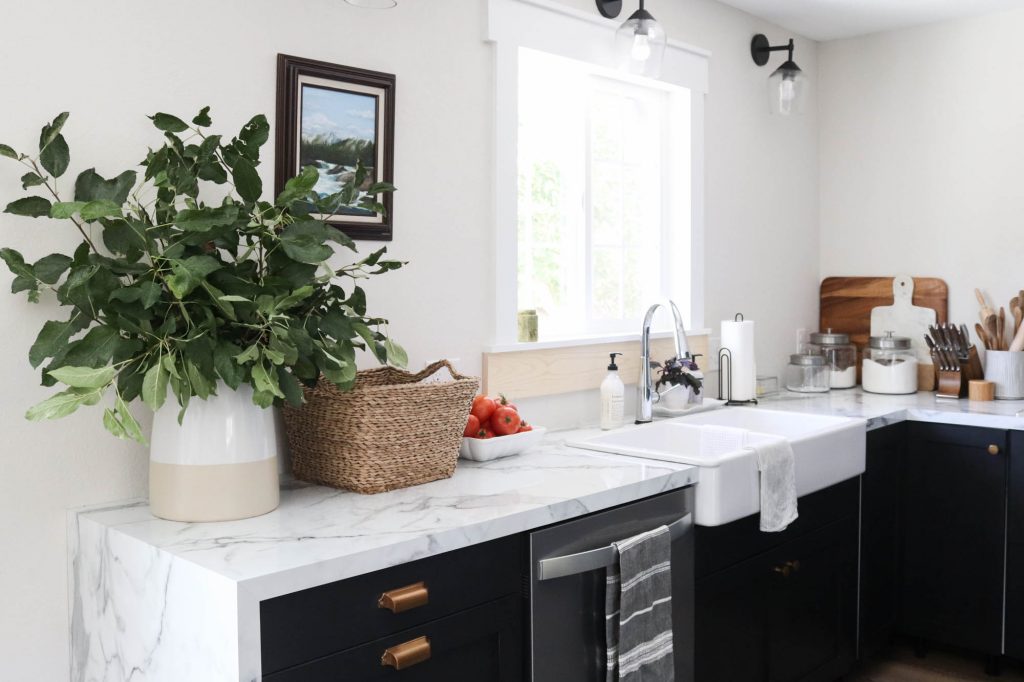 4. Setting Up The Nursery:
With baby girl on the way, and arriving the beginning of July, I'm anxious to start setting up the nursery and coming up with a design plan. We'll be making the current guest bedroom the nursery, and moving the guest bedroom to where the office is. The office will then move downstairs into the living room. I've been working on a design for her nursery, and as soon as I know more, I'll be sharing all the details.
5. Finishing The Hall Bathroom:
Again, there's not much left to complete in this room, but we have a moulding treatment we'd like to do on the walls and we need to finish trimming out the linen closet. All that's left after that, is to hang some artwork and add a few finishing touches. I'm looking forward to revealing this room!
6. Phase One Of The Downstairs Fireplace:
We'd really like to start using the downstairs living room more than we currently are. Right now it's full of miscellaneous boxes waiting to be unpacked in the kitchen and master bathroom. With the fireplace being the center of the room (and really the elephant of the room), we'll be doing a 'phase one' makeover which should drastically improve the entire living room. I'm not exactly sure when we'll tackle this space, but paint will play a large role, as well as some Ikea cabinets. Here's what the room looked like right after we installed our new floors…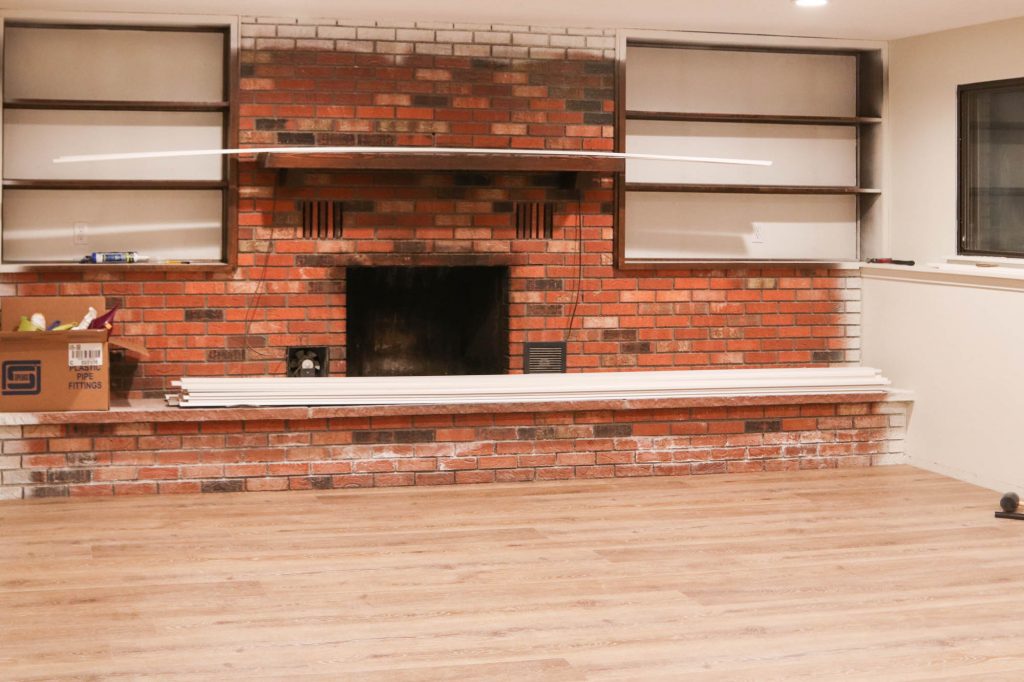 7. Installing New Stair Treads:
Since ripping out the carpet and giving them a good cleaning, we haven't touched the stairs. I'm excited to install the new treads and trim work, which will really, really, really finish off the main living area. We're still not sure what we'll do with the existing handrail, but luckily, with the way the stairs are built, we can update the stair treads without touching the handrail… for now.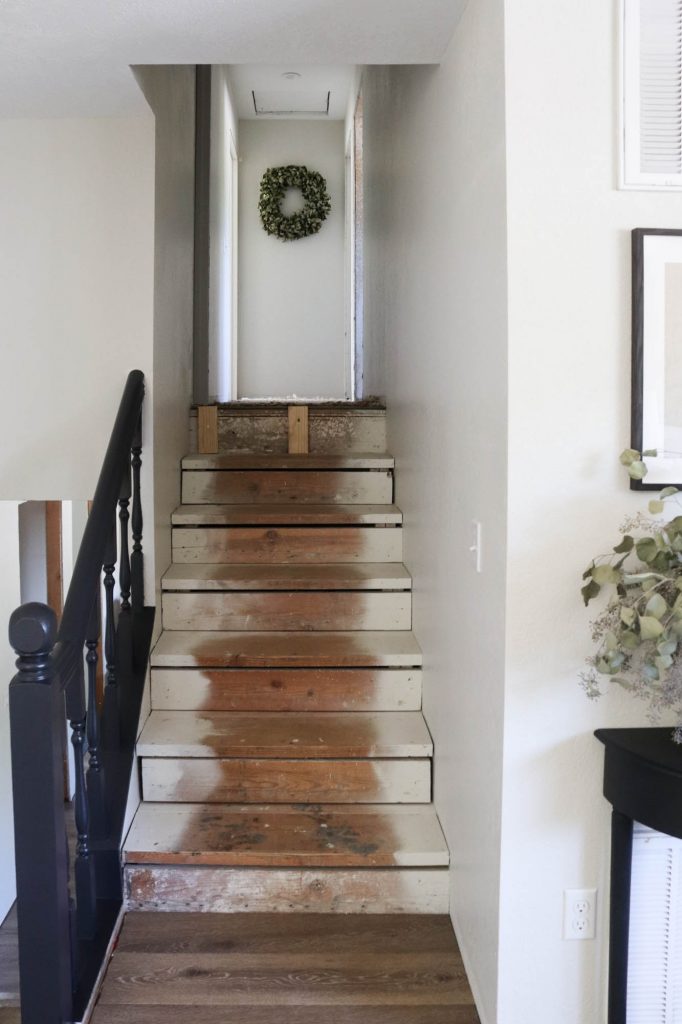 8. Finish Installing Base Trim:
Todd made excellent progress on installing trim this past fall, but there's still some areas that we don't have trim installed in, like our upstairs hallway, an area that connects to our stairs, and much of the basement. That leads me to the next item on our list…
9. Installing The Last Two Interior Doors & Closet Doors:
Last fall Todd also installed all the doors in our upstairs hallway, as well as our main level coat closet. I'll share a proper update on all of that soon, but there's still two doors to be installed in the basement. As soon as they're in, we can finish the trim in the basement.
We also need to install closet doors in all of our upstairs bedrooms. That will allow the last few missing pieces of trim to be installed in those rooms as well.
10. Install A New Light In The Dining Room:
Let me just say it, our dining room is in rough shape. There's so many different things that aren't really working for the space, and I'd like to spend some time improving this small area that's right in the major walk ways of our kitchen, and the two exterior doors to the garage and our back patio. We need a new light in the space, but I'd like to find the table and chairs first, before really heading in any sort of direction. All I know is, we're constantly hitting our head on the existing light and it's both frustrating and annoying. The dining room will definitely need its own blog post.
11. Installing Moulding In The Upstairs Living Room:
This will be a bonus project if we get to it, but I'd really love to add some wall moulding and details to our main living room. It's feeling a bit bland to me, and I can't stop visualizing how the room would look with a touch of character added to the walls.
We're also planning on getting a new rug for the space and a few new furniture and accessories. Many changes are coming to this space.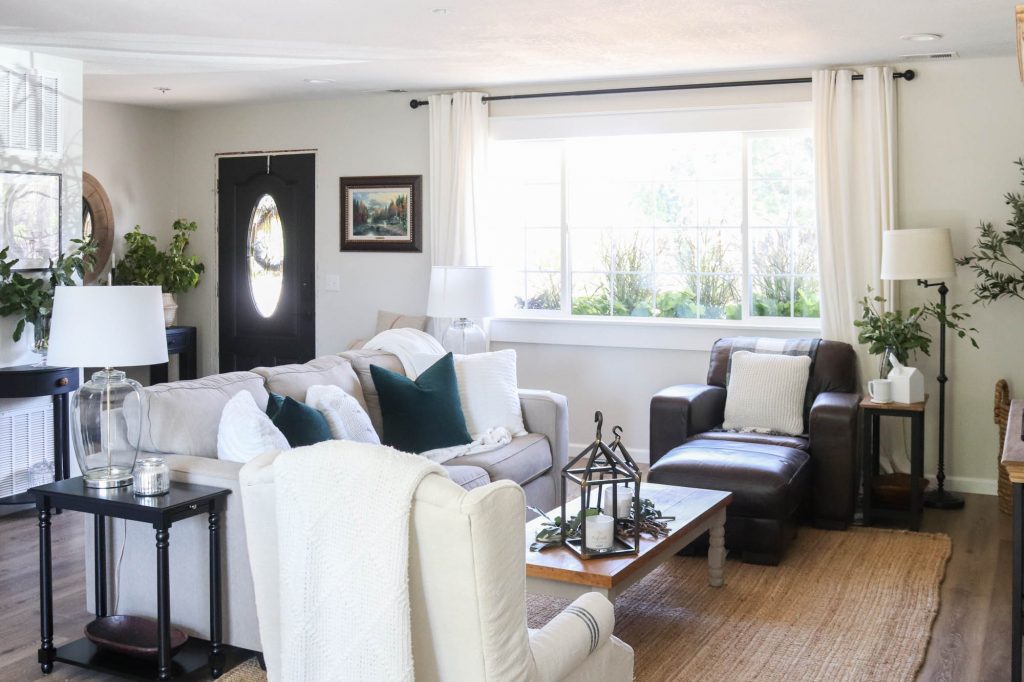 12. Installing Missing Lighting:
We have several rooms in the house without lighting. Our upstairs and basement living room still only have open ceiling boxes, just waiting for lights. All of our bedrooms also need ceiling fans installed. Even though we installed central heating and cooling throughout the house, our upstairs level gets really hot in the summer. Last year we made it work without installing a fan, but we won't do it for another summer.
13. Laundry Room Progress:
We made a few big strides in the laundry room last year, but it's time to finish a few more projects that are laying around. I know we won't get this space finished entirely, but at a bare minimum, I'd love to get our countertops installed, cabinet door hardware on and perhaps some backsplash added… the list is long in this room.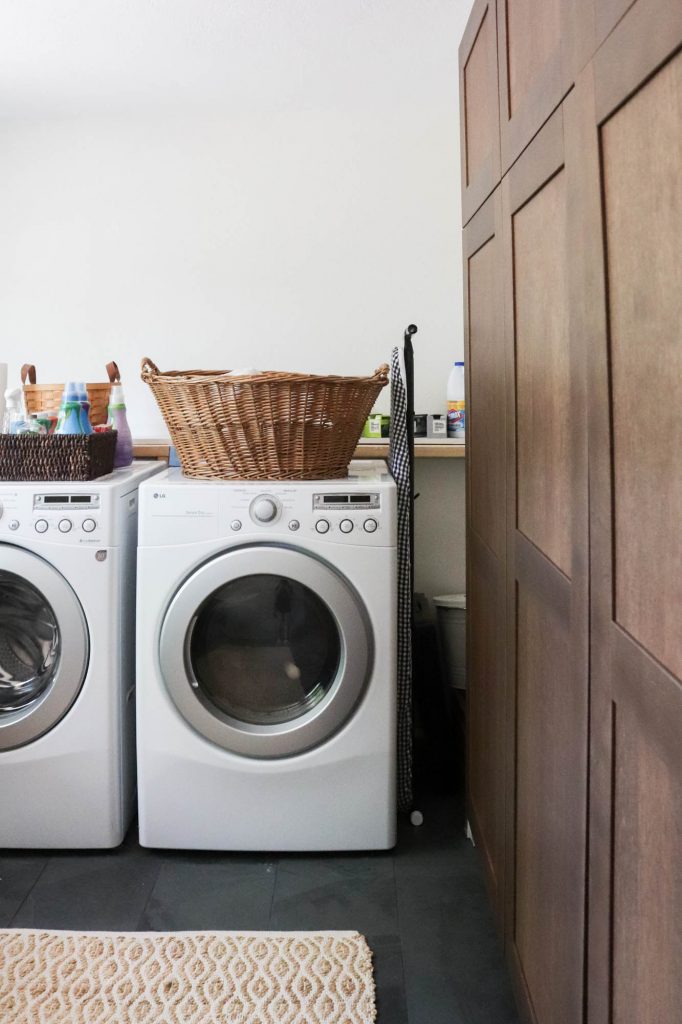 14. Landscaping:
This is such a loaded item on the list, as we have so much landscaping and yard work that needs done. We finished installing the sprinkler system in the front yard last summer, as well as the new curbing and grass for our yard, but we have bare flower beds just waiting to have plants installed… and if I'm being honest, I can't wait to get my hands in the dirt this spring and summer and plant some new plants.
The backyard, however, is a wreck. That's really the best way to describe it. We did make great progress by installing our new back patio last summer, and that was the goal. We needed to have the patio installed so we could work outward and start on the yard area. This spring, we'd like to get the sprinkler system installed in the backyard, as well as doing dirt work to level things out, install grass and work in the garden. A few weeks ago we had the large willow tree in the backyard trimmed. It's been neglected for so many years and the amount of limbs it was shedding was insane. Things are already looking better.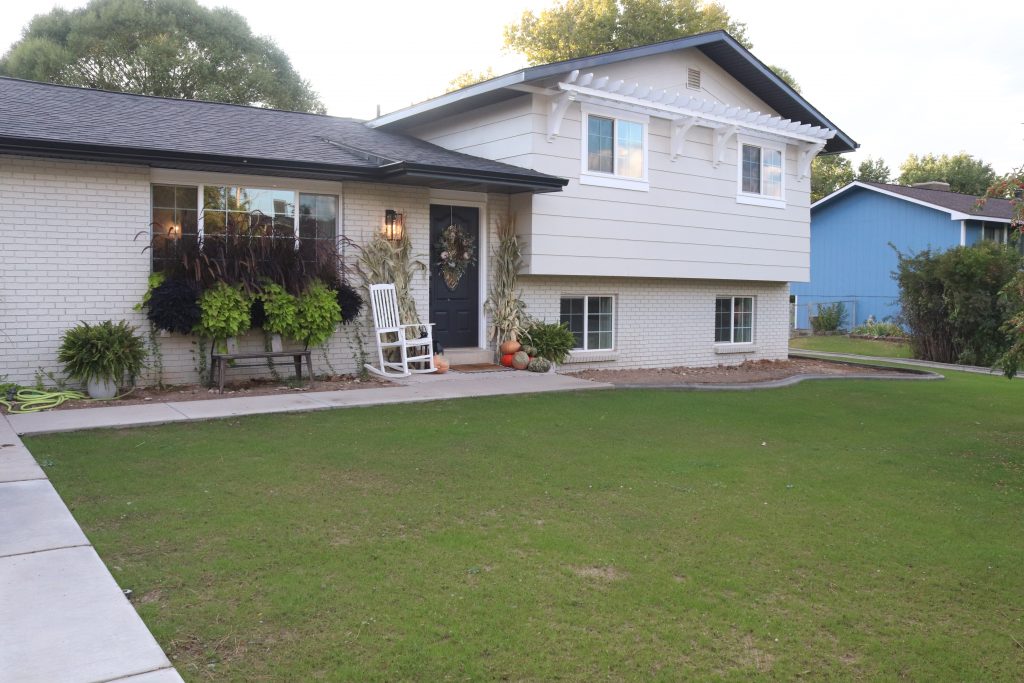 15. Setting Up The Back Patio:
Last year we started the fall season by having our new back patio installed. There really wasn't a bunch of time to get the space set up before putting things away for winter, so this year we're really looking forward to setting up this outside space, buying new furniture and spending the summer eating outside and having a nice place to lounge after long days of landscaping.
16. Installing A New Privacy Fence:
While this may be a dream project of mine that doesn't happen, I still want to add this into our list. We'd like to have a privacy fence installed on one side of our property, at least to start. Our backyard is large, and open for all the neighbors to see into, and while it's nice to have the open air, we'd really like to be able to use our backyard without having our neighbors looking in on us when we use our backyard space.
17. Organizing:
I have my work cut out for me on this one, but we have so many spaces that need organized. The storage in this house is really quite bad. Without any linen closets, there's so many items we need, but don't have a place to put. I'll be doing some creative organizing, and I have a few quick and easy projects I'll be sharing.
---
Phew! There's a lot we'd like to get done this year, but we're more determined than ever to finish up so many areas that need it, and some of the projects we've already started! First things first though, we can't wait to start on our master bathroom! I'll be sharing our design plan next!