Oh. Man. I am so excited to share one of my biggest furniture makeover's to date! Early this spring, I decided it was time to put to use, and really use, our back patio. Until a about a month ago, we had a huge, lovely patio with random miscellaneous furniture. And some of it wanted to blow away when the wind hit. I was tired of chasing chairs across our farm fields.
And as soon as I made up my mind to finally buy a new patio set, our dishwasher decided to skip out. Needless to say, I wanted a dishwasher more than patio furniture. So, just like that, my furniture budget was gone. My determination and desire for a patio set, however, was still there. What's a girl to do?
About a week later, I was browsing Craigslist, and wouldn't you know, I found an indoor wood furniture set. The next day, I grabbed my aunt, and we went to look at. It was in great condition, and for $60! I loaded it up and brought it home! Time for a makeover!
In between our really, really rainy weather, I was able to get it painted, and sent the cushions to the upholsterer. This set isn't even the same 1970's set. I am beyond thrilled with how it turned out. It's completely perfect for our patio. It's heavy, easy to repair, large, comfortable and a full 5 piece set!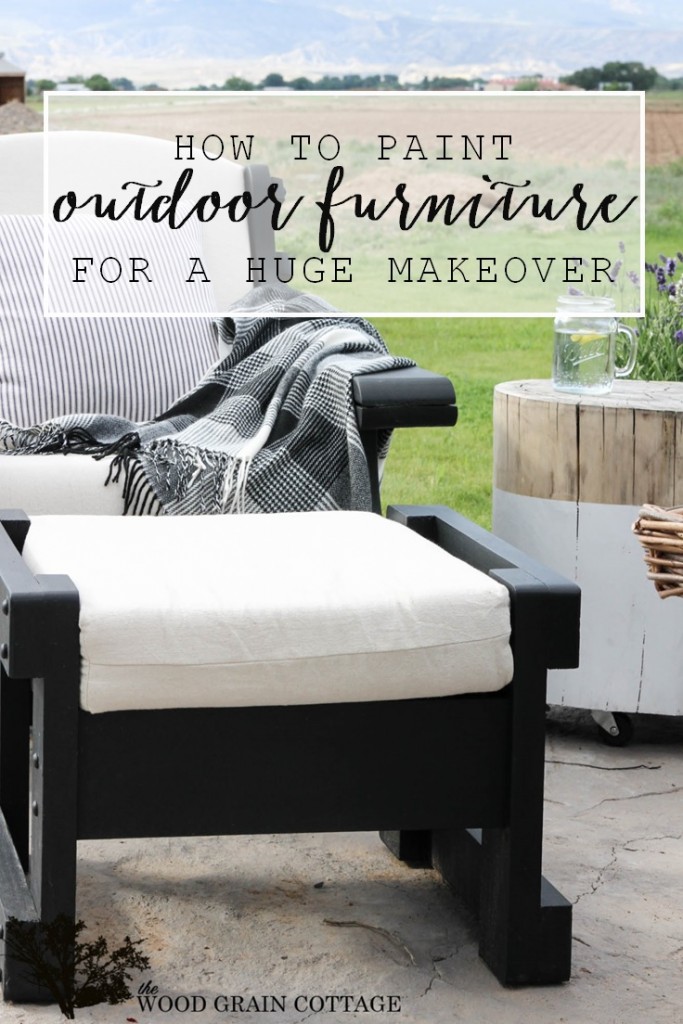 Here's what it looked like before…. yowzer.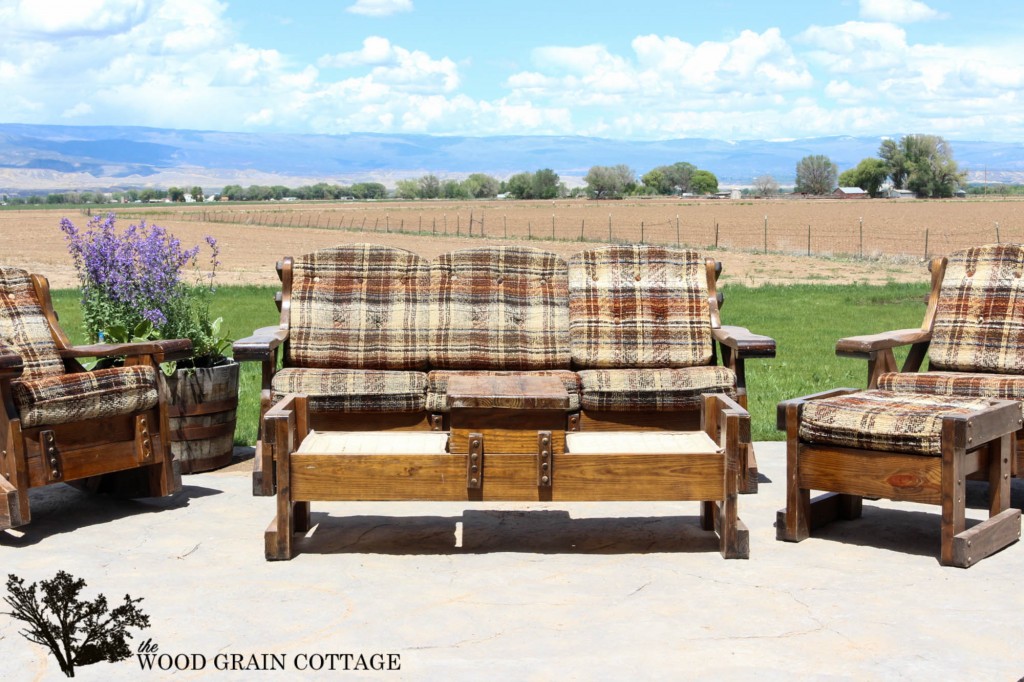 And after…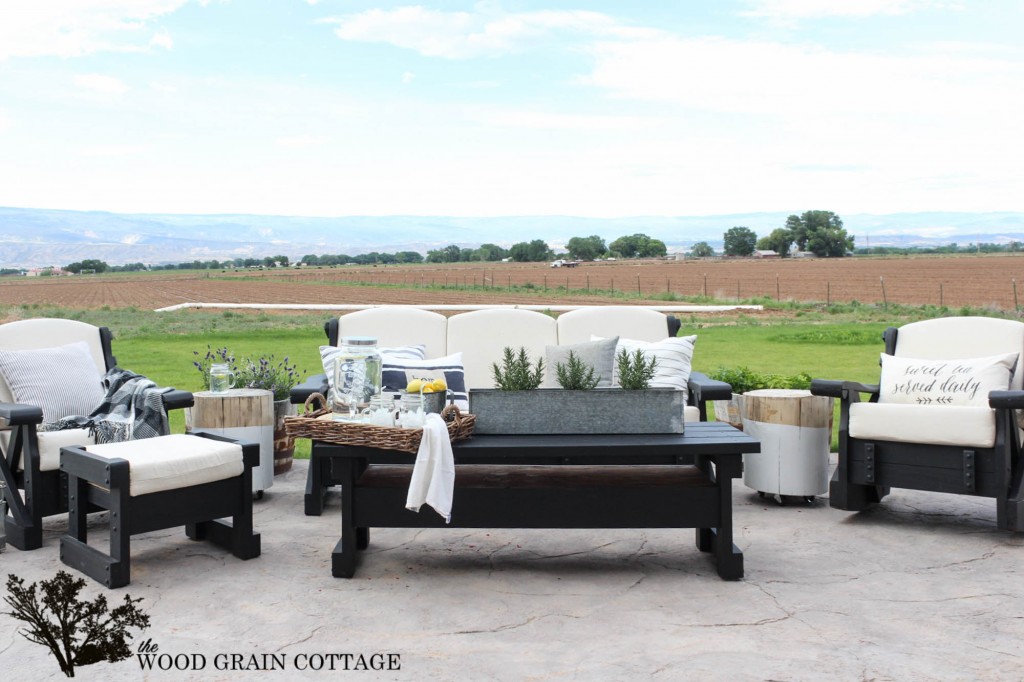 Night. And. Day. Difference. Right???
I promise it's the same set. I knew when I saw it that it had potential, but I didn't think it would look this good!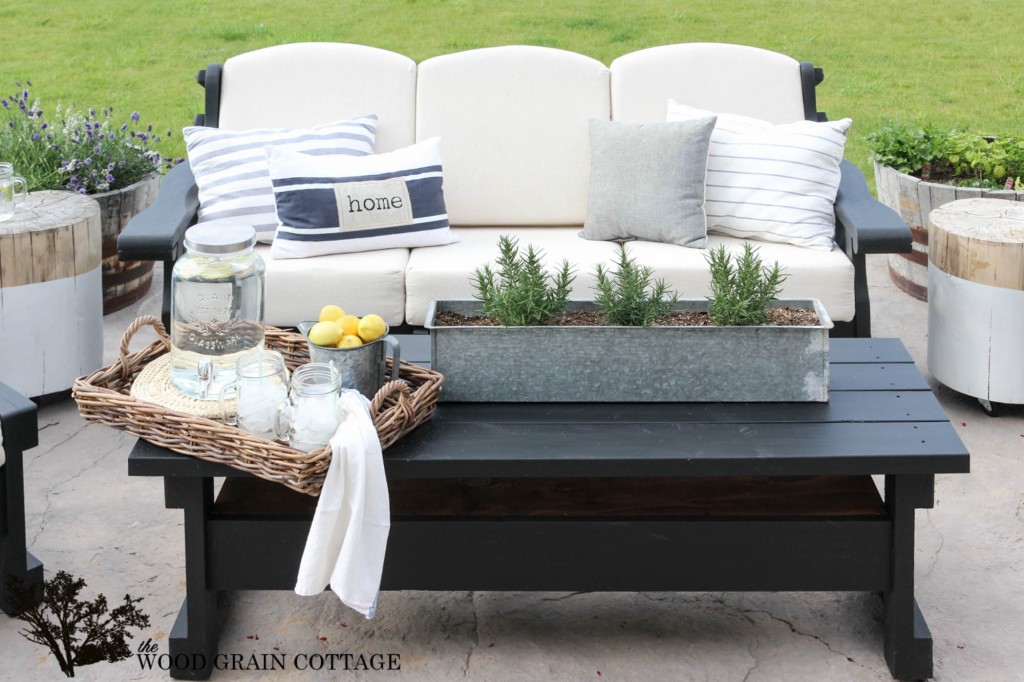 Pardon my picture overload.
Here's how I did it…
I started by cleaning it off with a damp rag, then made sure it was dry…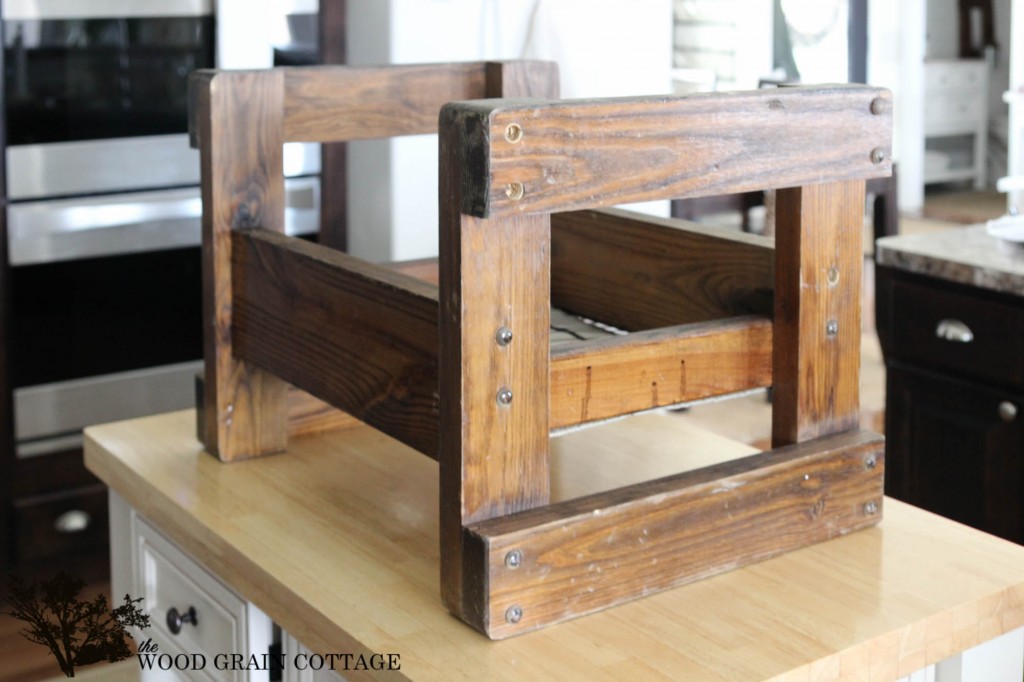 I bought replacement wood plugs at the hardware store to replace the missing plugs, then used the outdoor paint from Maison Blanche in Wrought Iron. I gave it a light first coat…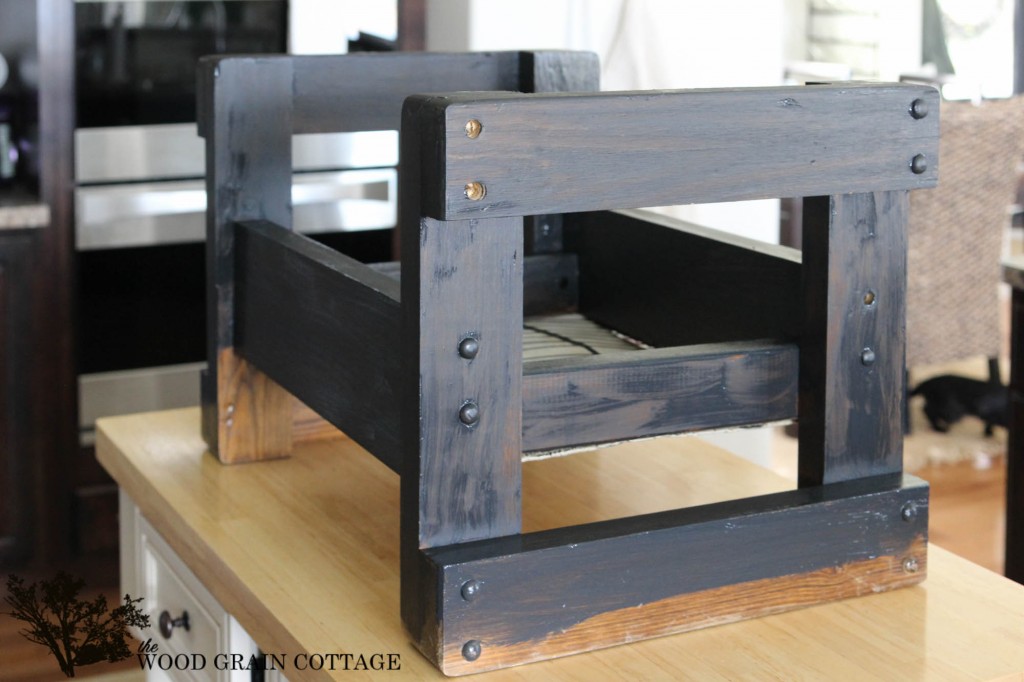 Then, another one…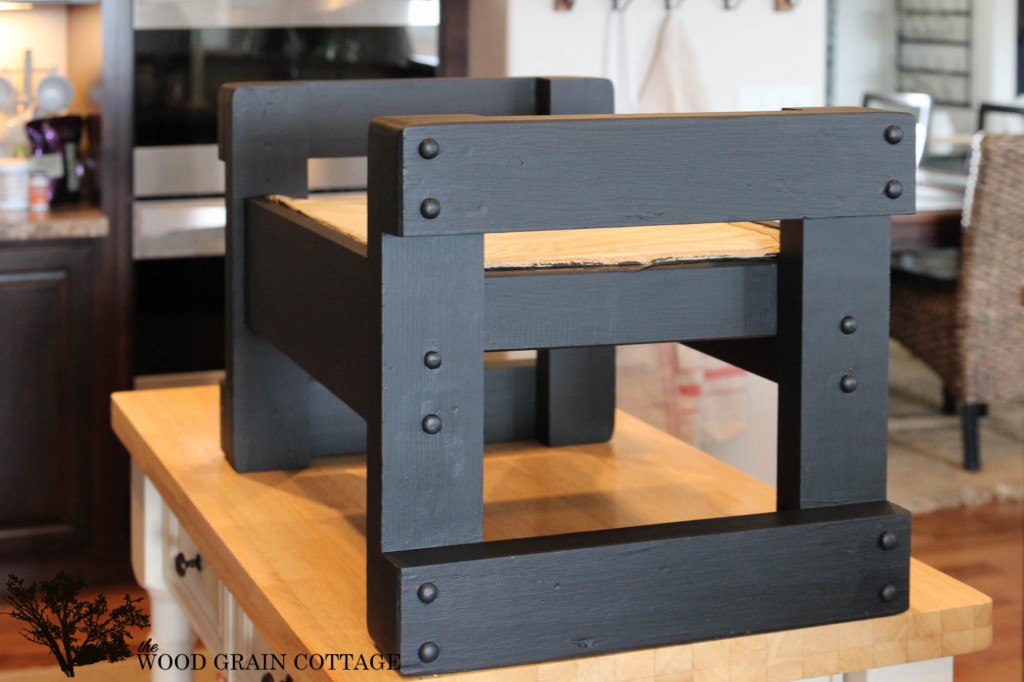 And once the paint was dried, I brushed on some matte varnish…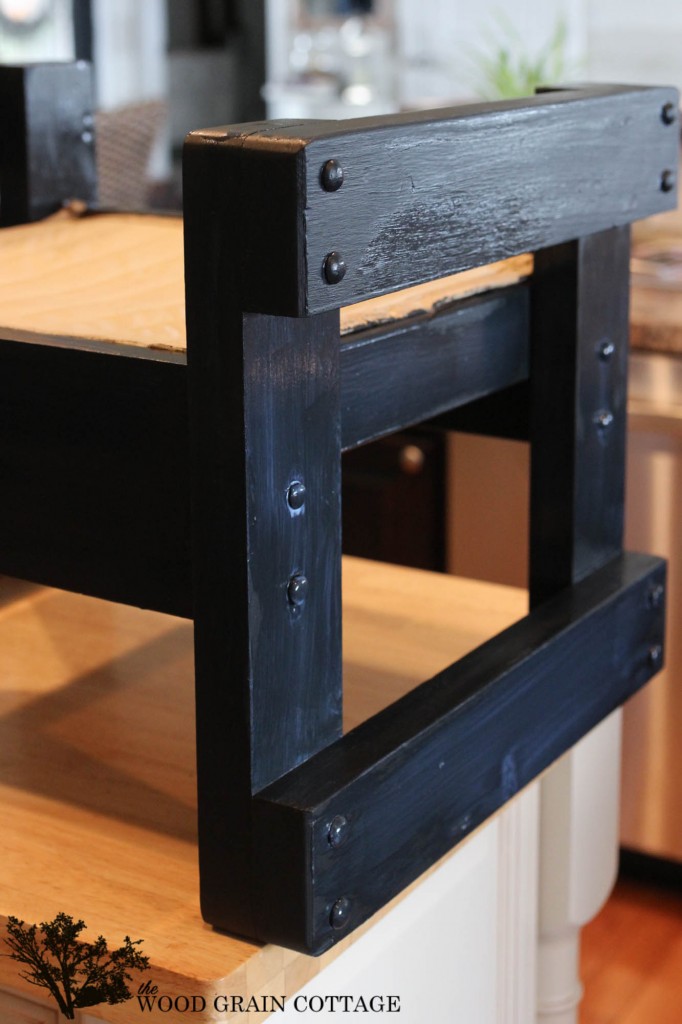 When it dried, you couldn't even tell I had brushed it on… Love that!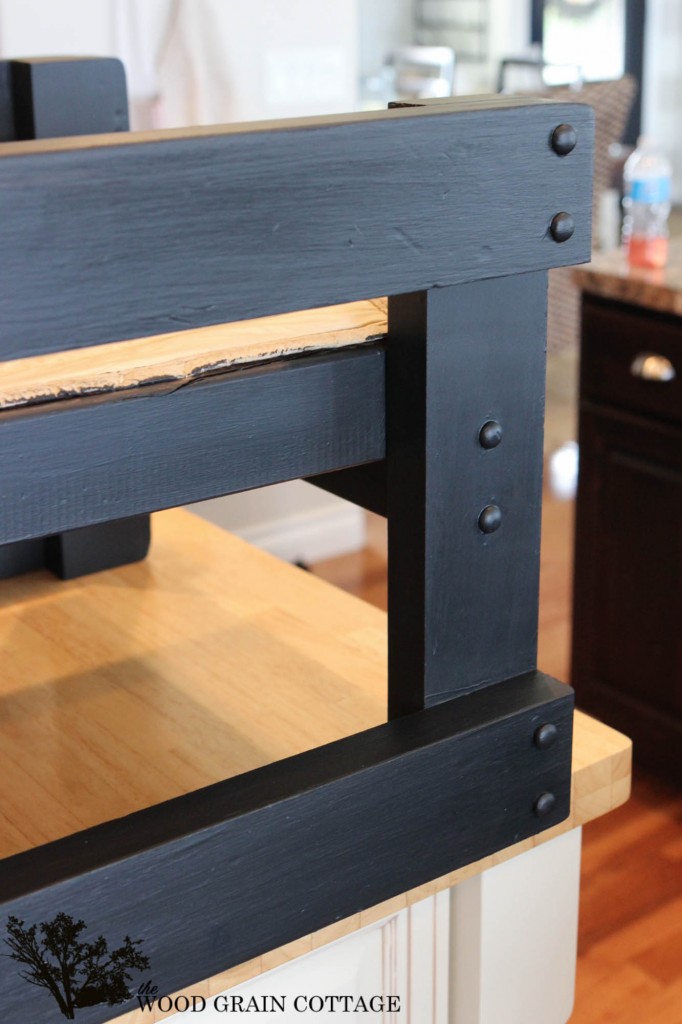 I did the exact same thing with the rest of the furniture outside, in between down pouring rain, covering it with a tarp, and getting drenched in the process. All worth it, of course. 🙂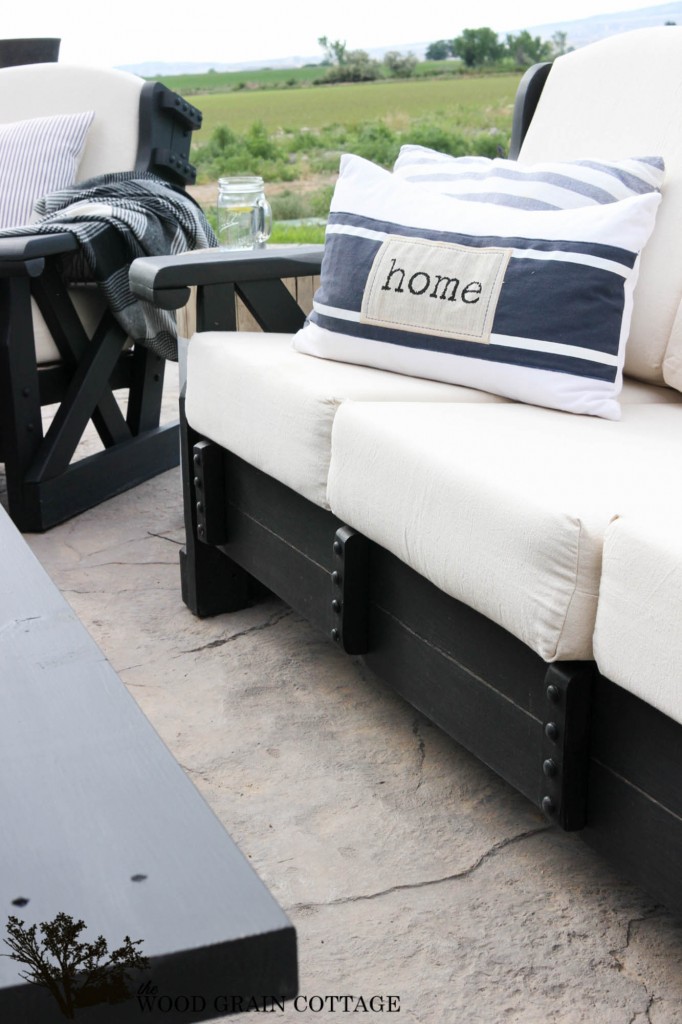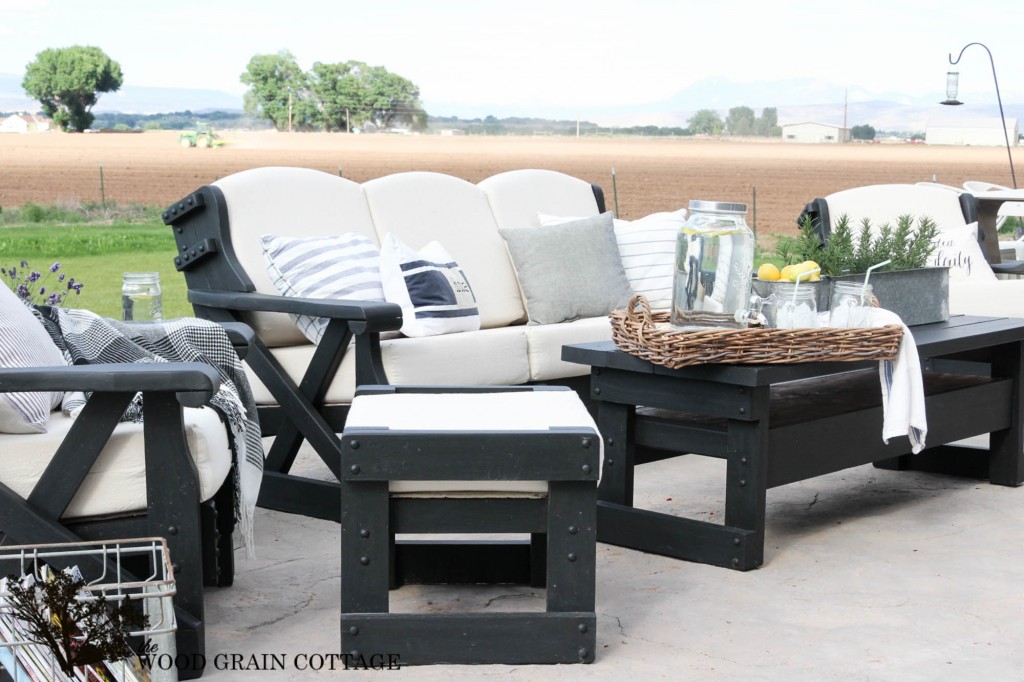 You may notice that the coffee table is a bit different, we changed a few things. 🙂
Before: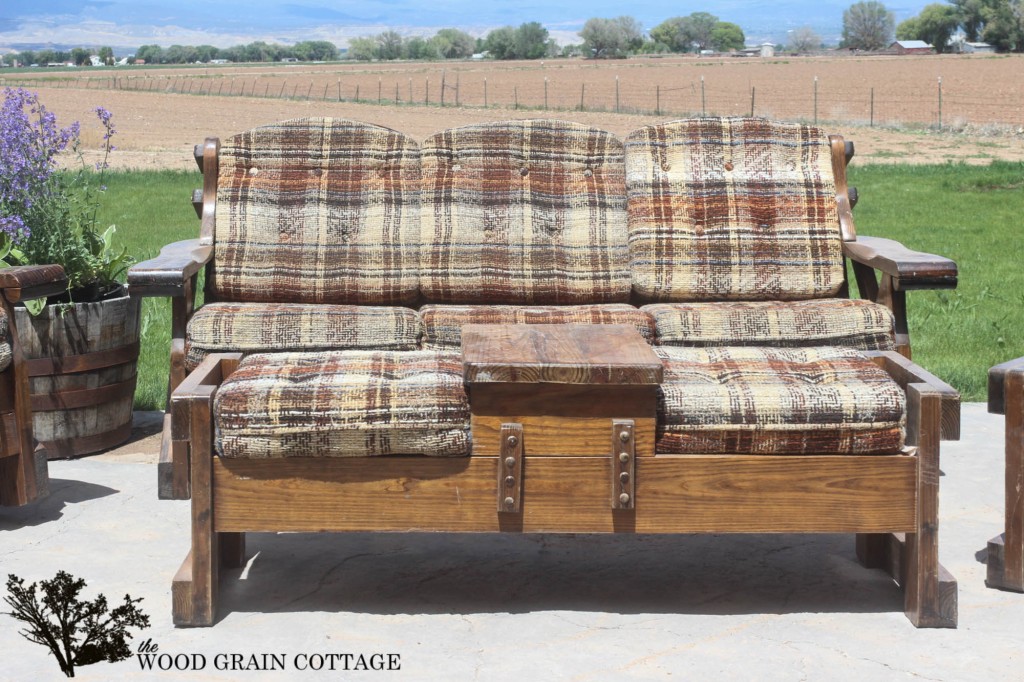 After: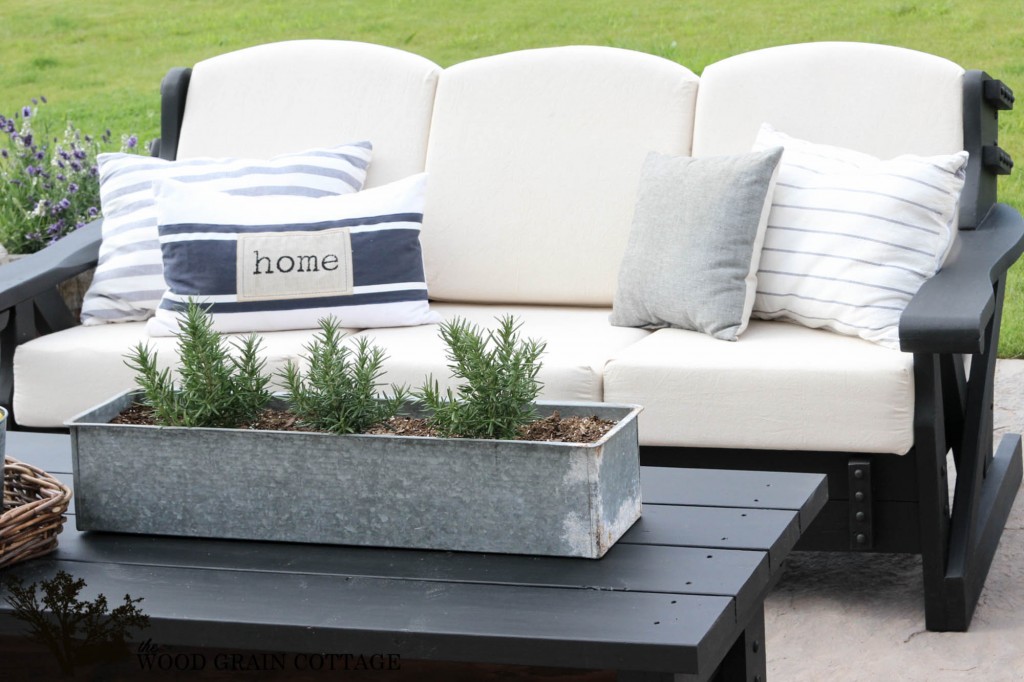 I'll share the tutorial a bit later, but it's one of the big transformations that brought the set back into style.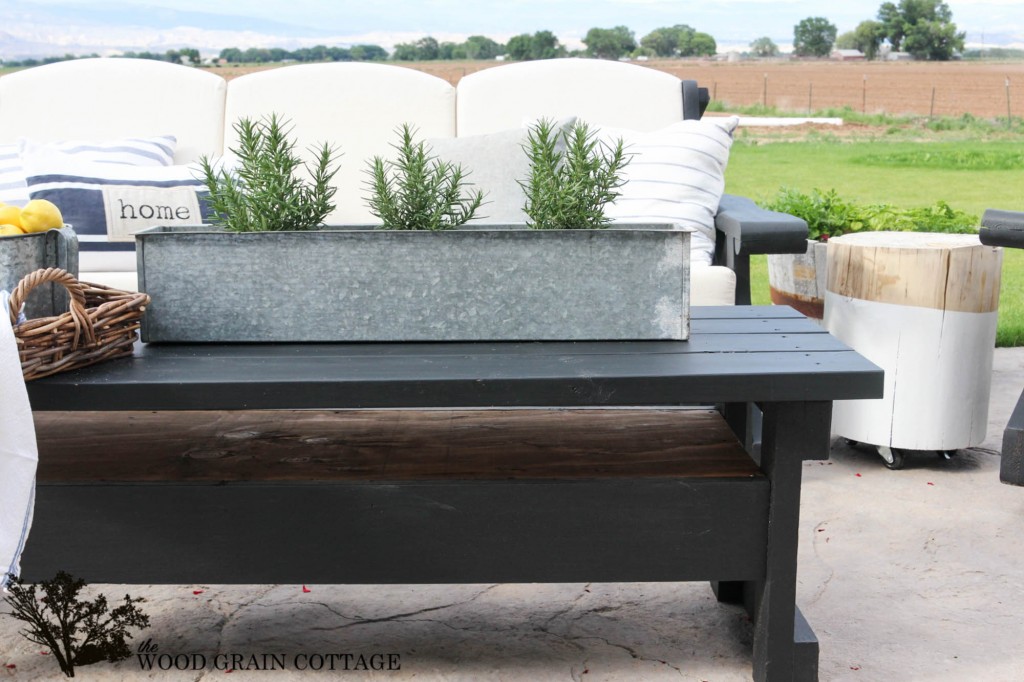 I can honestly say, this chair is one of my favorite places to sit…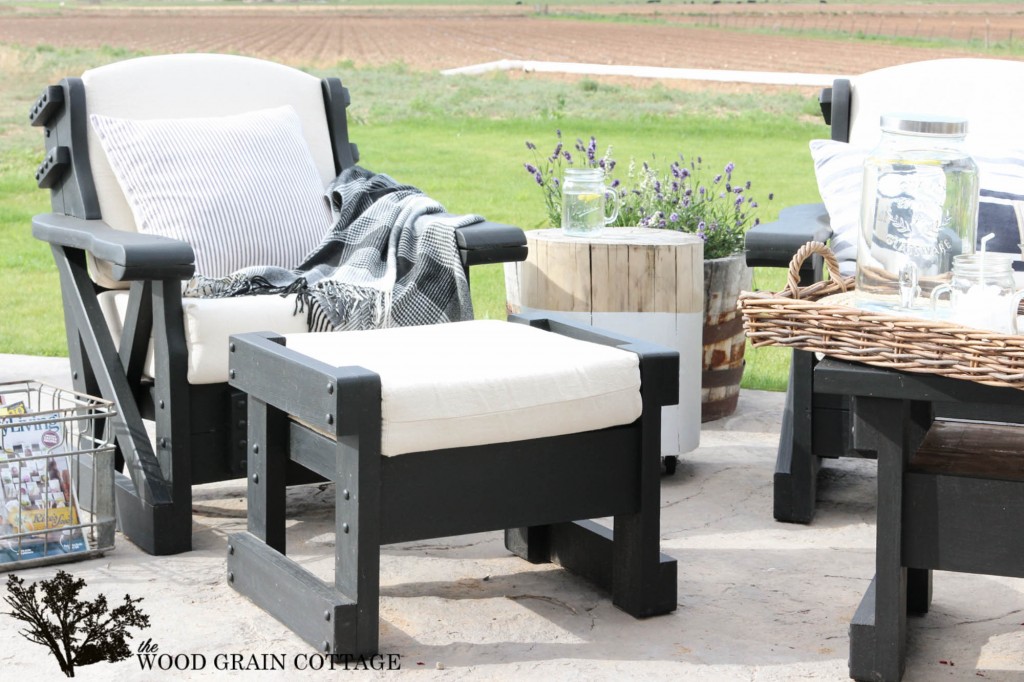 But… this is how it started…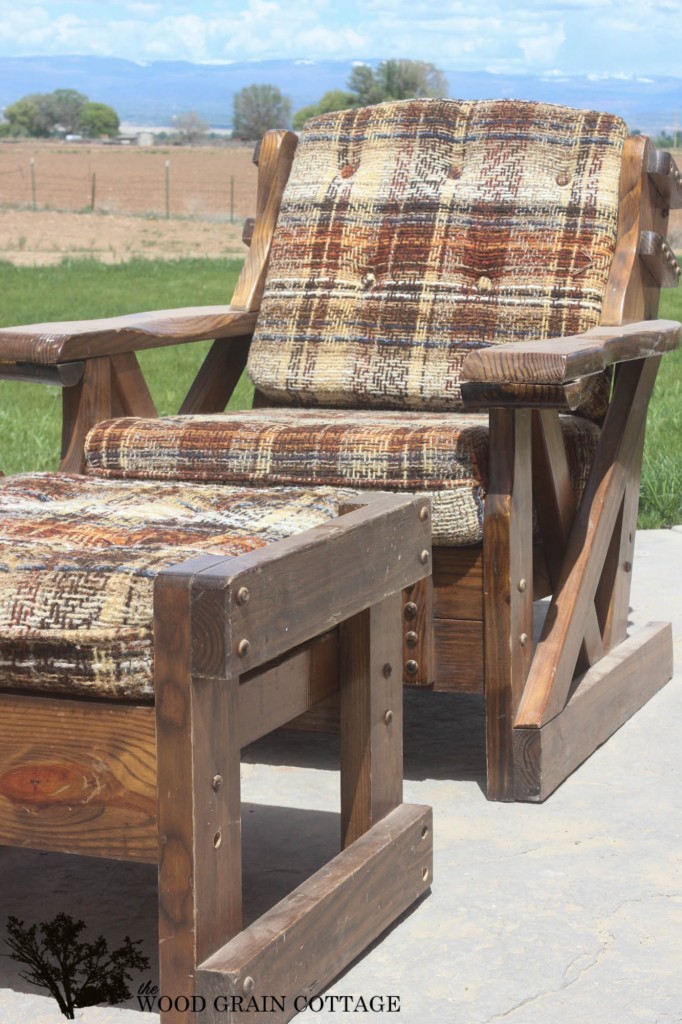 So. Much. Better.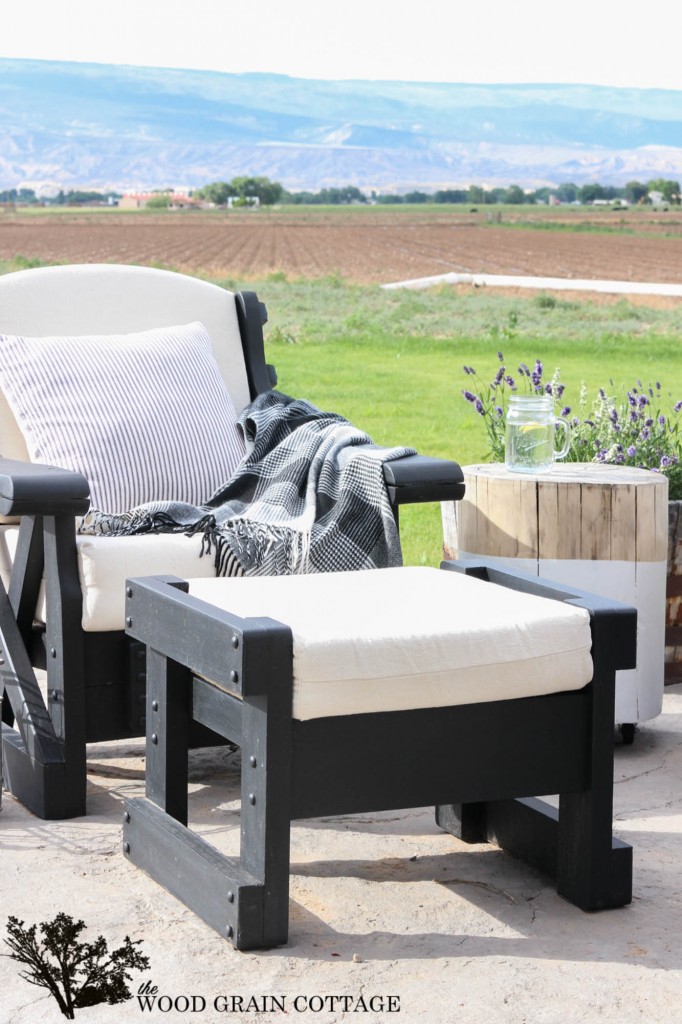 And the rocker?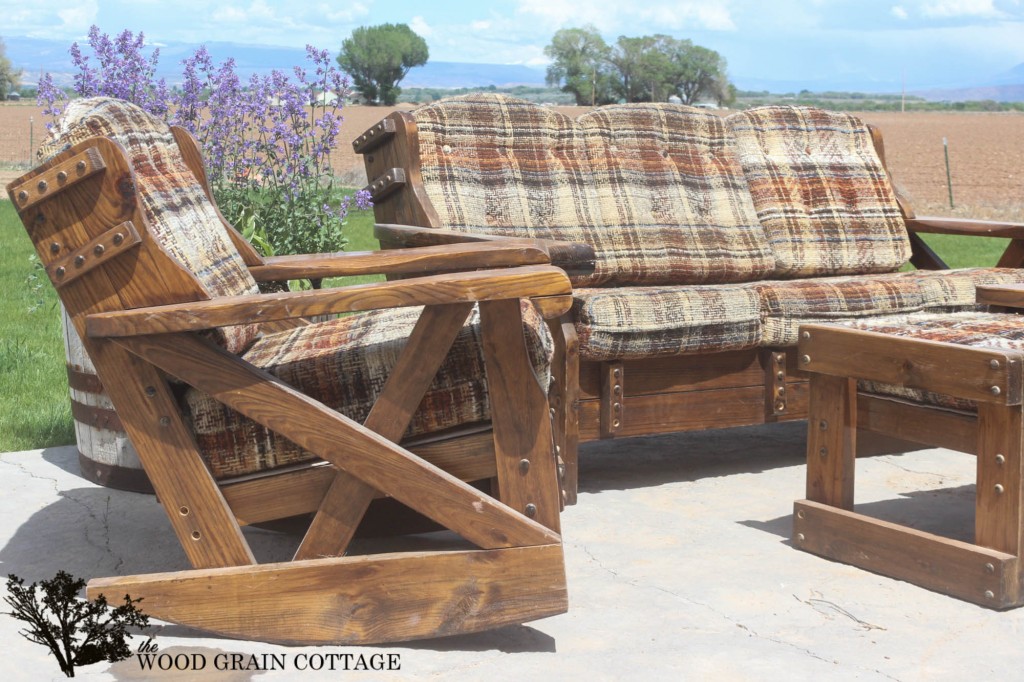 Well, it's one of the best things!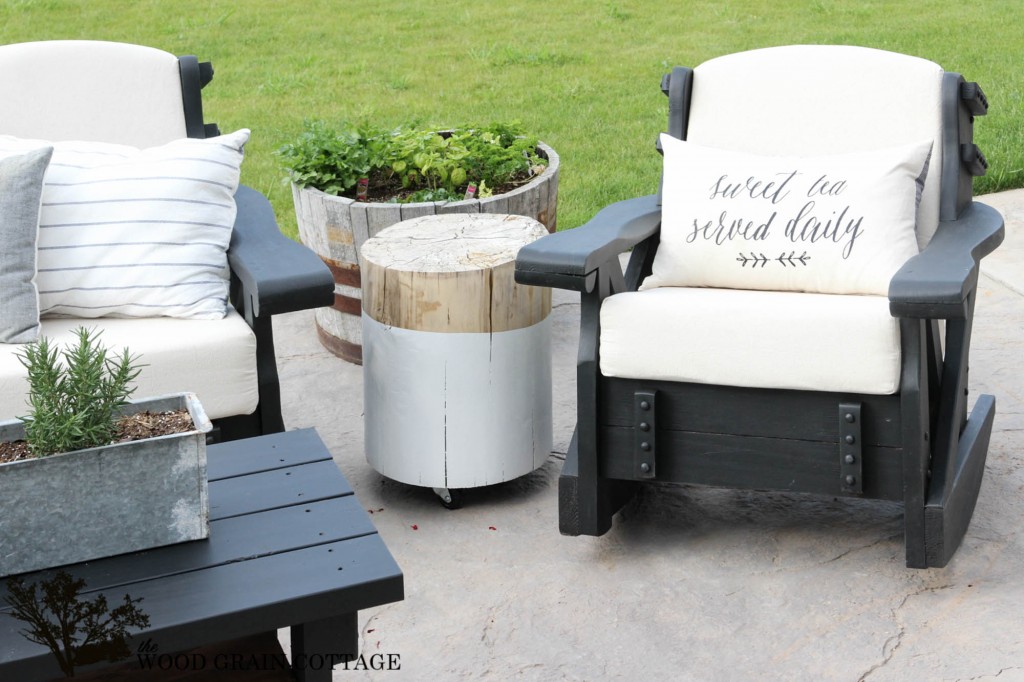 And so comfy!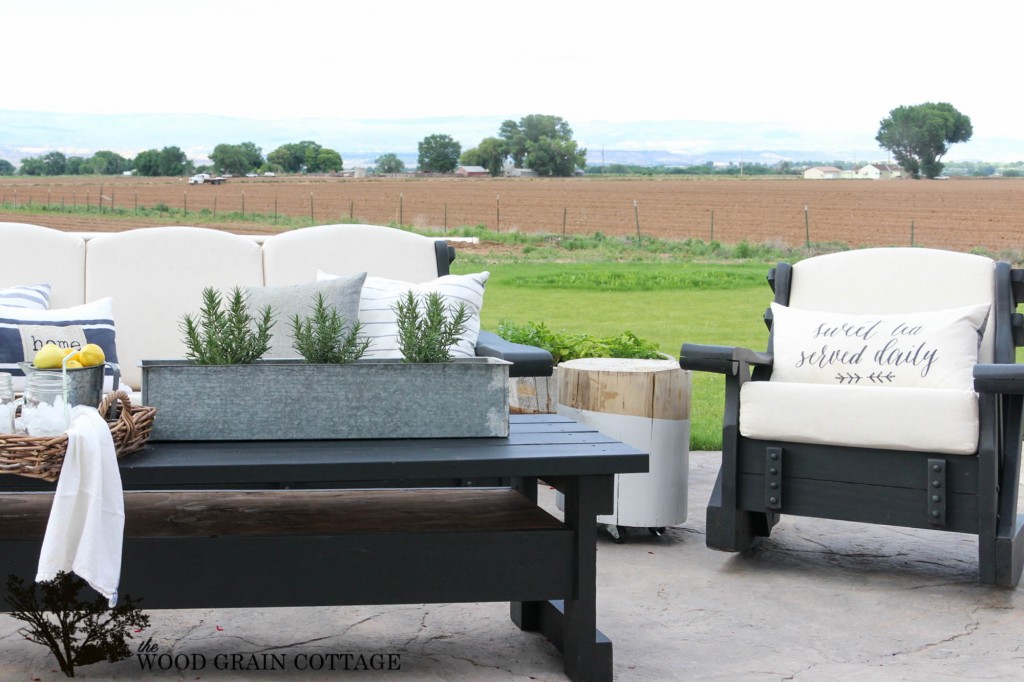 This whole set just makes me smile. Yes, I had some money in the new upholstery, but I saved money on the fabric, which is canvas drop cloths! It's held up beautifully, but I have been bringing the cushions in when it rains, which seems to be all the time.
I'll share more on the cushions, and how I prepped them for outdoors a bit later. In the mean time, I can't get over the makeover.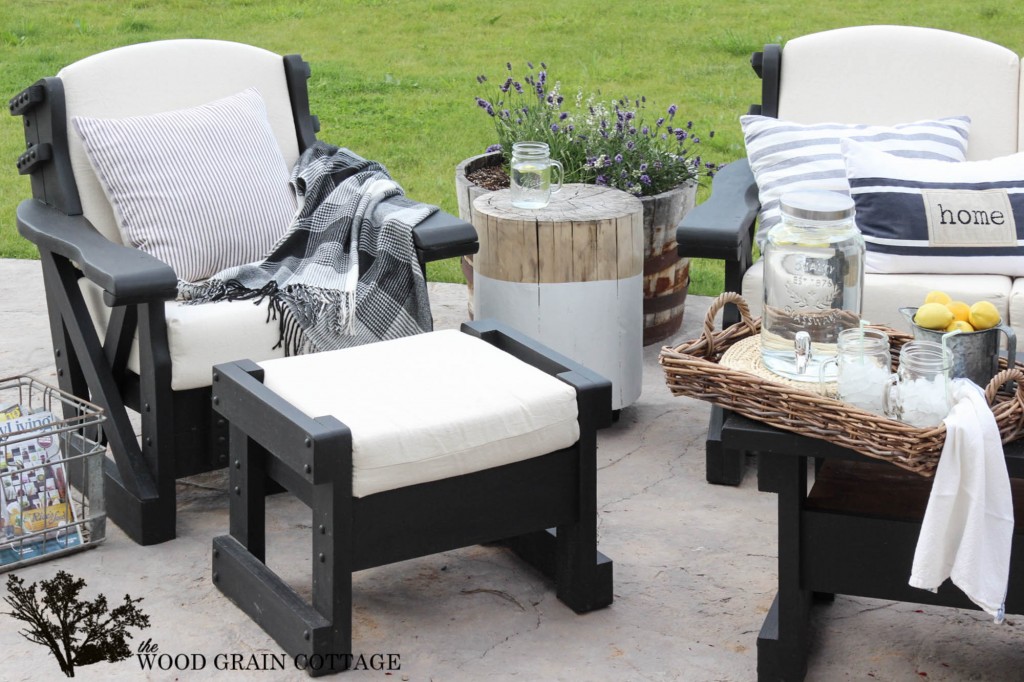 And I can honestly say, the paint has held up amazing. We get a lot of wind, rain and sun. This is what it usually looks like, but it's easy to wipe off with a damp rag.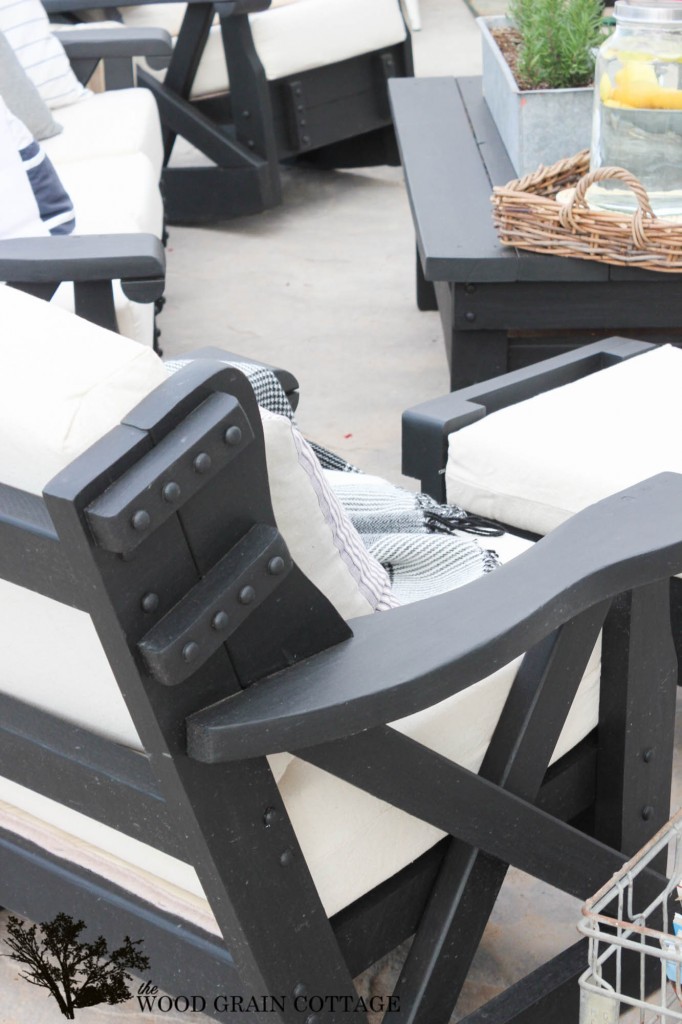 Truly, I couldn't be happier!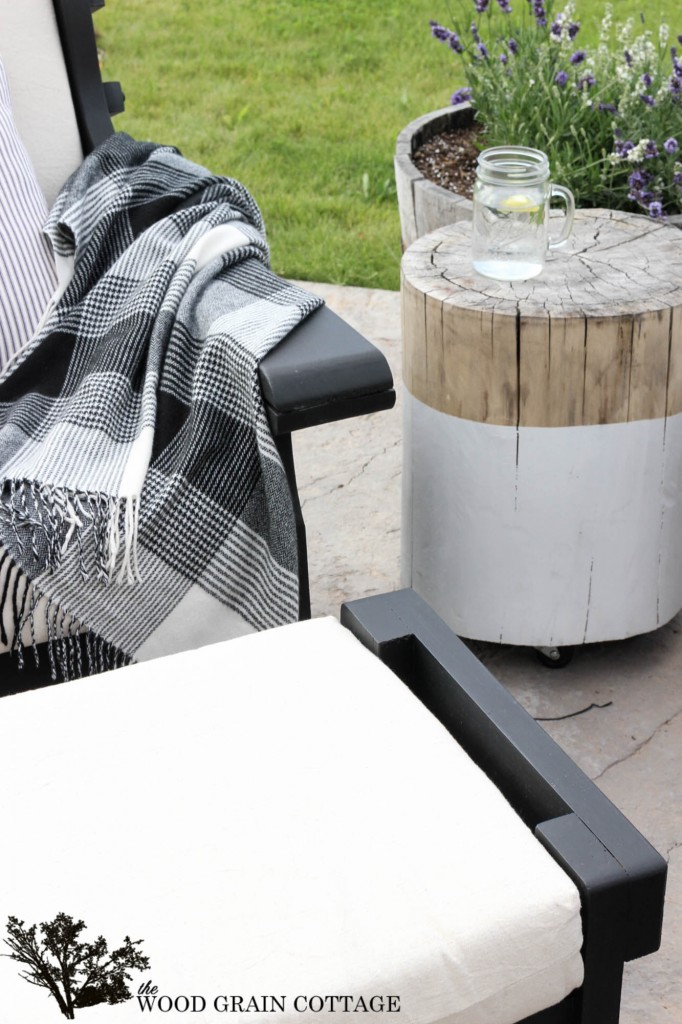 I'm really, really, really looking forward to lounging out here this summer.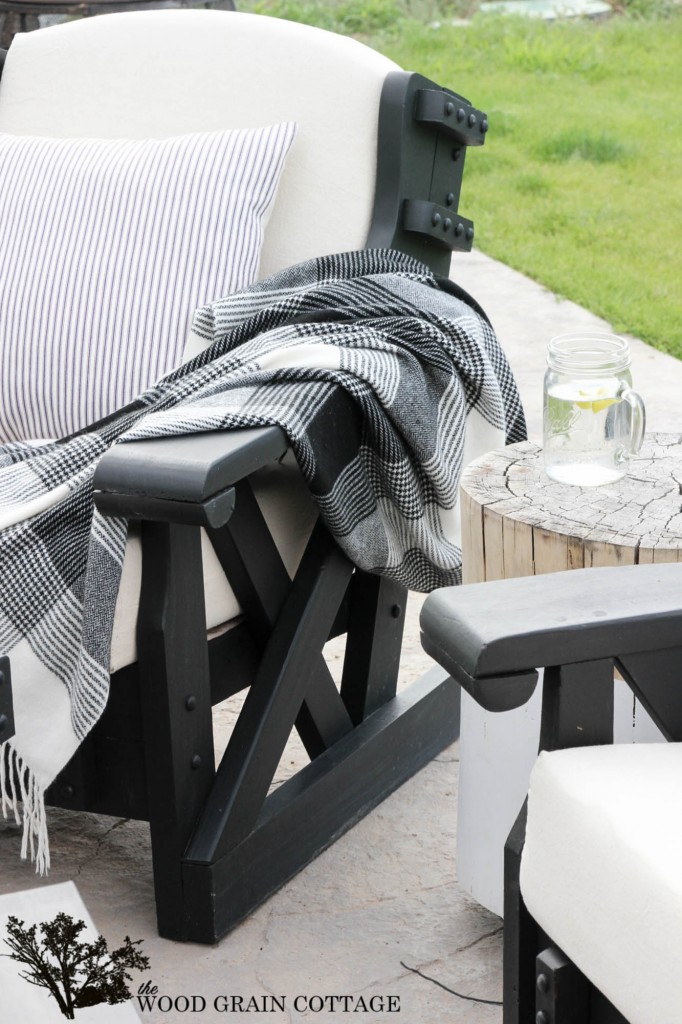 And because I've been spending more time on the patio, I've been sprucing up a few other things, and have a list of other projects to do…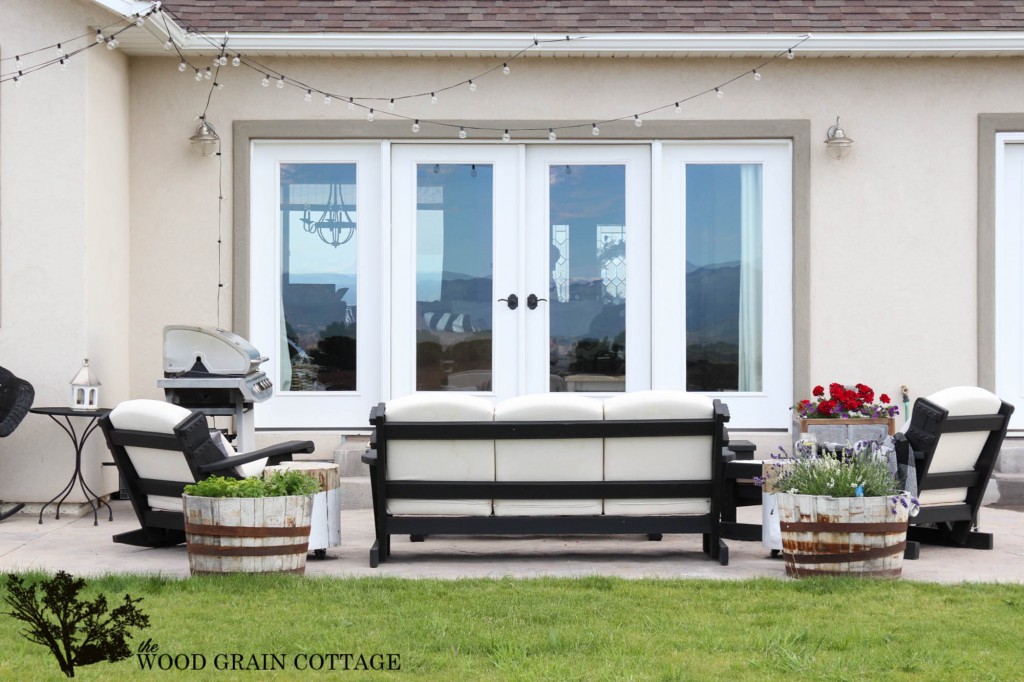 In the mean time, I am enjoying how far we've come in just a few months, and a few coats of paint! 🙂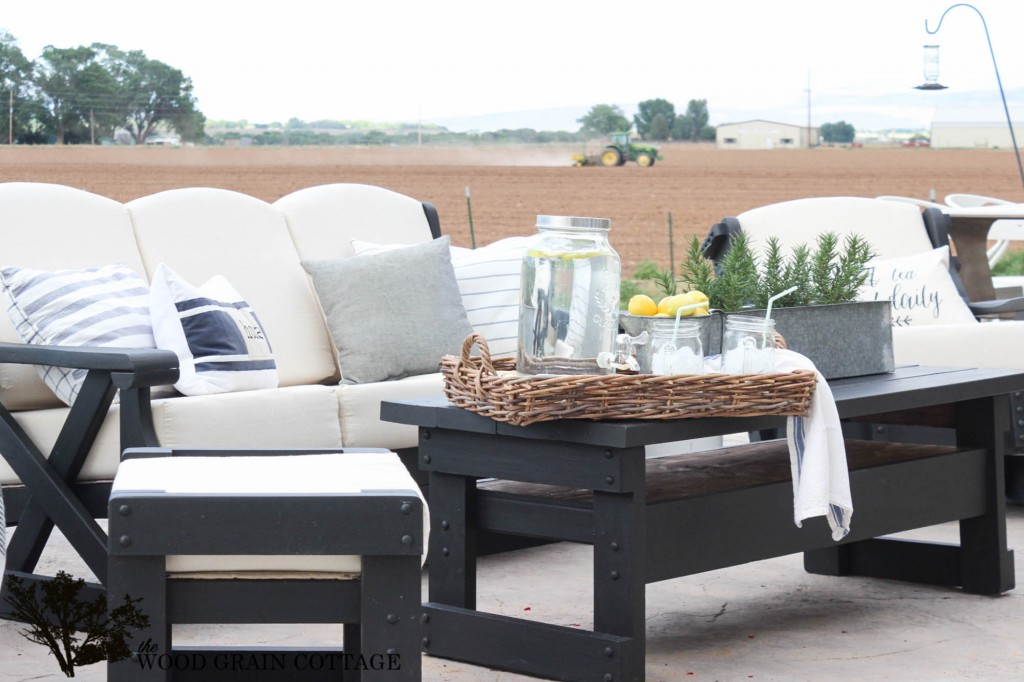 Now, be sure to stop by and see what these other fabulously talented ladies did!
Jenna Sue at Jenna Sue Design
Liz at Liz Marie Blog
Allison at The Golden Sycamore
I can't wait to take a peek at their projects!
I'll be back to share some more info next week! 🙂
For more details about the paint (and step by step instructions), you can check out Maison Blanche's You Tube Channel. There's lots of great information and tutorials. To buy the paint, see the list of retailers here.
P.S.- I received product and/or compensation for reviewing Maison Blanche Paint Company products. However, all opinions about their paint, finishing products and my patio furniture makeover are my own! For my full disclosure policy, click here.