I'm so incredibly excited to share that our kitchen remodel is finished! It's been a long few years in the making, but it was worth every second! See all of the details below!
Perhaps one of the most rewarding projects in this entire house remodel, is our kitchen. To say that it was bad when we bought the house, and then gutted it, would be a huge understatement.
The original kitchen had cabinets that were falling apart, drawers filled with mice droppings and the kitchen sink had been leaking so long, the cabinet was rotted and filled with black mold and the sub flooring had absorbed so much water, it was no longer stable.
Remodeling this kitchen tested us. It wasn't always easy work and I think Todd and I would both agree, that pulling up the rotted sub-flooring may have been the worst job we did in this house.
Everything about this house has been a labor of love.
Our Kitchen Remodel Is Finished
Fast forward three years, and we have a finished kitchen! We've finished projects as we've had the budget available, knowing from the beginning what it would eventually look like once each new project was completed.
This kitchen has been a really fun space to design. I've enjoyed trying new things and seeing how it (eventually) came together. All of the DIY projects are worth it, as well as getting creative on how I could recreate the high end looks I loved.
Our Kitchen Before
Let's take a look at where we started. This was no minor kitchen remodel, and other than not being able to move the load bearing wall that separates the kitchen from the living room, we've touched every single surface.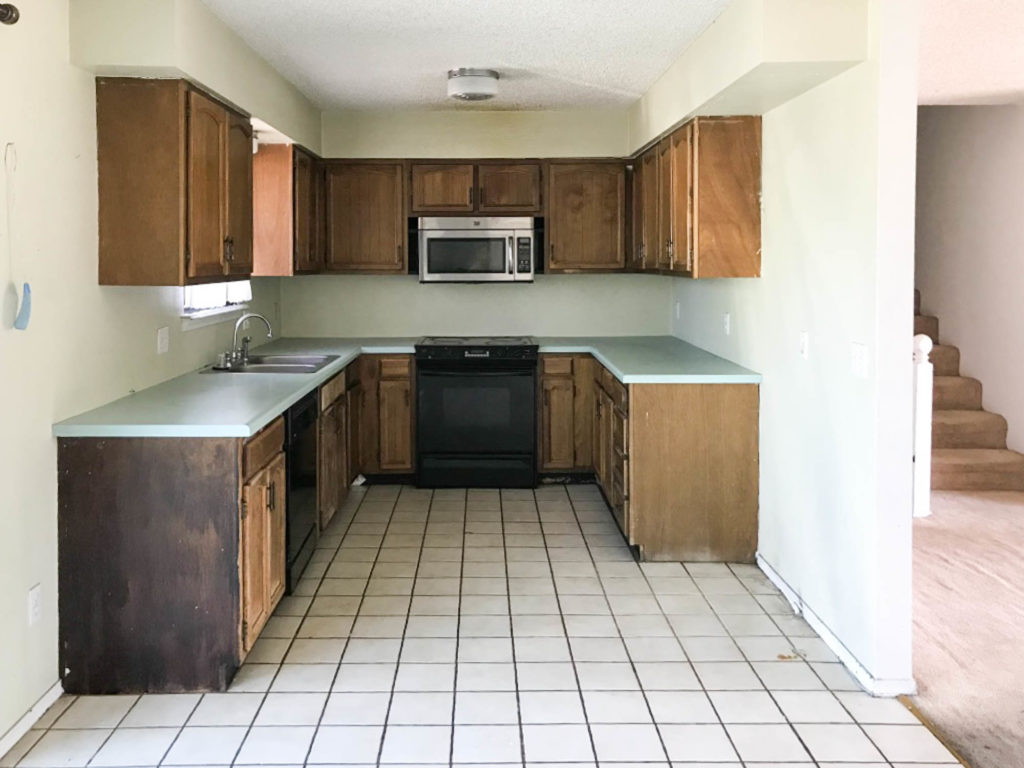 During demolition…
And then after we had the space cleared out…
You can read all about our process of finishing the kitchen right here:
Our Laminate Countertops & Backsplash
Our laminate countertops and backsplash are one of my favorite elements in this kitchen. They look so convincing and I always enjoy when someone compliments the "marble". I eventually tell them it's laminate, and it's fun to watch their facial expression change. Our kitchen is proof that laminate can be really beautiful!
So, yes, we elevated our kitchen with budget friendly laminate. I had our local countertop builder use different techniques that you only traditionally see with stone countertops… and the result is amazing! We have a laminate waterfall edge… and square edges on all of our countertops… and a laminate backsplash that's just as thick as the real marble you see in high end homes.
And it was all budget friendly.
One of the ways we really elevated the look of our kitchen, was with carrying the laminate backsplash up the wall. Rather than using a tile backsplash, the laminate adds such a high end feeling to the kitchen and I love how it looks paired with the pot filler above the cooktop.
This was also such a great way for us to stretch our budget throughout the rest of the house.
Our Cabinetry
To also save on our budget, we used Ikea cabinets and did our own cabinet installation. I wrote an entire post about the process of buying our Ikea kitchen and so far our cabinets have been great! We used Semi-Handmade doors (built for Ikea cabinets) and painted them ourselves.
The color is Onyx by Benjamin Moore in a satin finish.
The black adds such a sophisticated touch to our kitchen and I love how the cabinet hardware looks! We did a mix of knobs and classic cup pulls and the combination is lovely and feels really classic.
Our kitchen isn't overly large, but we maximized our space for as much storage as possible and really thought through our layout.
Our appliances played a big role in this and we've been so happy with them! More about that in a second…
---
---
Our Open Shelves
Since our kitchen is on the smaller side, I really wanted to have it feel open and bright. One of the ways we did this, was by installing custom made open shelves on either side of the window.
We used the same company that built our countertops (Christopher's Kitchen & Bath for anyone local) and I asked that they build the shelves out of white oak, three inches thick. Their work is incredible.
I love how the shelves wrap around the corner next to our vent hood. It creates such a beautiful and cozy corner and I have it filled with our every day bowls, serving pieces and a place for our cookie jar, of course.
I know open shelves aren't for everyone, but they work really well in this space and since they're filled with items we use daily, all of the dishes stay clean.
We upgraded our white dishes a few years ago and I love how they look on open shelves. It creates such a welcoming atmosphere.
---
---
Our Appliances
Because we do have a smaller kitchen, we used a counter depth refrigerator to save space. We also added custom trim work to the end panel and it really conceals the refrigerator while adding another cozy and practical element to the kitchen.
We also opted to have a built in wall oven and microwave combo. I really didn't want a microwave above my cooktop, so having it built in with the oven has been incredibly useful.
That also allowed us to use a cooktop rather than a stove, which also makes the kitchen feel more expensive. The drawer storage underneath is also incredible and that's where I store all of our pots, pans, dutch ovens, etc.
And as much as I would have loved to do a panel ready dishwasher that blended into the cabinets, we opted to have it match the rest of the stainless steel appliances.
Kitchen Sink & Faucet
For our apron front sink, we used this 37″ sink from Ikea. It's been a great sink and I love how affordable it was while also being so timeless and fitting for this kitchen.
We then splurged a little on our touch faucet. They are so handy and I love that when my hands are messy I can just tap the faucet with my wrist to turn on the water.
I chose polished chrome for both it and our pot filler and they both tie in with the knobs on our cooktop.
Our pot filler was another great addition! We had our plumber add it early on when we were remodeling the kitchen and then I found a great, budget friendly faucet! We've been so pleased with it! It looks so much more expensive than it actually is and it's incredibly handy to have. I can't imagine our kitchen without it!
---
---
Our Custom Vent Hood
I still need to share the tutorial on how we built it, but our vent hood is completely custom and built to blend in with the rest of the kitchen planking. I absolutely love how it looks and it functions perfectly! I knew I wanted the backsplash to go up underneath and they combine together to create a beautiful focal point for the kitchen.
Todd did a fabulous job building it. I'll be sharing the tutorial soon!
Our Lighting
When we first finished demolishing the kitchen, I knew lighting would play such a huge role in our remodel. We had our electrician install upgraded can lighting on the ceiling, but I also had him add wall sconce lighting over the window and over each section of open shelving.
Not only are they a beautiful addition to the kitchen, they're also incredibly practical and they help create the perfect lighting for our kitchen.
I originally bought our wall lighting fixtures from Pottery Barn, one of the splurges that was completely worth it! They've since been discontinued, but these are a great similar option.
---
---
Our Laminate Flooring And Rug
For our kitchen floor, and to continue with the rest of the house, we installed the same laminate flooring that's throughout the house. We honestly love this flooring. It's incredibly durable, the perfect color and it's so easy to wipe up spills. After living with this flooring for a few years now, I can honestly say we highly recommend it… and yes, it's laminate.
We recently added a new washable rug to the kitchen and I love how much it brightened up the space. We had a darker rug before and while I did like it, this rug fits so well… and I love that it's washable. Whenever I need, I can put it in our washing machine.
---
---
Our Kitchen Paint Colors & Sources
Our kitchen walls are all painted Super White by Benjamin Moore in an eggshell finish. Our vent hood is also Super White by Benjamin Moore, but in a satin finish.
Our kitchen cabinets are painted Onyx by Benjamin Moore in a satin finish.
Kitchen Sources
You can find all of the sources for our kitchen below…
---
Side by Side Comparison
It's always fun to see how much each space has changed and our kitchen isn't any different!
It's such an incredible difference!
It goes without saying, but we absolutely love our kitchen! All of the hard work we've put into it has been worth it and all of the upgrades that we've added have made a huge difference in the overall look and function.
I hope that if you're getting ready to tackle your own kitchen renovation that our kitchen inspires you! It's not always about the budget, although it does help, but you can absolutely get creative and create the look you want! Our kitchen is proof of that!
Let me know if you have any questions. I'm happy to answer them below!