See how we used Formica laminate countertops & backsplash in our kitchen to make it look like real marble!
It's been a hot minute since I've shared anything about our kitchen, but so much has changed lately! It's time I shared an update on one of the biggest additions yet, our laminate countertops and backsplash! When we designed the kitchen, we knew we'd need to splurge and save in different areas with the countertop and backsplash being one of them. But just because we needed to save in that area, didn't mean they needed to look cheap! Quite the opposite really!
Laminate has come a long, long way from what it used to look like. These days, you can get patterns that look exactly like the real deal. In our case, I loved the marble look and was happy to find a laminate product that closely mimicked a beautiful marble pattern. As soon as I saw it, I knew it was the winner!
Laminate Countertops & Backsplash
Here's the exact pattern and material we used, Formica Calacatta Marble in the Gloss finish, which makes it even more realistic because of its smooth, glossy texture!
Since we've been working on the kitchen in stages over the last two years, we had the countertops installed first. Our kitchen has looked like this for a while now…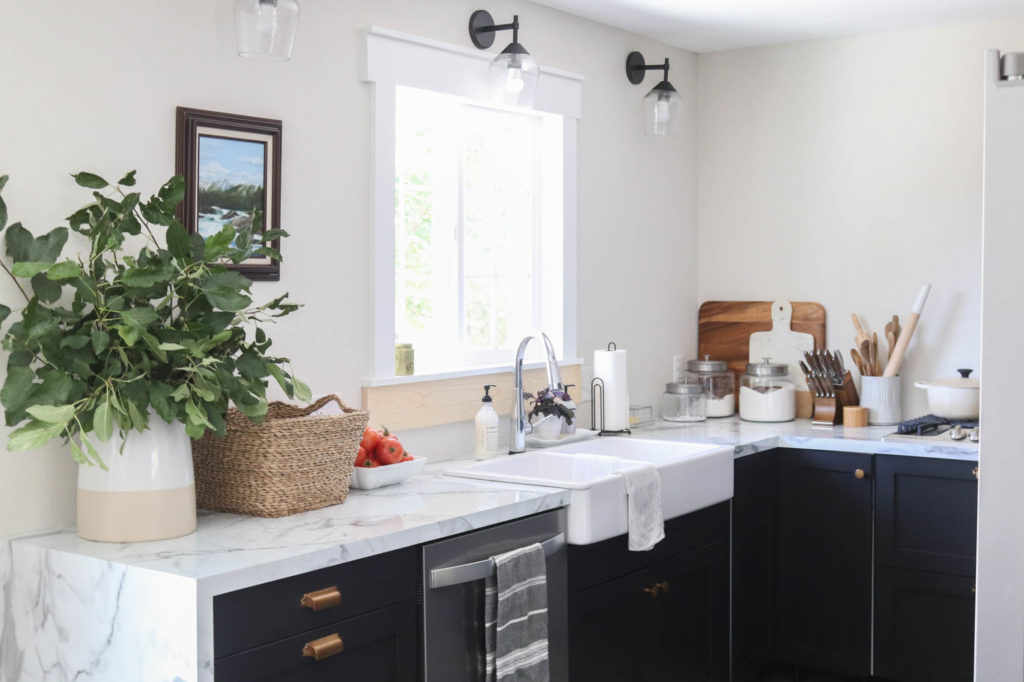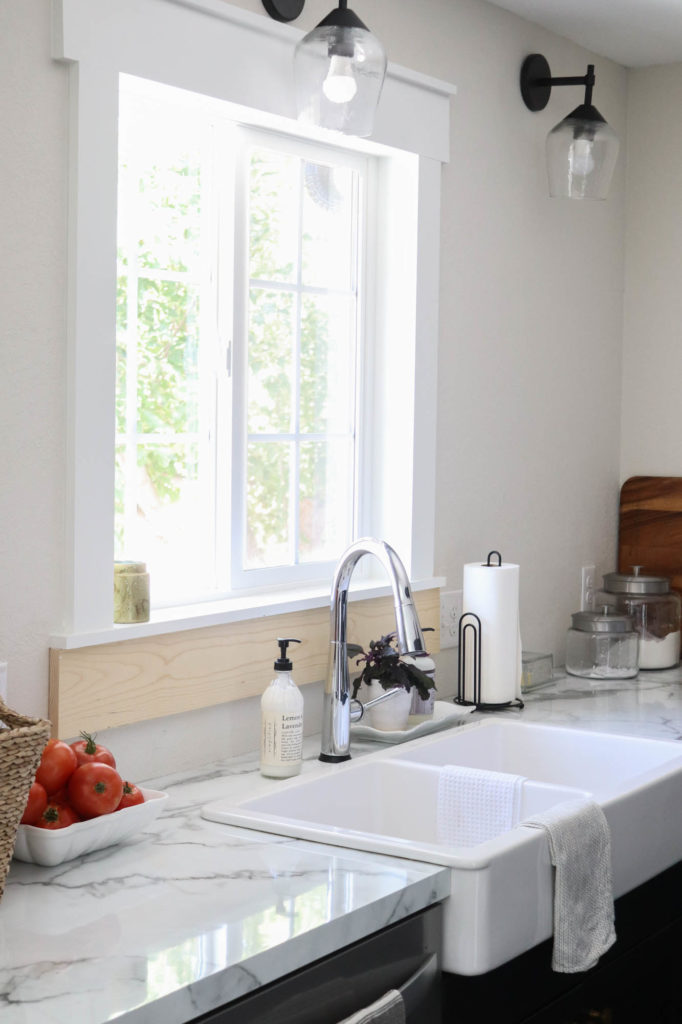 Laminate Waterfall Edge
To really give our countertops an even more realistic look, I had the company who built them (Christoper's Kitchen & Bath for anyone local) build the countertops to have a waterfall edge. It's made completely out of laminate and it's a showstopper! It really makes the kitchen look more expensive and high end.
And then, a couple of months ago right before Ania was born, we had the backsplash installed as well…
Laminate Backsplash
The backsplash was always the missing piece, let's be honest, there were several missing pieces, but as soon as the backsplash was installed, everything started to take shape…
For the backsplash, I wanted it to look like a big slab of marble, so we had them build it 3/4″ thick. To make the outlets work right, we had to install extension boxes, but it was completely worth it!
Of course, I love how easy it is to maintain, and the price point. We were able to get the look I wanted on a budget. You can't beat that! The Formica has tricked quite a few people. We've had several friends and family convinced it was the real deal, only to have their jaw drop when we say it's Formica.
Here's how it looks today, with the vertical planking and shelves installed too… I'll share more about those next!
Next on the list, is building our vent hood and installing our pot filler. We're officially ready for them!
We've come a long, long way! And bottom line, if you want the look of marble, but not the price, Formica is an excellent option!

Affiliate links are provided below. Full disclosure here.

More About The Kitchen: