See how I personalized our home by adding a trio of family pictures in the hallway. It's such an easy and rewarding project!
It's hard to believe we've lived in our home for almost three years and in that time, I haven't really added very much artwork to our walls. Other than a few areas, like our entry way, our walls have basically been bare.
And for about all three of those years, I've been tripping over a stack of picture frames in our laundry room just waiting to be moved, or hung on the wall. Hanging them up seemed easier than moving them to a different spot…haha… so here we are!
We also had family pictures taken right before Thanksgiving last year, making it the perfect time to display some new pictures on our walls. The end of our hallway seemed like the perfect place to hang some of our new family pictures…
I used our large Ikea Ribba frames. They're 20.5″ x 20.5″ and the perfect size to fill the majority of the wall. I love that combined together they create such a statement piece. Unfortunately, I can't find this size frame any longer on the Ikea website, but I've linked some other options below.
The original mats were a little bit yellower than what I was wanting with our black and white photos, so I had new ones cut at our local framing store. The difference is pretty huge…
The new white mats not only look so much better with the black and white pictures, but also our white trim…
Now, when you walk up the stairs you're greeted by these precious pictures of our sweet Ania. She's such a sweet girl… and growing too fast!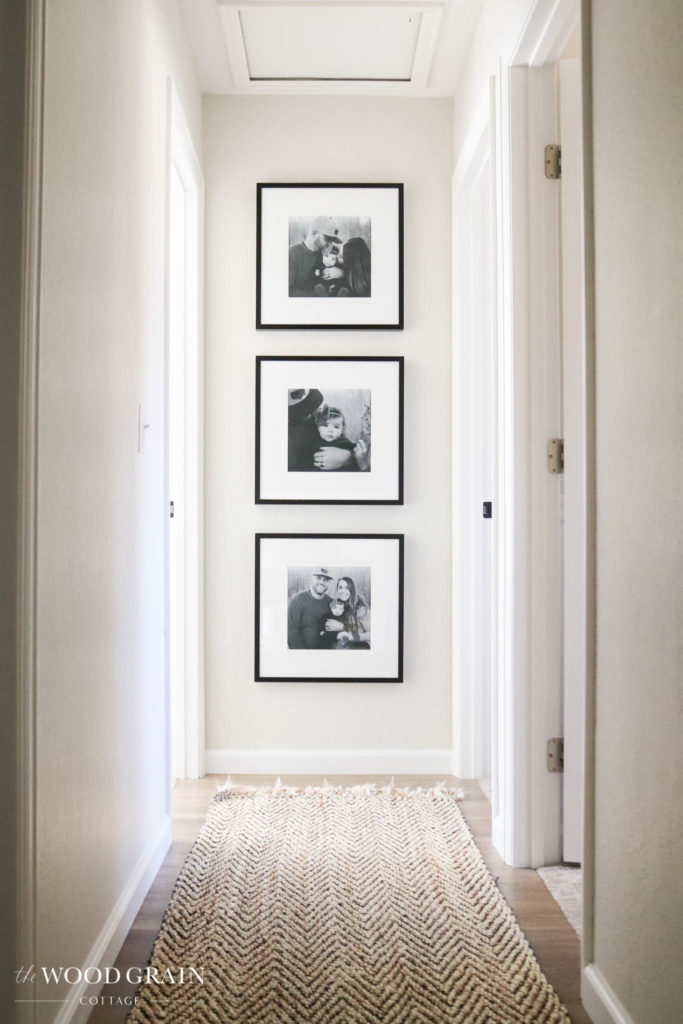 Honestly, I wish I would have done this sooner, but I'm happy I finally set aside the ten minutes it took to hang them up. I love how they've changed the entire feeling of our hallway and now, this house feels even more like home.
If you want to recreate the look, I've shared a few really good frame options below. Happy decorating!
---

Affiliate links are provided below. Full disclosure here.

---