Looking for a quick, budget friendly way to add art to your home? Digital prints are a great way to personalize your home while staying within budget!
Our entryway is still going through a transition period. There's so many things I want to do, but until we can get it done, I've been focusing on easier ways to give the space the fresh look it's been needing. Adding new art in the entryway has done just that. It's been a fun, budget friendly way to really update the space, all while being cost effective.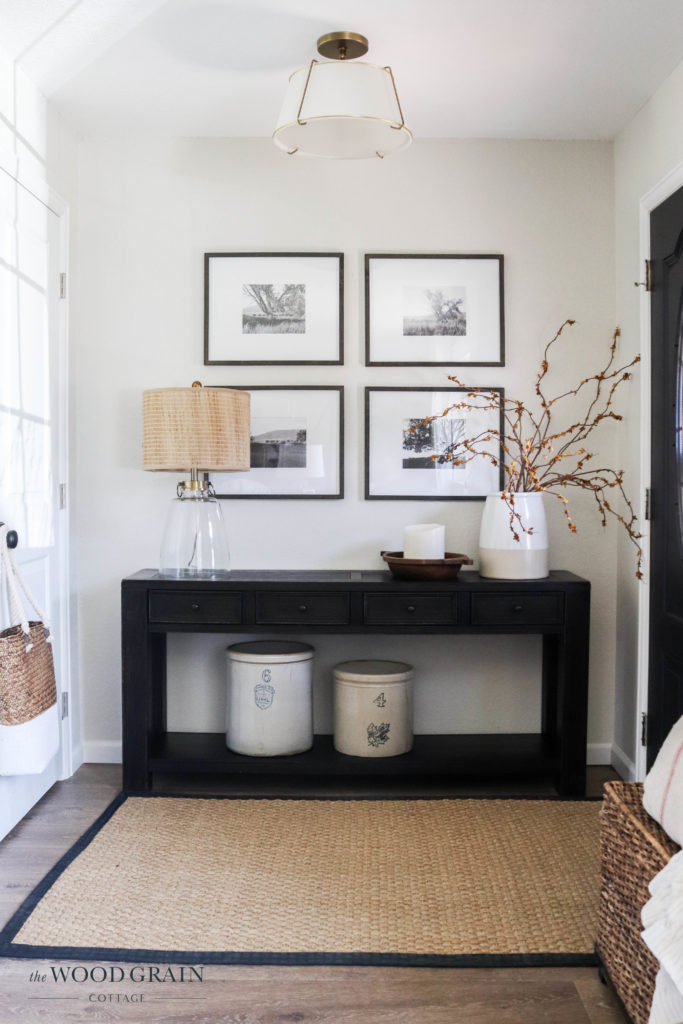 ---

---
Art In The Entryway
Digital prints have long since been one of my favorite ways to add great character and personalization, without breaking the bank. Let's face it, art can be expensive, and it's not always easy to justify it when there are other things our homes and families need. Digital prints offer the perfect solution. They let you get the look, while being easy on the budget.
If you've been a long time reader, you may remember when I added the big, beautiful tree picture to my last office. It was a picture I had taken and I loved how personal it made the space… and how affordable it was! After that I printed a large snowy tree scene for the dining room. I've added digital prints to our current master bathroom too, which I need to share more of! And I'm not done yet!
Digital Prints
To spruce up our entryway, I decided to print and frame four of my favorite pictures I've taken over the years. I love a good picture collection, and these hold a special place in my heart. Taken on my parents property, I spent my time as a girl growing up in this lovely area. Every time I look at them, I'm reminded of home and my happy childhood.
The main tree even inspired the name and branding of this blog. It feels only right to have it included in our home and to have it be the first thing to greet us as we walk in the door.
Large Picture Frames
And, other than ordering new frames, this project didn't cost me anything. Shiny pictures aren't my thing, which is handy since I was able to print the pictures out from home on heavy card stock. It gave the prints that velvety texture I love, making them feel more expensive and high end.
The frames help with that too! They're a large frame at 16×20, but come matted to fit an 8×10 picture. These are definitely a new favorite of mine!
I've also had a few requests to share my pictures as digital artwork that you can purchase for your own homes! You can shop our full digital artwork collection right here!