See how I created our red, white & gold Christmas tree. I'm breaking down the process and sharing helpful tips to get you started.
I always look forward to decorating our Christmas tree. There's something so magical about bringing out ornaments from years past and treasuring those memories all over again. The twinkle of the lights are always a welcome addition to our home and I'll forever love the warm glow the tree adds.
This year, I went with a red, white and gold decorating theme, and I have to say, I'm absolutely loving it. After not using red in my Christmas decorating for several years now, the vibrancy has been a welcomed change, creating an exciting, festive atmosphere around the house.
Red, White & Gold Christmas Tree
Every year, the first place I start my Christmas decorating, is the Christmas tree… and I'm so happy to share our red, white and gold Christmas tree with you this year!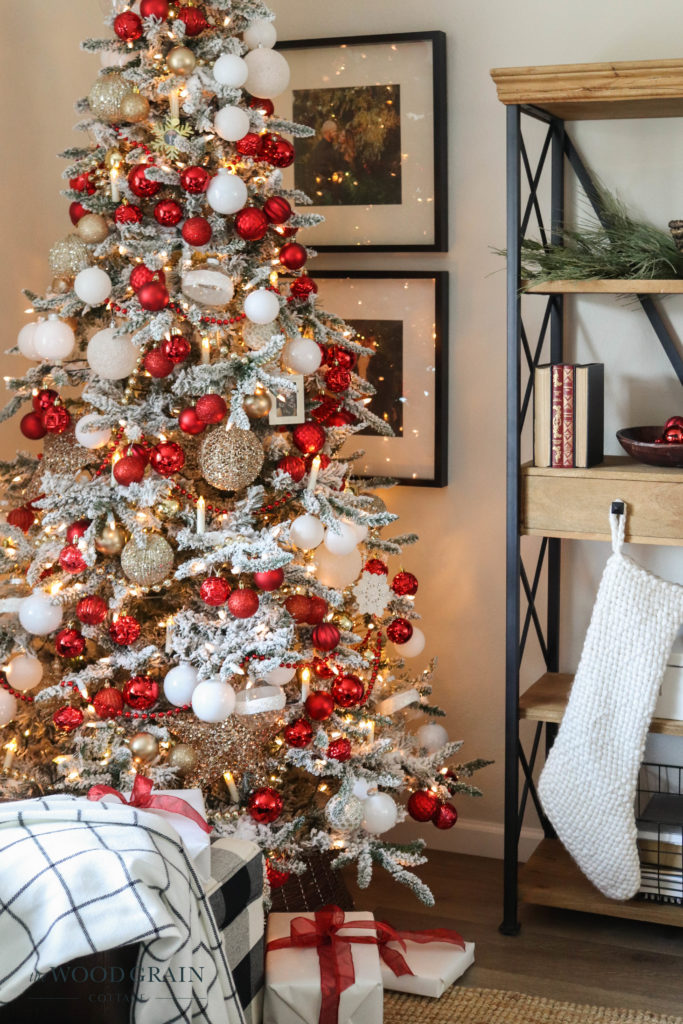 ---

SCROLL THROUGH THE IMAGES TO SEE MORE ITEMS

---
I have to say, this tree is one of my very favorites. It's different than anything I've done before, and I love the clusters of ornaments throughout the tree…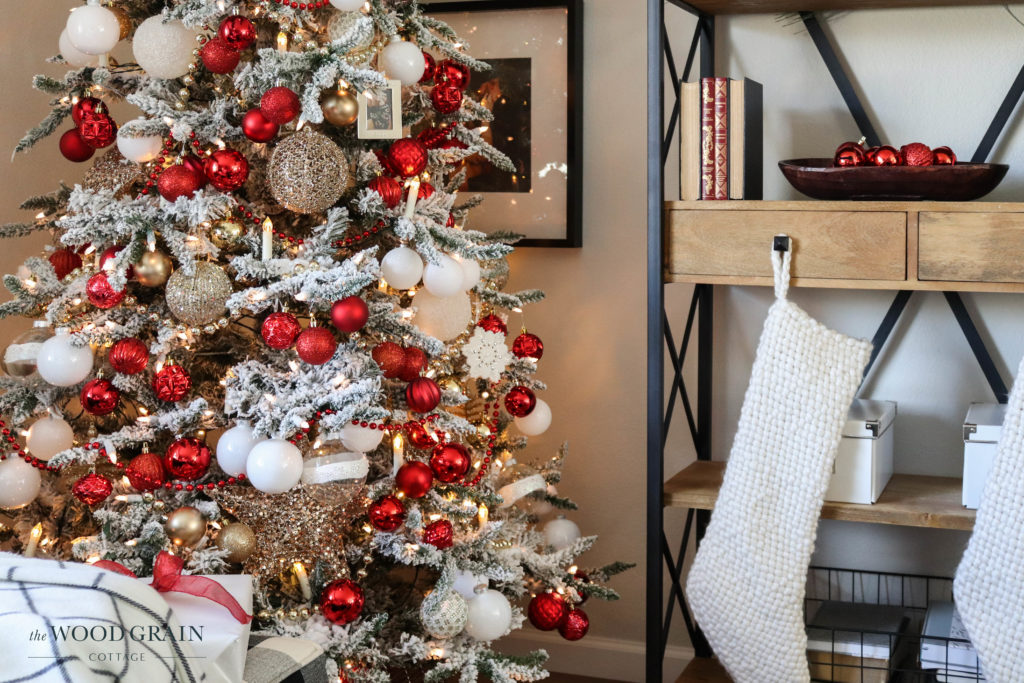 In years past, I've always spread out my ornaments, but this year I decided to cluster the different colored ornaments together in sections. This created such a beautiful look!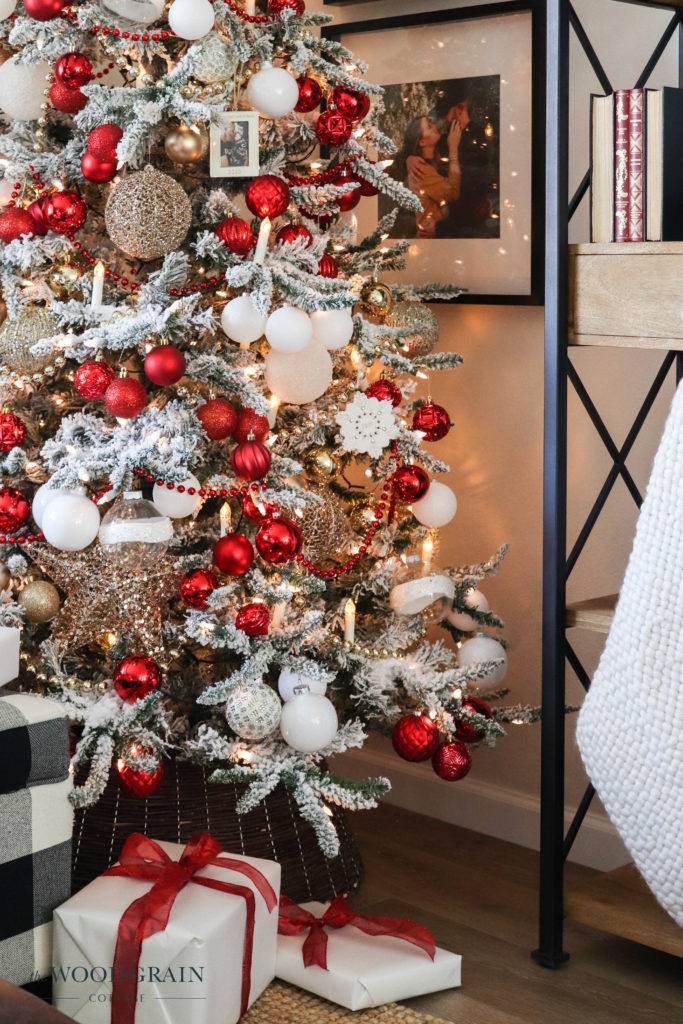 I love the classic red and white combination, but the addition of the gold really makes it look elegant and set apart, adding a warmth to the tree…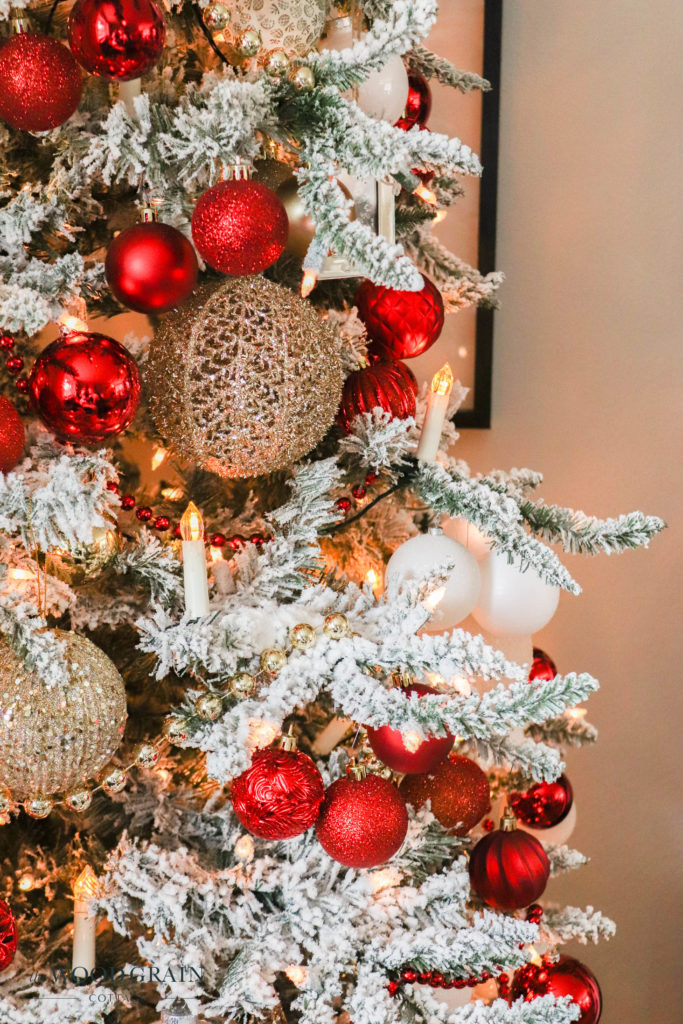 Add Multiple Layers of Lighting
The warm glow is also possible thanks to the three different types of lighting I have on the tree. Our tree comes pre-lit, but then I added a strand of twinkle lights. They're really neat, allowing us to choose the flicker speed and lighting pattern. Then, I added in the candle lights. They clip on the branches and I love the extra touch they add…
Add Different Ornament Sizes
One of the other key elements to creating a visually interesting tree, especially when choosing a specific color palette, is to add different ornament sizes. Believe it or not, I didn't have very many white ornaments in my collection, so I purchased a variety of sizes. I also did that with both the red and gold ornaments.
I also tried to mix different textures of the bulbs, which really creates a beautiful overall look.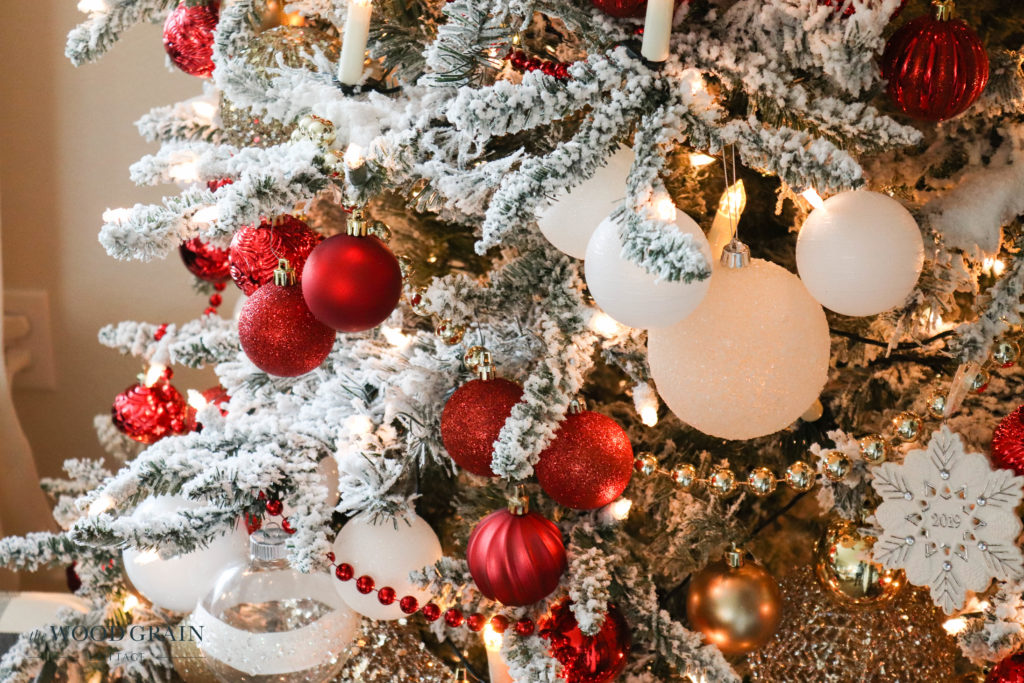 And of course, I added in our cherished family ornaments and a new baby's first Christmas for our sweet Ania…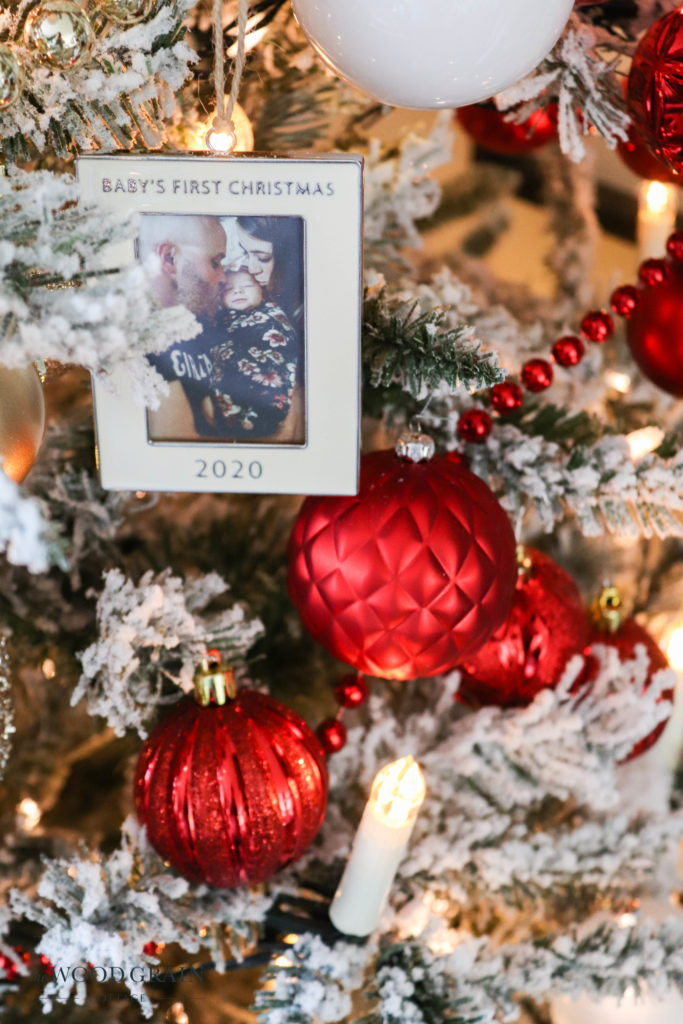 Those are the special ornaments we pull out each and every year, bringing back a flood of memories… and I love watching our collection grow every year.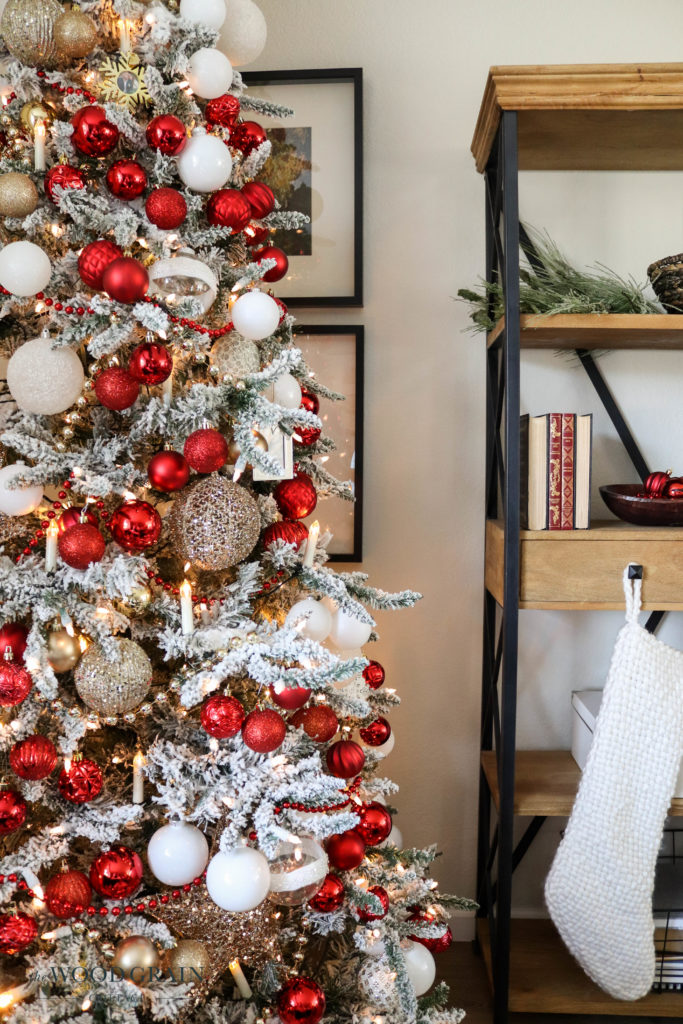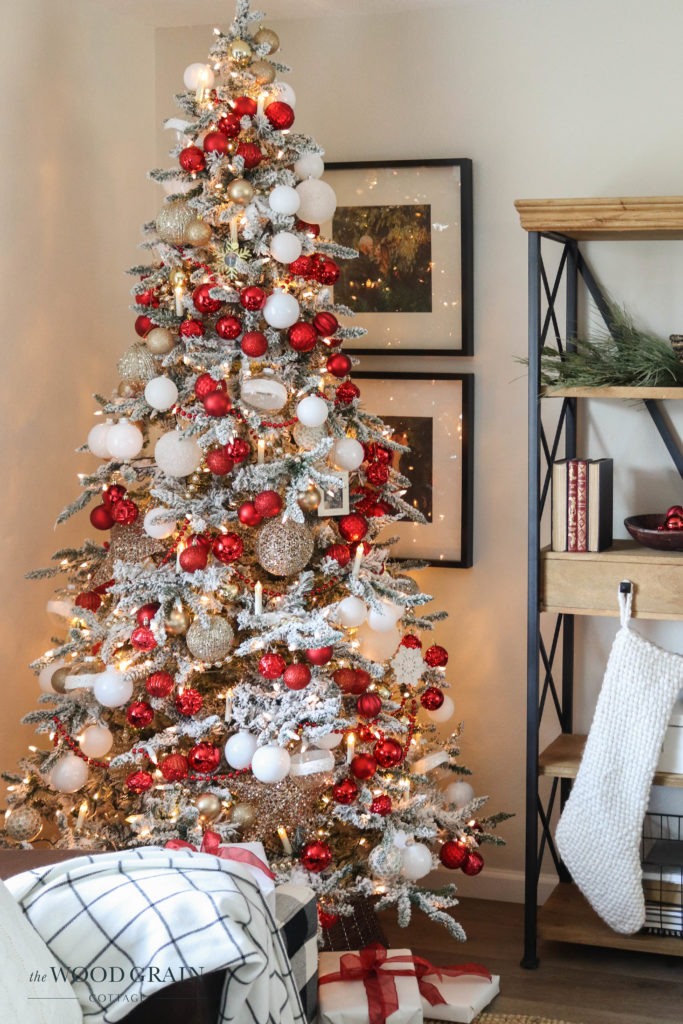 Another way I love to coordinate things together, is to find matching wrapping paper. When I've decided on the Christmas tree color palette, I look for paper that matches, bringing everything full circle…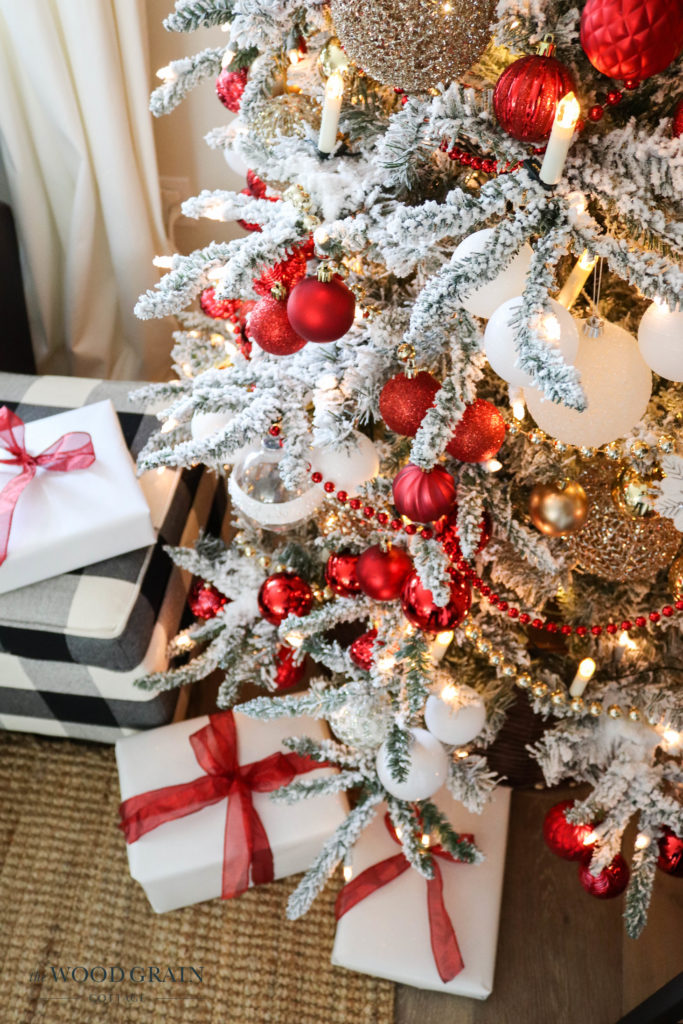 Now that the tree is decorated, I've started working on the rest of the house. Splashes of red are popping up, and it's fun to see the house come alive for the season.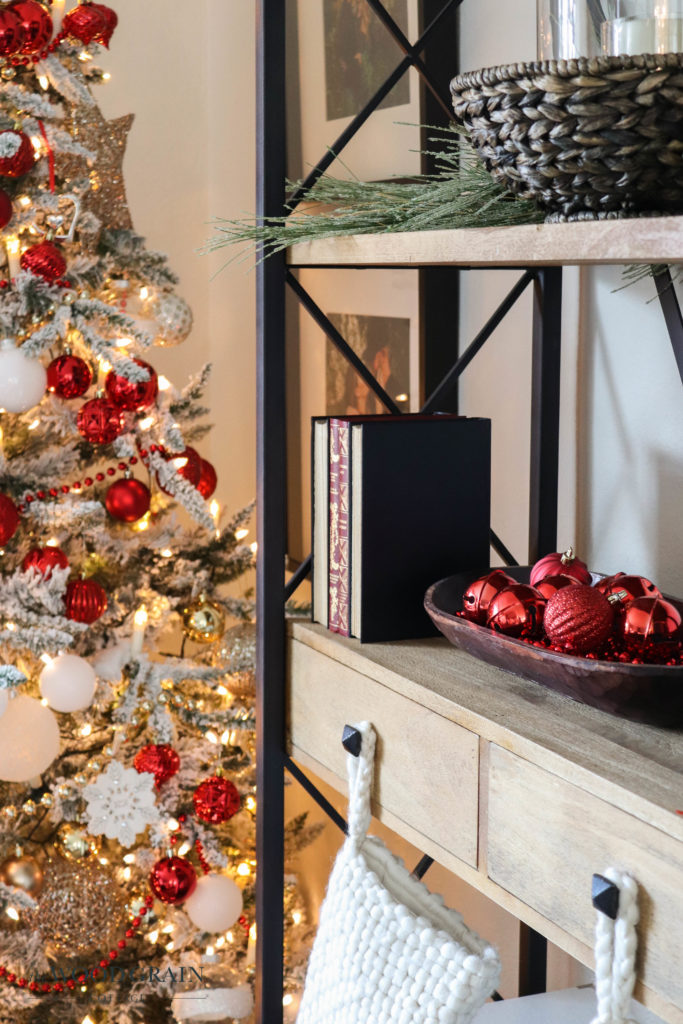 If you're struggling with your tree, or haven't started decorating yet, below I've listed some of my Christmas tree decorating tips. I hope they help!
Christmas Tree Decorating Tips:
Create a decorating theme to get started
Use coordinating colors
Use multiple layers of lighting
Use a variety of ornament sizes
Use a variety of ornament textures
Match your wrapping paper with the tree theme
---

SCROLL THROUGH THE IMAGES TO SEE MORE ITEMS

---
I'll be sharing more Christmas decorating ideas over the next several weeks, and then our full home tour! In the mean time, we're wishing you a Happy Thanksgiving!
Psst… Looking for unique Christmas gift ideas? I shared several ideas here.