Late last summer we had our back concrete patio replaced. It was such an exciting and house transforming project! We did all the demo ourselves and even though it was hard work, it was so fun to see that beat up, cracked and crumbling patio removed and replaced with a much better and larger concrete patio!
Before we had the patio replaced, I shared our inspiration and plans for the new patio, and then some of our progress with demo, but I realized I never shared the new, finished patio!
Let's take a walk down memory lane and look back at where we started…
Our Old Back Patio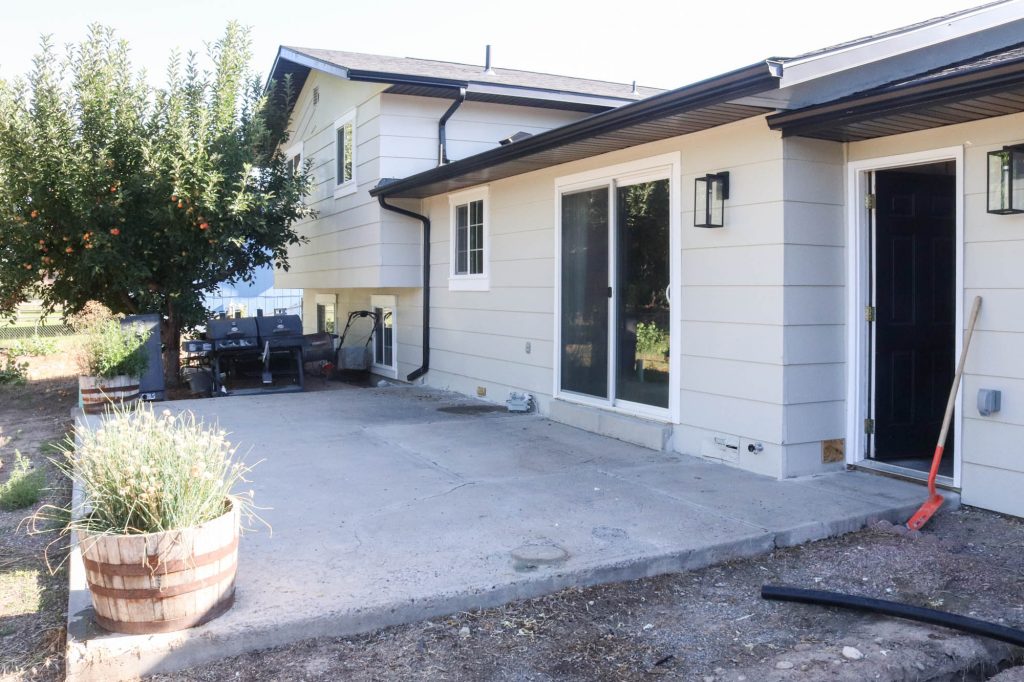 Not only was the patio small for the house, but it was pieced together, crumbling apart in several areas and there wasn't a step for the back door…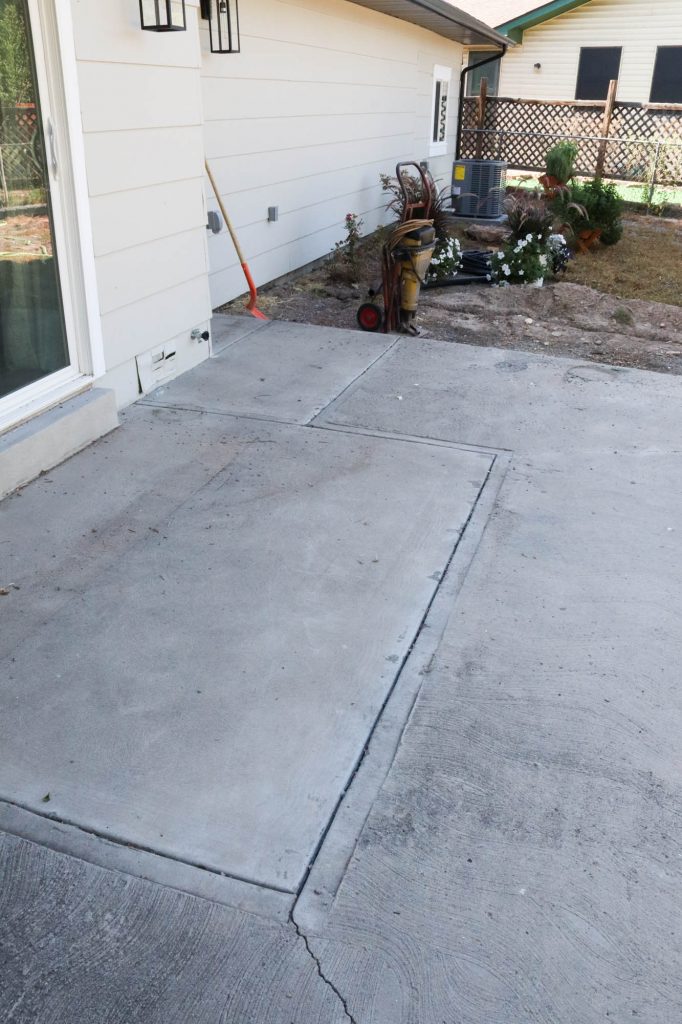 We spent a few months going over what we wanted in the new patio, but one thing we knew, was that we wanted to make the patio much, much larger giving us more space for entertaining with a few different areas on the patio itself…
Demo'ing The Existing Patio
With the new design in place, we started working on demo'ing out the existing concrete…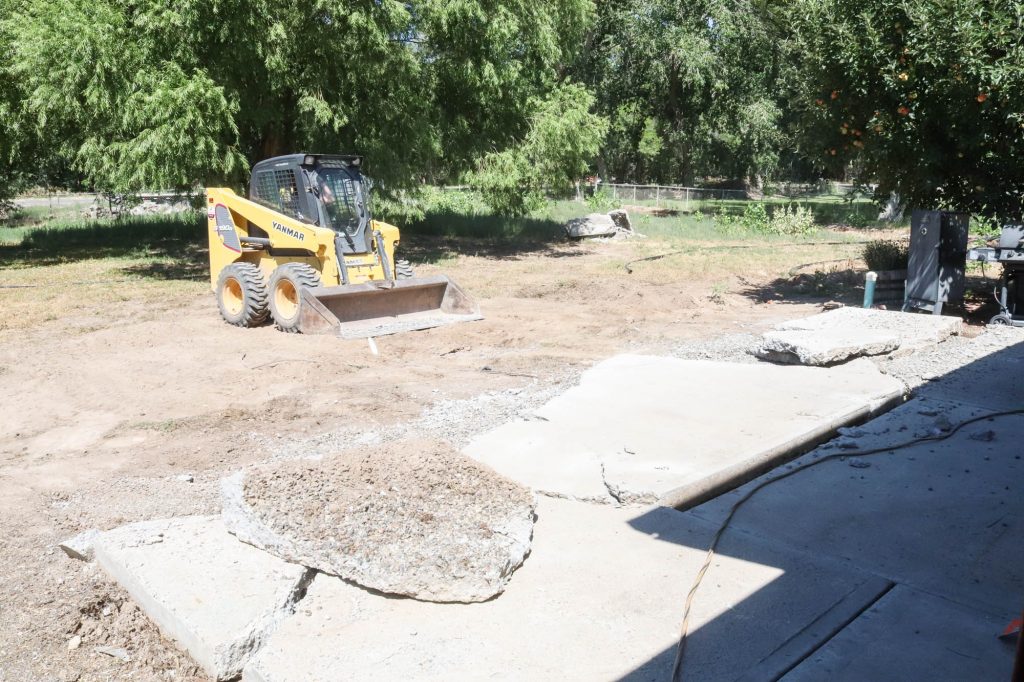 Because it was already crumbling in so many areas, we were able to get most of it up quite easily with the skid steer… but there were a few sections where we had to use the jack hammer to get it broken up…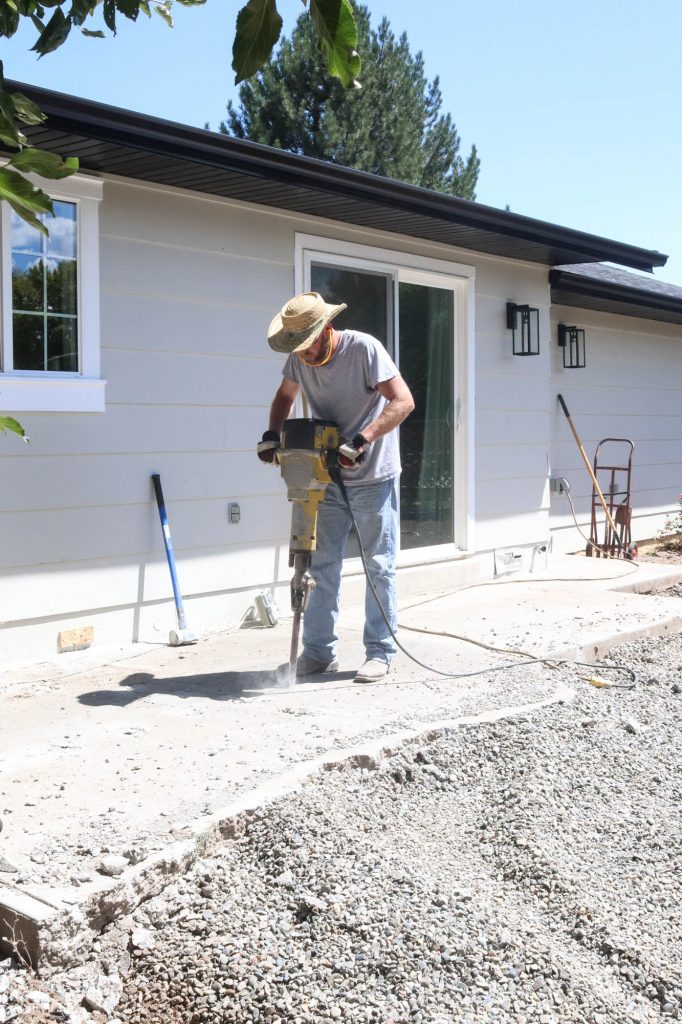 We worked our way across the patio, breaking large sections apart with both the sledge hammer and the jack hammer. Before we knew it, we had the entire patio removed and our concrete contractor started forming the new patio…
Installing Our New Back Patio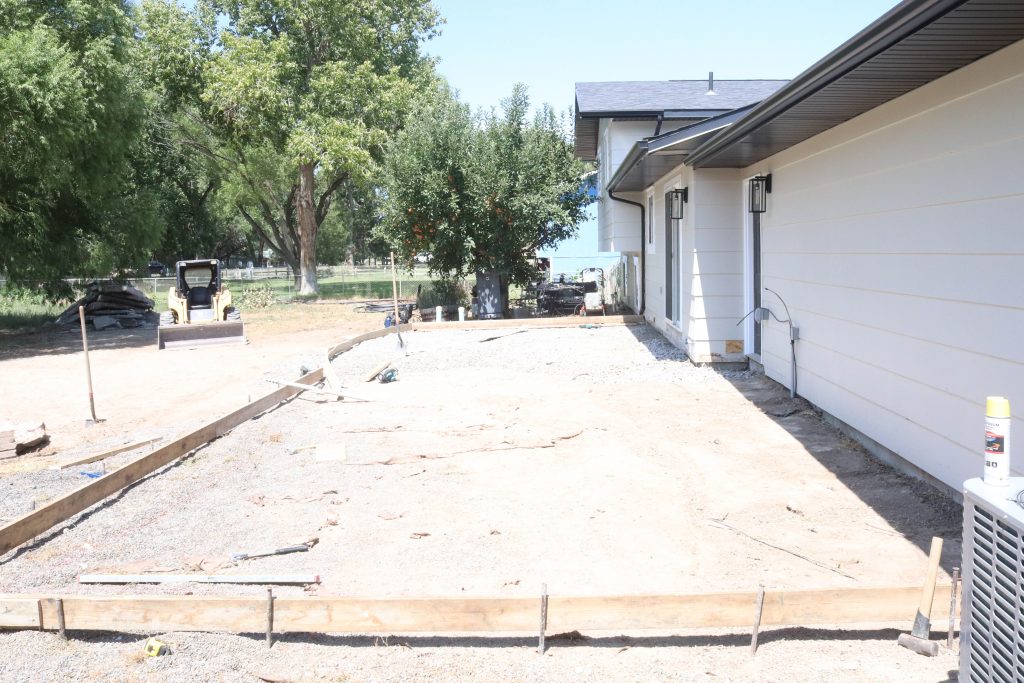 We more than doubled the patio, giving us plenty of room for different entertaining areas…
Once they had the new patio formed, they started laying rebar and forming our back step…
With everything ready, it was time for them to start pouring and finishing the concrete…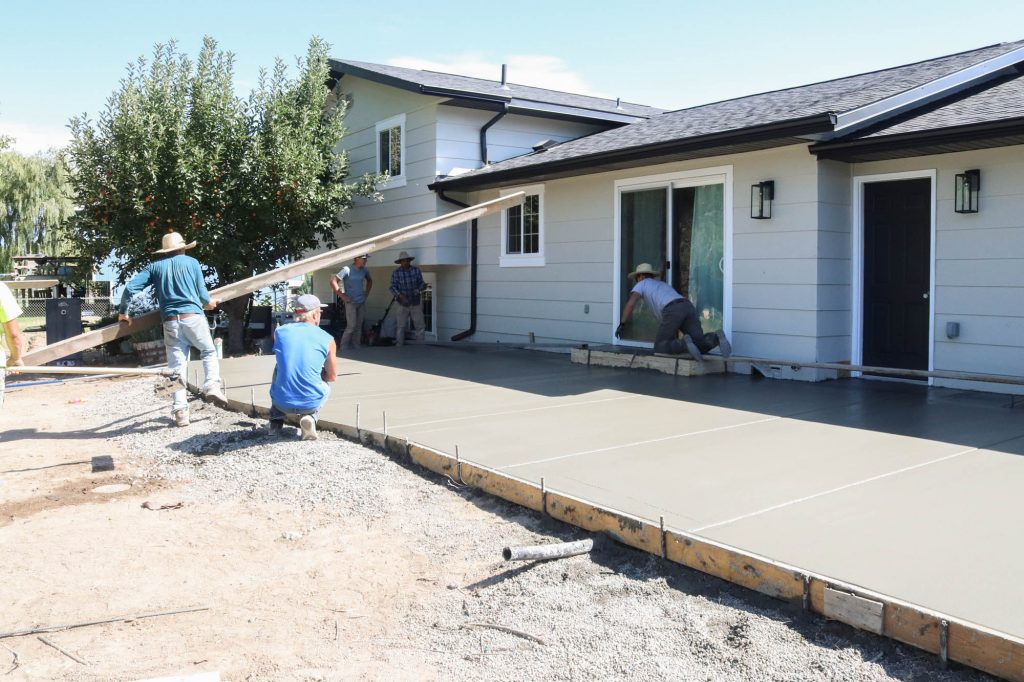 We had quite the crew working on everything and we honestly couldn't be more happy with their work. It's truly spectacular…
Because I wanted to have large "boxes" inside the concrete, they had more finish work to do, but it was totally worth it! We love the design…
They worked on finishing the patio all afternoon, working quickly as the concrete set. It was such a fun process to watch unfold. I mainly tried to stay out of the way since there were so many moving parts and people, but I loved watching our new, much larger patio come to life.
Once they had everything finished, we let the patio set for about a week before they came back and pulled the forms. With that, we were left with a beautiful patio…
Our New Back Patio
It's still such a blank space, but we have plans to get new furniture this summer, as well as create a few different entertaining areas. There's plenty of space to have a grilling area, a large outdoor dining table, plus a conversation area with multiple seating options and a fire pit. It's going to be such a great space to enjoy…
We love the curved area of the patio, it brings some much needed dimension to the back of the house, and I can't wait to see what it will look like once we have grass and plants installed…
We have several projects we'll need to work on to create the overall vision we have planned, but we're looking forward to seeing it come together. One of them, is installing a wall of trellis's right here with climbing vines. When we were designing the patio, I couldn't wait to see this area come together. We love the character it's added to the patio…
Even though we're not there yet, we're still loving our new patio and how much it's transformed the back of our home…
I'm looking forward to coming up with the plan for new furniture and accessories. I'll share all the details once it's figured out…
We'll be working on installing our back yard sprinkler system this summer, and now that we have the new patio, and our garden area in place (more on that soon!) we can start working on all the landscaping that needs done too…
We have our work cut out for us with this yard, but we've been making such great progress and we won't stop now!


SEE MORE OF OUR EXTERIOR TRANSFORMATION BELOW: