Hello! I'm so happy to be here today sharing the first part of our Christmas home tour! A big THANK YOU to Jen at Migonis Home for organizing an amazing group of ladies and lots of Christmas home tours to oogle at. I had originally planned on sharing all of our tour today, but after editing pictures, there were sooo many that I didn't want to leave anything out. So, tomorrow will be part two!
Today, I'm going to focus on our entry, dining room, living room, and parts of our kitchen. Let's get to it!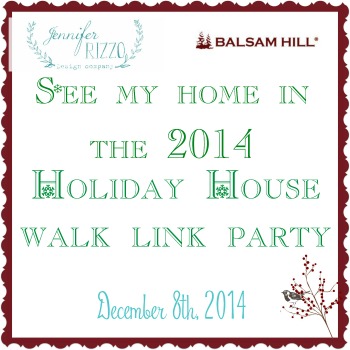 I've probably mentioned it about 100 times already, but I seriously love, love, love our dining room shelves. It's absolutely one of the best projects we've done to our home. And for good reason, they look beautiful and serve a purpose!
I shared a few sneak peeks of them already, but I did switch things up slightly…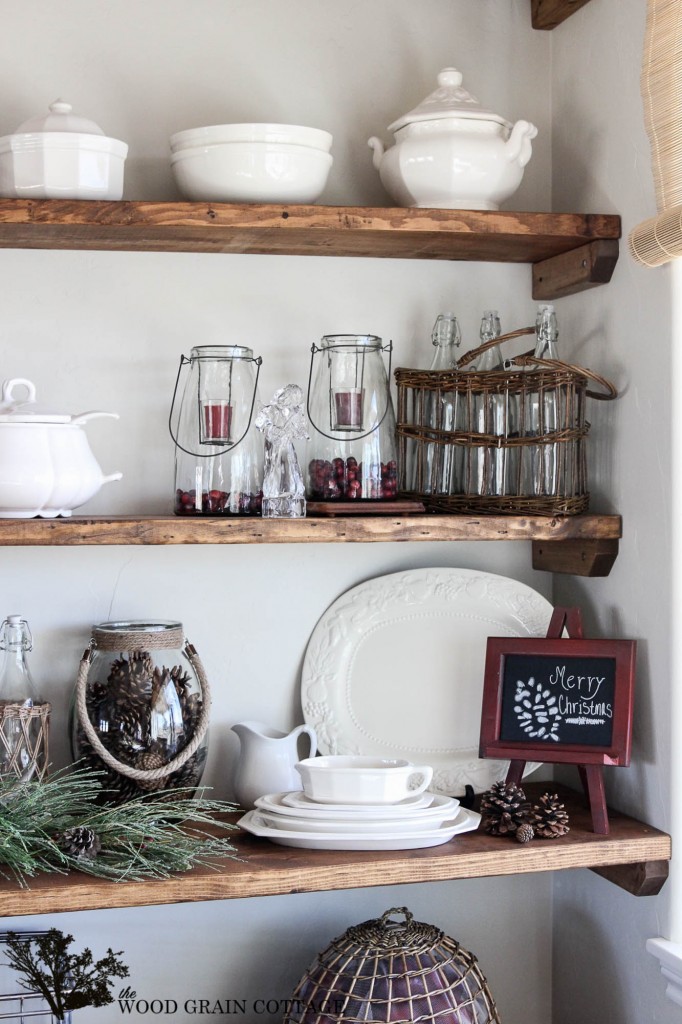 And can I just tell you how much I love this wreath. Seriously. It's a beauty.
And of course, my grandma's dinnerware had to be included. They hold such a special place in my heart.
The ironstone is another favorite of mine. I'm happy to say my collection is growing! 😀
Our table got a lovely new display too! Large, glass hurricane vases, cranberries, nuts, candles, and greenery!
And since I moved things around in the house, our bar cart is now in the dining room….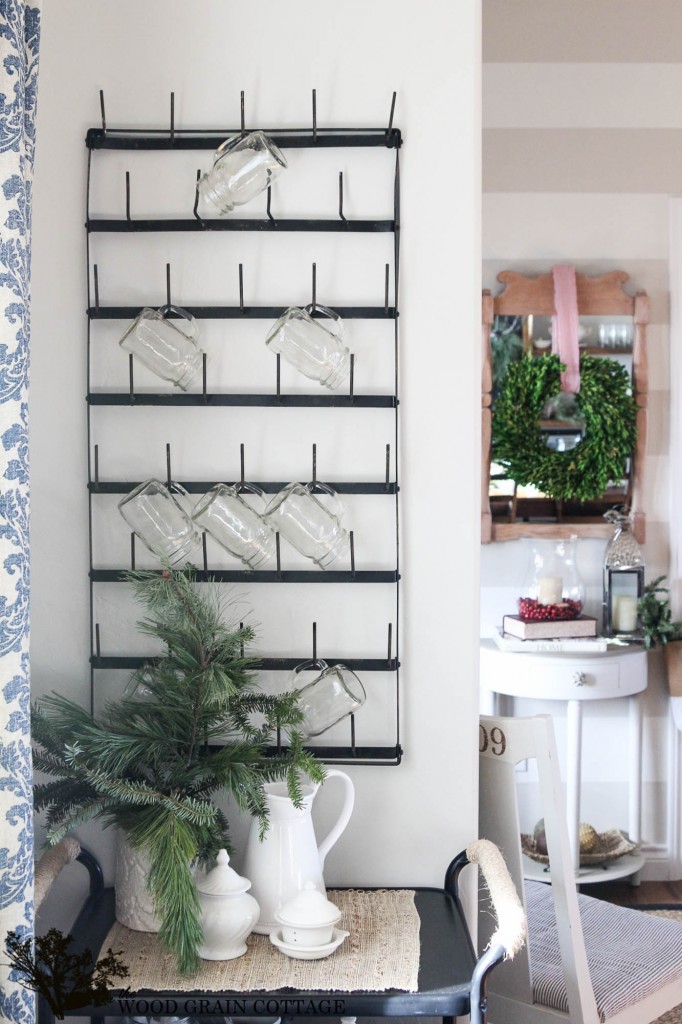 Now for a peek around the corner into the kitchen…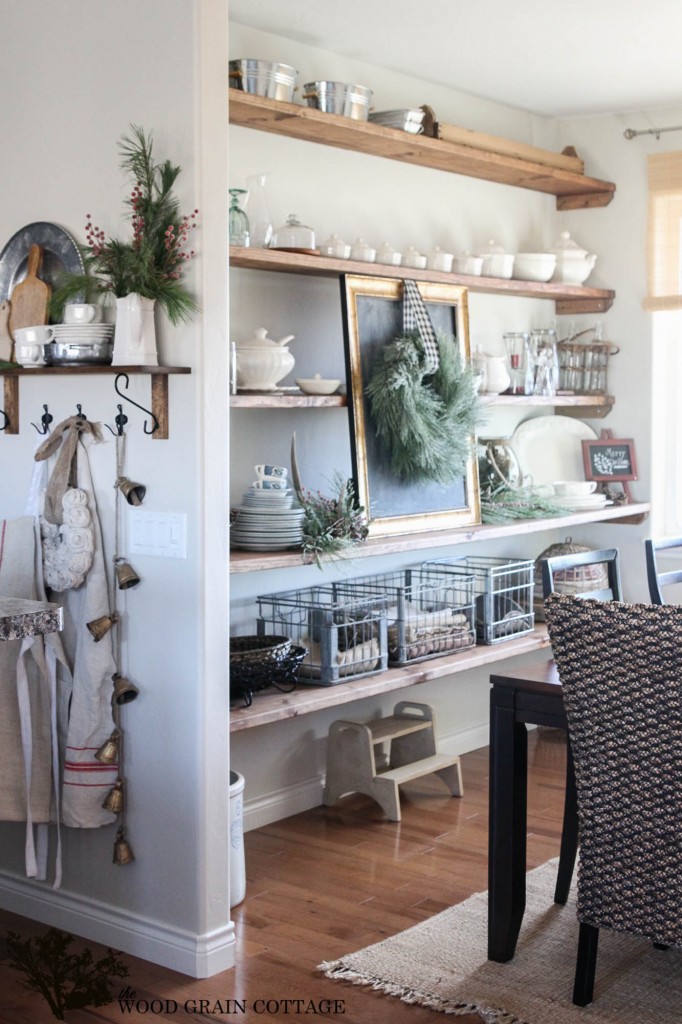 I had already shared our Christmas kitchen shelf, but I did switch things up a bit with fresh greenery…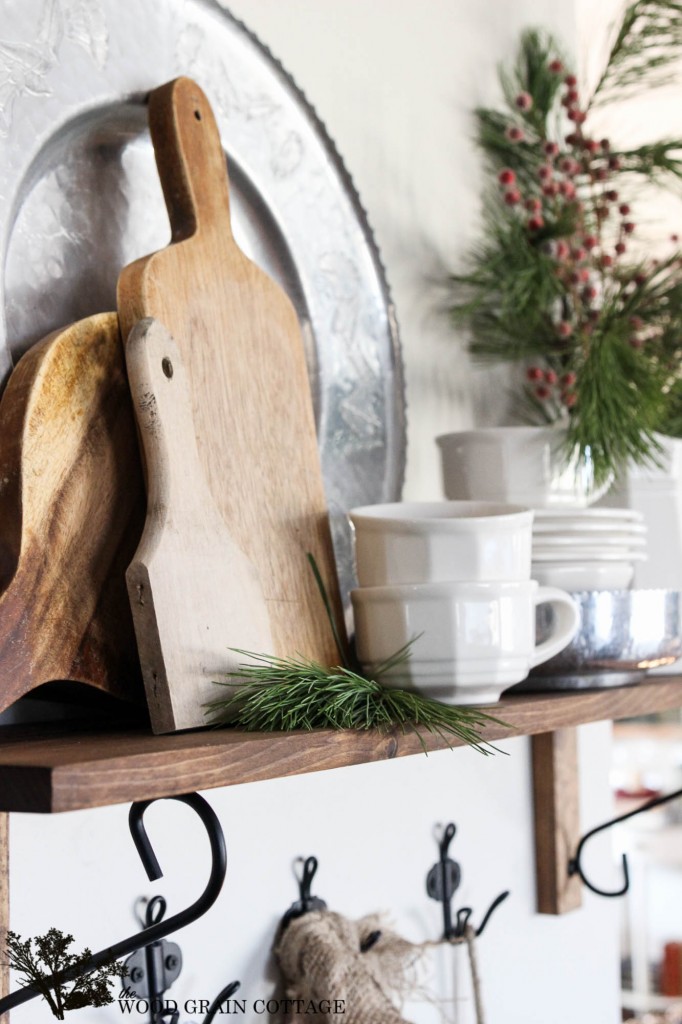 And I moved my bells to one of the hooks. Can I just tell you how much I love these?! Such a great find…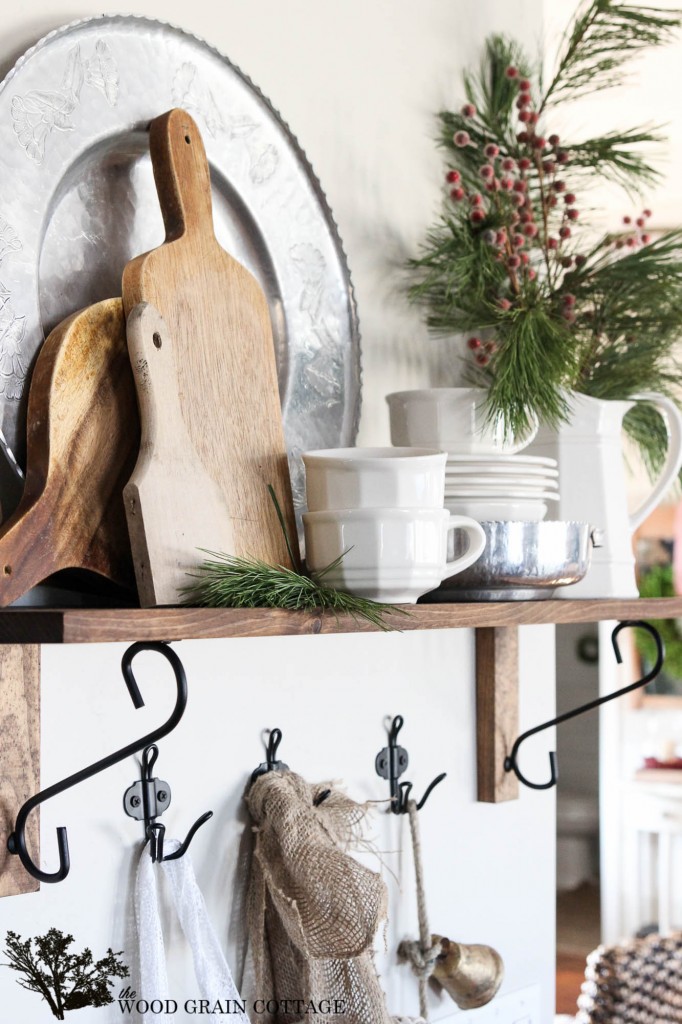 And now for the living room with one of our Christmas trees! Growing up, we always had a real tree. I loved them, but was gifted an artificial tree after Anthony and I got married, so I had never bought one for myself until this year. Such. a. difference. This tree is breathtaking…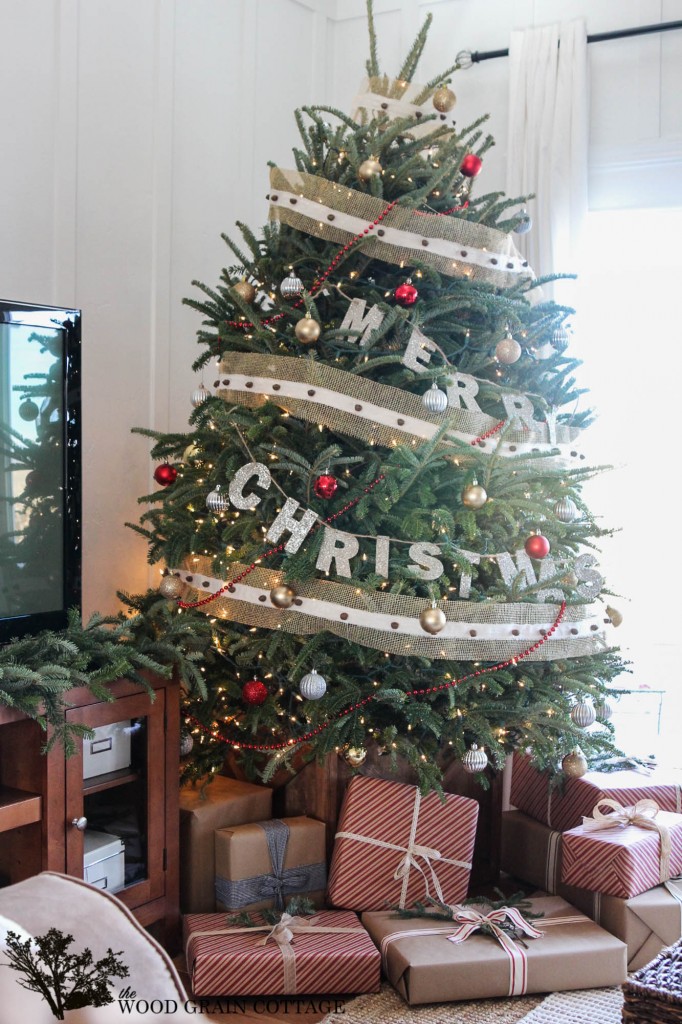 I loved it so much, that I really didn't want to go crazy over the top with decorations. It's beautiful just on its own!
I did snag the Merry Christmas banner last year on clearance from Pottery Barn, so I couldn't wait to drape it on the tree. I also used my jingle bell garland from last year too…
And as far as the presents go, I went traditional with plain and red stripe kraft paper. Be still my heart. I love them, especially with fresh greenery and ribbon.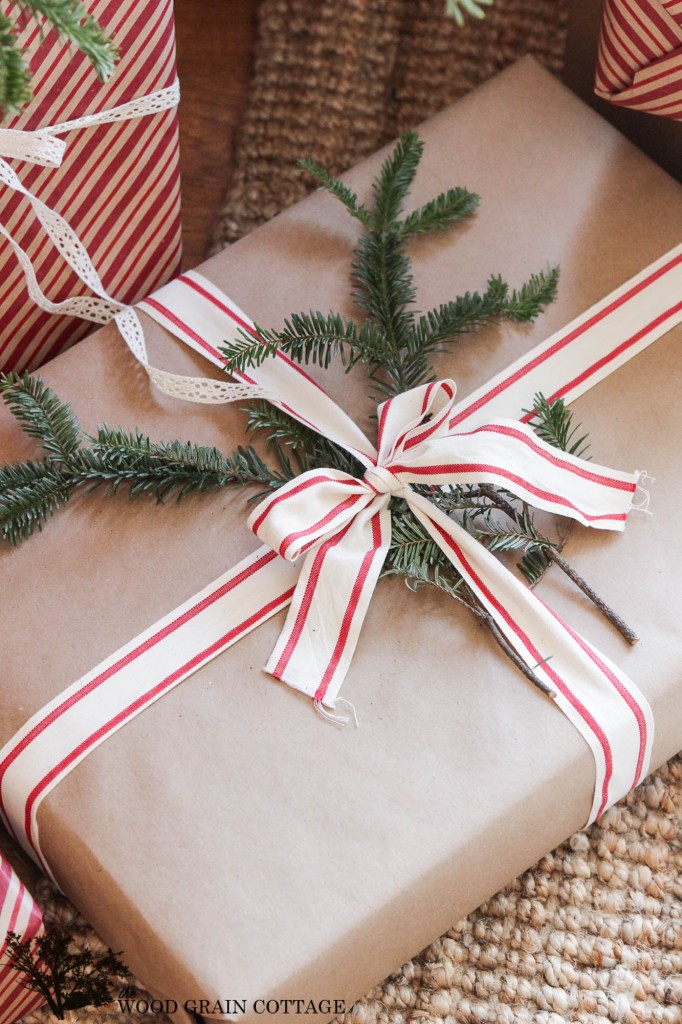 And it's a bit hard to see, but Anthony and I made the tree box for the tree. It's perfect! We're also going to be selling several of them at The Vintage Whites Market. I'm so excited to use them for plants too!
Now, for the entry, which leads right into the living room…
Fresh greenery makes such a big difference, and I had a bunch of it to use after trimming several lower branches from the tree after we placed it in the box…
Hello beautiful jingle bell strap…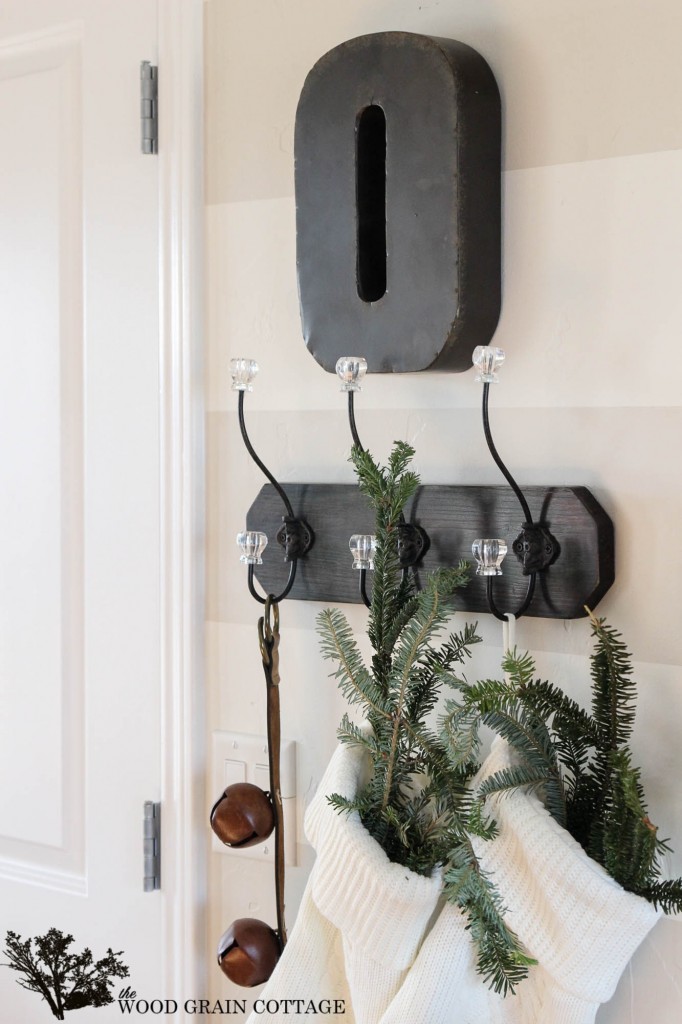 Boxwood wreaths are another one of my favorites! I'll be showing a lot more of them in the second part of our tour…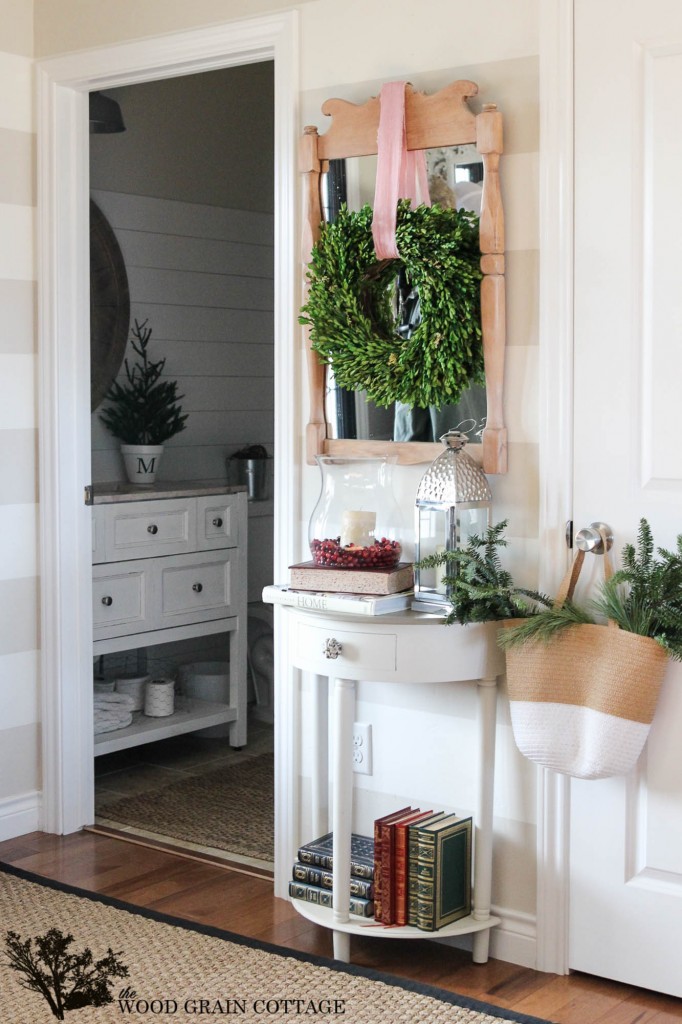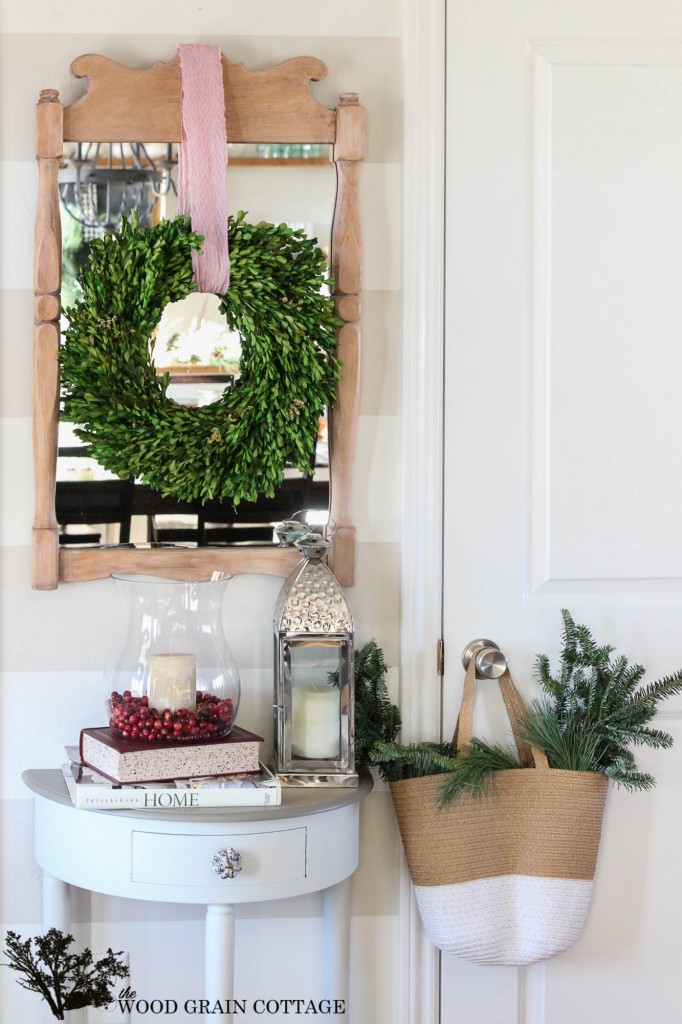 And this cozy little spot of our entry is one of my favorite spots…
Tomorrow I'll be back to share the second part of the tour, which will include the rest of the kitchen, our breakfast nook and a bit more of our living room! I just love the house this time of year!
In the mean time, be sure to check out these other amazing ladies and their home tours! I've already been so inspired with everything I've seen thus far! Beautiful!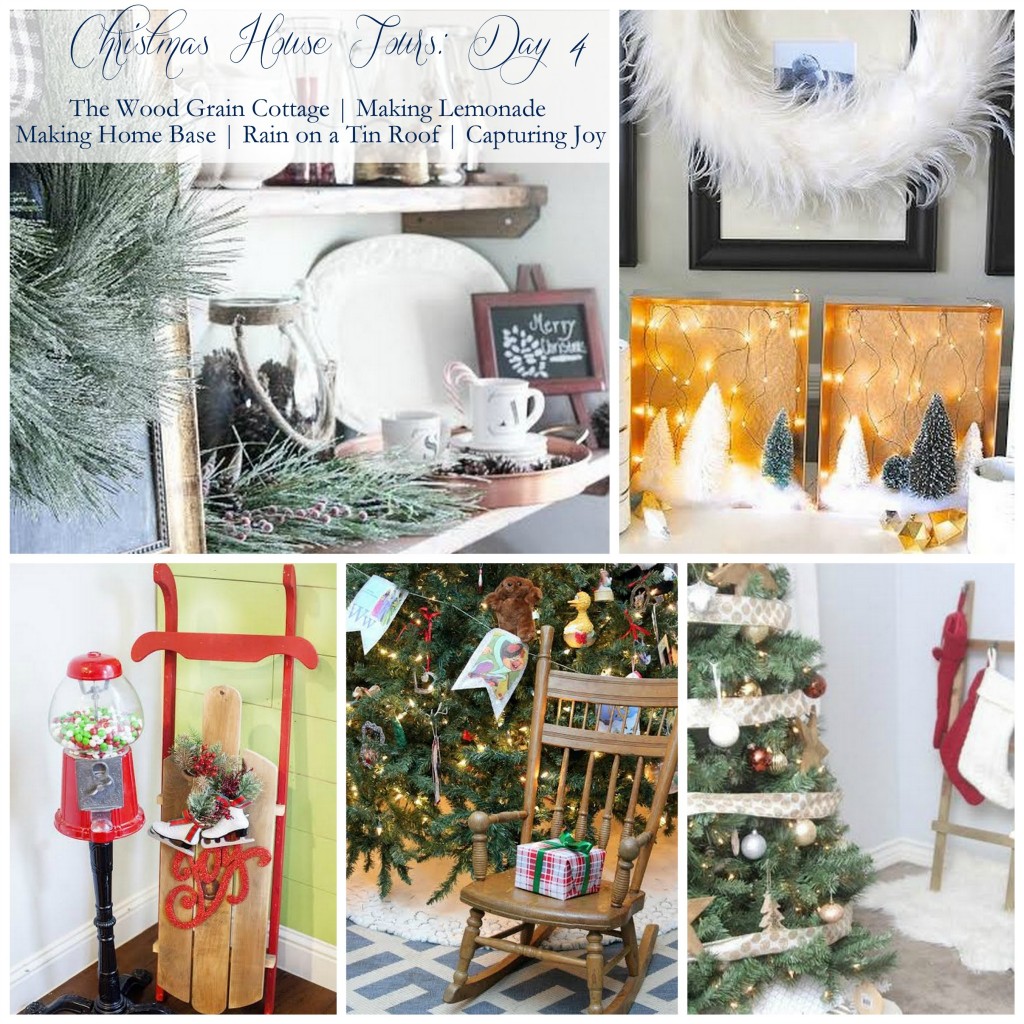 Rain on a Tin Roof | Making Home Base | The Wood Grain Cottage | Capturing Joy | Making Lemonade
Monday:
The Happy Housie | Everyday Enchanting | Maison de Pax | Life on Virginia Street | Unskinny Boppy | Setting for Four
Tuesday:
rooms FOR rent | Town and Country Living | On Sutton Place | Design, Dining and Diapers | At Home with The Barkers | Cottage in the Oaks
Wednesday:
House by Hoff | Jenna Sue Design | Love Grows Wild | Craftsberry Bush | All Things G&D | DIY on the Cheap
Thursday:
Rain on a Tin Roof | Making Home Base | The Wood Grain Cottage | Capturing Joy | Making Lemonade
Friday:
Migonis Home | Just a Girl and Her Blog | Fox Hollow Cottage | City Farmhouse | Ciburbanity
See you tomorrow!! 😀