Ah! It's been forever since I last shared our master bathroom. Right after we found out our shower had been leaking into the living room (they share a wall), we basically demoed the bathroom, leaving the cabinets and bathtub. We ripped out the existing tile and installed new floor tile, and shower tile. It's been one of the best decisions… not only does the shower not leak anymore, but the bathroom looks waaay better than it did with the original tile.
The last time I shared about the master bathroom, the tile guys had just left. Here's what it's looked like for the past 5-6 months…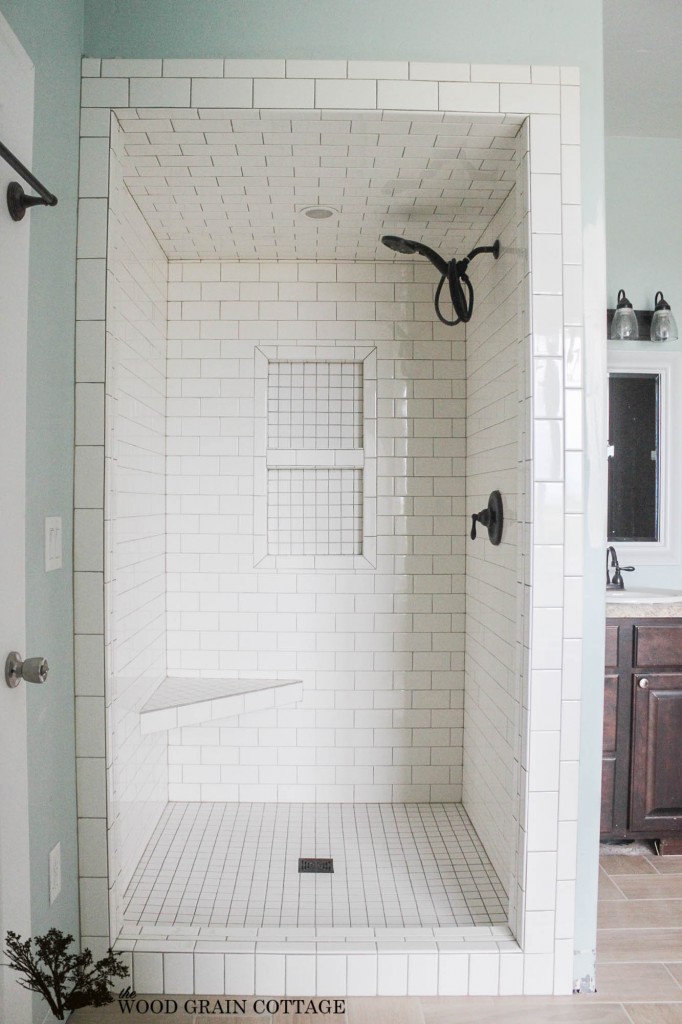 Mind you, I did clean, but that was basically it. The bathroom has had paint swatches on the walls, missing trim, and nails sticking out from the previous trim. In all honesty, it's been a hot mess. Partially because I hadn't felt the best, partly because of the holidays, and partly because of the Vintage Whites Market in January.
A few weeks ago, I finally got myself in gear. I started painting the walls and Anthony began installing the new trim. Let's just say we've accomplished several other projects ( 🙂 ) and this bathroom is looking completely different!
I decided to paint the walls White Dove by Benjamin Moore. It's the same color as our breakfast nook, and I love the way it looks in natural light. I always have my paint mixed in Ace Royal paint (from Ace Hardware), and the sheen for the bathroom is eggshell…
White Dove has been one of my very favorite "whites". It's not a bright white, more of a softer cream-ish color without being yellow. I didn't want to paint the entire bathroom white. It would have been white subway tile, white trim, white walls, etc. The way it is, the subway tile really pops… (hard to tell because of the lights…)
It especially looks much better with our dark cabinets…
And, for our toilet closet…
I decided to do something a bit bold..
I painted the upper portion of the back wall black, Onyx by Benjamin Moore…
You can see a peek of the new trim in the picture above as well. 🙂
I am so excited to show you what else we've done to this little room. It's a night and day difference. I'm also excited the blue has left… haha!
I don't want to jinx myself, but I'm feeling motived to finish the room completely. To stay true to my 2016 goals, I'm leaving no unfinished projects behind!
More on the bathroom in a few…