I know… I know… I left you hanging last week with the new dining room changes I made. That beautiful paint color has kind of changed everything! I'm beyond in love with the new color… we have moody dining room shelves now, and they're awesome! I'm still not entirely set on how they're styled, and they're guaranteed to change with time, but I did adjust how I displayed the items on the shelving.
I have a lot of thoughts on our dining room… changes I'd like to make, a slight functionality change and the overall feeling in the room, but deciding on how I want to move forward with everything is a little ways off. In the mean time, it's still functioning just like before, except now it's way more dramatic. Everything pops, the display feels fresh and the room while the same, most definitely isn't.
It's basically like contrast heaven in here.
Our white dishes pop, glass pitchers look great and even my black lanterns stand out!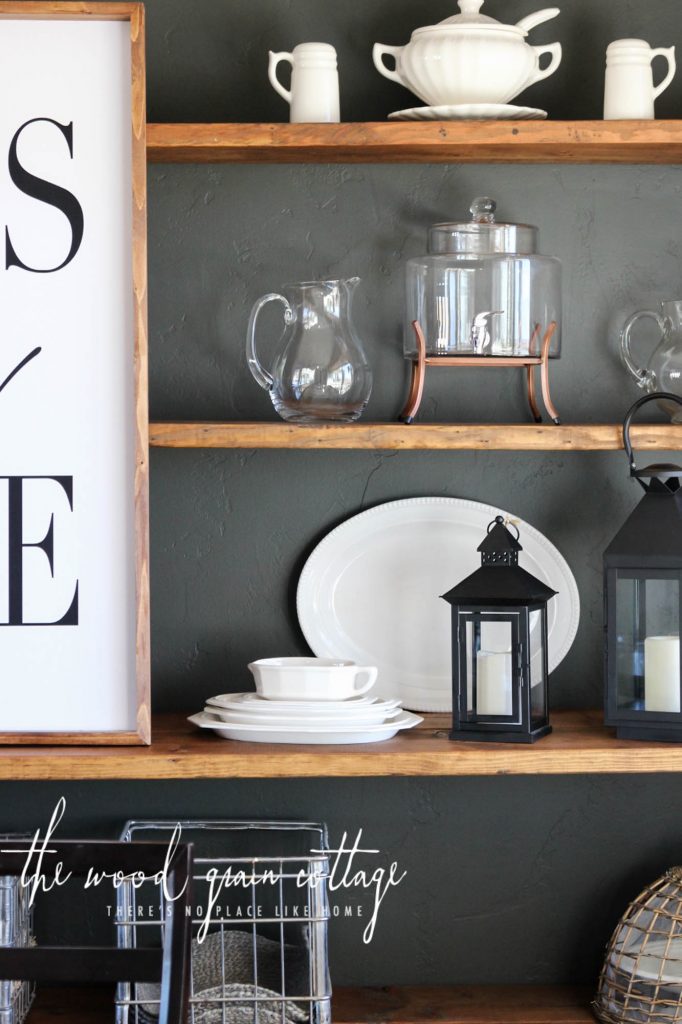 The paint color is easily one of my favorites. Having lived with it for a little while now, it's the perfect color for the dining room, and probably several other rooms too! Depending on the lighting, it looks dark green, black or gray. Love it!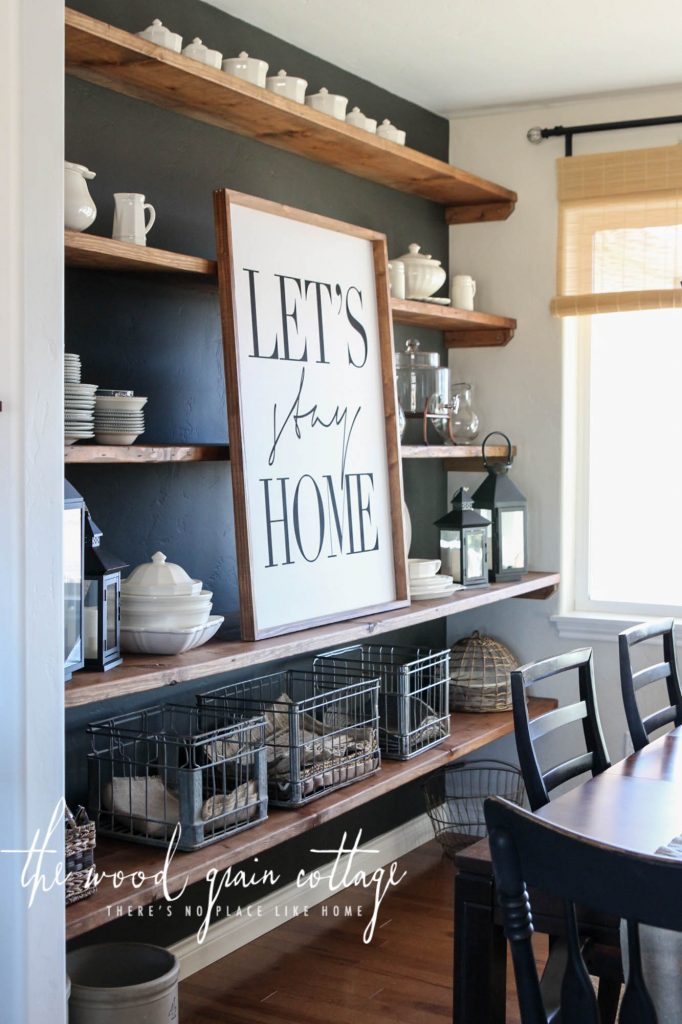 I'm working on gathering up a few new items for those shelves, and I'd love to go a little more "library meets dining room" vibe. I can see it all in my head, now it's just collecting everything to make it happen…
In the mean time, it's lovely and we're making progress! Can't be sad about that! And just in case you're wondering about item sources, you can shop the room below:
Please note: Some of the links in this post are affiliate links, which allows us to make a small commission from your purchase, but your purchase price stays the same. Thank you for helping support our blog! We greatly appreciate it!
Wall Paint Color: Vintage Frame by Valspar in flat
Dining Room Shelves- DIY
Large Black Lanterns- TJMaxx
Let's Stay Home Sign– Ours is the largest size available
Glass Pitchers- Thrift Store
Metal Baskets- From our family farm, but can be found at antique stores
White Platters- TJMaxx
White Dishes- Thrift Store