Happy Thursday to ya! And since today is Thursday, April from House by Hoff and Jen from Migonis Home are joining forces with me to bring you a project that you can create for $30 or less!
This month I'm sharing my DIY recipe box. And even though it's really simple, it's so full of heart. My heart. I've had this sweet spot for cooking and recipes and homemaking since I was a little girl. It's who I am.
You see, this life is truly about the little things. Like little boxes full of family history. Boxes full of love and laughter and memories. Boxes full of things to absolutely cherish. That's what I'm sharing today…
Here's how we made it, and the supplies we used:
Please note: Some of the links in this post are affiliate links, which allows us to make a small commission from your purchase, but your purchase price stays the same. Thank you for helping support our blog! We greatly appreciate it!
Supplies:
We started with the same cedar tongue and groove that we used on our stackable fruit crates…
Anthony just trimmed down the boards to size…
And trimmed off the tongue and groove portion of boards with our table saw…
Then Anthony started putting it together…
He used his nail gun to attach two sides together…
He used a clamp to keep everything square…
Once all the sides were attached…
He measured and cut a piece of floor underlayment, (the same thing we used for our plank walls: here, here and here) for the bottom…
The finished measurements are 3″ tall x 7 " long x 5 1/2″ wide.
Once the bottom was nailed down, I started staining it with Early American by Minwax…
Once the stain was dry, I wiped on a coat of dark wax…
Then, I grabbed one of these metal book plates…
And nailed it in place…
For the label, I used an old recipe card that had "aged" over time and traced the font from my computer screen…
After I trimmed it to size and placed it in the tag, I was left with this…
This is such a meaningful little box…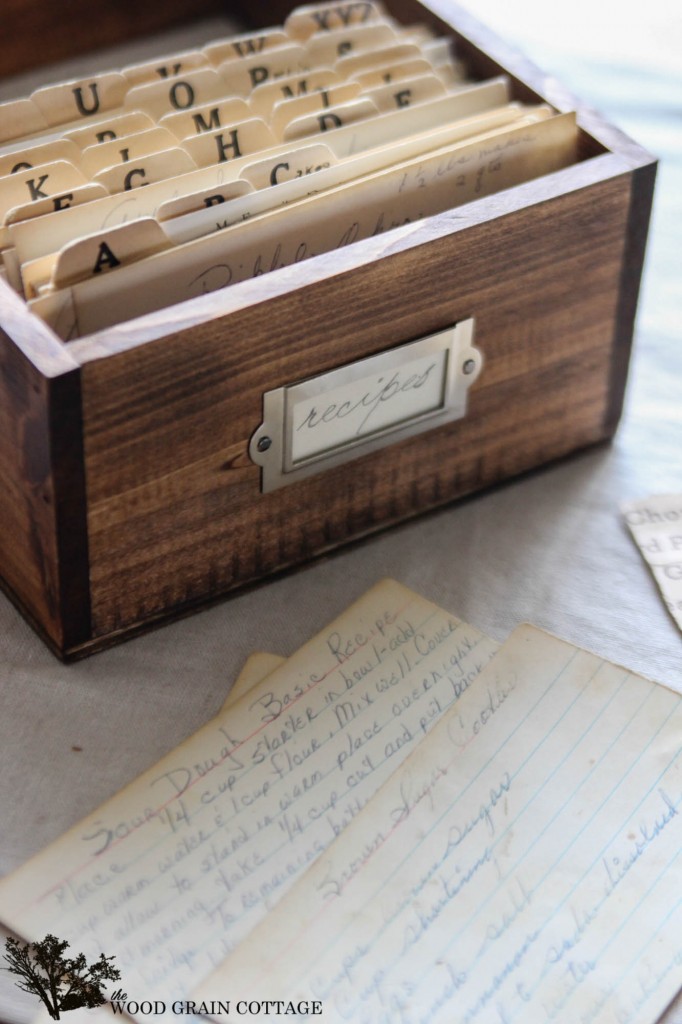 And I can't wait to fill it full of more family favorite recipes…
There's just something about it, but I can't help but smile huge just thinking about it…
I think one of the reasons I love it so much, is because it's full of all this classic handwriting… Beautiful!
And to make it easy for me to keep adding to my recipe box, I added several blank cards to the back…
I'm basically ecstatic to start adding to it…
And even though I love Pinterest for all the lovely recipes (we've gained several new favorites), it won't be able to compare to this box…
Or recipe books that have been loved with splatters…
And written in…
Books that eventually look like this…
I won't ever be able to throw it away. My sweet great-grandma gave it to me. It will always be right next to my box.
And now that you know how much I love this little box, just go ahead and multiply that by 1,000. That's how much more I love it since my sweet husband made it for me. This little box will be loved. Forever.
And now, here's what April and Jen came up with…
April created this beautiful trash to treasure seashell artwork… it's lovely… and it makes me want summer really bad!
And Jen made this awesome numbers learning board… I'm in love with it! Pure perfection!
There you have it! Three more projects that you can make and create for $30 or less! If you want to see more ideas, be sure to visit our $30 Thursday Pinterest board. It's FULL of awesome budget ideas!