Happy $30 Thursday to ya!
In case you're new here, the first Thursday of each month April from House By Hoff, Jen from Migonis Home and I get together to make creative projects $30 and under.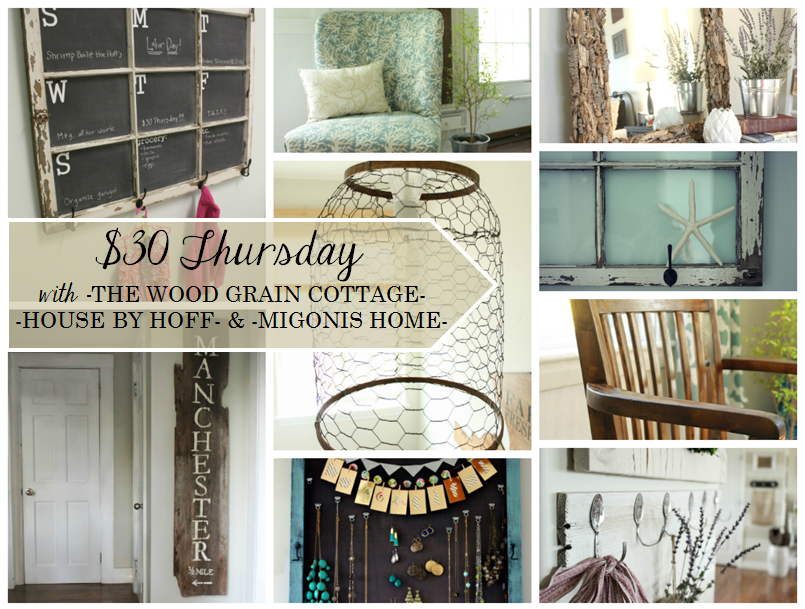 And this month we made it dedicated to Halloween.
Here's what I came up with:
Goodness. I'm blow away by it!
AND it's super simple to make! Here's how:
I searched high and low at my parent's farm for a 4″x4″ board. I knew I'd find one somewhere. It's been treated and it's aged/ distressed naturally.
I had Anthony cut it in half, so it ended up being 6 foot tall.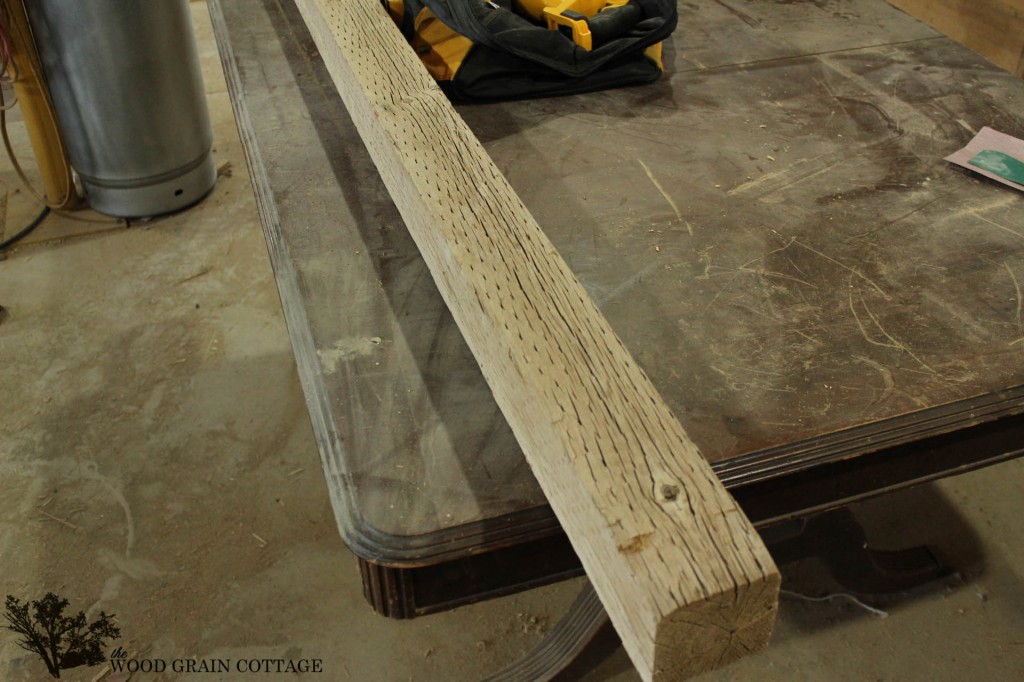 On my hunt for the 4″x4″, I ran into a pile of my dad's old tractor disk blades. I loaded that in the back of the truck too… It's the perfect base for the stand!
Anthony grinded down the top and added a few holes. The center square was already there.
Then  we screwed the bottom of the pole into the base…
Anthony started cutting down leftover fence picket pieces (from other projects, like this,this and this). Those fence pickets… they're handy!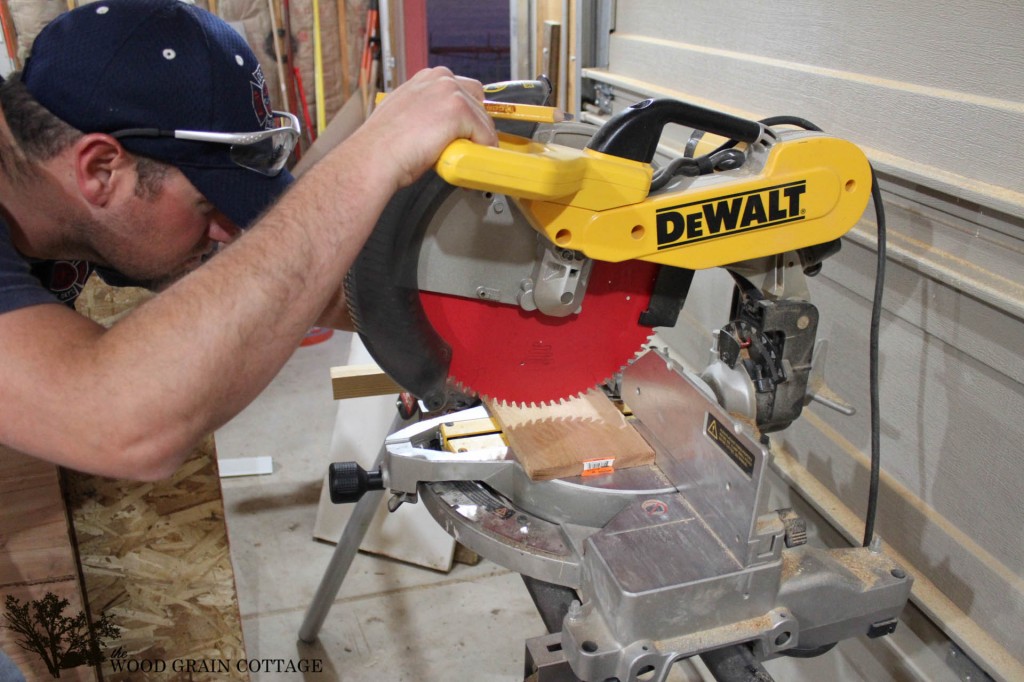 We cut two different sizes for the length, 12 inches and 14 inches. Anthony used his saw to cut the arrows on the ends…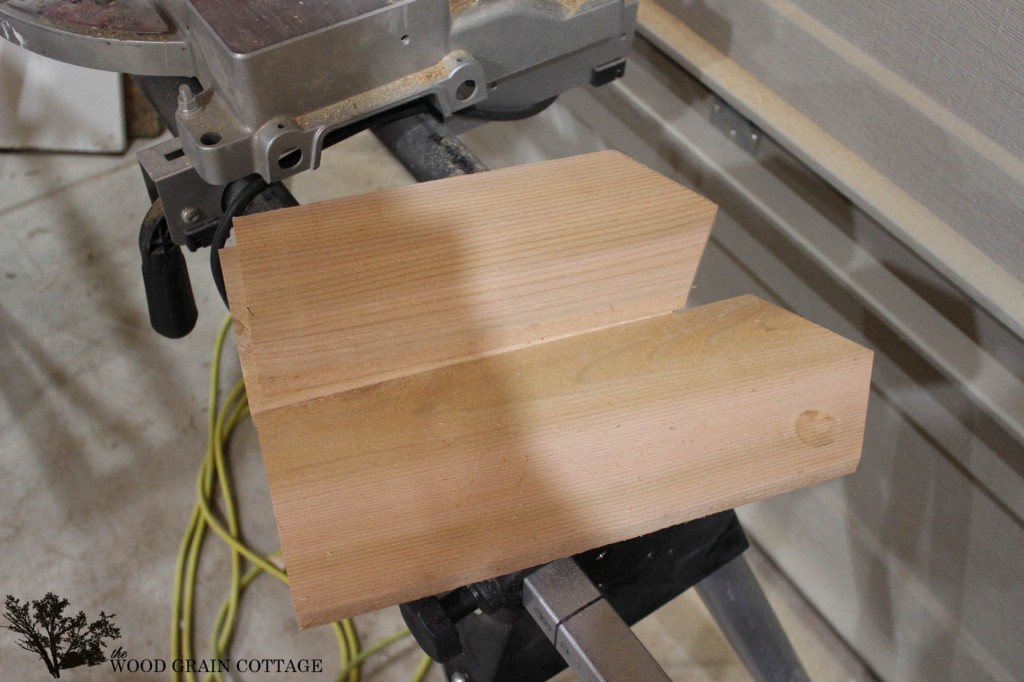 Once they were all cut, I got busy sanding them smooth…
To give them a little bit of visual weight, we added a 2″x2″ to each side and clamped everything together.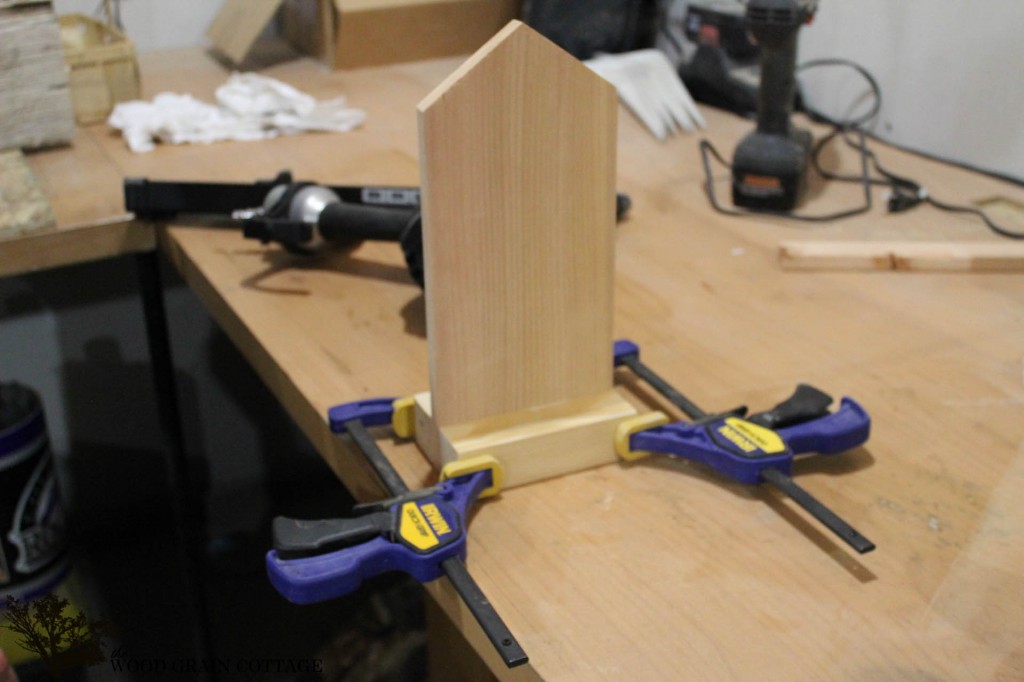 Then Anthony nailed it together…
Once they were put together, we played around with the spacing and clamped them to the post…
Then we attached them with a few screws…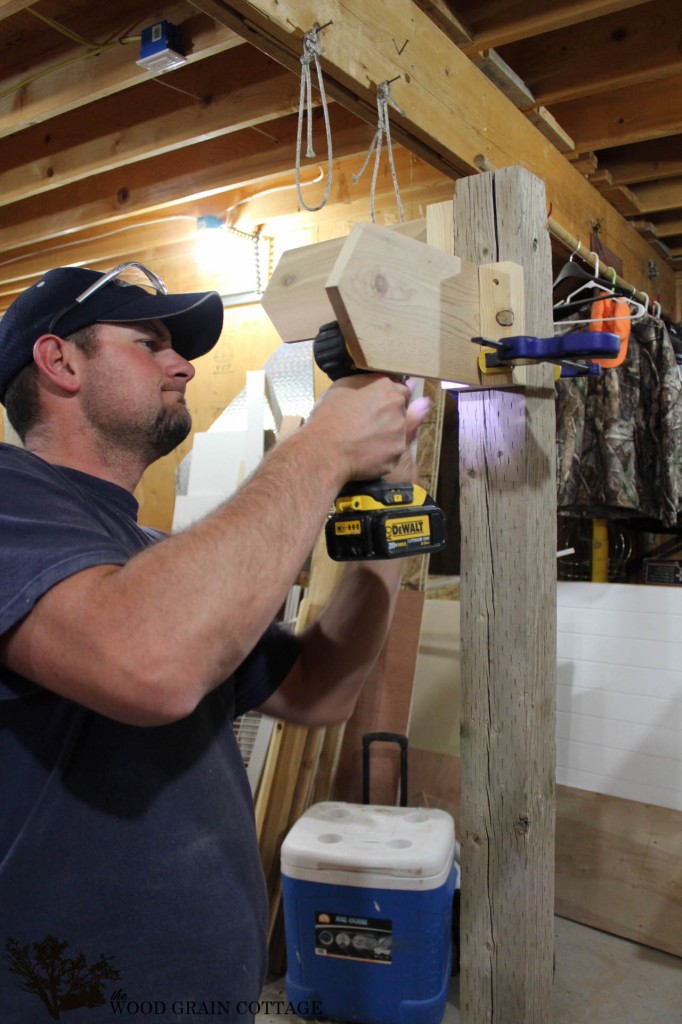 Once all 4 were attached, we were left with this:
I taped off the top…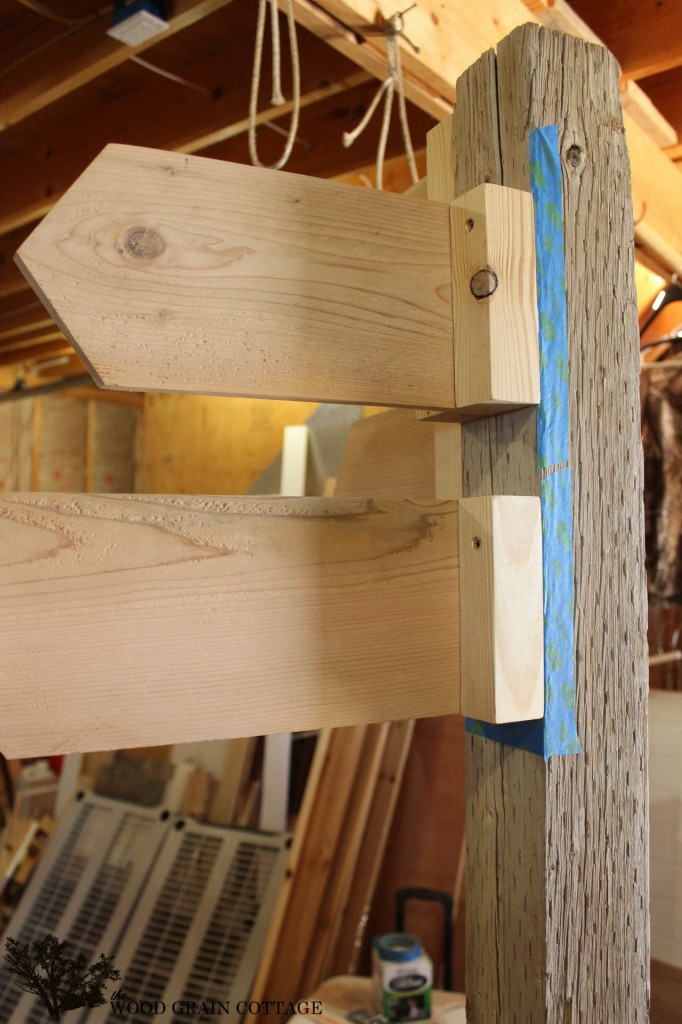 Then I filled the holes…
And then painted it with several coats of chalkboard paint…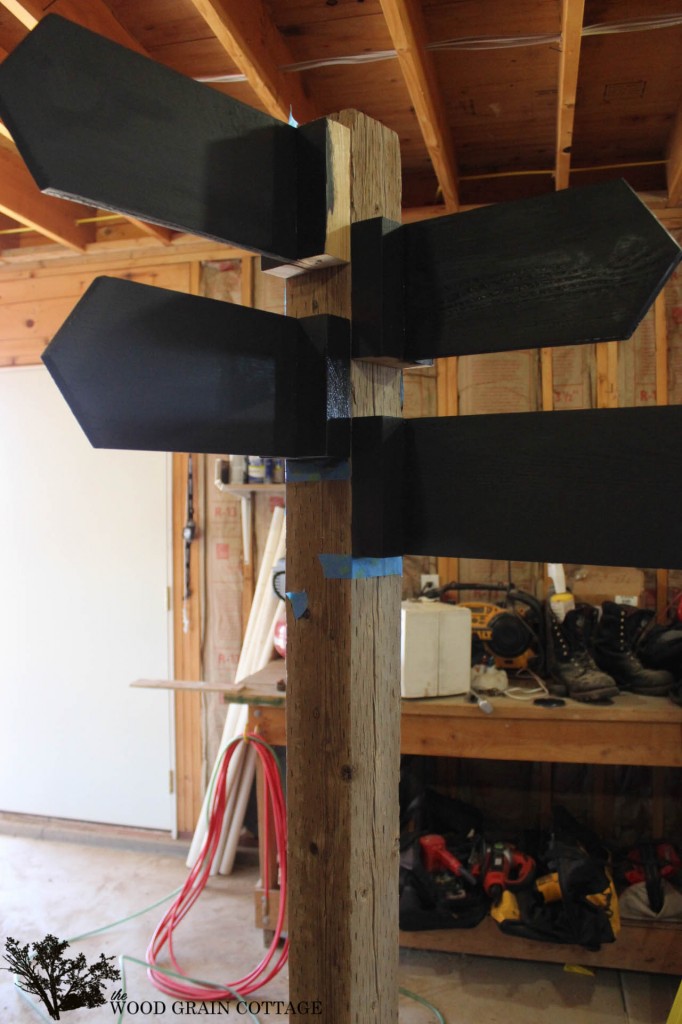 While the chalkboard paint dried, I taped off the bottom of the 4″x4″…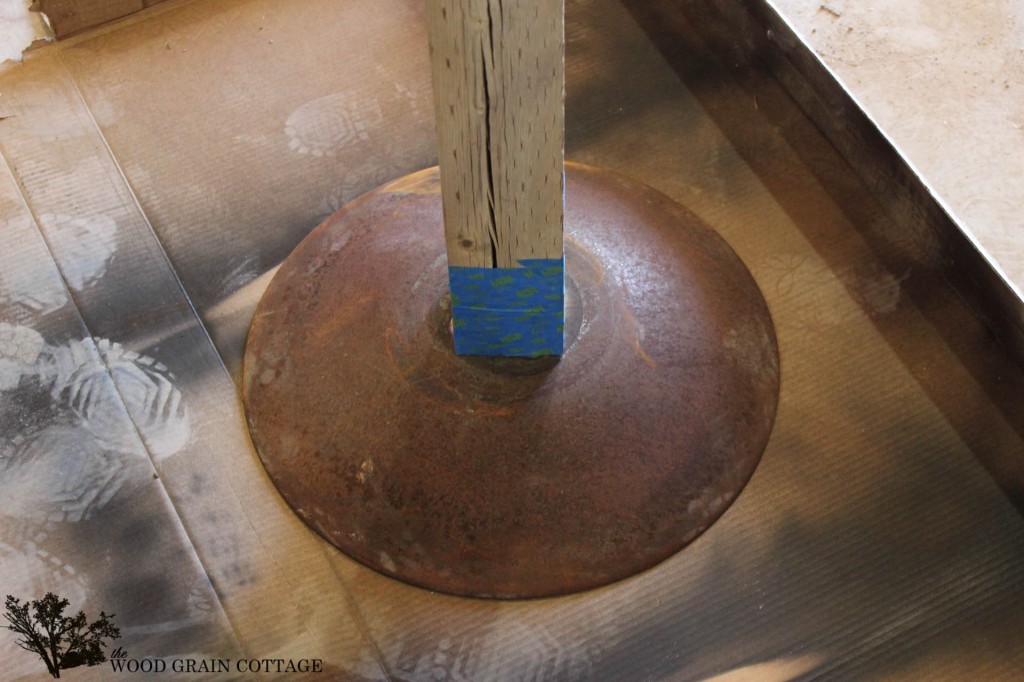 And sprayed it with a can of black spray paint in satin finish.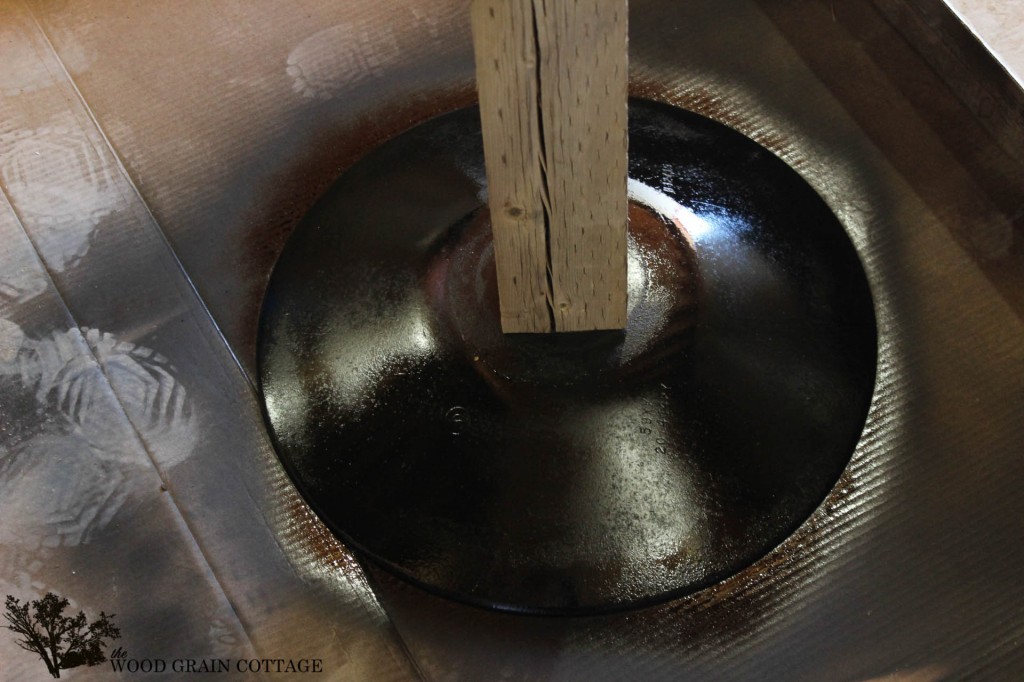 After everything had dried, I seasoned the chalkboard arrows with chalk and then got busy with my chalkboard pen.
I'm not by any means a great chalkboard artist, but I definitely had fun marking up the arrows…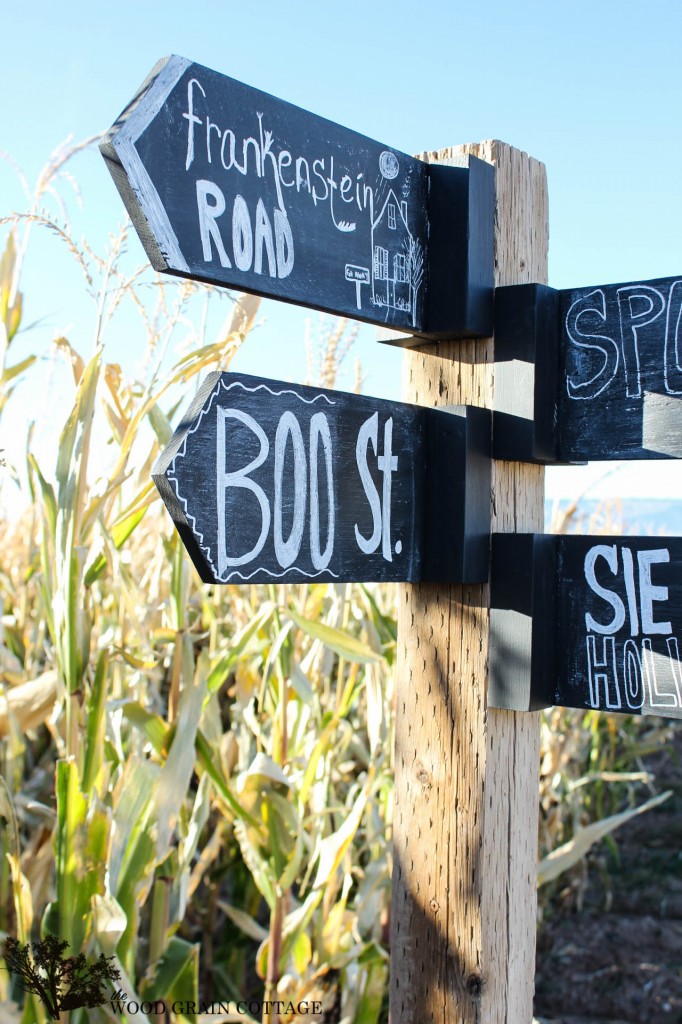 I'm basically overwhelmed with the outcome…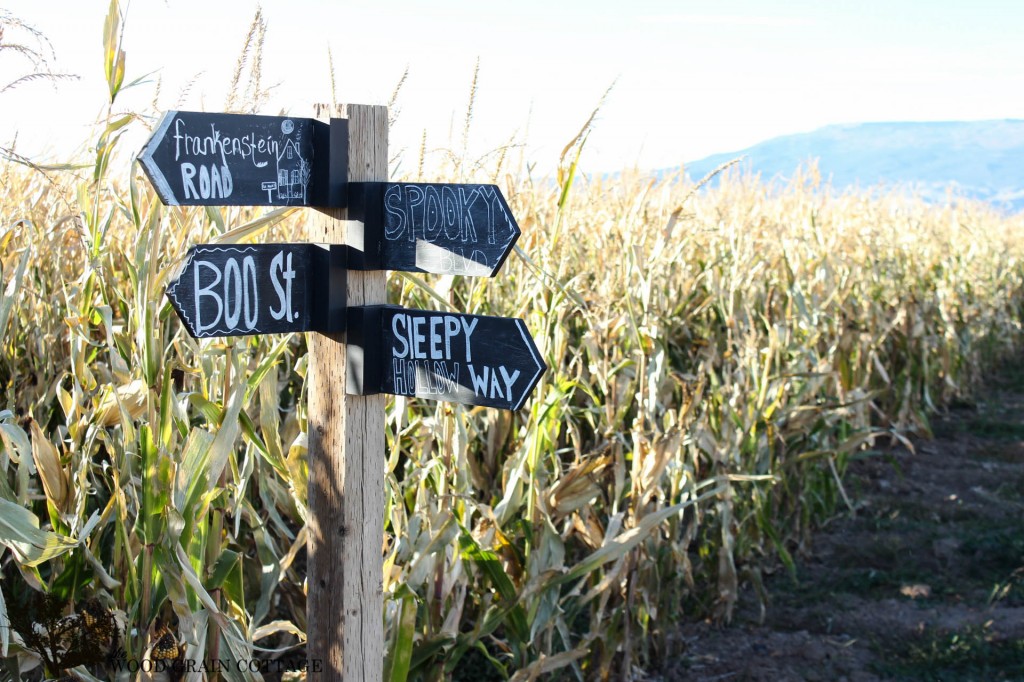 And our corn field was the perfect backdrop. Everything is looking very fallish around here and the corn field is no exception!
Look out, because you might end up on one of these scary paths…
BOO ST.!
SLEEPY HOLLOW WAY!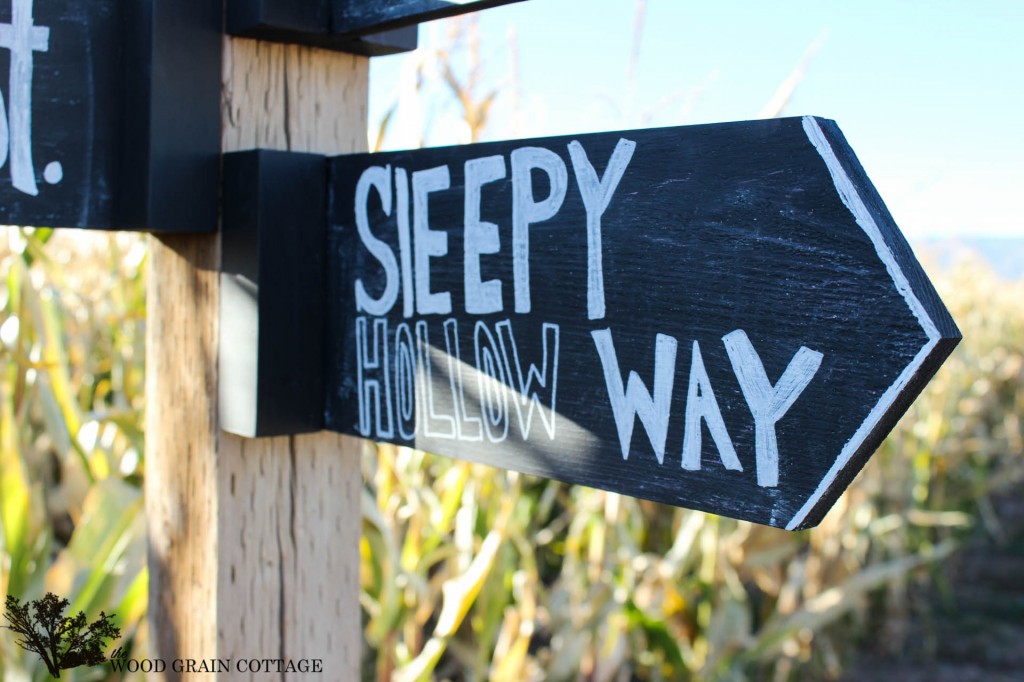 SPOOKY BLVD.!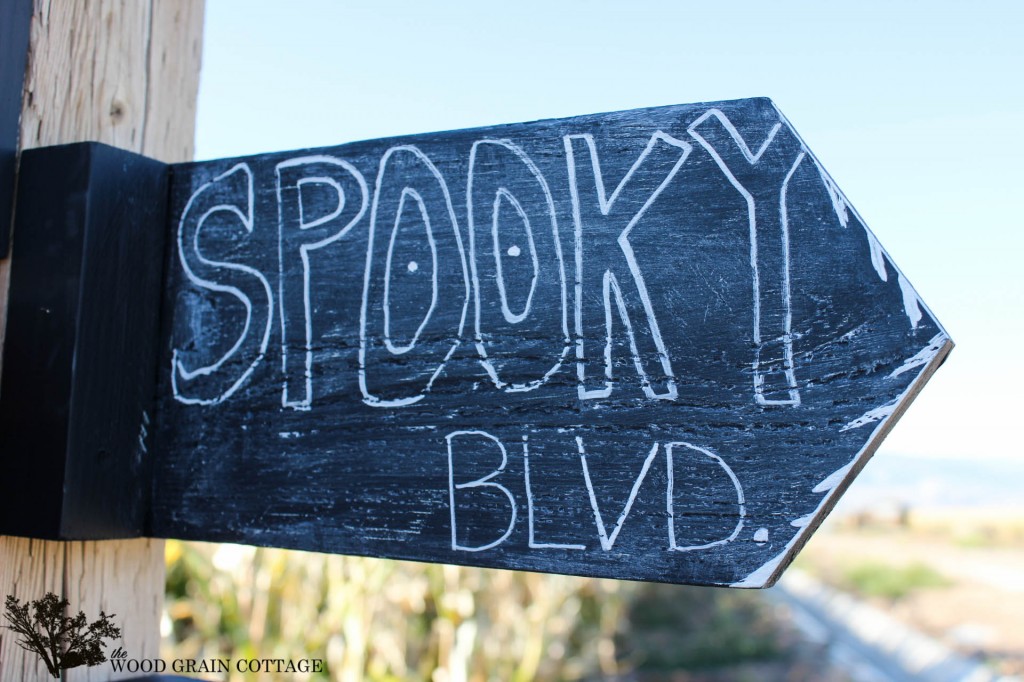 Or…
FRANKENSTEIN ROAD!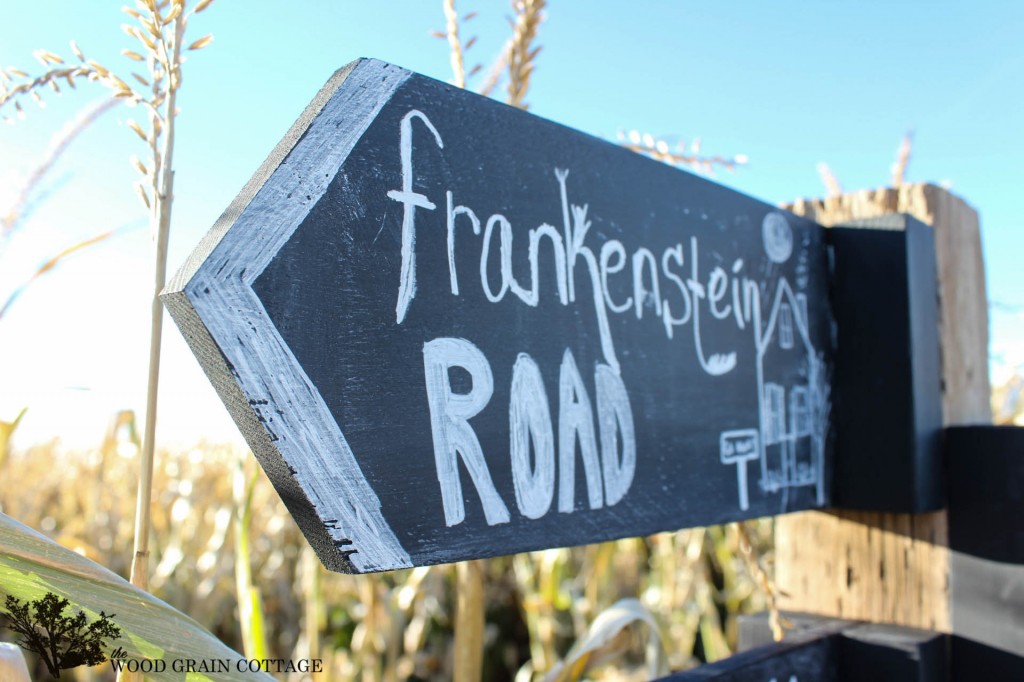 Yikes!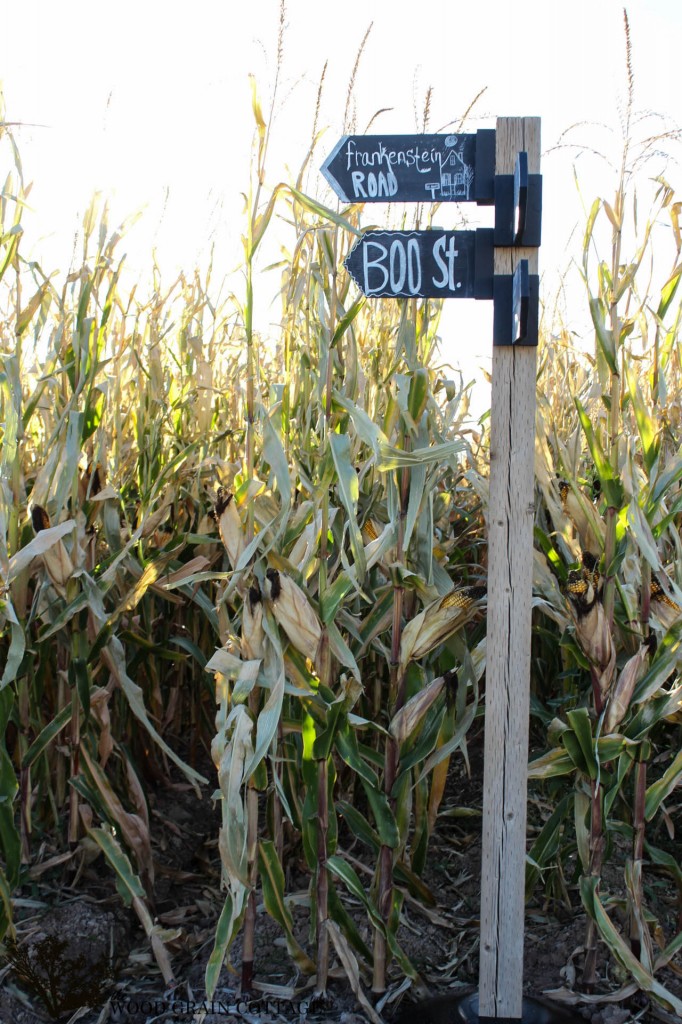 Don't go gettin' scared on me…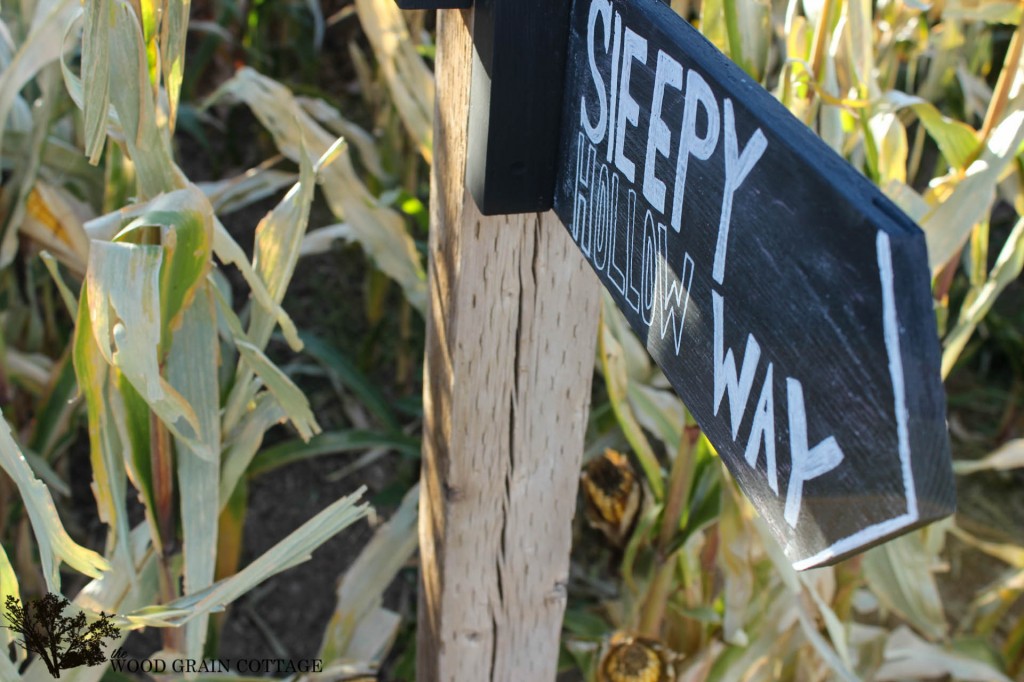 BOO!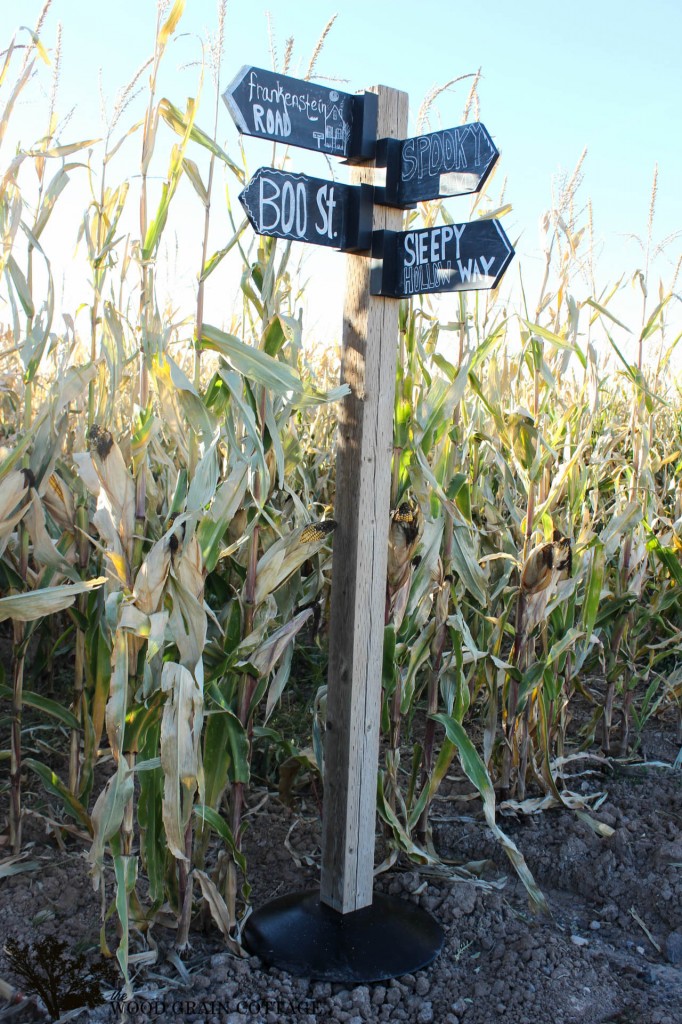 But when it's not hanging out in our cornfield…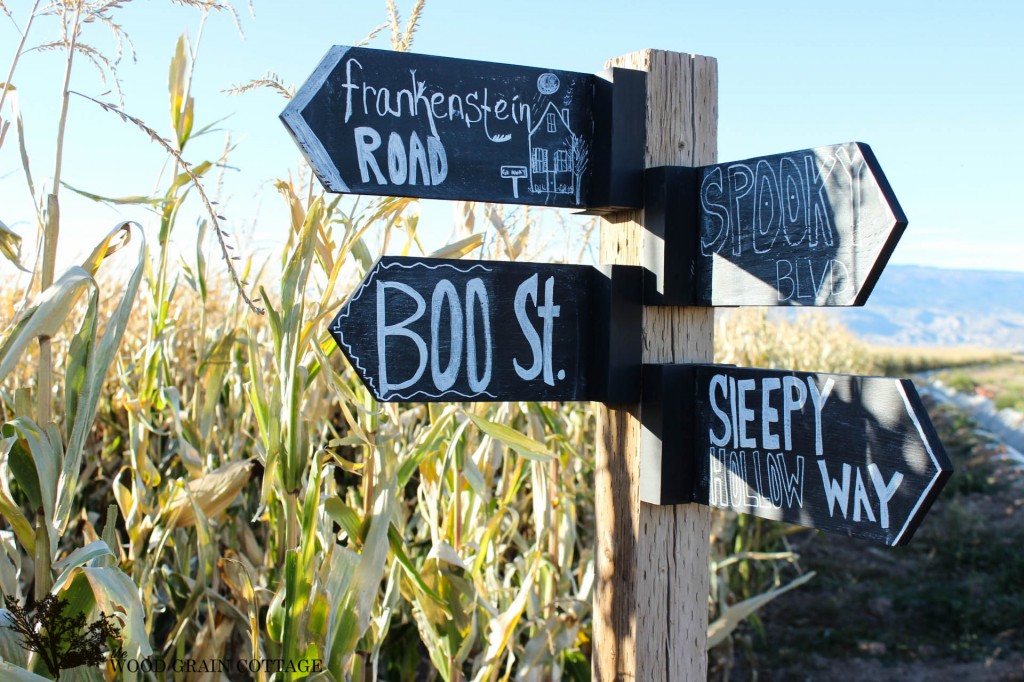 You can find it on our front porch…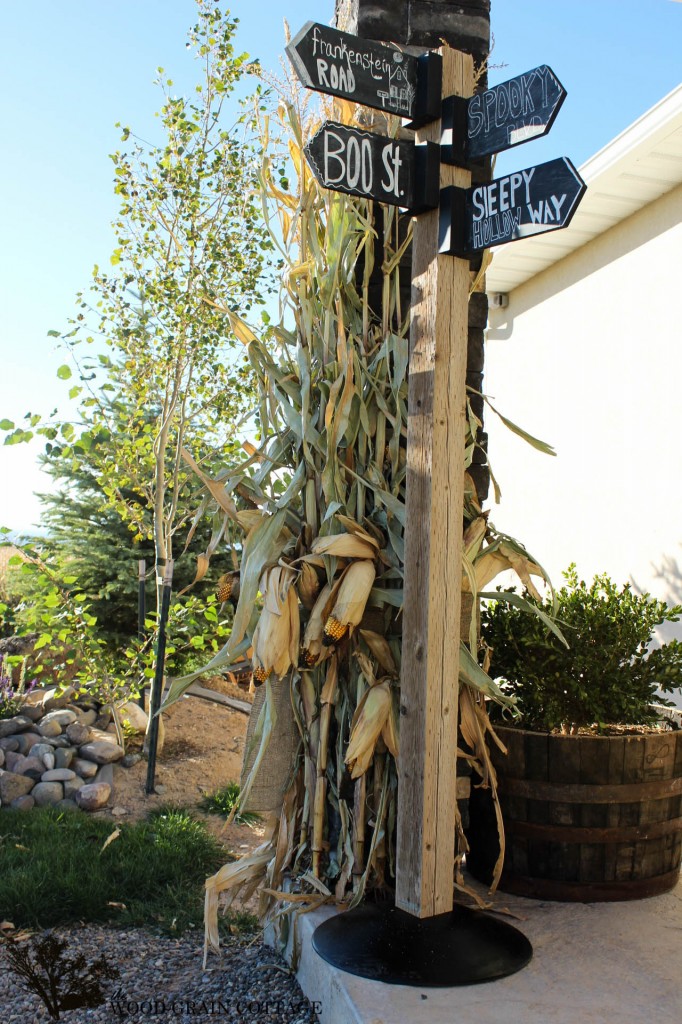 …Scaring each visitor that comes our way…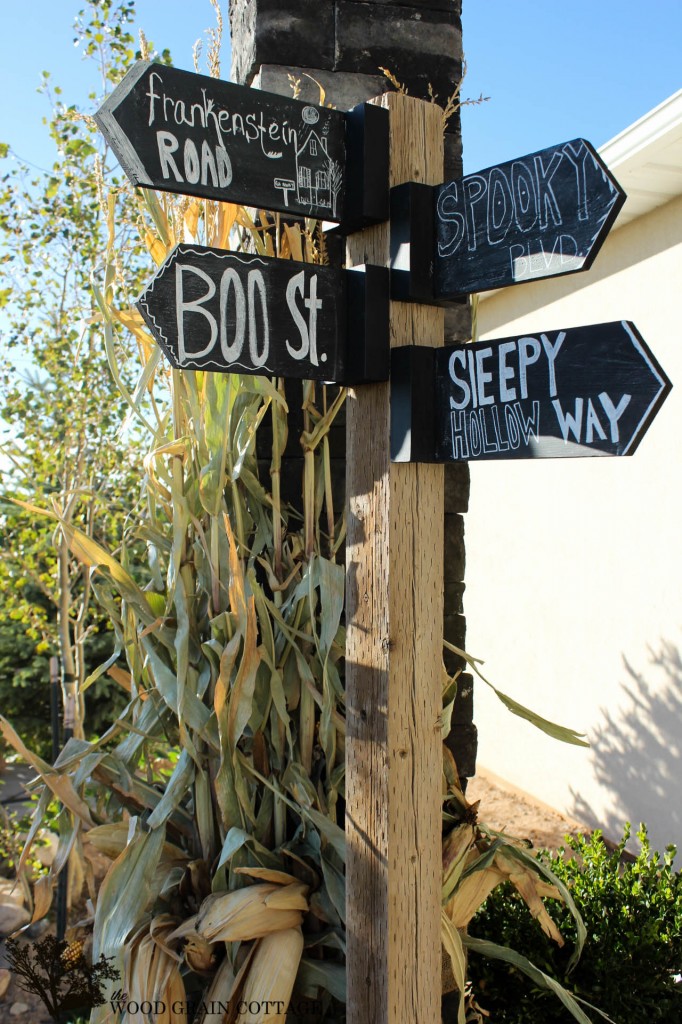 …Until they run into the house for safety….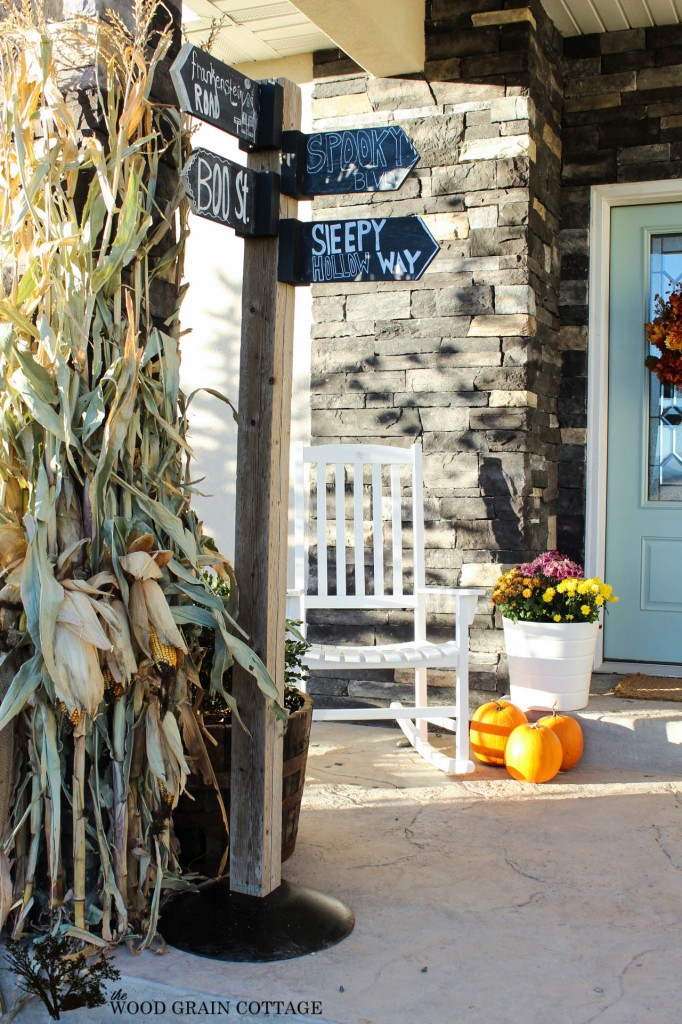 We're big on spookiness around here…. Not really…. I'm too big of a chicken!
This is as spooky as I get…
BOO!
Here's a sneak peak at what April and Jen came up with:
April made this lovely pumpkin sign… and shows you how you can make one too!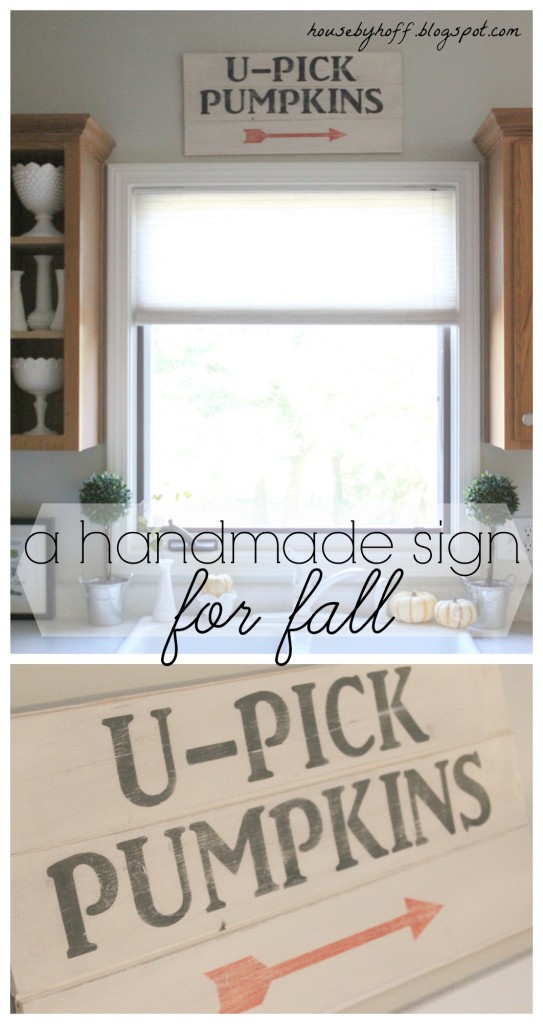 And Jen left me droooling with these Salted Chocolate Caramel Apples… I'm still waiting for mine to show up in the mailbox!
And now, let's see how many of you like a spooooky Halloween and how many of you are sissified like me… GO!
BOO! Got ya!

Pssst- Don't forget to follow our group pinterest board… it's full of projects you can make for $30 or less!
Linking up to: