Before I gave this bedroom night stand a makeover, it was dark, dated and a little depressed. See how the power of paint and a little bit of hard work transformed this beautiful night stand!
I'm slowly working on our master bedroom. It's always been the room that "collects" things. If I don't know where to put something, it usually ends up in our bedroom. But, times, they are a changing, and I have big plans for our bedroom.
For one, it would be nice to actually feel relaxed in there. Instead, I always catch myself looking around at all the things laying around. It's definitely not the prettiest room in the house, that is a fact. And two, we had a little mishap in our master bathroom (I'll share more soon), which has led me to focus a bit more time to that direction of the house.
So, when I found this little night stand at an estate sale for $15, I was all over it. Plus, it was in great condition, didn't smell funny, and was sturdy with great lines. Those are all things I look for in a piece of furniture! Sold!
The transformation was actually really simple. I started by sanding the top free from the existing stain and poly…
Then, I stained the top with Provincial by Minwax. Once that was done, I started painting the drawers and frame of the dresser in Mushroom by Maison Blanche.
It ended up taking two coats, which I was thrilled with. Once the paint was dry, I used a piece of sandpaper to lightly distress the drawers, dresser frame, and sides…
With the distressing finished, I wiped it down with a damp cloth, then used the clear wax to finish and seal the dresser…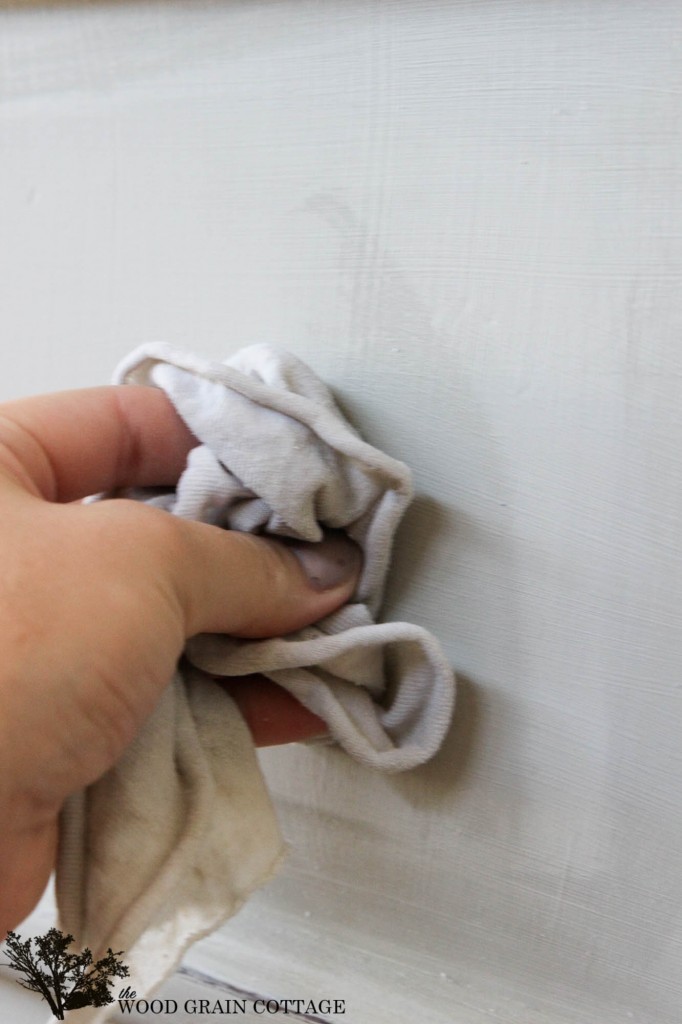 The wax does darken the color a little bit, and it's something I always anticipate, but I honestly love, love, love this color. It's so pretty!
I decided to keep and re-use the original hardware. I really like it, and I think the brass fits perfectly with the new color. Plus, if I get tired of it, I can easily switch it out for something new.
With that, the dresser was finished, and I assumed the task of bringing it into the house myself. Anthony was in a field somewhere, and I wanted to get it in place right then. 🙂
This guy is heavy… but adding felt discs to the bottom of the dresser made it easy to slide over our hardwood floors (no damage done!), and into our master bedroom.
It's made a home on Anthony's side of the bed, and I'm so happy to have something bigger in the space. Our previous night stands were too small, and they made the windows look really tall since the night stands were the same width as the window. This night stand is perfect in size.
And it looks lovely with my DIY painted curtains!
We're one step closer in our bedroom. I've always known we needed new night stands, but I hadn't found anything I liked. Estate sale for the win!
Now, I'm working on my side of the bed. And wouldn't you know it, I have the perfect piece in the garage just waiting for a makeover. Looking forward to sharing more about it soon! 🙂
A few of my blog friends also have some Before & Afters to share today… off to check them out now!
For more detail about the paint (and step by step instructions), you can check out Maison Blanche's You Tube Channel. There's lots of great information and tutorials. To buy the paint, see the list of retailers here.
Happy Painting! ?
P.S.- I received product and/or compensation for reviewing Maison Blanche Paint Company products. However, all opinions about their paint, finishing products and this lovely night stand are my own! For my full disclosure policy, click here.