Looking to add new blinds to your home? Here are several reasons why I love bamboo blinds!
Today, I'm sharing all about why I love bamboo blinds. I know how hard it can be to pick the right blinds for a house… it's hard work, with a lot of apprehension. To many a blind may just be a blind, but let me just tell you, no blind is ever "just" a blind. They have the magical ability of creating a cohesive flow throughout your home, as well as setting the tone for each space.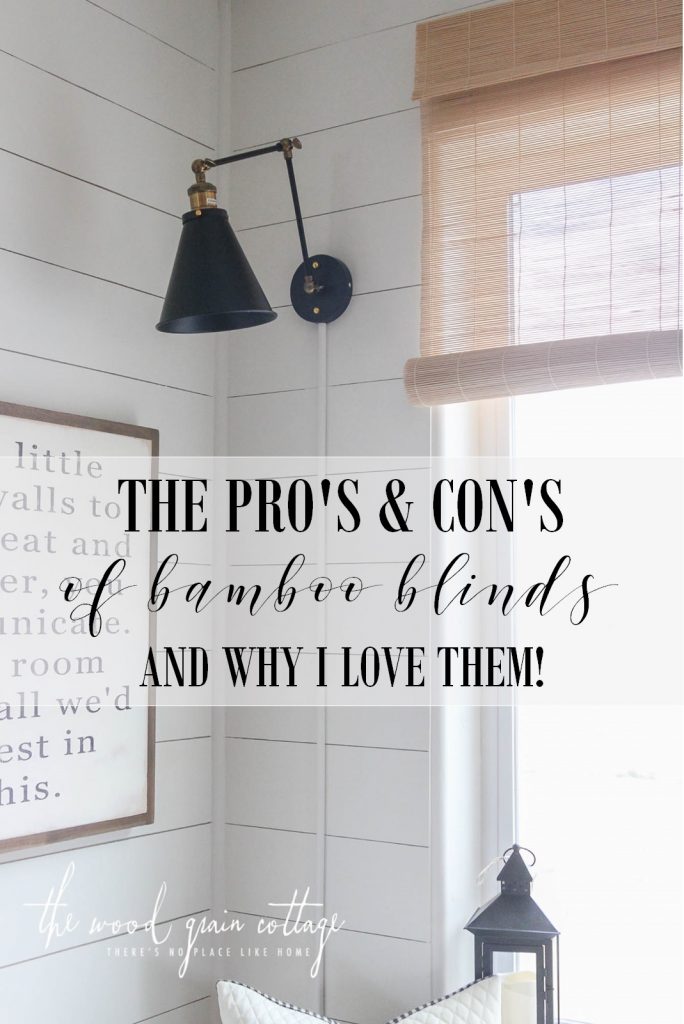 Window treatments are absolutely huge in the overall scheme of a home. Not only do they finish a room, but they also create optical illusions, often for the better. So, why are they often overlooked?
My philosophy on that question, is that we often under rate the importance of blinds and curtains. We can't decide on the perfect compliment to the room, the windows stay bare, or mini blinds are installed. Let me preface this that there is absolutely nothing wrong with mini blinds. In several cases, they look wonderful. I'm just not a mini blind kind of person.
In our first house, we installed the traditional 2″ faux wood blinds in every room. And every two months I would be cursing my existence in trying to clean them all. Cleaning all of those slats isn't something I particularly enjoyed, so when it came time to build our new house, I knew I was not going with those again. No thank you.
Instead, I chose bamboo blinds and my life was forever changed. Not even kidding.
Why I Love Bamboo Blinds
Let's take a look at both the pro's and con's of bamboo blinds, because even though I'm team bamboo blind, there are a few con's that should be considered as well.
Pro's of Bamboo Blinds:
Texture: Bamboo blinds have this absolutely amazing way of creating texture in a room. They bring that important element, which is entirely necessary for creating a room that has different levels of "depth". They also come in a variety of wood shades, making them the perfect compliment to any flooring. Together, a bamboo blind and wood floor create a "balance" among-st the two… they even each other out. I also love them because they work wonderfully with natural fiber rugs. Again, the two pull from each other, making the room (or small space) feel like it's very cohesive.
Cleaning: Let me just say, the cleaning is minimal with bamboo blinds. A quick dusting, or just use your vacuum wand, and they're good as new… and you don't even see the dust to begin with. Plus, if you open and close them everyday, consider the dusting obsolete. That's a huge reason to love them, at least for me!
Light Filtering: Depending on where you live, this could either be a problem, or a plus. Since we live on a farm, and don't have any direct neighbors, I love that the bamboo blinds filter light. In other words, light shines through the small little slats, making them the perfect "open/closed" blind.
Huge Variety of Styles & Colors: I mentioned this in the "texture" portion, but I think it's a huge perk… one that needs to be listed on it's own. Bamboo blinds come in a wide range of natural wood tones. From the lightest natural (like mine), to the darkest of dark. I'm almost positive there is a color that goes with anything.
Variety of Price Ranges: Another big perk of bamboo blinds, is that they're affordable! When we built our house, we had a tight budget. I was able to do bamboo blinds throughout the whole house, and we have a lot of windows!, for about $600. I searched and searched until I found something I liked, with a reasonable price. Sure, the quality does go down a bit, and the blinds won't be the best quality you've ever seen, and they'll probably come with these little hooks to hold them up (see the image below), but they'll work just fine.
Inside Or Outside Mount: For me, this is huge! I love the option of installing them inside the window frame, or outside. I chose to install all of ours with an outside mount, and I love that you can "fake" a larger window size by doing that. You're not confined to the actual window size, which gives you the perfect opportunity to make small windows look bigger, just by installing the blinds higher than the window, and purchasing them wider than the existing window. This is the perfect optical illusion. I also love this, because if you have two windows next to each other, that aren't the same size, it's the perfect way to create the illusion that they, are in fact, the same.
Easy To Install: Another major bonus to these blinds, is that they're easy to install. We've installed several different types (and brands) and they're all easy!
Perfect For Any Style: Yes, I'm going to say it, I think they're perfect for any style. Partly because of the wide variety of color shades, but also because they look wonderful with curtains, and make it easy to incorporate any patterns, colors, etc.
Widely Available: I love that bamboo blinds can be found easily. Home improvement stores have them, and you can find them all over the internet, which makes it easy to pick and choose, and to shop sales. I'll share some sources below.
Creates A Cohesive Flow Throughout: Blinds of any style create a cohesive flow throughout the house if the same style, or shade, of blind is installed in every room. Rather than doing one kind in one room, and another in the next room, doing all of the same blinds in every room creates a gentle "flow" from one room to another. You don't feel like you're leaving one room from the next. Bamboo blinds are the perfect solution.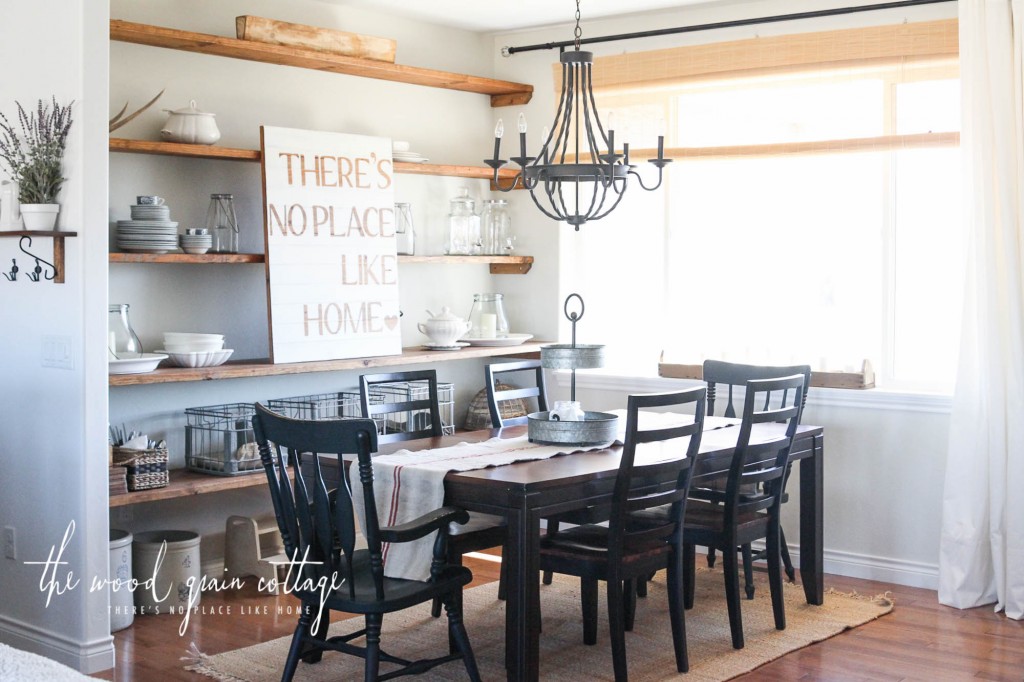 Con's of Bamboo Blinds:
Light Filtering: I listed this a pro (which I think it is), but I also know if you live in a subdivision with close neighbors, bamboo blinds aren't the best for privacy…. unless you purchase a privacy lining that is attached to the blind, or that you can attach in addition to the blind. At night, without the privacy liner, you can see right through the blind…. almost perfectly. You definitely wouldn't want to attach a bamboo blind without a privacy liner in your bedroom or bathroom.
Privacy Liners Can Be Expensive: In order to have a "privacy" bamboo blind, you'll need a privacy liner. They're relatively easy to attach, and they're generally about $10-$20 extra. That may not seem like a lot if you're doing one or two windows, but if you have 10 or 12, it easily adds up. Even if you get the privacy liner included in the shade, they'll generally be more expensive.
Cheap Blinds May Not Hold The Weight: I speak from experience on this one. Our breakfast nook and dining room blinds are very large in width, and since we bought the cheap version of these shades, the cord can't hold up to repetitive opening and closing of the blind. This works fine for me, because I almost always leave these blinds up, but it may not for others.
The Edges May Not Be Perfectly Straight: I think this also depends on quality, but a cheaper blind may also not have straight edges. They may have a little curve, or bend. This is a very minor "con", but just know when they're all the way down, each side may not be perfectly straight. You won't notice it at all when they're rolled up.
As you can see, I don't have nearly as many "cons". In my opinion, bamboo blinds are a perfect solution for most windows, but it's all about what works best for you and your situation.
My Favorite Bamboo Blinds:

Affiliate links are provided below. Full disclosure here. 

I hope this has helped if you're in the market to purchase new blinds! It's safe to say I'm a bamboo blind type of girl! 🙂