See how I made our laundry room farmhouse light. I'm sharing my full, step by step tutorial and how I made it for under $30!
As you know, we've been working on our laundry room. It's been a process, but we are so close to being done!
And since today is $30 Thursday, I thought I would use the $30 budget to create a new light fixture for the laundry room.
If you're new here, $30 Thursday is held the first Thursday of each month. April from House by Hoff, Jen from Migonis Home and I challenge ourselves to create a project that's under $30 and easy enough that anyone can make it.
For this round, I created this: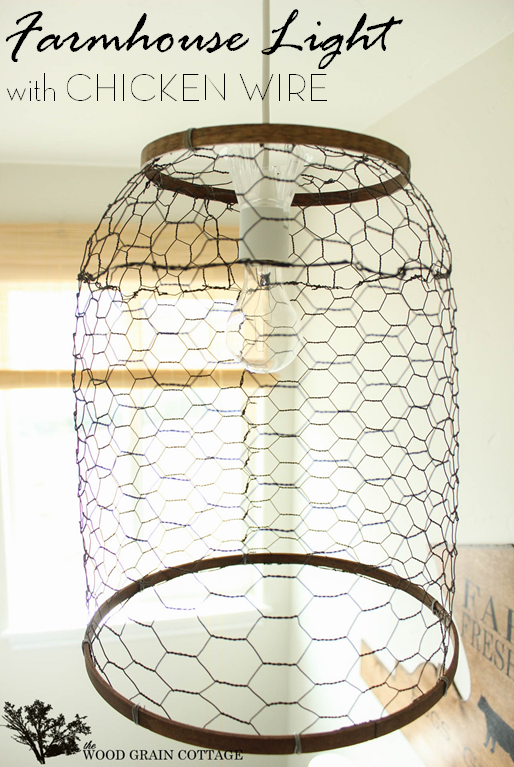 I would be lying if I told you that I'm not completely obsessed with it. I totally am. Especially since I've seen versions on the internet for waaay more than I spent on this.
I had a few requirements for the laundry room light. I wanted it to be unique, include wood tones, and look farmhouse vintage.
I think it's perfect! Originally, we had a cheap-o $10 Ikea light in there. It worked perfect, but I always had the intention of switching it out later. With this light, I was able to reuse most of it, and just removed the previous plastic shade.
Here's how I made it, and what I used:
Laundry Room Farmhouse Light
Please note: Some of the links in this post are affiliate links, which allows us to make a small commission from your purchase, but your purchase price stays the same. Thank you for helping support our blog! We greatly appreciate it!
Supplies:
First, I started with two embroidery hoops. I used a 12″ and a 6″.
I removed the inner circle from both hoops…
And stained them with Provincial by Minwax…
Once the wood dried, I grabbed my chicken wire and rolled it out.
Then, I used the 12 inch embrodery hoop to determine the size of the light fixture…
Once I had the size measured, I used my metal snips and cut the wire.
I shaped the wire to fit the embroidery hoop and started wrapping the loose chicken wire together.
Once I had the sides tied together, I picked out the height and used my wire snips to remove any excess wire.
To determine the proper size for the "top" of the light fixture, I used a 12 inch lampshade as a guide.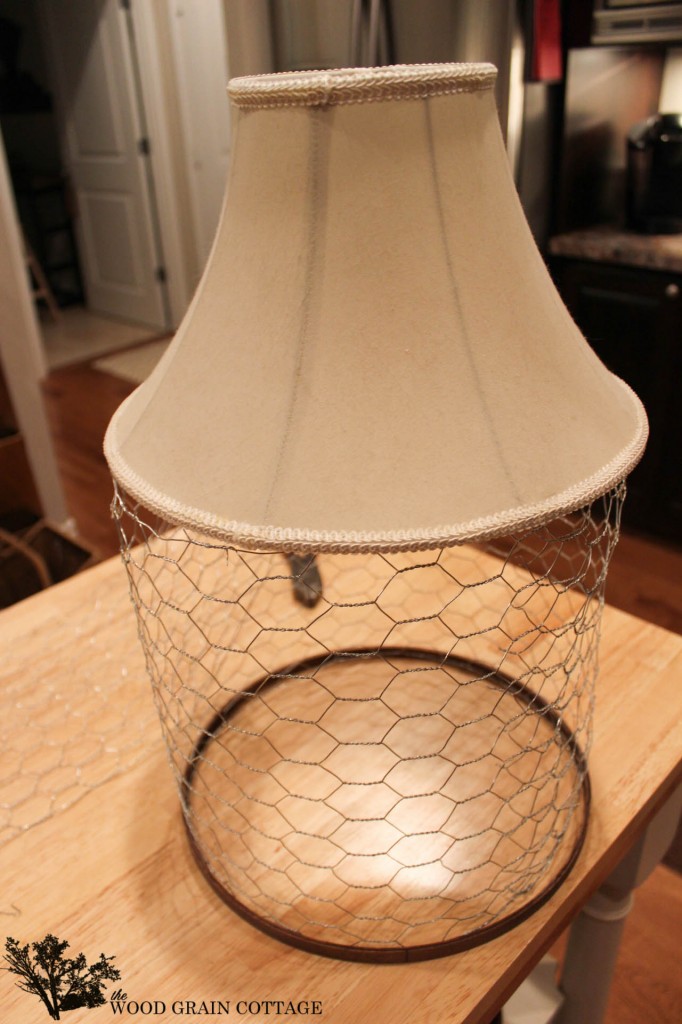 I laid it on top of the the chicken wire and used a sharpie to mark the areas I needed to cut…
Then I just started attaching the two pieces together with the loose wire.
To determine the height of the top, I used the 6 inch embroidery hoop and pushed it over the top of the wire…
I used a sharpie to mark the areas where I need to cut, then removed the excess wire.
Which left me with this: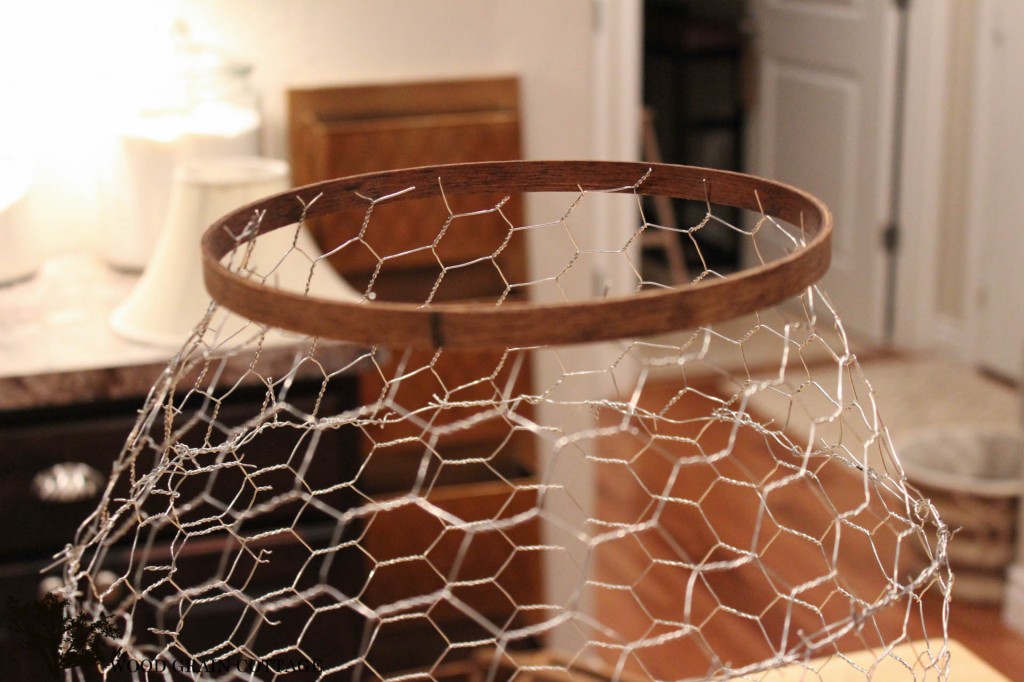 Then, to add the final "top" piece, I shaped a small piece of chicken wire to the size of the top.
To determine the top "hole" I used the existing light to guestimate how big of an opening it would need, and snipped a hole that would fit over the current light.
Then I attached it to the very top.
With that, I had a completed light fixture shape and it was ready for spray paint.
I used a combination of these three for the finish…
After suspending the light fixture from a wire hanger, I gave the entire fixture a coat of black.
Then, I sprayed on a coat of the hammered oil rubbed bronze and finished with a heavy coat of the textured spray paint.
Not only did it add a coat of grainy texture, but the color combination is fabulous and it looks a bit vintage and time warn.
The final step was to add the stained embroidery hoops, which are held on with wire…
I did the same thing to the top…
To attach the wire light fixture to the previous light, I used wire and wrapped it around the chicken wire and plastic light bulb cover.
I played around with it and pulled wire here and there to get everything even, and once it was, I couldn't help but admire the results!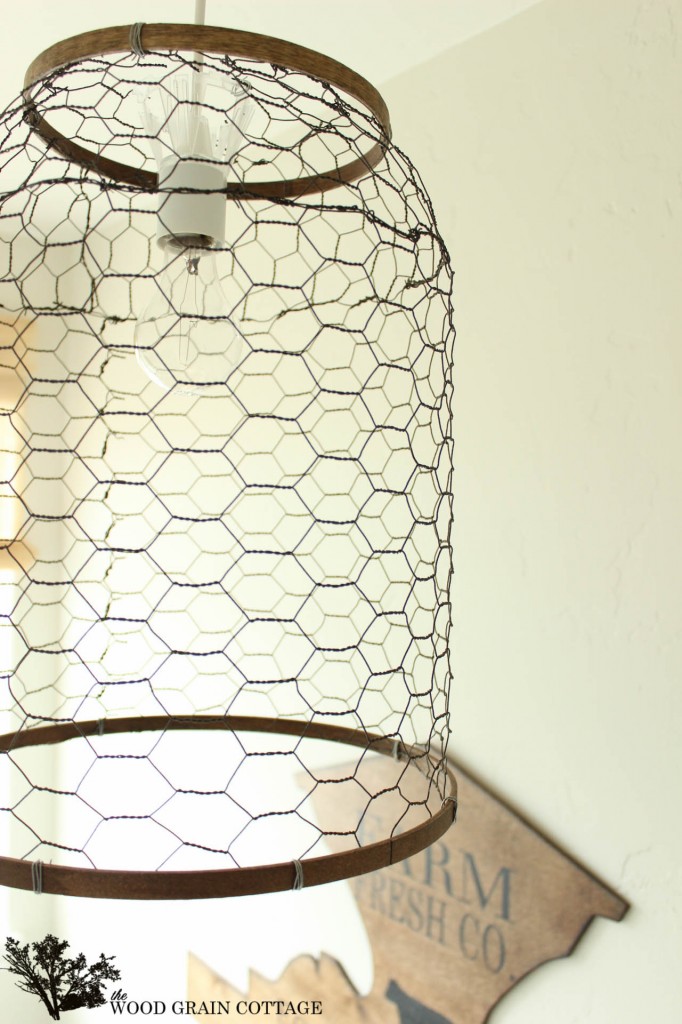 I love how it adds that vintage farmhouse feel, while the wood draws your eye up.
It looks perfect with everything else in the room…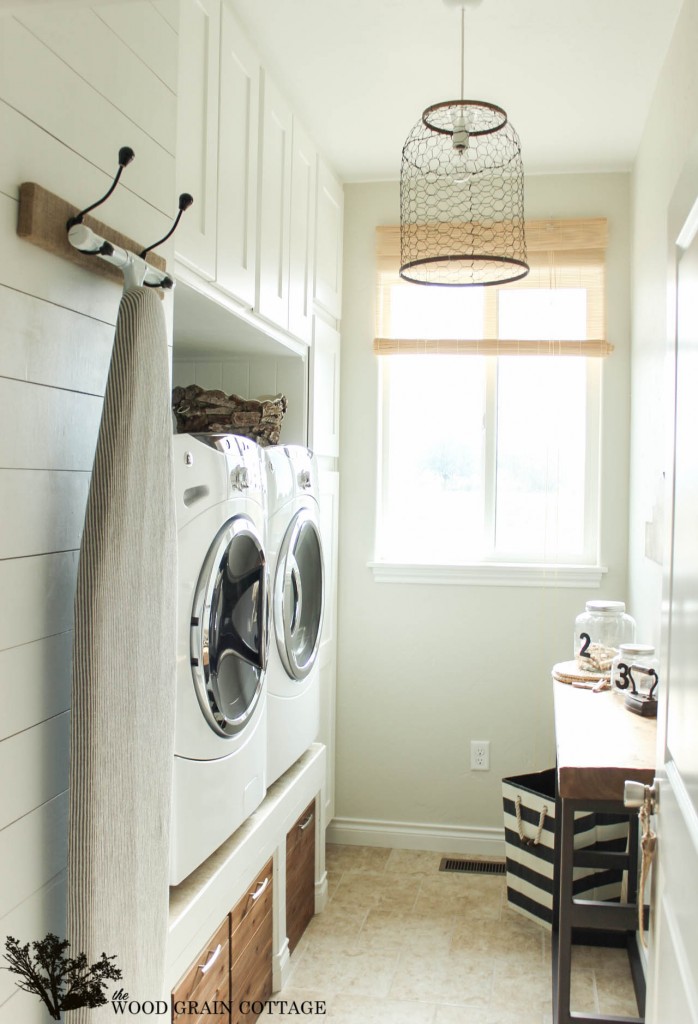 And it's just what I wanted in there.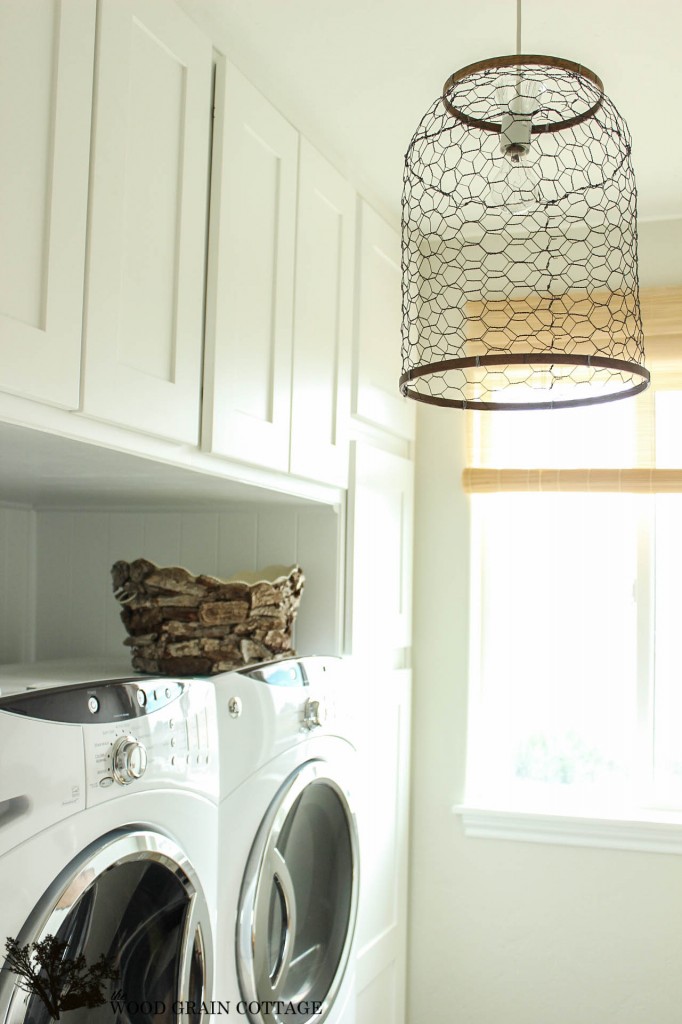 Something unique….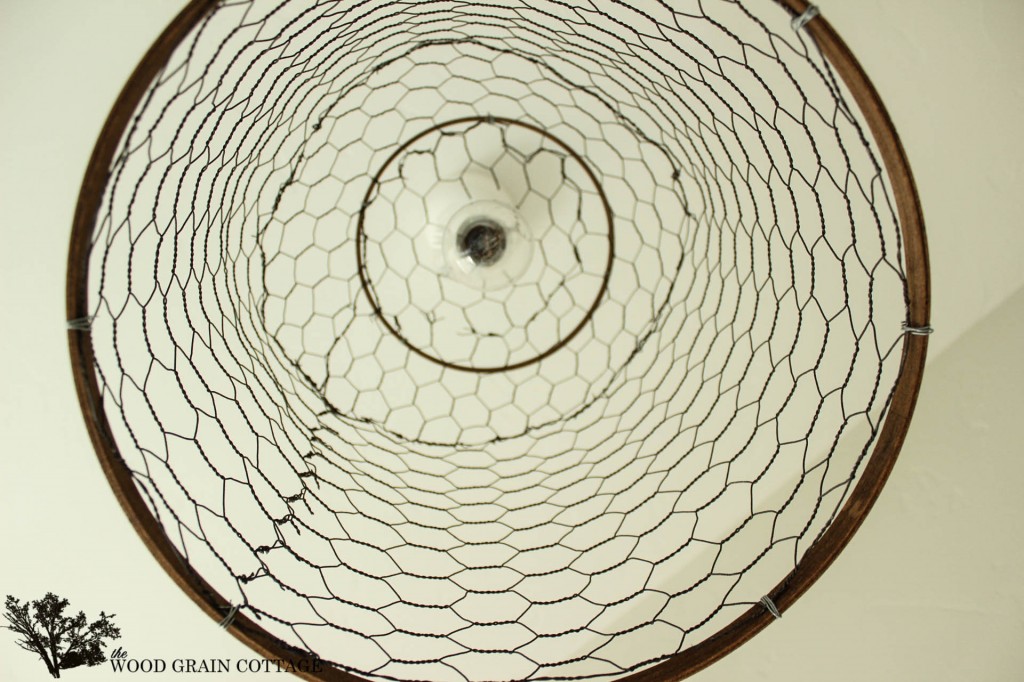 With wood tones….
And a vintage farmhouse feel…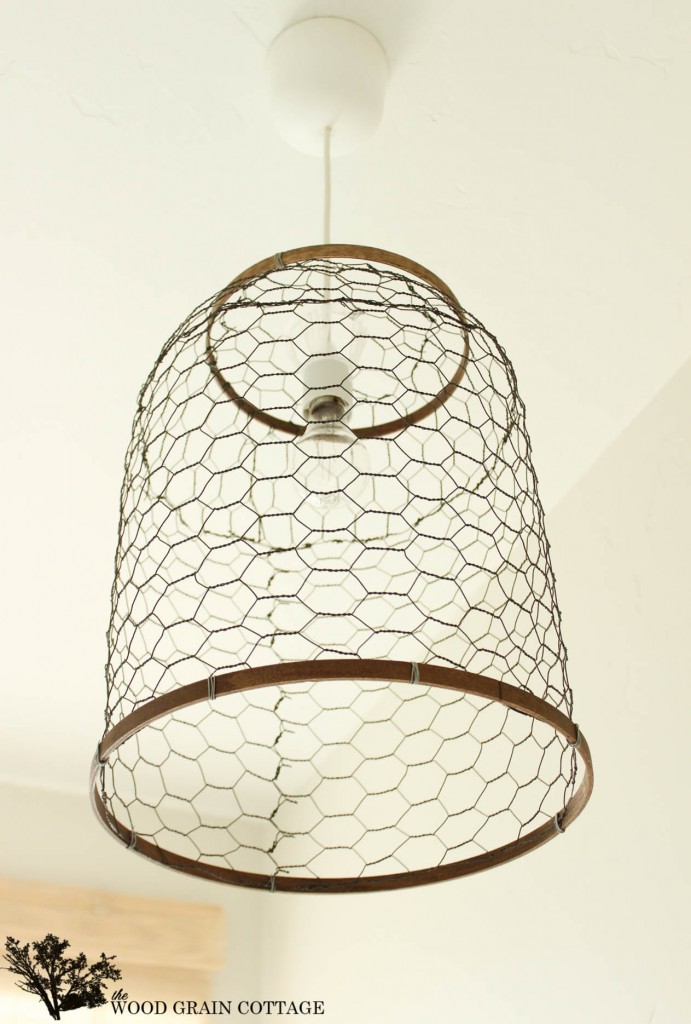 I love how this room is coming together. I kid you not, it's such a pleasure to do laundry.
Here's a little before & after with the new light:
It looks so much better and I'm absolutely thrilled with how it turned out.
---
Here's what April & Jen have been up to this month…
April from House by Hoff created this absolutely fabulous chalkboard calendar… out of an old window! She has brilliant ideas for old windows… just look at it!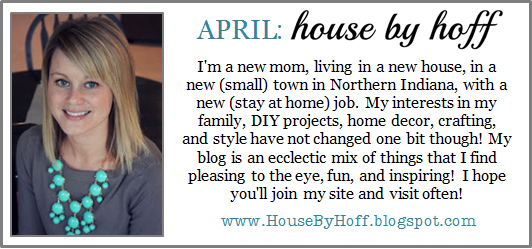 And Jen from Migonis Home made this completely amazing directional sign from a reclaimed barn board! It's large & in charge and I love it!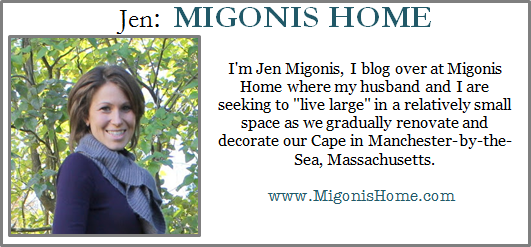 I love $30 Thursday… and for good reason! Be sure to follow our pinterest board. It's such an inspirational place and each project can be made for $30 or less!
Have a terrific Thursday!