I'm all about making my life easier. And my ironing board situation was doing anything but that.
Every time I needed to iron, I would have to pull it out of the very back of our guest bedroom closet and move it to the kitchen, which is just about in the middle from the laundry room and guest room.
You see, Mr. Iron didn't want to make the looong trek to the guest room and the ironing board was too stubborn to live in the laundry room. Meeting in the middle worked for them.
Lately though, they've both decided to live in the same room. And, logically, it's the laundry room!
Yes, I finally got my act together and made a hook rack for the laundry room so that I could hang my ironing board.
Why hadn't I done this sooner? It was such an easy project!
Please note: Some of the links in this post are affiliate links, which allows us to make a small commission from your purchase, but your purchase price stays the same. Thank you for helping support our blog! We greatly appreciate it!
Supplies:
Wood Piece, mine is 20″ long
Brown Paint
Burlap
2- Wall Hooks, these are similar
Scissors
First, I started with a scrap piece of wood that we cut down to size, (20″ to be exact) and two hooks from Hobby Lobby.
I wiped down the board, filled the holes and painted it with a free sample I grabbed a while back, Kingsport Gray by Benjamin Moore.
I knew that I wanted it to have an element of texture, so after the paint dried, I decided to cover it with burlap.
I pulled the burlap tight and used my staple gun to attach it.
Then, I attached a few sawtooth picture hangers to the back and attached my hooks to the front.
I couldn't wait to hang it up and have all laundry related items in the…. wait for it…. laundry room!
I'm a thinker! Yes I am.
I absolutely love how it looks on the wall!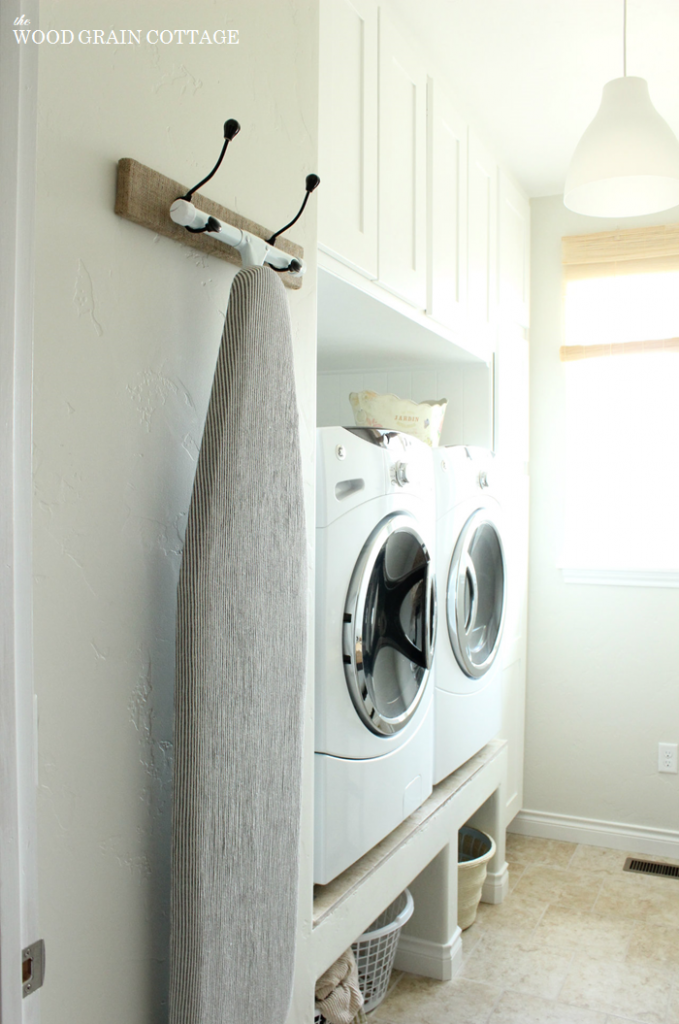 And I'm soo happy I covered it in burlap. It's the perfect punch of texture. The black hooks look great against it too!
It looks fabulous with our knock off PB side table too! They balance each other nicely.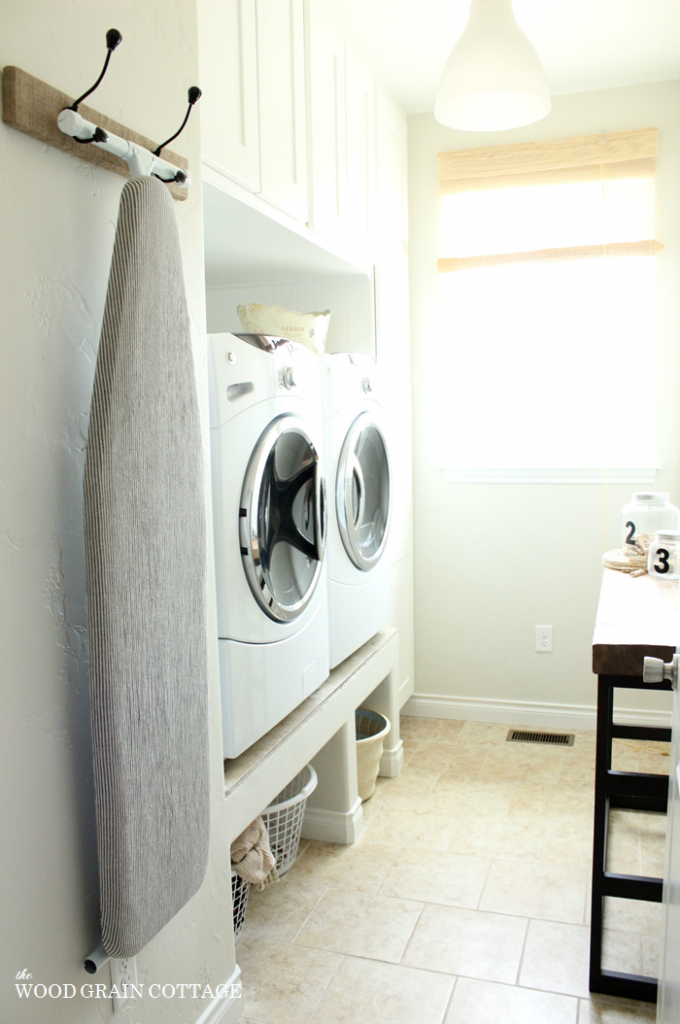 I'm still debating on spray painting the actual ironing board frame black… I'm indecisive. But it needs something!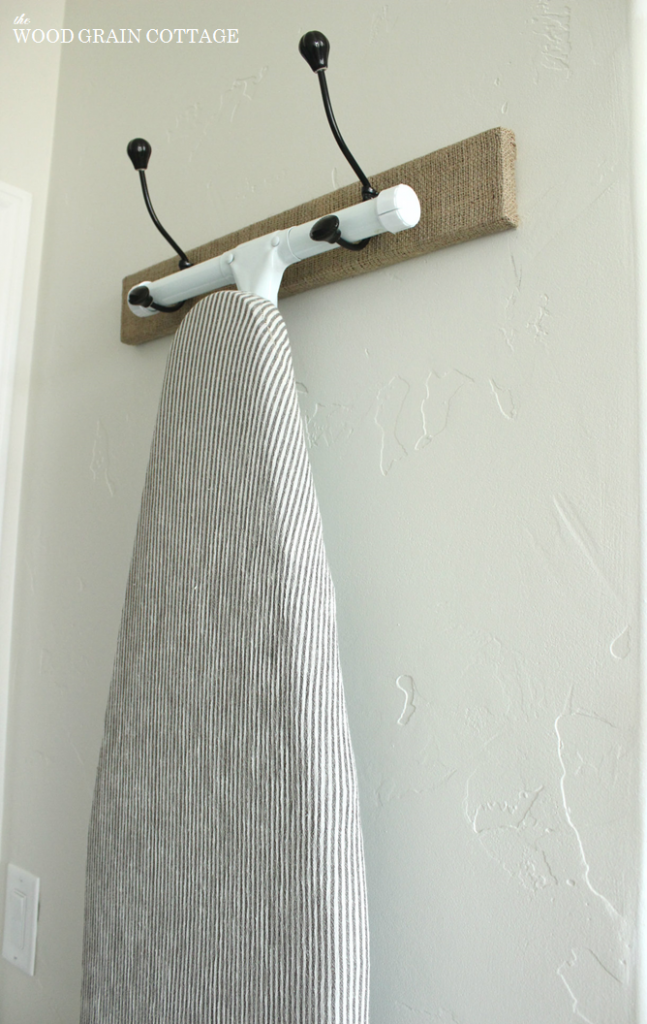 AND, it's beyond handy to have this in the laundry room.
One minute it's up: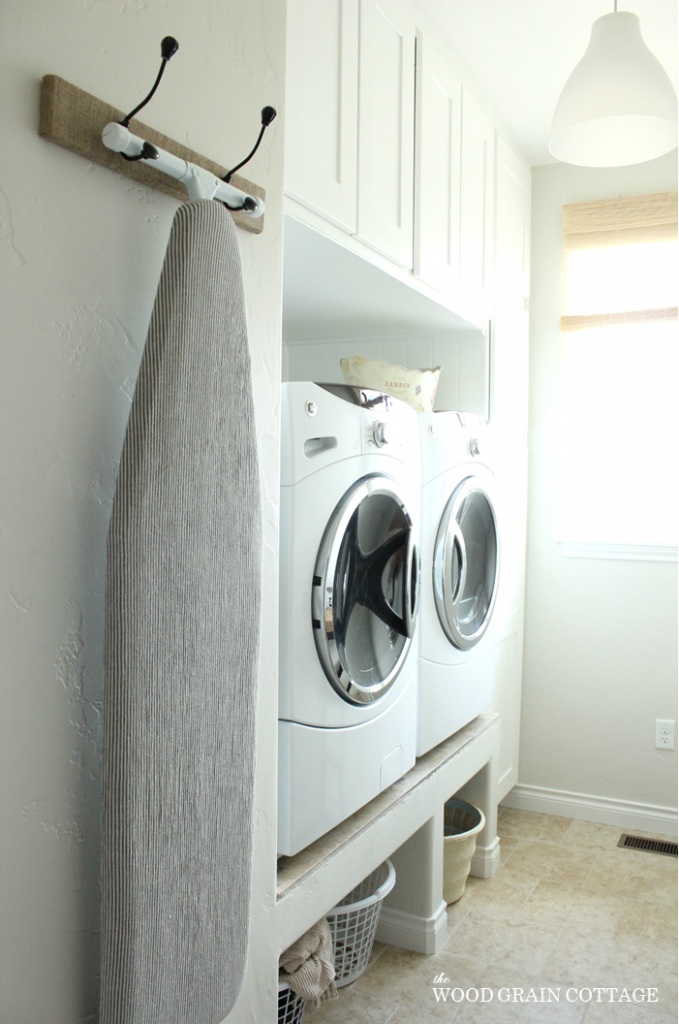 The next it's down!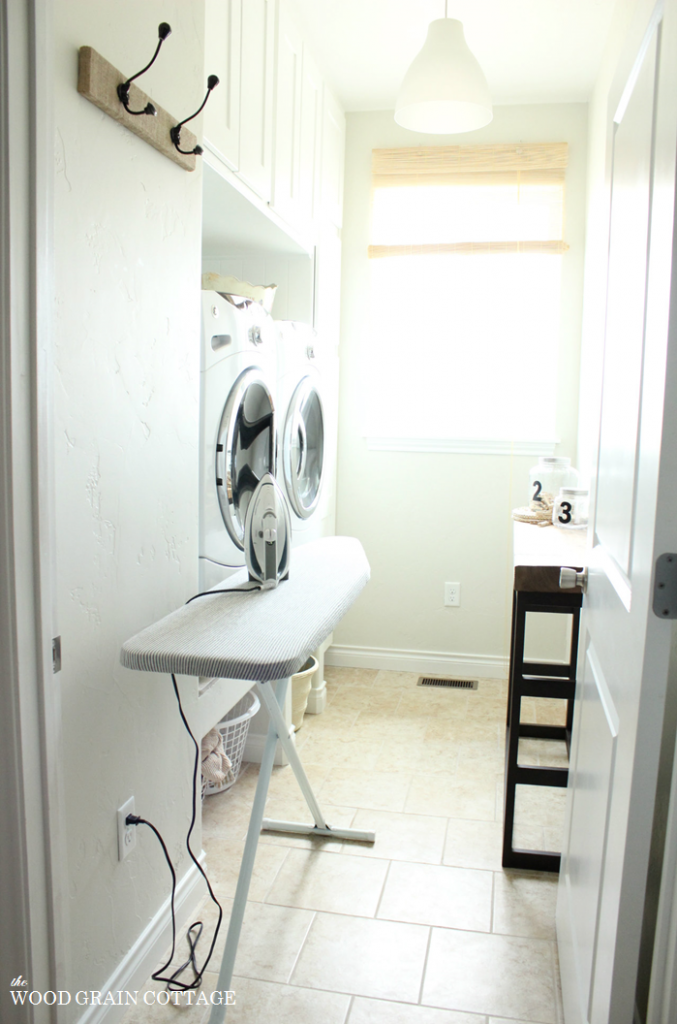 Look out, my life just got easier!
Later this week, I'll show you how I made a new cover for the ironing board. I was beyond tired of the old & boring blue cover!
We have a few things left to do, but installing the plank wall behind the ironing board, building crates for underneath the washer & dryer and installing cabinet hardware are at the top of my list!
Stay tuned to see how I made the ironing board cover! UPDATE: See how to make an ironing board cover here.
See you then!
Linking up to: