See how I decorated this beautiful flocked Christmas tree! It's one of my favorite Christmas trees to date and I love how all the different layers combined together. I'm sharing all my sources below.
For the past few years, my go to Christmas tree has always been a real, live beautiful tree. But I won't kid you, they're not always the best… Last year the first tree we bought for the living room died within a few weeks, after I decorated it and only a week or so into December.
I decided I didn't want to stare at a dead Christmas tree all month, so we bought another one and I redecorated it the same way. And then, there's obviously the clean up from the fresh trees.
By the time they go out the door once Christmas is over, they're pretty much fried and those needles go everywhere. I decided to go with a fake one this year to save on my sanity, and bought a gorgeous flocked Christmas tree!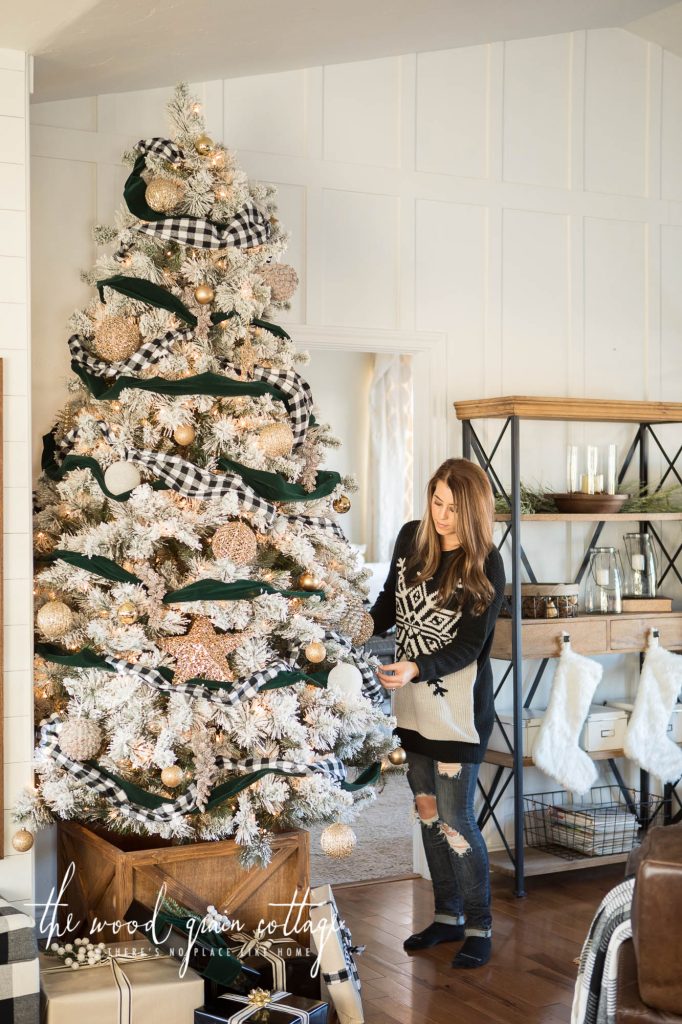 Flocked Christmas Tree
I've had my eye on a flocked Christmas tree for the past several years, but couldn't ever pull the trigger on buying one. But since I really needed a break from the real Christmas tree (mainly the thousands of needles that go everywhere… am I right, or am I right?), I decided it was the perfect time for a change, and bought a full, heavily flocked, gorgeous 9.5′ tall Christmas tree from my local Hobby Lobby.
It was exactly what I was looking for, and I looked at a lot of trees, both online and in person. This one was the clear winner!
Love the tree? This flocked Christmas tree is similar to mine, and comes in multiple sizes!
I was in love as soon as I put it up… but it took me a good week to decide how I wanted to decorate it.
Something about green velvet and buffalo check just felt right to me, so I went to my local fabric store and bought three yards of a dark green velvet fabric and a flannel buffalo check fabric. I cut it into 4 inch strips, and that became my garland.
It was basically the best decision I made. (Remember I shared a sneak peek of the tree décor in this TGI-Friday post?)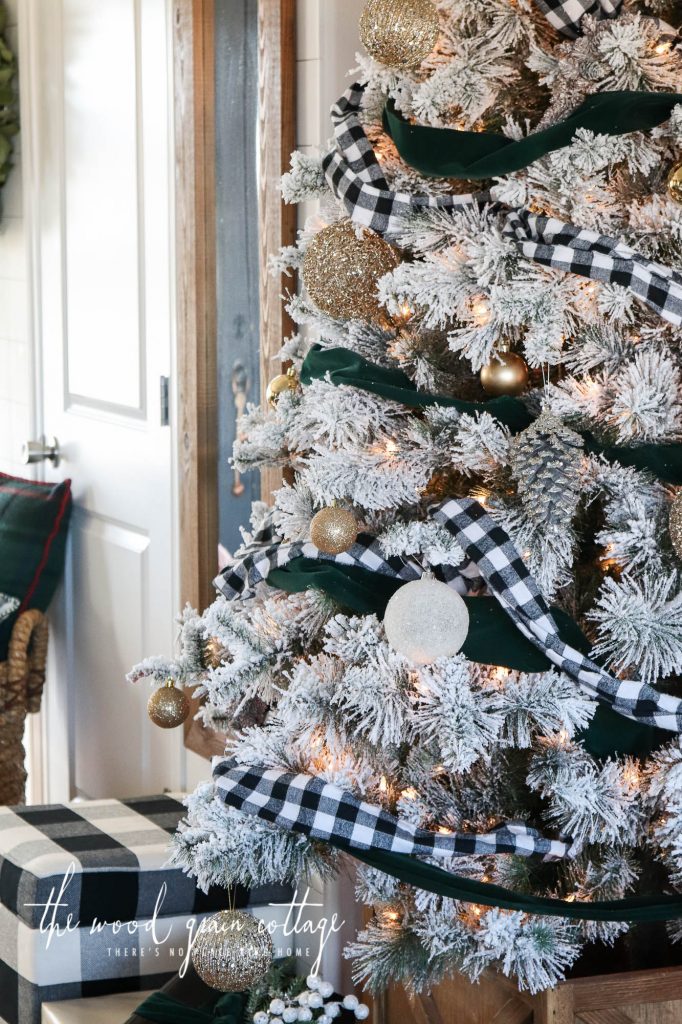 I also really loved how the dark green pulled out the darker green elements of the flocked tree as well…
Gold and white ornaments, with plenty of frosted pine cones, completed the tree…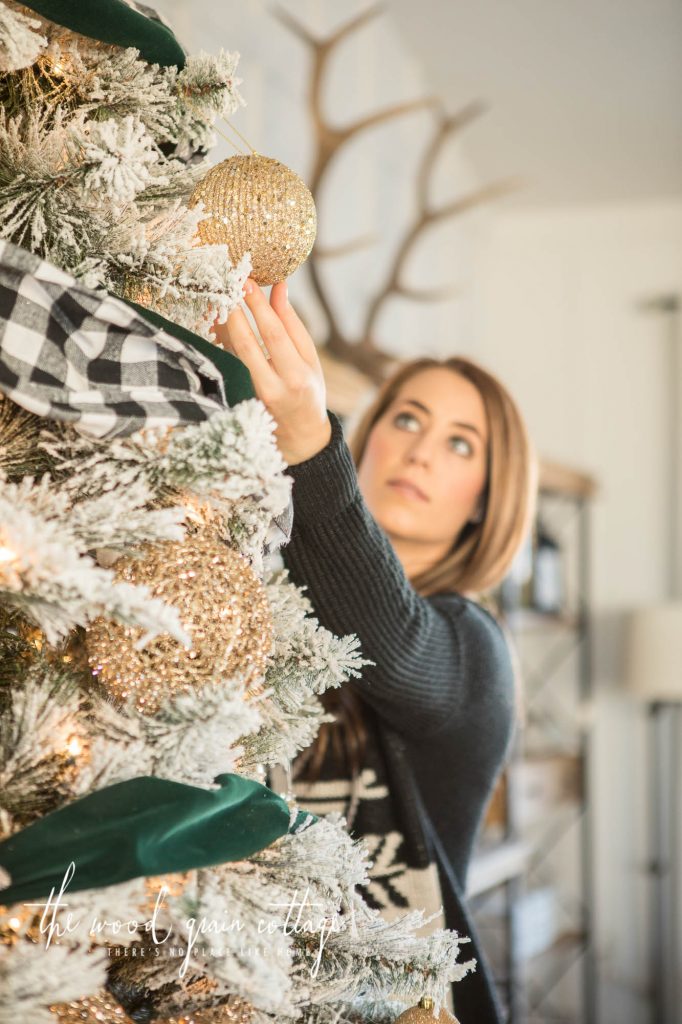 I love these large glittery stars. They make such a statement.
Decorating A Flocked Christmas Tree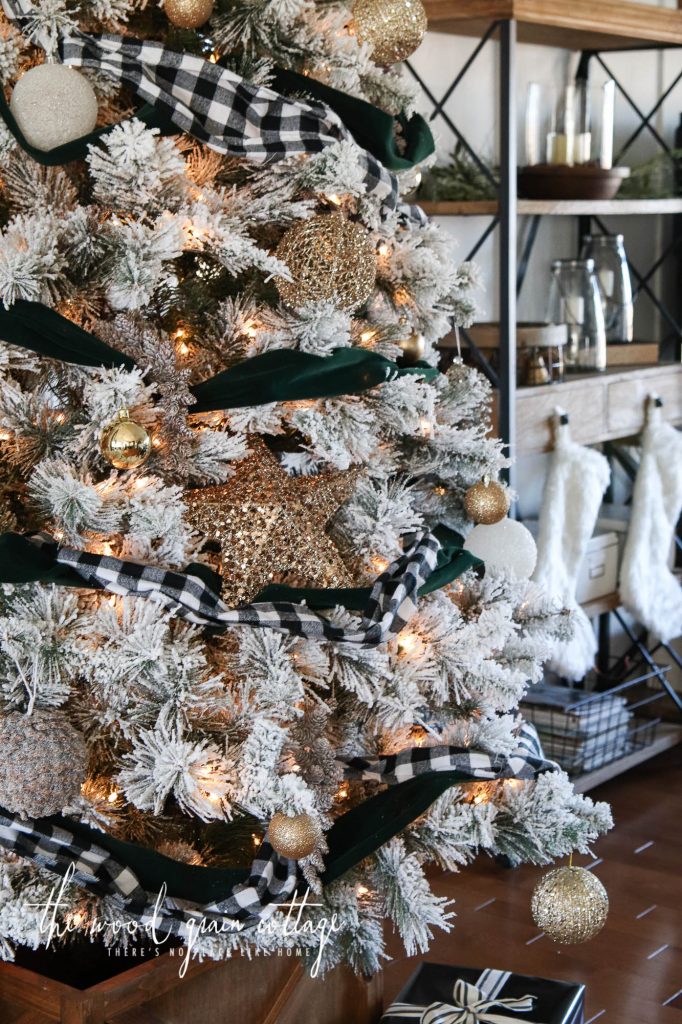 These large gold sequin ornaments are a favorite of mine too. These are similar.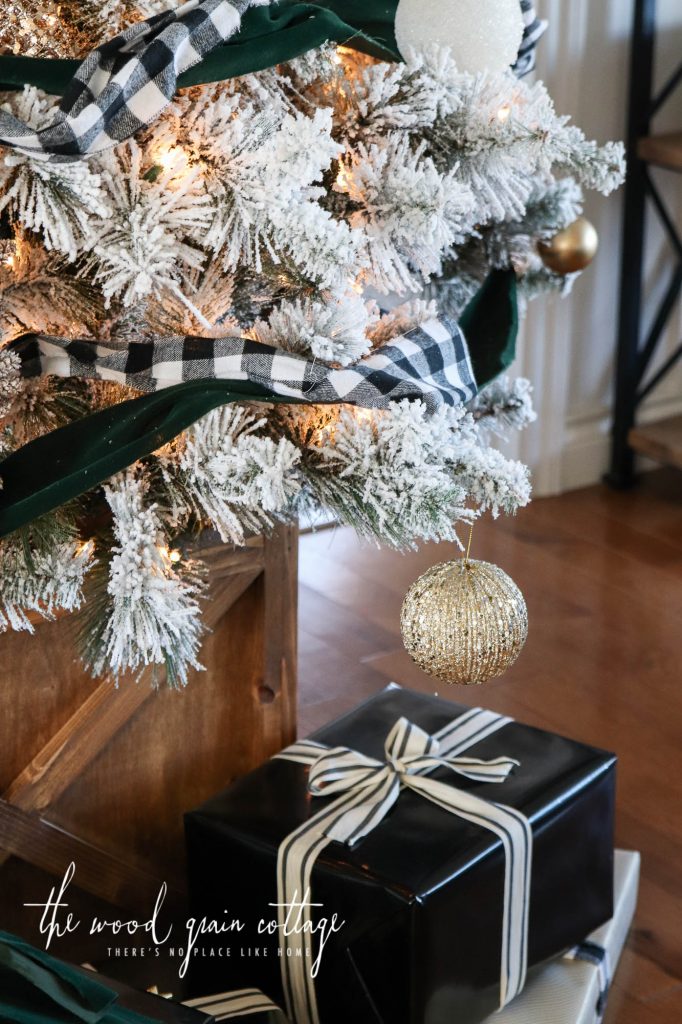 Wrapping Paper Ideas
And as for wrapping the presents, I went a little bit darker than normal…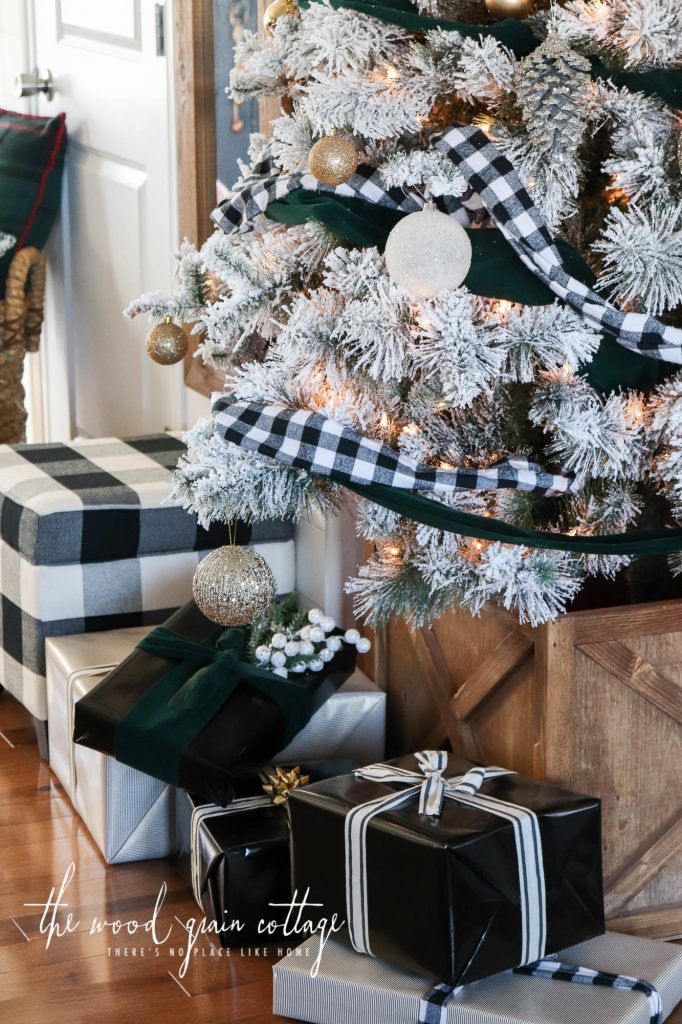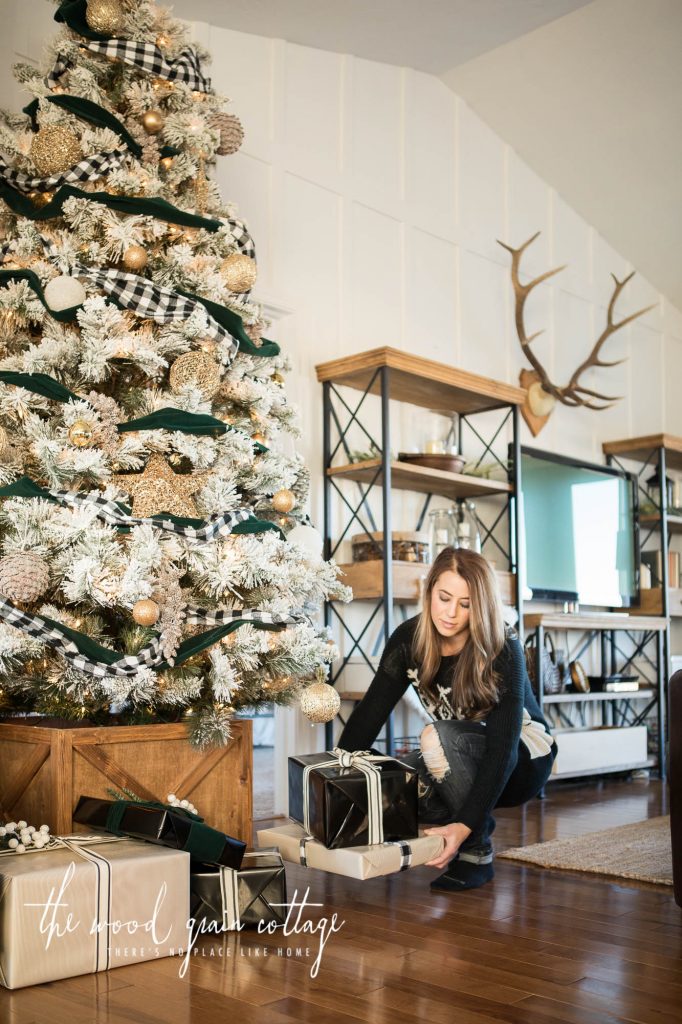 Black wrapping paper with cream and black striped ribbon is a stunning combination, as well as gold striped wrapping paper (this is a similar option), and black with dark green velvet ribbon. Trust me, I know.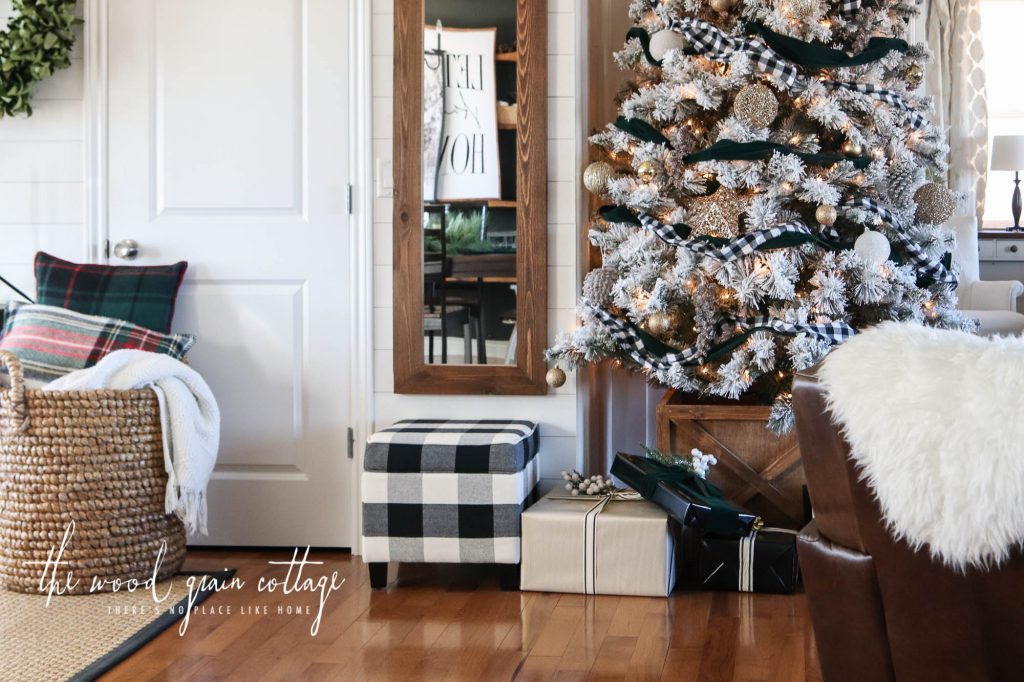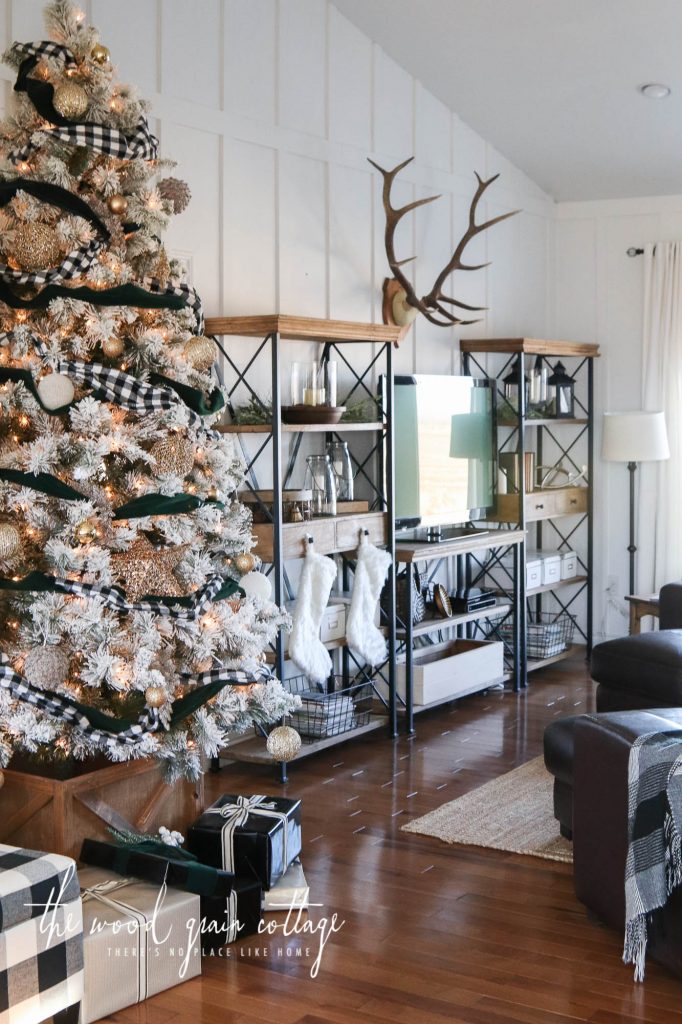 Love the tree? This flocked Christmas tree is similar to mine, and comes in multiple sizes!
I've already said my dining room shelves are my favorite this year (how well does the digital print tie in with my Christmas tree?), and I think this is my favorite tree too!
Looking for sources?

---

---