See our downstairs bathroom design plan and how we're transforming this bathroom with budget friendly items!
We have several projects going on right now, with so many of them getting close to being finished! The house is feeling good. And with that, we're getting ready to start our next big project, which is our downstairs bathroom remodel.
I always thought it would be the very last room in the house we'd finish, but turns out, it's getting finished before the downstairs living room and laundry room! Because there's a lot of work that needs done, and our time and energy is better spent working on other things, we're hiring most of the work out and just finishing a few things ourselves. Needless to say, we can't wait to check this room off the list!
[one-half-first]
[/one-half-first]
[one-half]
[/one-half]
If you've been following our remodel for a while, you may remember this room was originally a really awkward powder bathroom and a small walk in closet for our now laundry room. When we added our laundry room (which was originally located in the garage) to the tiny fourth bedroom, we closed off the closet space for future plans of combining it with the powder bathroom to make a larger bathroom.
It only felt right, especially since the bathroom would then have its' own window, instead of it being a window for a tiny closet. To be honest, that's always felt weird to me… Why have a window in a tiny closet, when we could have one in a bathroom?
Admittedly, this bathroom will have a few quirks we'll be working around, making us do several custom items to make everything work. When we bought the house, we changed out the swamp cooler and electric ceiling heating for a new central A/C & heating system. In doing that, we had to run ducting through this bathroom in order to get heat and cooling into our laundry room. It has to stay, so we'll be framing it in. It does make the design portion of the bathroom a little bit tricky, but we've come up with a good plan to move forward.
Another "quirk", is the main sewer line of the bathroom. It's in the wall that separates the two rooms. In order to open up the bathroom, we'd have to move the main sewer line and trench through the concrete. Those aren't expenses we want to have, so the toilet and main sewer line will be staying in the same place. The toilet will essentially have its own private room with a sliding door and the rest of the room will have the vanity and shower. We're also keeping the crawl space access in the same space too.
The shower we're adding will be in this area. It's not going to be a huge shower, but it will be a really nice shower with shelving on the side for baskets and extra storage…
And then there's the vanity side of the room. To fit in this space, and around the ducting, we'll be building a custom vanity. We'll have a wall faucet, a vessel sink and wall lights on either side of the mirror. I'm excited to see this area of the bathroom come together!
Downstairs Bathroom Design Plan
Here's what we'll be doing: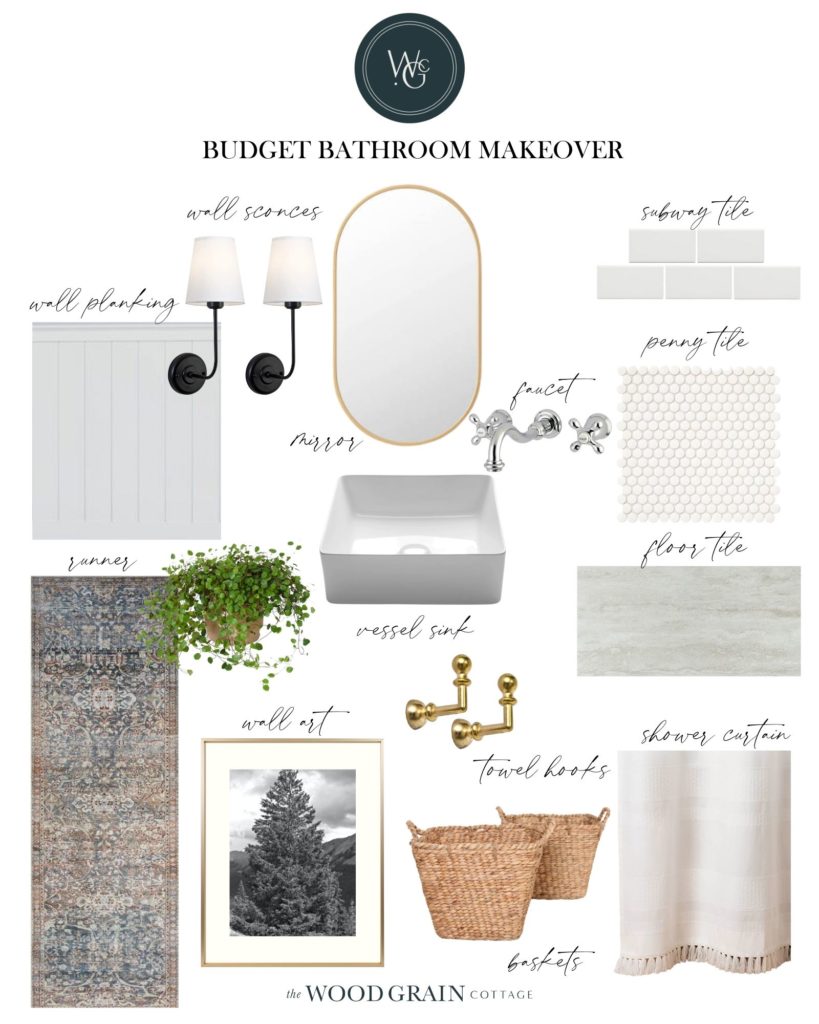 Overall, I want the room to feel really bright and fresh, but I also want to incorporate many different textural layers. From the rug to the shower curtain, to the baskets and wall paneling, I want the space to have a layered look, making it feel collected and inviting.
Bathroom Design Elements:
Wall Planking: To match the rest of the house, we'll be incorporating vertical wall planking on some of the walls. I love the character and texture this adds.
Wall Sconces: Every room needs a touch of black and I love the clean, simple lines of these… and their price!
Mirror: The oval shape of this mirror will add a lovely touch to the overall square lines of the bathroom.
Wall Faucet: For the first time, we'll be using a wall faucet for the sink and I'm excited about it! This faucet is beautiful and so affordable!
Subway Tile: To give the shower a bright, clean feeling we'll be using standard white subway tile. It's such a timeless choice and perfect for the small shower.
Penny Tile: We'll be using this on the shower floor and I love how it plays with the shape of the mirror.
Floor Tile: This tile has such beautiful gray veining running through it, making it feel like the perfect classical choice. It also has a polished finish, matching the tile in our bathrooms.
Vessel Sink: We'll be building a custom vanity to better fit the size of our space, and this sink will be the crowning jewel! It's stunning in person, and so affordable!
Runner: The colors and patterns of this rug are perfect for what I'm envisioning overall and I love the warmth it adds!
Wall Art: Brass picture frames are the perfect addition and I'll be using a few prints from my own collection. I'll also be getting creative with some DIY art projects. I can't wait to start on those!
Towel Hooks: These little hooks are the perfect addition to the room! Budget friendly too!
Baskets: To add extra storage and texture, I'll be using these baskets. For a set of two, you literally can't beat the price!
Shower Curtain: Rather than doing a custom glass shower door, we'll be using this shower curtain. It will add such great texture and softness to the space!
---

Affiliate links are provided below. Full disclosure here.

---
I can't wait to see this bathroom come together. Our contractor starts this week and we have all the materials ready and waiting! Here's to having one more room of this house finished!