I'm pretty excited about today's post! I mentioned last week that I felt the house was feeling stale, and that I had some fresh ideas for a few different areas in the house. One of those rooms was the dining room. I've always loved our dining room. The shelves, the layout, all of it… but lately it's felt kinda dull to me. I knew the shelves were definitely staying, but I kept seeing a darker paint color behind them. I wanted to make the room pop, to have it feel a little more dramatic, and switch up the shelving display. Here's what we're looking at right now… like, this morning!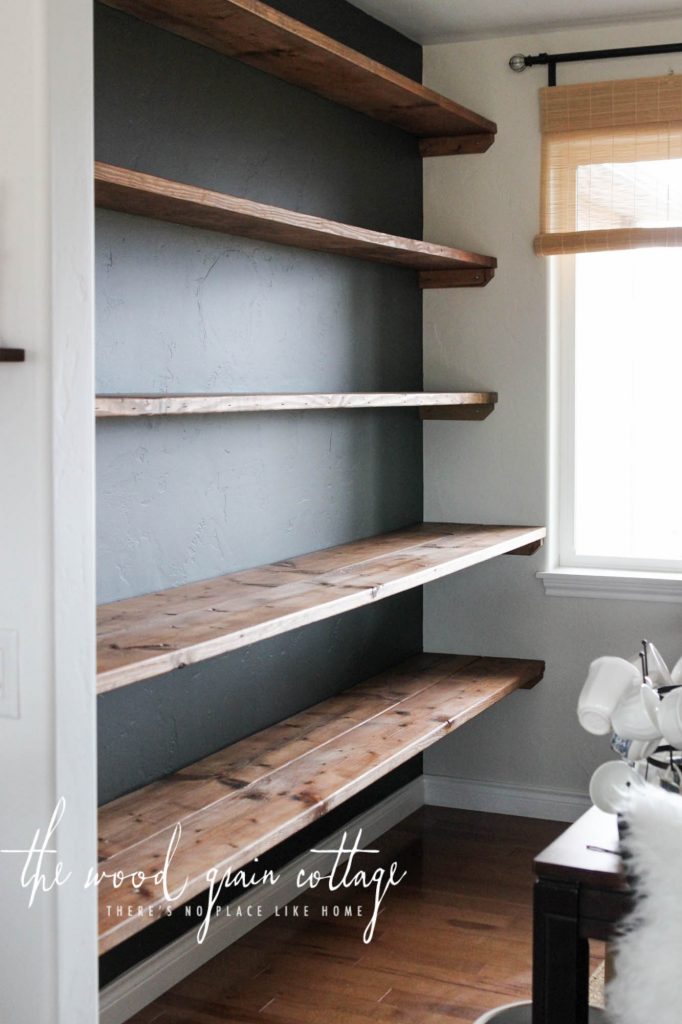 I knew I wanted a dark paint. Something almost black, but not quite, and something that had clear undertones of either green or gray. Like normal, I picked up a dozen or so paint samples, narrowed them down in the natural light of the room, and then taped up the contenders…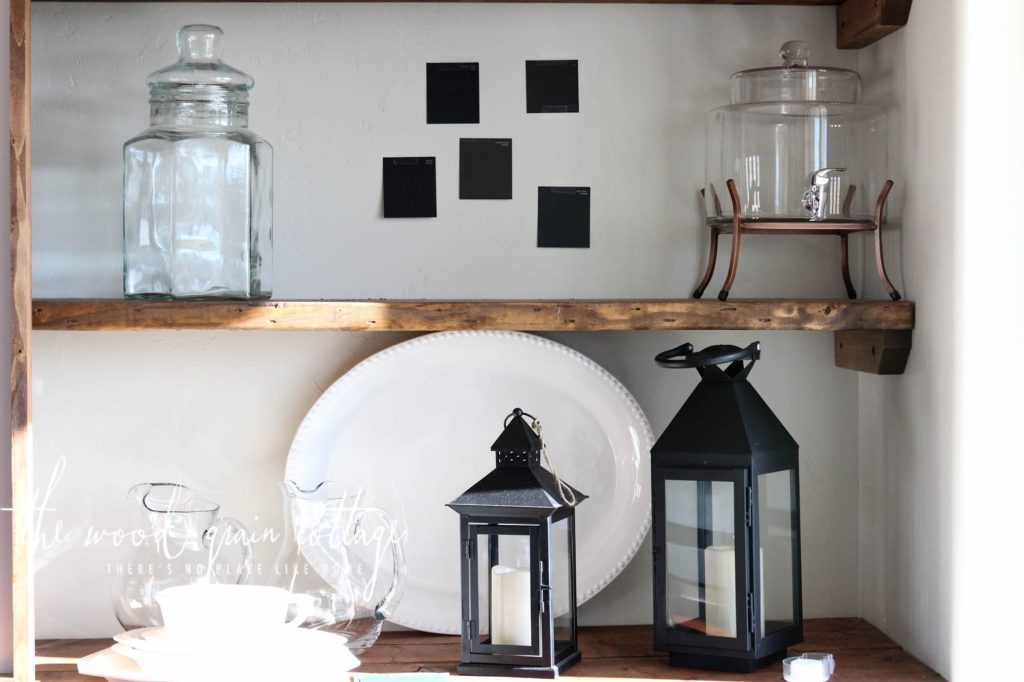 I left them taped right there for about a week. I'd walk by and look at them in the different light of the dining room throughout the day. If there's one room in our house that gets plenty of natural light throughout the day, it's the dining room. It not only gets plenty of diffused natural "clean" light throughout the day, but when the sun sets, it shines right in the dining room. I didn't want a color that would look yellow or golden. After giving it some time, I picked Vintage Frame by Valspar, and I had it mixed in flat paint. In case you're wondering, it's the very center sample in the image above.
Once I had the paint mixed, this project actually went pretty quick. Here's what I used…
Please note: Some of the links in this post are affiliate links, which allows us to make a small commission from your purchase, but your purchase price stays the same. Thank you for helping support our blog! We greatly appreciate it!
Supplies:
Vintage Frame Paint, by Valspar for Ace Hardware, in flat
Paint Roller
First, I had to remove everything from the shelves…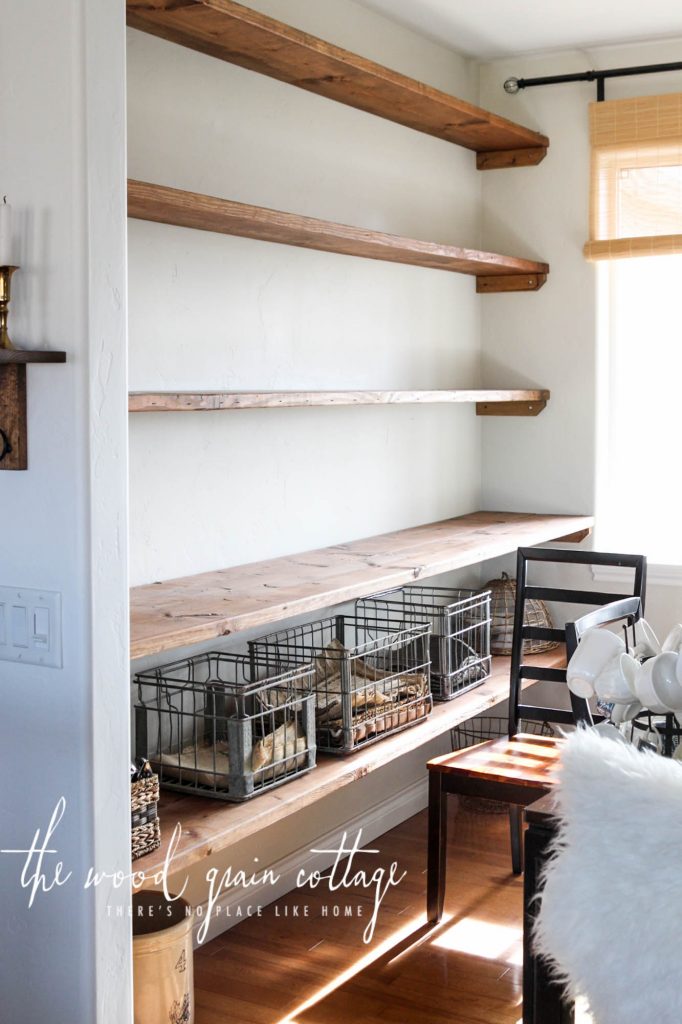 And once they were empty, I used my brush to start cutting in around each shelf. I was fully prepared to have to tape off the shelves, but I didn't have too. The boards have rounded edges and they don't sit flush against the wall, so I was able to brush the paint down along the back side of each board.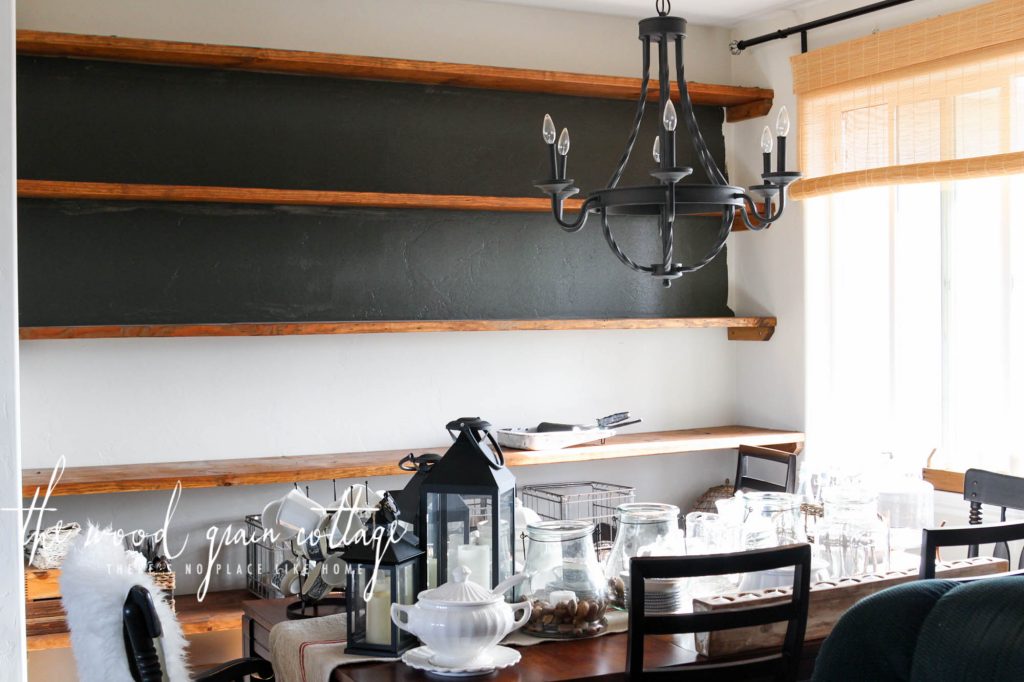 It went much faster than I thought, which made me even happier…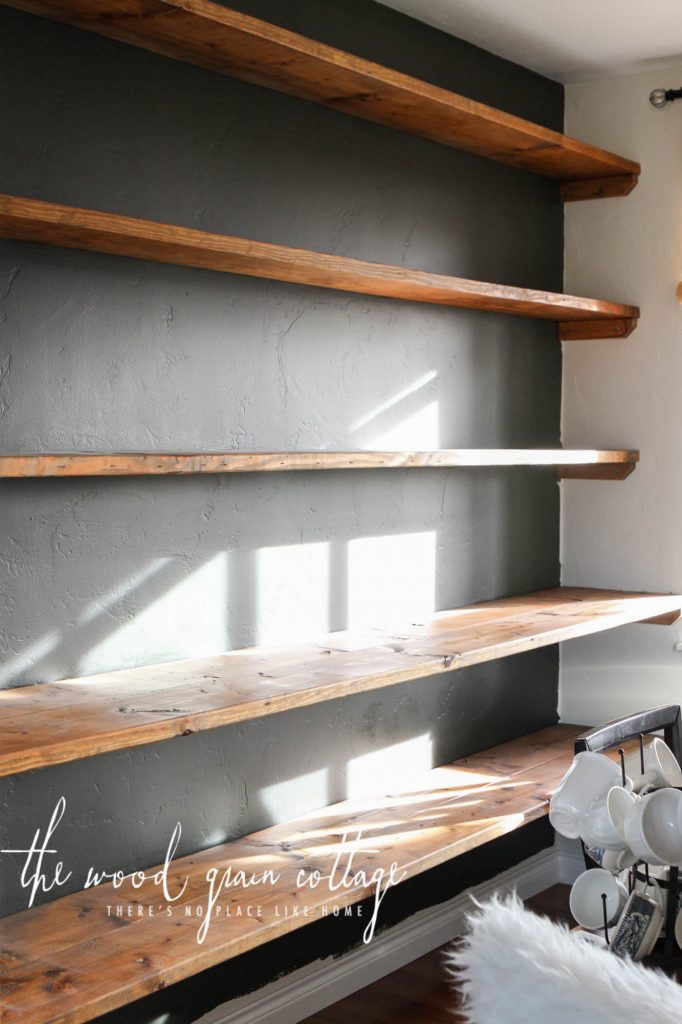 At this point I was totally in love…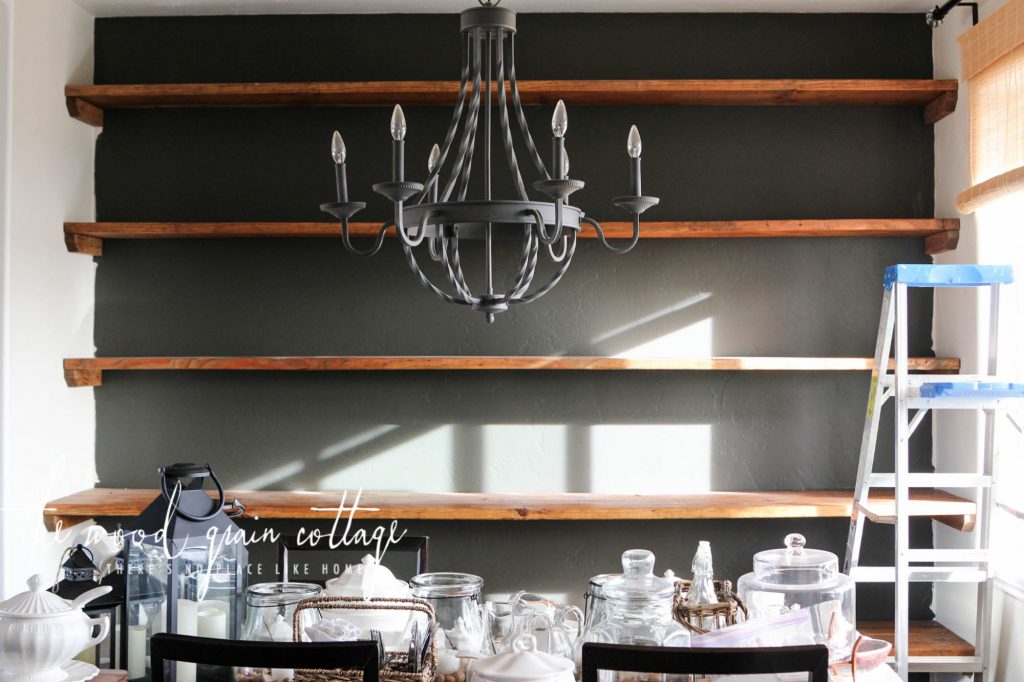 And because painting a dark color against a light color is always a little bit more difficult for super straight lines, I opted to tape off all the edges for the best possible result. I used my favorite tape and went to town…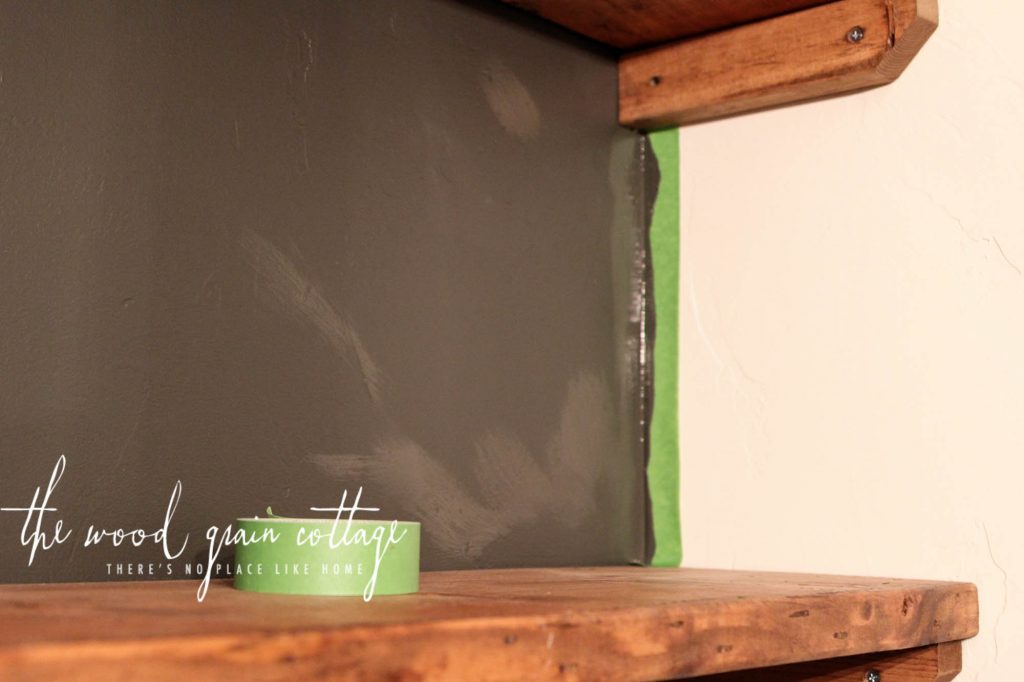 This little area was the hardest just because of the minimal space, and I had to lay on my back or stomach to do it, but the tape was absolutely worth it, and it made the project go so much fast than cutting it in by hand, which is what I normally do.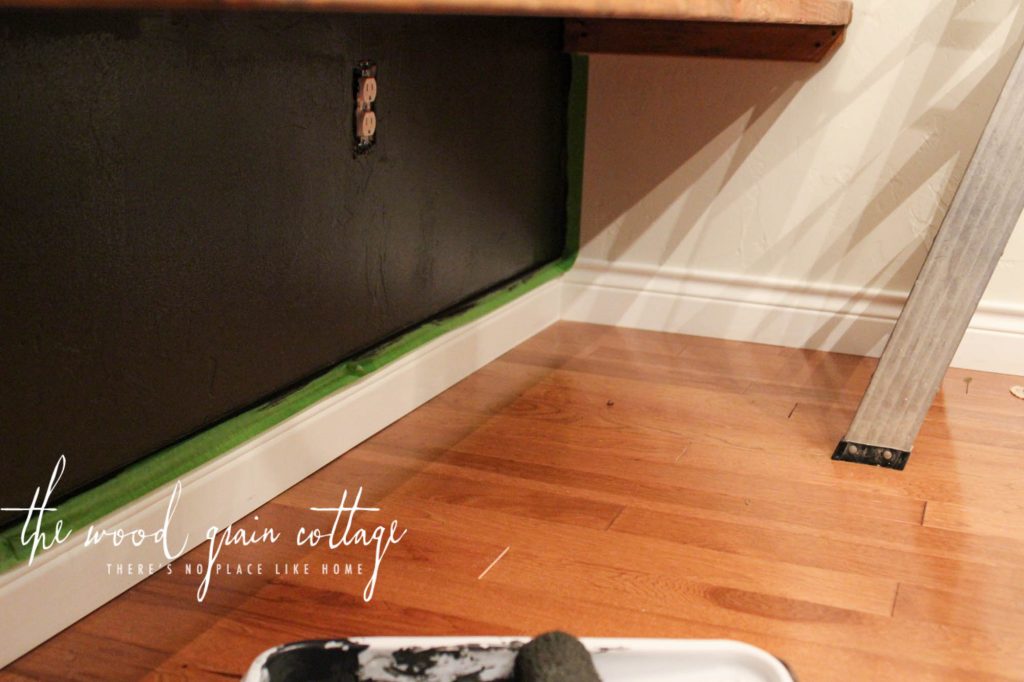 I finished when it was dark, but I still knew this was the perfect choice for the room…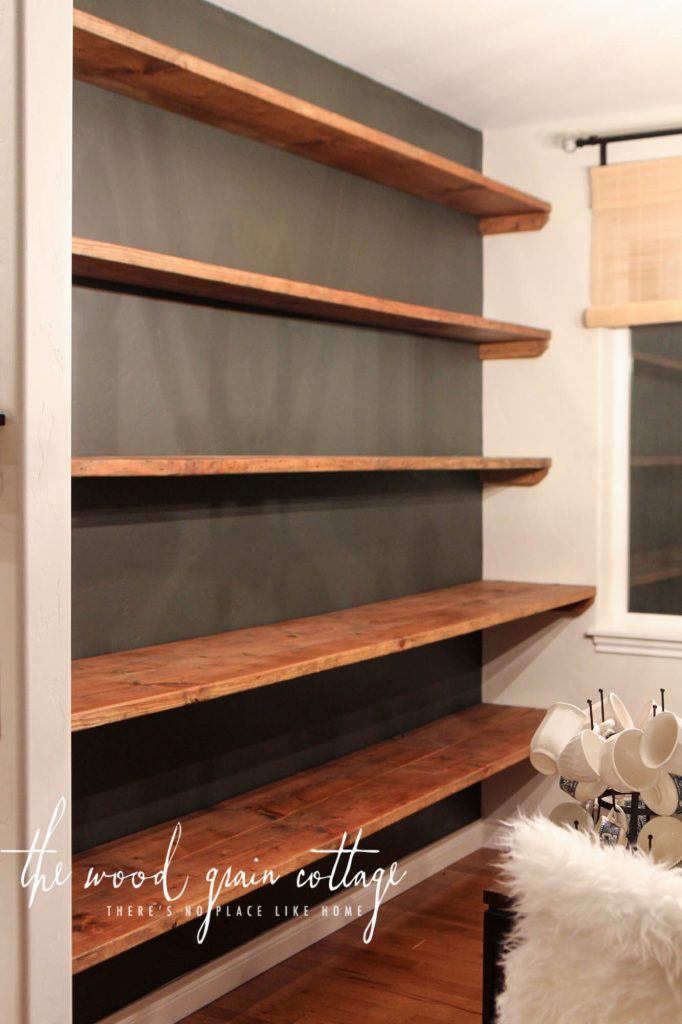 I thought about adding a few things back onto the shelves, but decided to leave them bare so I could get a great first impression first thing in the morning when I walked out of our bedroom. Here's what we have right now…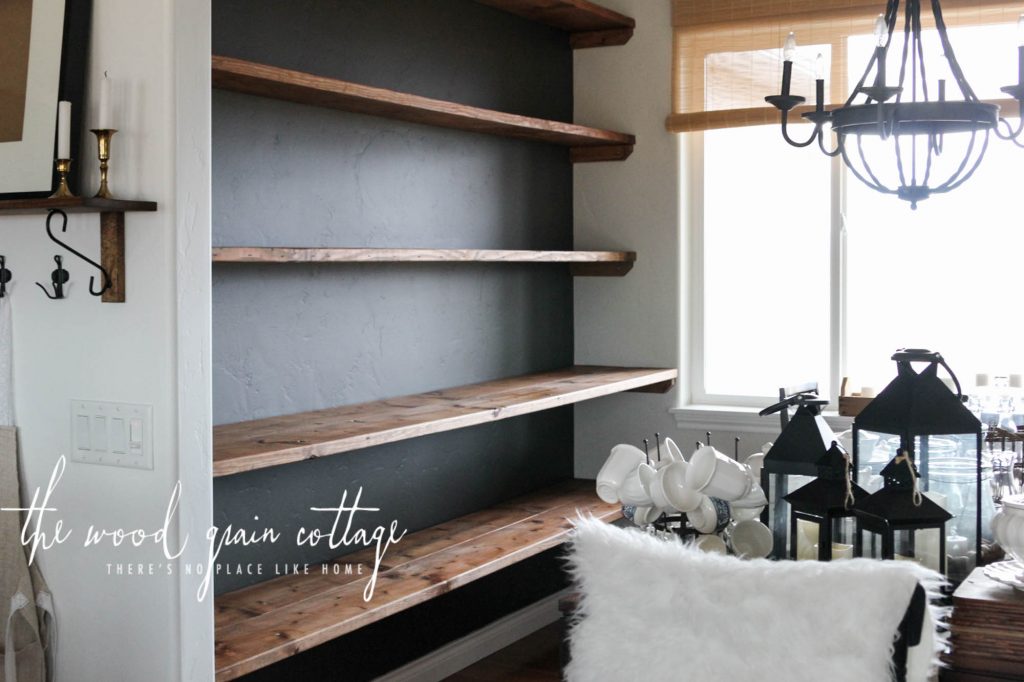 I can't tell you how much I am loving the color, the change, just all of it…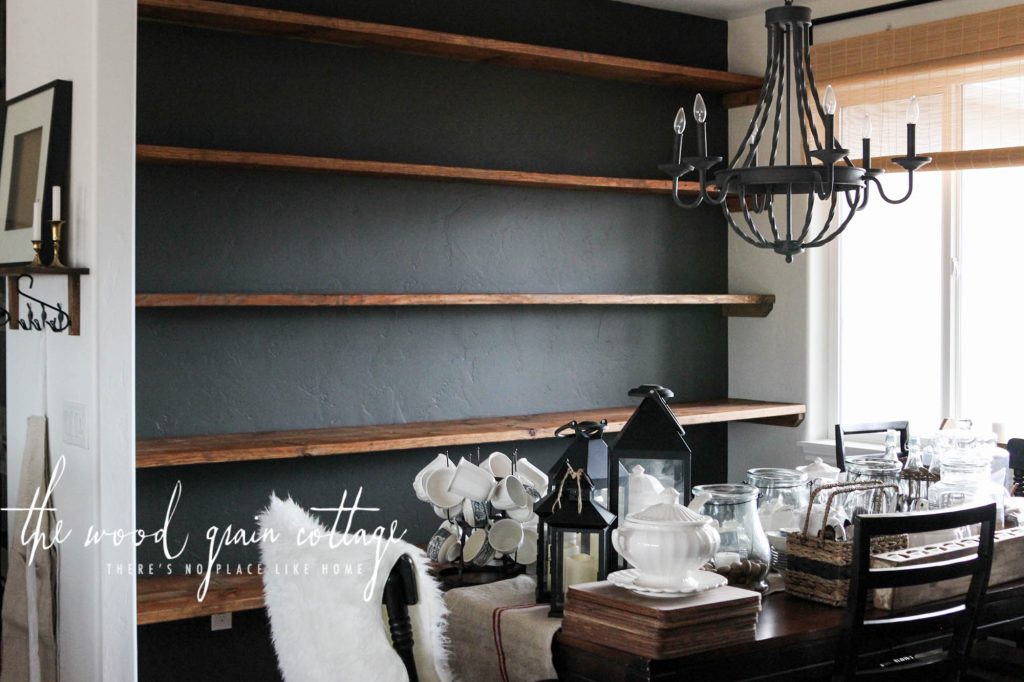 I also love the depth of the color. It's got such a great variety of color depths. It pulls green, but black, and even a little dark gray too. Exactly what I was looking for in this room.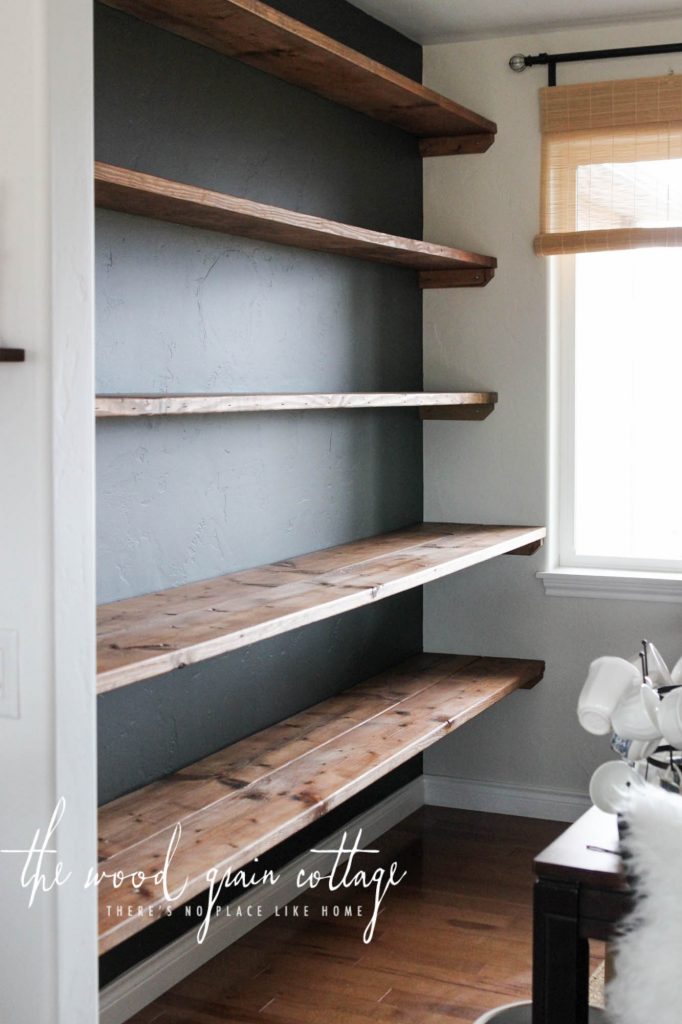 And one of my favorite thing about this transformation, is how it makes the shelves look. They're warmer, deeper in color, and more dramatic too…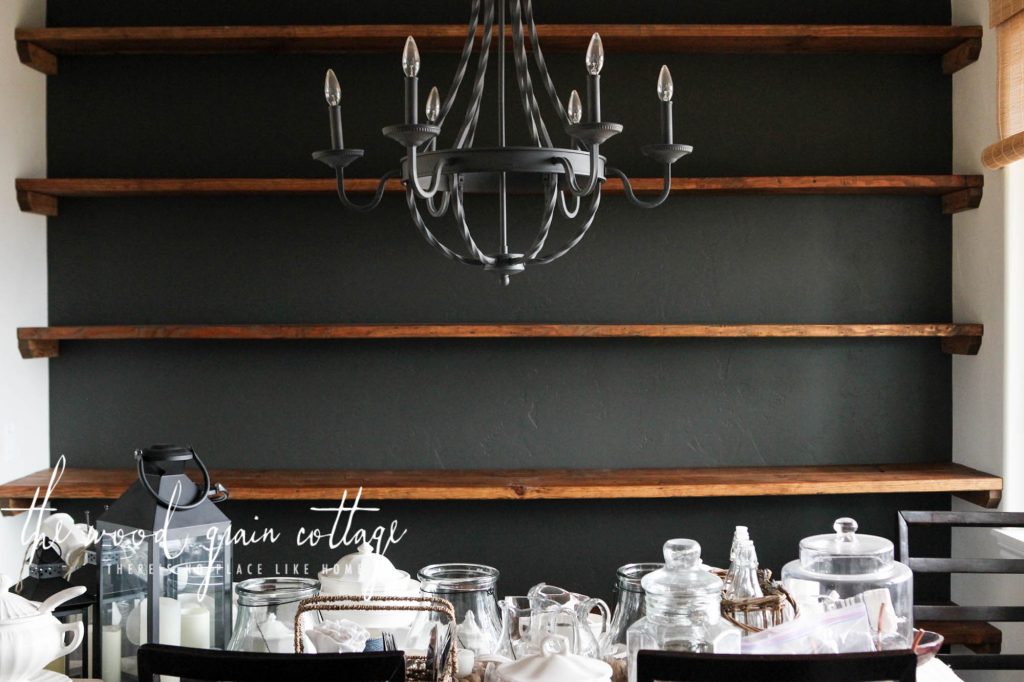 It was actually pretty funny, because I was telling Anthony how excited I was about the change, and how much I loved the paint color mixed with the shelves. I was going on and on about how it looked just like I was hoping, and was just getting ready to tell him how much I loved the new warmth and depth of the shelves when he beat me to it! He started talking about how much he loved it too, and how it entirely transformed the shelves. I just smiled and thought to myself, he gets it, and he does. He has a great eye.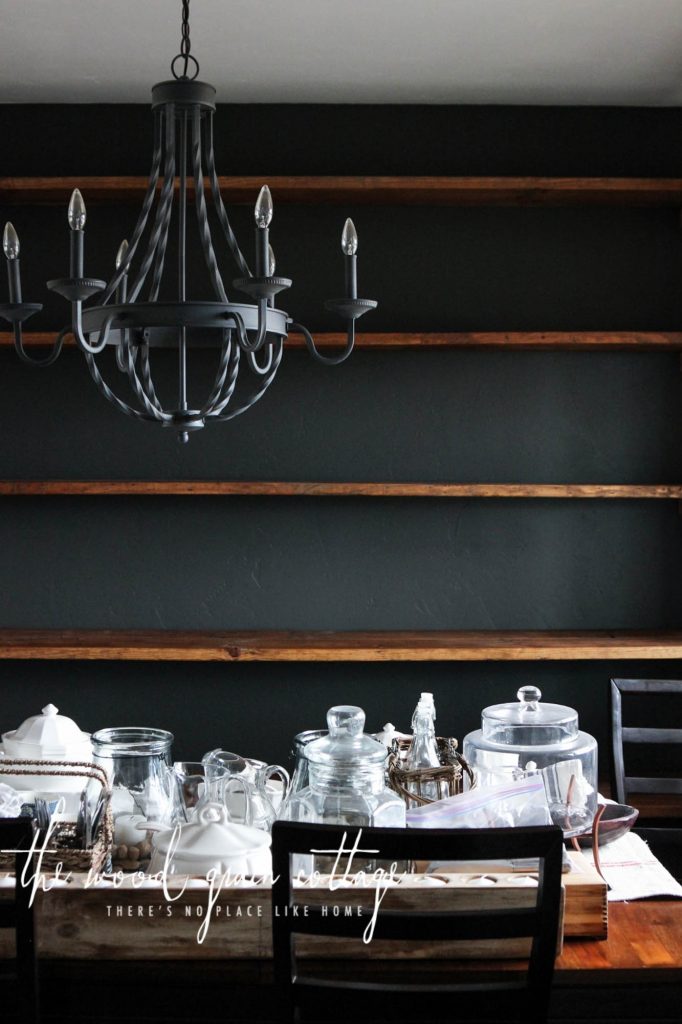 So… now for the big question, what am I going to put on those big, beautiful shelves? I'm going back and forth on how I want them to look, especially because I was so ready for a change in here. We'll see if I just put everything back, or if I rotate the type of items I'm going to display. I do know the white dishware will pop beautifully against the dark wall, and I love that, but I'm also thinking of incorporating a few different items too… Books, candle sticks, artwork, etc. For right now though, it's going to stay empty. I'm going to let the bare wall speak to me. 🙂
One change down, a few more to go! And as soon as I decide what I'm going to display on our shelves, you'll be the first to know! Feel free to weigh in! 😉