Oh boy. Our breakfast nook has underwent several new, exciting and happy changes as of late… and I'm not done yet! We have more up our sleeve and I can't wait to give you the 'official' tour. Today though, it's all about decorating our breakfast nook table for Christmas. It seemed like I couldn't love the room anymore than I already do, but then I worked on this table décor with the help of Balsam Hill! I love the room even more! (How's that possible?!)
(Pssst. Stay tuned below for a great giveaway!)
I've been so excited to start decorating in our breakfast nook since we've added some new, and very much improved, furniture. I'll spill the official details on everything a little later, but in the mean time, check out the lovely tablescape. I love all the different textures!
For the base of the table, I used faux sheepskin rugs. I loved their fluffy texture mixed with the large magnolia leaves and pinecone garland. Lovely!
I also love all things candles right now, and this large flameless candle (seriously, it's big!) is a beautiful addition to the table. I love the timer feature, it comes on when the sun is just starting to set and lasts until we're ready to go to bed. It's also incredibly realistic when it's glowing…
To tie in with the rest of the room, and our garland above the window, I added in a few tree clippings to the magnolia garland…
And you may recognize those tall candles holders! They're a DIY project from this book! Swoon!
I also love the big, beautiful matching magnolia wreath, also from Balsam Hill…
It's a smidge hard to photograph in the window just because this window lets in SO much natural light, but it's the perfect addition to the room!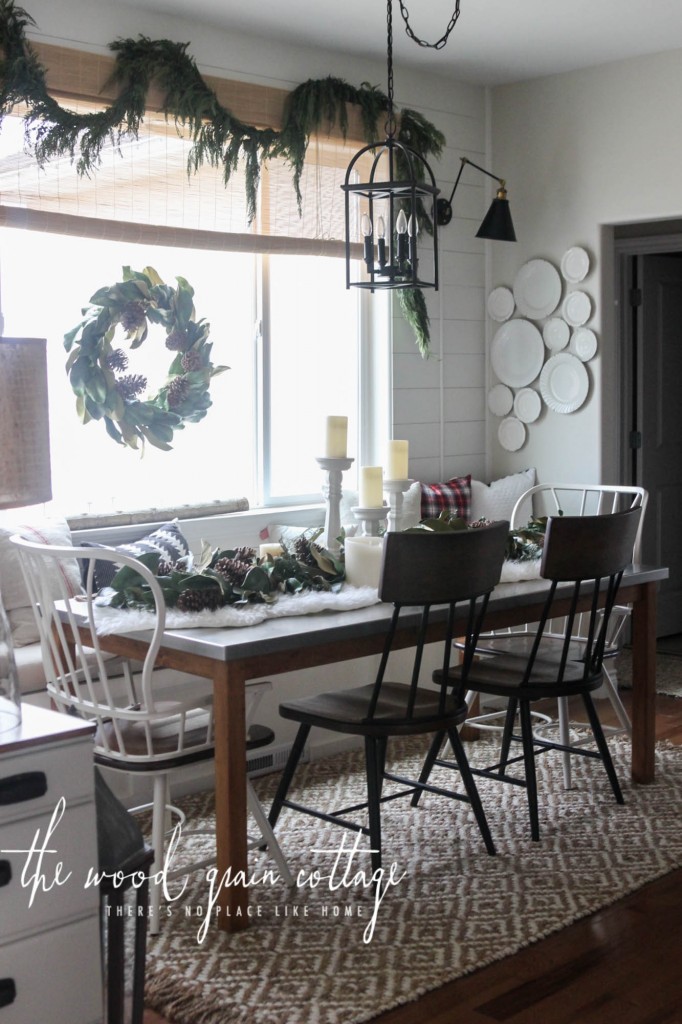 And just because I think it's pretty, here are a few more views… 🙂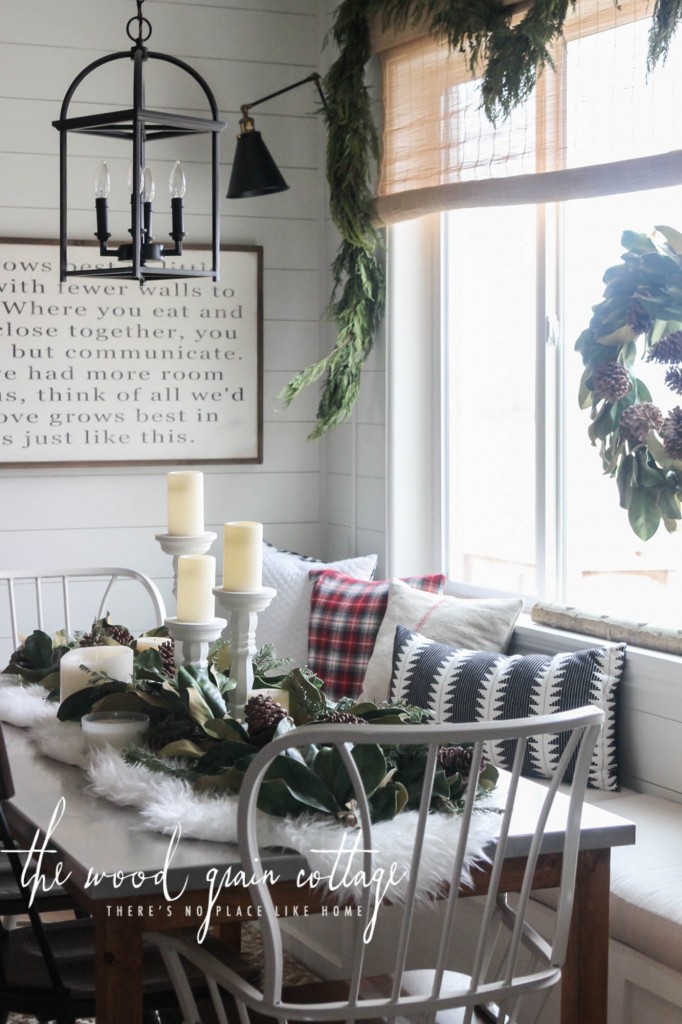 So pretty and festive!
Please note: Some of the links in this post are affiliate links, which allows us to make a small commission from your purchase, but your purchase price stays the same. Thank you for helping support our blog! We greatly appreciate it!
If you want to shop the look, you can do so right here:

Balsam Hill is offering up a fabulous giveaway! They're giving away 12 $150 gift cards! To enter, head over here! They have so many wonderful items to love and enjoy through the holiday season and beyond!
I hope you enjoyed getting a glimpse into our breakfast nook! More info and goodies to come! 🙂 🙂 🙂