I'm talking all about the homes that inspired our exterior and sharing several elements we'll be incorporating into the exterior appearance of our home.
In all my searching (and I searched a lot) there wasn't ever a pre-made floor plan that felt right, which is why we decided to start from the beginning with an architect.
Designing a home from the ground up is hard work. There are so many decisions to make and from the very beginning you need to have an idea of what you want your finished home to look like. Of course, as you go through the process, there will be many changes and "drafts" along the way, and the home you end up building may not look exactly like what you first envisioned, but it's essential to have an idea of what you want as an end goal when first starting the project.
Before we even began working with our local architect, I had a very solid foundation of what I wanted our home to look like. I knew many of the features I wanted to see so that as we were drawing and making changes to our floor plan, we could find a way to incorporate them into our home. Some work and some don't, so it's important to prioritize certain elements of the design.
As you go through the process of changes and making decisions, there's one thing that does make it easier (and fun), and that's having a collection of homes that inspires you.
The Homes That Inspired Our Exterior
I've thoroughly enjoyed finding homes that have inspired me and featured certain design elements I've wanted to incorporate into our home. It's fun to let your imagination soar and to gather inspirational images that speak to what you're trying to create.
And while it's also important to work with an architect who gets your overall vision, it's also helpful to have many, many example images on hand to refer back to and to use as an example when you're trying to explain exactly what you want.
Today, I thought it would be fun to share the homes that have helped inspired our exterior. They featured some of the elements I wanted to see in our home and they've been homes I've referred to time and time again throughout our design process.
As I've mentioned before, we are building a home with timeless appeal, so many of the homes I've used as inspiration feature some of the timeless, historical elements I love.
Home Number 1:
This colonial lake house is not only stunning, but it features so many elements we plan on incorporating, both right away, and over time. The white siding, window style, trim work, architectural details and the breezeway connecting the house and garage are all features I studied at great length.
Truthfully, the entire tour of this home is breathtaking and worthy of your time.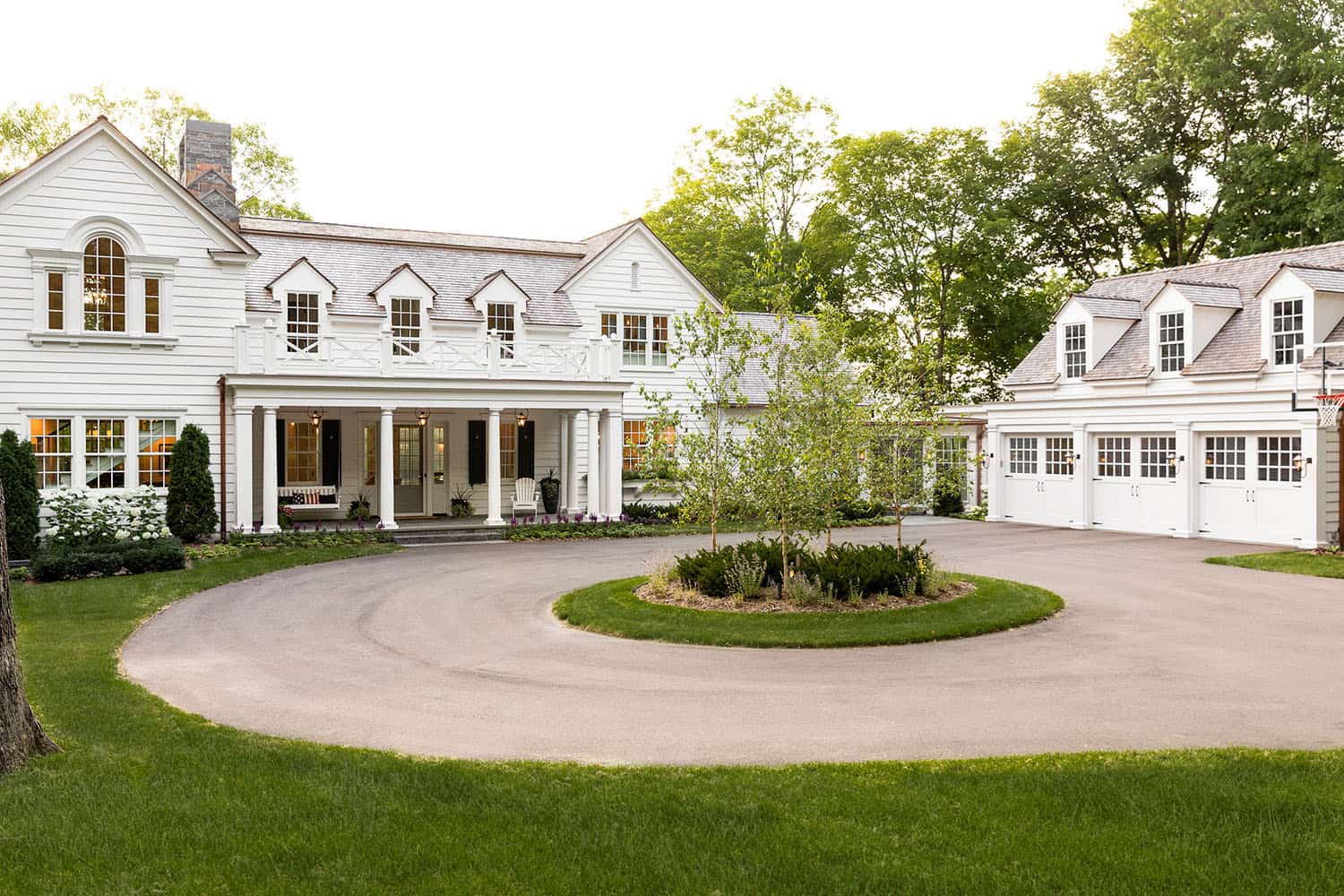 Since we're planning on adding a detached garage in the future, we've designed our home to attach to the garage with a breezeway much like this one:
I also loved all the classic architectural elements this home featured, like the pergola on the back side of the house, held up by these beautiful corbels:
This home captures the feeling I want our home to have. It's timeless and classic and because of that, it's incredibly hard to tell when it was actually built. It will age gracefully.
There are also several interior features that really encompass what I pictured for our home as well, like that beautiful bay window! I'll share more about that in another post, but this home provided so much inspirational value for me!
House Number 2:
What a treat this home is as well! I initially used the images below to show our architect what I was envisioning when it came to the back wall of our vaulted living room. The windows, doors and transoms are a winning combination and what I've always planned for the back of our home.
Like the first home, it also shares many of the same timeless features. The white siding, window style and trim and overall aesthetic are exactly what I picture for our home.
And when taking the full tour of this home, I also noticed more of the landscaping, as their building site isn't completely flat and we also have a sloped area on the backside of where our home will go. I've taken away so much beautiful inspiration from this home!
You can take the full tour of this home here. It's also worth your time.
Home Number 3:
There aren't a lot of pictures of this exterior, but it represents quite well what I've wanted in regards to the overall symmetry for our home, as well as the front porch and the two front gables. It feels classic in the best way and I've found throughout the design portion that I really prefer and am drawn to exteriors with symmetry.
While this home is definitely more "modern farmhouse" instead of timeless farmhouse, the bones of the home represent such a classical design and I've gone back to this time and time again.
You can take the full tour of this lovely home here.
Home Number 4:
With the recent change of our floor plan, I was so happy when I stumbled upon this picture:
It almost perfectly resembles what our floor plan will look like from the front porch perspective and as soon as I saw it, it felt like home.
Again, this home has more of a modern farmhouse feeling, but the classical elements we'll be using on our home are the taller windows with the transoms.
I've been passionate about having transoms in several places throughout our home and each of these homes feature them in one way or another.
You can take the full tour of this home right here.
---
From the beginning, I really wanted a two-story home. I love how they look, and they feel much more "traditional farmhouse" to me, but because of building costs, we decided to stay with one level. However, we've still maintained this two-story look, but will have faux dormers that help create the exterior perspective I love, but still allow us to save on costs. It's the best of both worlds really.
We're getting closer and closer every day to finalizing our floor plan and the closer we get, the more excited I am to get started.
I hope you enjoyed seeing the homes that have inspired our exterior! Much more to come as I work on selecting finishes and finalize room layouts throughout our home.