We're back to the office today, and I'm sharing all about how to organize desk drawers. I desperately needed the desk and drawer space, but I wanted the space to work for me, not against me. In the past, it seems like my drawers always stay organized at first, but over time things slide out of place as the drawers open and close, or as new items are added. It was time to find a solution that would work for the long term.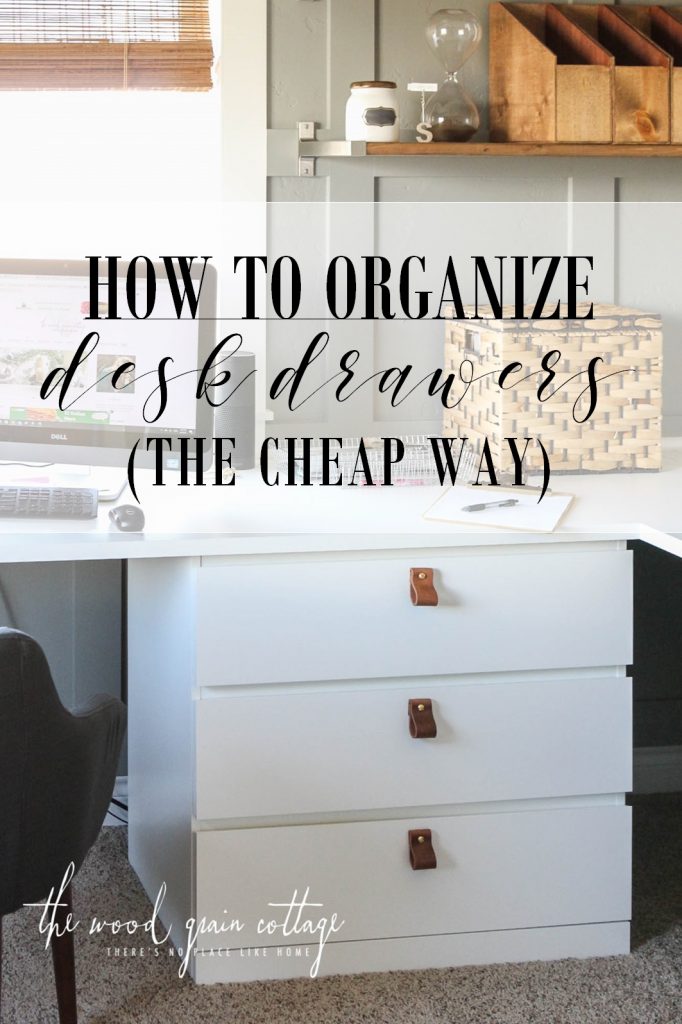 And let me preface this by saying, that I'm not one of those people who need every single space to be gorgeous and "magazine worthy". That's definitely not the case here, I just want the space to remain organized and tidy. The cheaper I can accomplish that, the better… which leads me right to our local dollar store.
The main drawer that needed organized, was the drawer that stores all my pens, pencils, highlighters, markers, tape, scissors, etc., etc., etc. That drawer always seems to go bonkers over time and random bits can be found in every corner. I can happily say, there's no way that can happen now…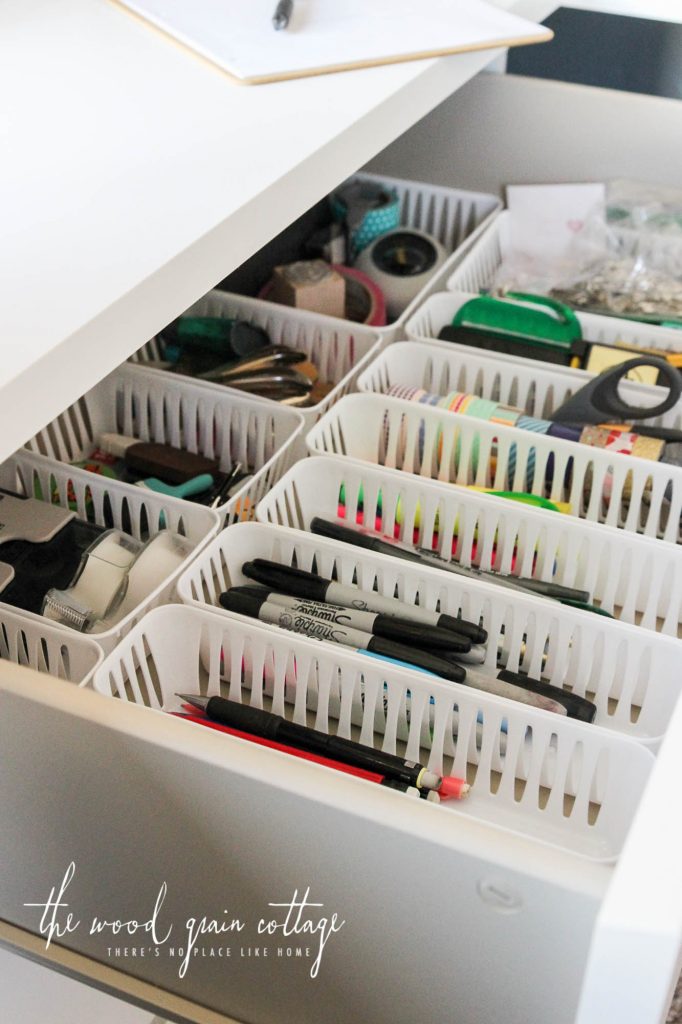 To start, I used these cheap plastic organizers from the Dollar Tree…
I spent a total of $8, and some of the containers were used throughout the other drawers to hold cords or miscellaneous small items. First, I picked the drawer that would hold the majority of my most used supplies. It felt natural to have them to my right side, so I chose this drawer…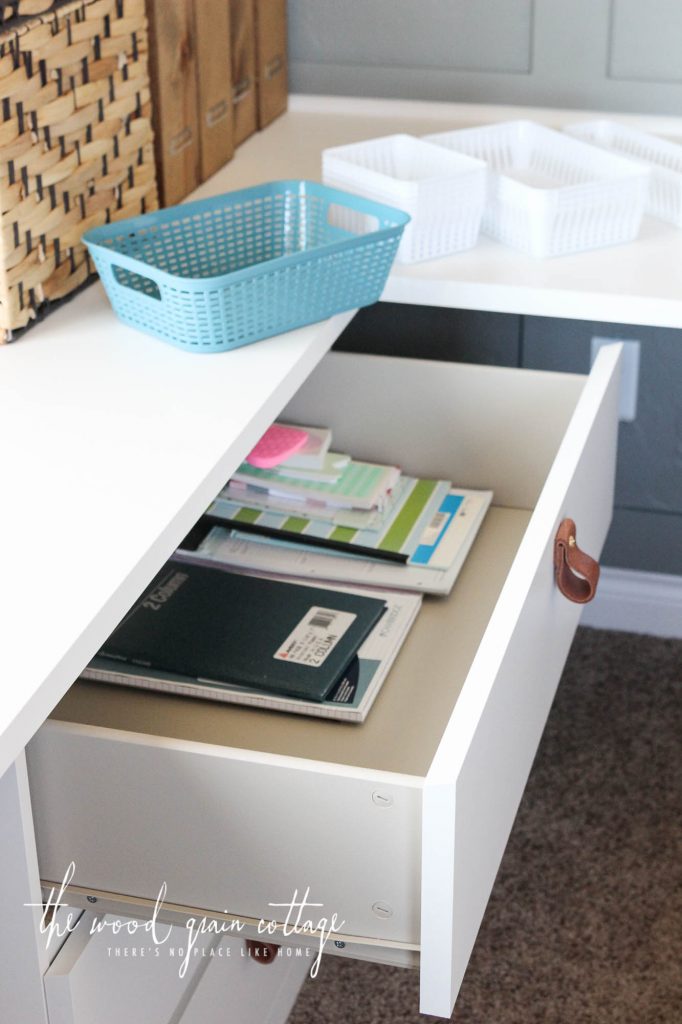 I cleaned out the drawer, and then started filling it with different sized plastic organizers…
After a little bit of rearranging, I quickly found the best way to maximize the size and shape of the drawer…
Those little plastic organizers worked perfectly. I filled them as I went…
And I'm happy to say I now have an entirely organized drawer. Each type of item has its' own area, making this an easy system to maintain. I also know exactly what I have at a glance. And now I don't have to search for a highlighter… I have a whole section just for them!
Can life really be this easy? Haha, I guess so! After I had the drawer finished, I brought Anthony into the room and showed him how it turned out. He likes things organized too, and we both like knowing exactly where we can find something, so with this system, we have the best of both worlds. And I can tell you exactly where my SD cards are, or my letter opener, extra staples, safety pins, etc.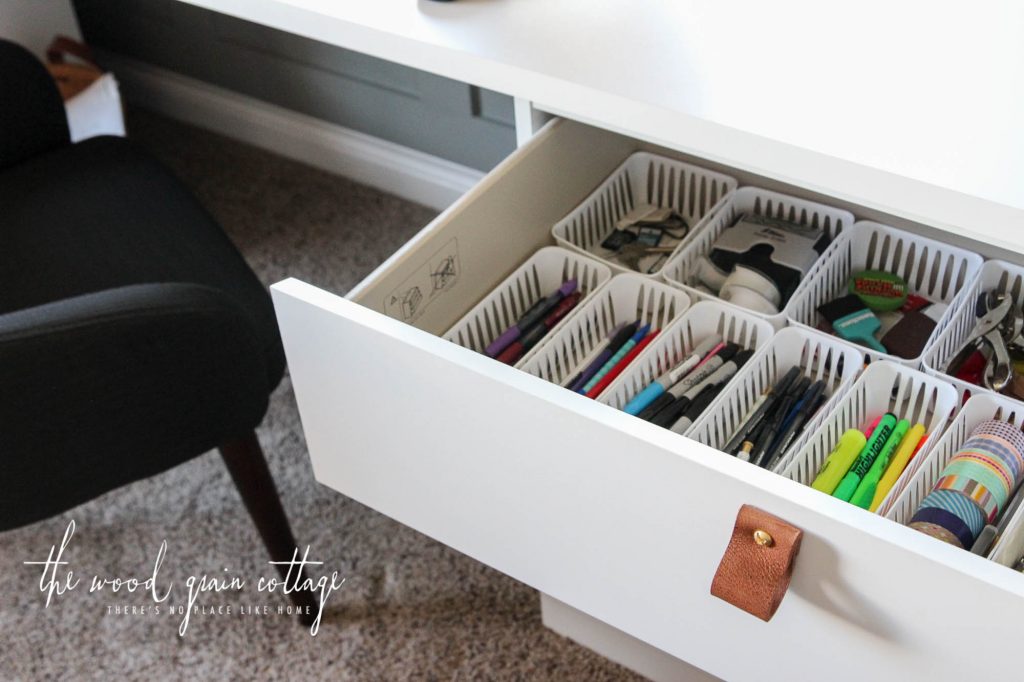 And just think, it all started with a little shopping trip to the dollar store!
This was such a simple and easy project, and I can't tell you how happy it makes me opening up this drawer. Do yourself a favor and treat yourself to a few of those plastic organizers, and just in case you don't have a Dollar Tree near you, these are basically the same organizers I used…
Please note: Some of the links in this post are affiliate links, which allows us to make a small commission from your purchase, but your purchase price stays the same. Thank you for helping support our blog! We greatly appreciate it!
With the drawers done, I'm turning my attention to the closet. I have all the bins and items in place, but now they need labeled so I know exactly what's where. As soon as that's done, I'll share all the details. Until then, feel free to pin this!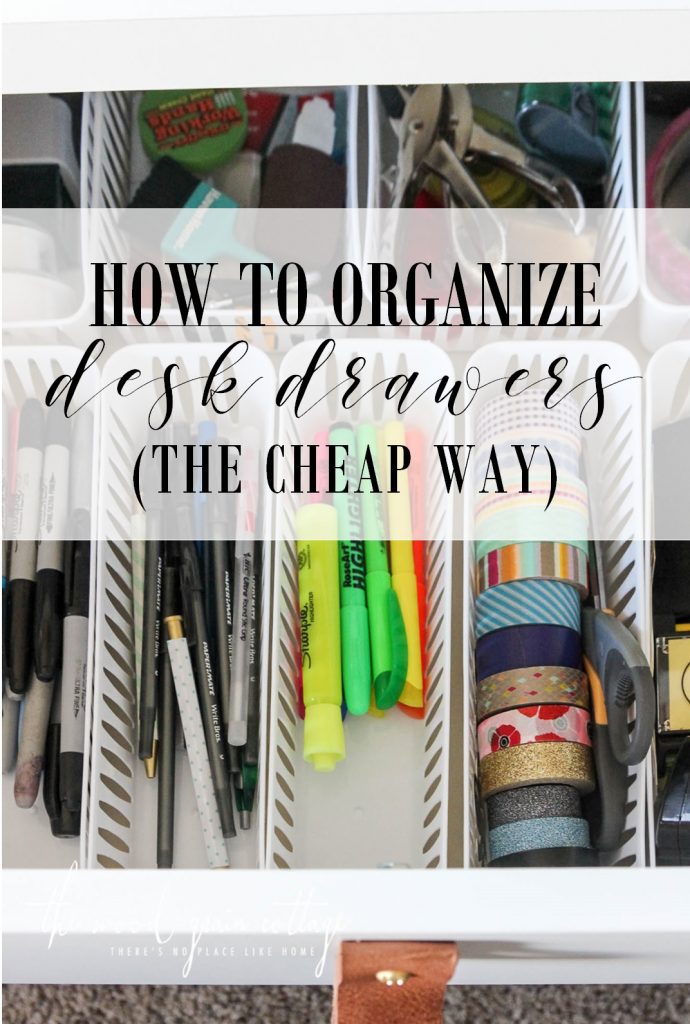 An organized drawer = happiness, or pure bliss every time you open the drawer. And you'll save time not spending an hour looking for a highlighter… 😉