A few months back I was at an estate sale and ran into a thick butcher block cutting board. It was dirty. And gross. And I almost didn't take it because it looked absolutely disgusting. But, I do have a deep love for cutting boards…
I also knew I could restore it back to its former beauty, so today I'm showing you how to do just that. Here's how to clean & restore an old cutting board that's definitely seen better days…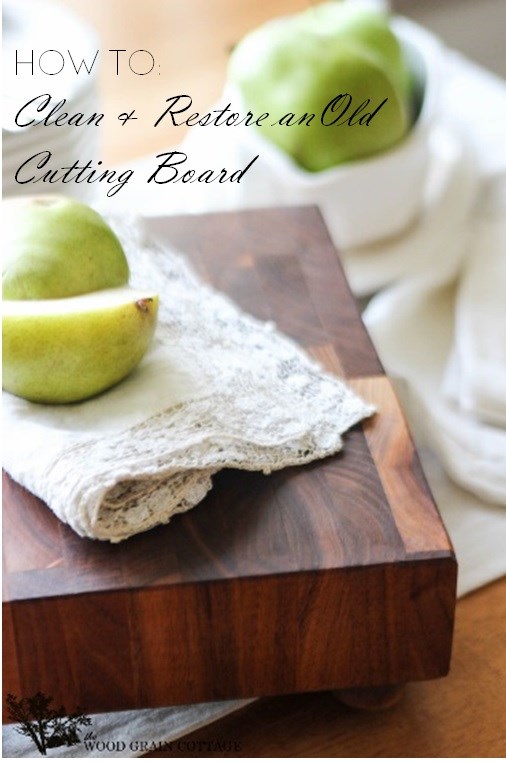 Here's what it looked like before… yuck and double yuck! Here's how I cleaned it up…
Please note: Some of the links in this post are affiliate links, which allows us to make a small commission from your purchase, but your purchase price stays the same. Thank you for helping support our blog! We greatly appreciate it!
Supplies:
There was absolutely no way that thing was coming in my house until it had a good scrub.
So, I grabbed the white vinegar and went to work…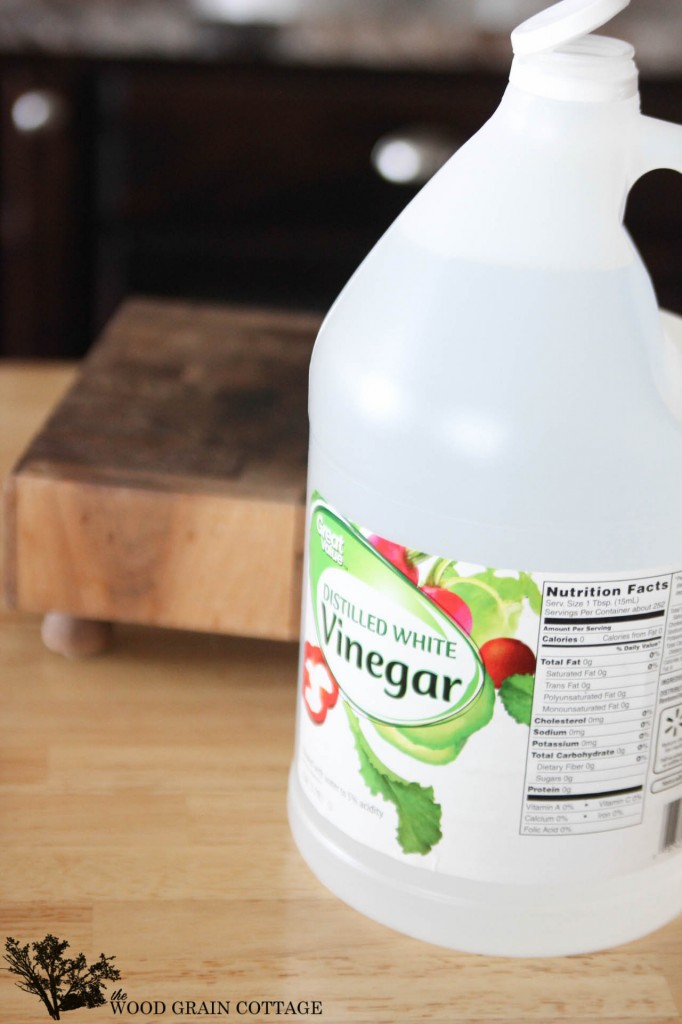 I poured about a 1/3 of the bottle into our sink, then set the cutting board face down into the vinegar…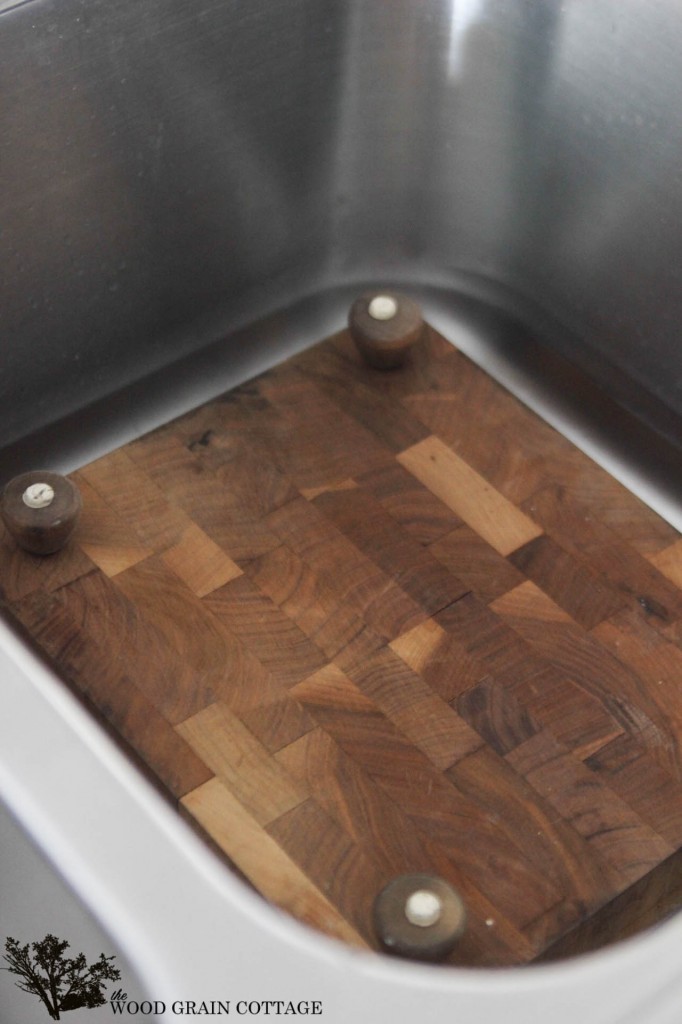 Because it was nasty, I let it soak for about an hour, then used my scrub brush and started scrubbing…
Here's what the vinegar looked like… holy gross!
Then, to sanitize it, I grabbed the hydrogen peroxide and poured it all over the top…
Again, I started scrubbing away…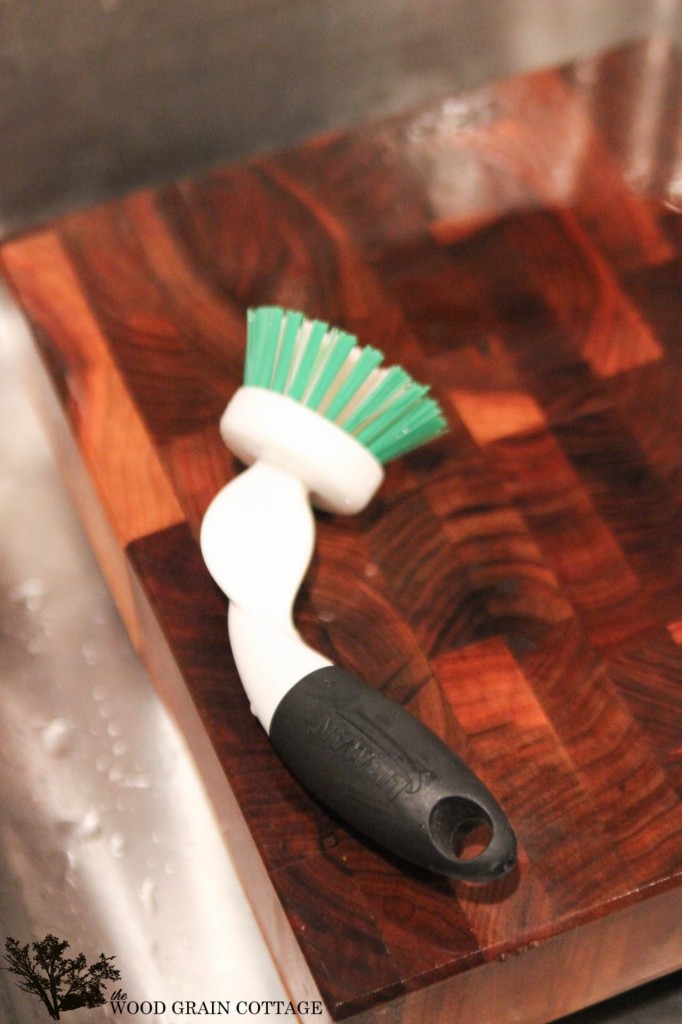 I didn't notice a ton of white bubbles, but this board didn't have hardly any deep cuts in the wood.
I rinsed it off, then let it dry over night…
There were still a few bad spots, so I soaked it another hour in the vinegar and kept scrubbing away…
I ended up soaking it three times to get it clean. Then, to give it a rich finish, I grabbed my coconut oil…
I just warmed it up and started rubbing it into the wood…
The wood really absorbed the oil and drastically darkened…
I only applied one coat, but if it starts to dry out, I'll add another one.
It's such a lovely piece!
And now that you can actually see it, I absolutely adore the pattern of the butcher block…
It's going to be just perfect for styling and sitting out…
Those little feet are quite adorable as well..
And let's not even get me started on the combination of the wood and my new vintage napkins that I bought at The Vintage Whites Market…
She's a beauty!
And even though I probably won't be using this as a cutting board, it is food safe and ready to go if I ever change my mind! But who am I kidding, it's probably going to be best friends with my growing iron stone collection…