Just a few days ago, I spilled the details on our first big project of the new year. And when I say it's a big project, I mean it. It's basically an entire room makeover from start to finish. Every single element in the room is being added fresh, which makes this an exciting project! Starting from scratch allows me to really nail down exactly what the room will look like, and how it will function- an important element for our new office. I need it to function well, it's a necessity.
Today, I wanted to share our mood board for our new home office, and the overall design of the space. We've already begun the process and I'm excited to say everything is looking amazing, and this room is shaping up to be a great office! Thank. Goodness. It's about time!
There were several elements I knew I wanted to incorporate into the new office space, but putting them together into one place helps me to see how everything is going to work and blend together. I love the way the mood board looks. I want the office to feel warm, deep and sophisticated, but clean and organized. I started with the walls, knowing they'd be a big feature of the room. The image above is actually of our new walls. We did a fun wall treatment on them with grid board and batten and they look absolutely stunning. I love them, and they're the perfect backdrop for the rest of the design.
Here's a breakdown of each different element:
Wall Lighting– I've shared these before, and I love the combination of the brass and matte black finish. I'm planning on buying two of them to mount over the desk area on either side of the main window in the room above the open shelving.
Tree Ring Artwork– We all know how much I love nature, trees and the great outdoors. It often inspires much of my design, and the new office space isn't any different. I'm thinking of DIY'ing this artwork project, and I'll be sure to share the tutorial when it's time!
Grid Board & Batten Wall Treatment- This element of the room is already done, and I just want to say how absolutely stunning it is. I went bold, and we installed the boxed grid construction on every wall in the office. It was time consuming, but soooo worth it! I'll be sharing the tutorial and more details very soon!
Wingback Office Chair– Comfort is the name of the game for my office chair, and the best way I can think, is to incorporate a chair that's both beautiful and comfortable. Enter in the wingback chair. I already have a chair ready to reupholster, I'm just working out the specifics to make sure it functions like I want it to. It needs to be on casters too, so I have a little bit to figure out on this one. A happy challenge I'm willing to tackle, but this chair is major inspiration for me!
Brass Pulls– We built new closet doors for the room (tutorial and details coming soon) and these are the pulls I keep envisioning on the doors. I love the size and the brass finish.
Ikea Malm Dressers– We're going to be building a big L shaped desk, and on one side of the desk, these are the base. They'll provide a ton of drawer space, which is something I desperately need. We already have them sitting in the room, we just need to put them together! Can't wait!
Open Shelving- I also wanted to make sure I'd have plenty of wall storage space as well, so we'll be installing open shelving above the desk on either side of the window.
And now for the floor plan of the room, which should help give a good feel of the layout I'm going with for the space. Mind you, none of it's to scale, it's just for a visual aide.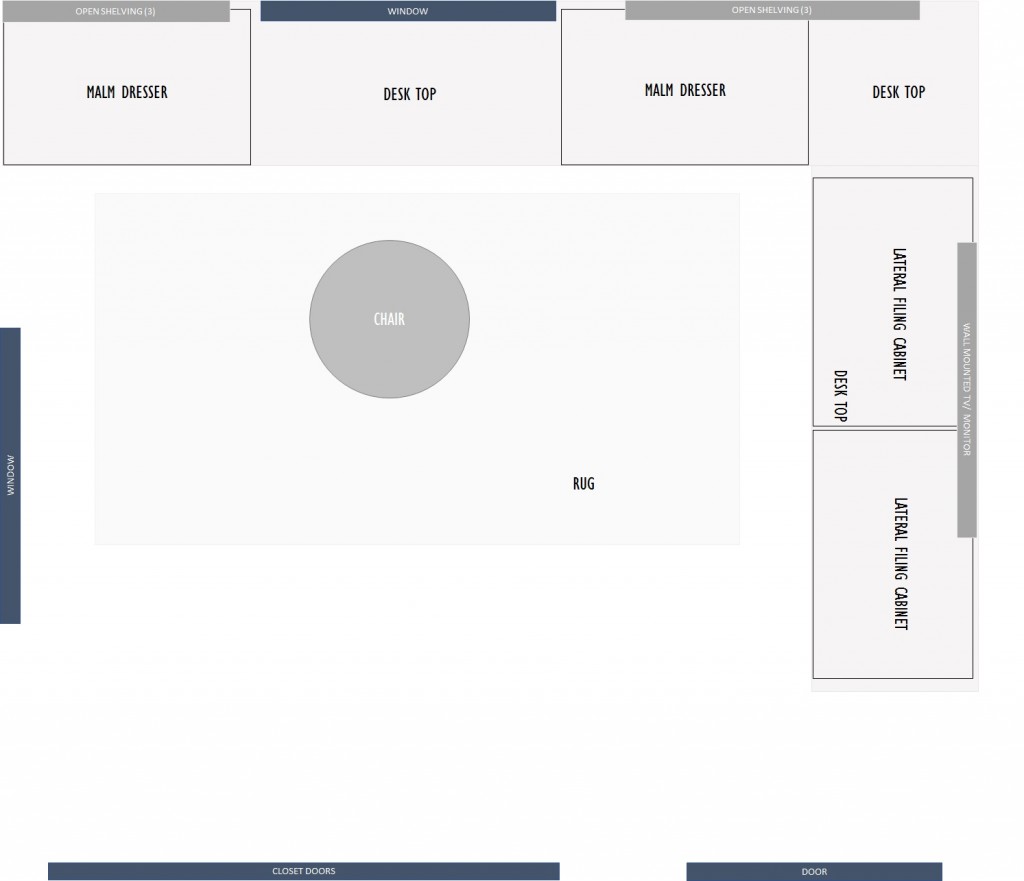 As you can see, the big L-shaped desk top will be a great work space- something that's much needed- and the base of the desk on the main wall will be two of the Malm dressers from Ikea. They have the perfect amount of drawer space, and because of the way we'll be installing them, I'll have leg room directly underneath the window. On the small wall with the lateral filing cabinets, the desk top will wrap around the room. That small wall also gives us room for two of the lateral filing cabinets that are so desperately needed. They'll be installed side by side, making that side of the room the filing section.
Open shelving around the window above the main section of the desk will provide a great visual element to the room, while still adding functional storage space. I'll be filling these shelves with my most used items, books and other necessities.
On the wall above the lateral filing cabinets, I'm planning on installing a wall mounted T.V./ monitor. Not only will this provide me with another area to look and work, (I can hook my laptop right up to it!), it's also a great way for me to stay entertained while working. That may sound funny, but I know how I work, and I like noise while I work. Since this room is the farthest away from our living room, I won't be able to have any access to our main T.V.. Installing a T.V. will help create a happy work zone for me, while still providing functionality as a monitor.
And now, here's a peek at what our guest bedroom started out as… well, kinda. When I snapped these pictures we were already working on a few things and removing stuff from the room… We were both so eager to start transforming this space, that we didn't even wait to have the main furniture removed before we were already starting big projects!
And just in case you're wondering, there was one inspirational image that caught my attention when I was searching for ideas for our new office plan. When I saw it, I froze in my tracks and knew I'd just found the solution to our office problem. I let my inspiration from the image grow, and I can't wait to see it all come together!
// Image Source //
I hope this helps you visualize our plan. I know several of the ideas and inspirations I have for the space will alter, adjust or even change as we begin adding in the final details, but so far I am absolutely loving the way this room is coming together. I'll start sharing how we're transforming the room very soon, so stay tuned!
Here's to tackling our office nightmare once and for all! 🙂