This past weekend the weather was lovely. 42 degrees was a solid heat wave and I took full advantage of it and slipped outside to freshen up our front porch.
But before I get too far, I have to tell you something.
I still hadn't taken down our Christmas items from the front porch. Whew.
I feel much better.
Now, as a saving grace for myself, I'd like to point out that none of our decorations were overly Christmasy. But still, I can only handle the unruly wind blowing over my Christmas trees a few times. And those babies were on the 20th fall. I can't tell you how tired I was of coming home to find all the trees laying over on their side.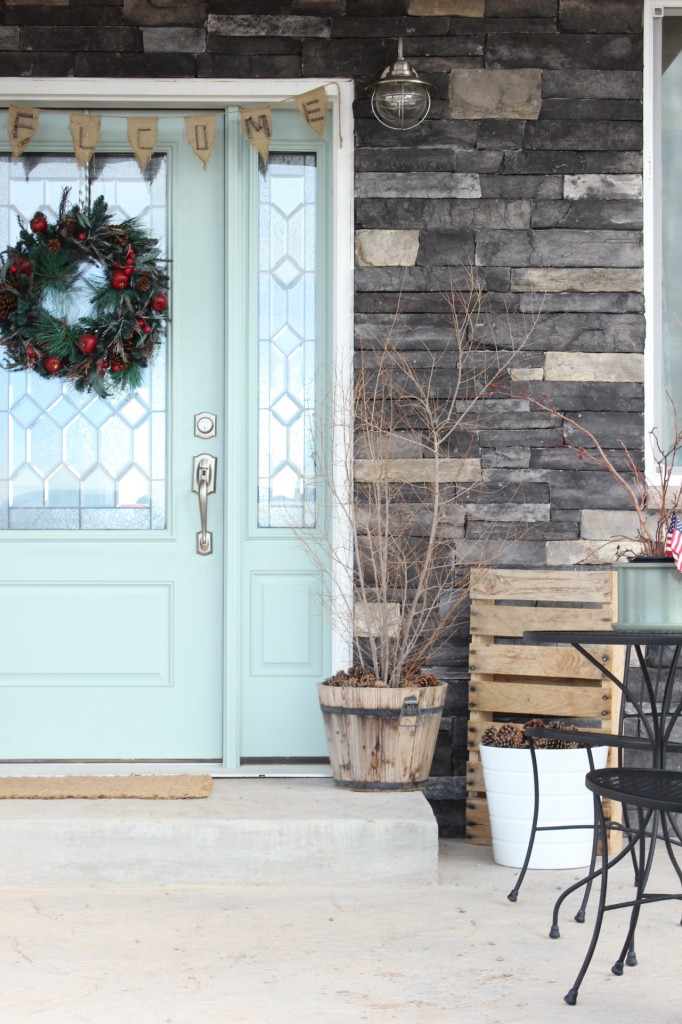 The OCD in me wouldn't allow me to go inside without first picking them up, fluffing them, and then adding the red berries and mini pinecones. Needless to say, I would spend a good 10- 15 minutes each day putting everything back together.
And that's the point where I started wondering what the heck I was doing. Time for a change.
Because it's still cold and we haven't reached spring yet, I decided to leave our porch wintery. The wind likes to blow TOO much, so I decided to go with a little bit different approach. This weekend's warm weather made me get out and about, which left me brainstorming different ways to spruce up the front porch without having to buy or constantly pick up anything if the wind decided to strike. A total win, win, right?
Luckily, we have a couple of Elm trees that have decided to sprout several seedlings (if you have an Elm tree you know exactly what I mean). I headed outside, pruners in hand, and chopped those babies down. Then, I stuck them right into a large flower pot full of potting soil and covered the soil with pinecones.
I love the height that the branches have added to the front porch and I love it even more because the wind blows right through the limbs without blowing them over. Perfect.
And now every time I walk up to the front porch I smile and am beyond happy that I don't have to search the yard and flower beds for those darn red berries. 🙂

P.S. Stay tuned for tomorrow. Something exciting will happen. 🙂