I stepped out of my comfort zone with this one. Typically I keep everything pretty safe & neutral with furniture, especially when I'm refinishing them. There's nothing worse than putting a ton of work into something and cursing the way it turned out.
I've been there. I can still feel the frustration.
Last weekend I was given a campaign dresser. It was in pretty rough shape, but the bones were great and I knew it could look awesome. Problem was, I didn't feel like keeping it safe. And that scared me.
I wanted it to be a little bit different. Read: I actually felt like stepping out of my comfort zone.
So, with that I jumped on it.
And… it could be one of my favorite furniture transformations to date!
I mean, how couldn't it be?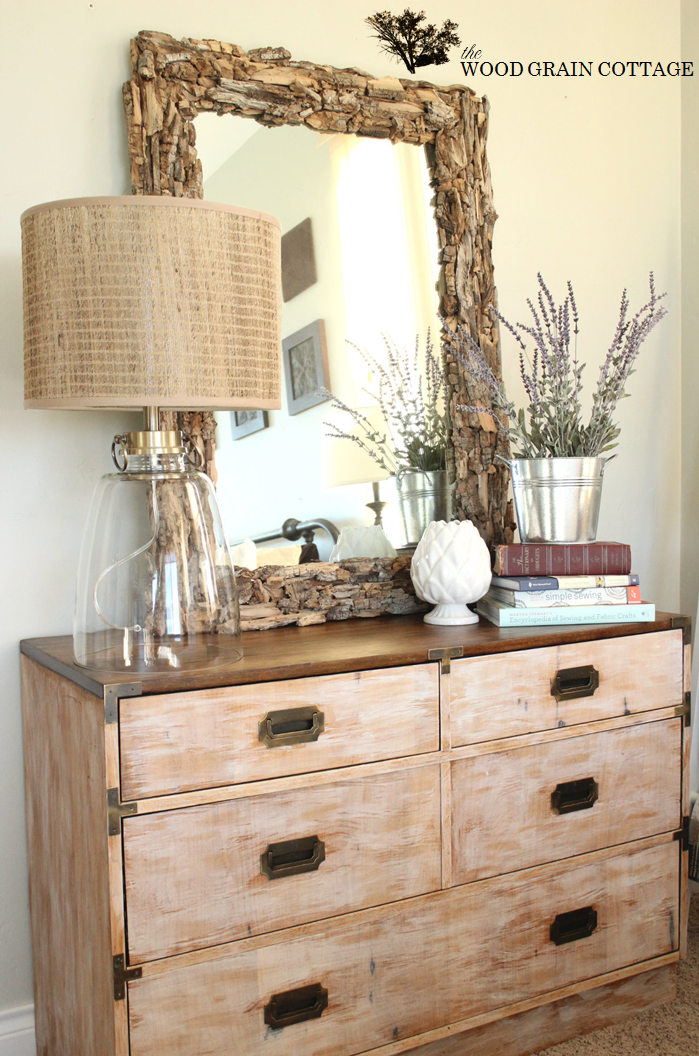 But trust me, it didn't always look that great… And this picture actually makes it look relatively good…
See the potential? Me too!
First, I started by sanding the top.
Then, I removed the drawers and sanded down the drawers and the dresser sides.
I went through a ton of sand paper…. Yikes!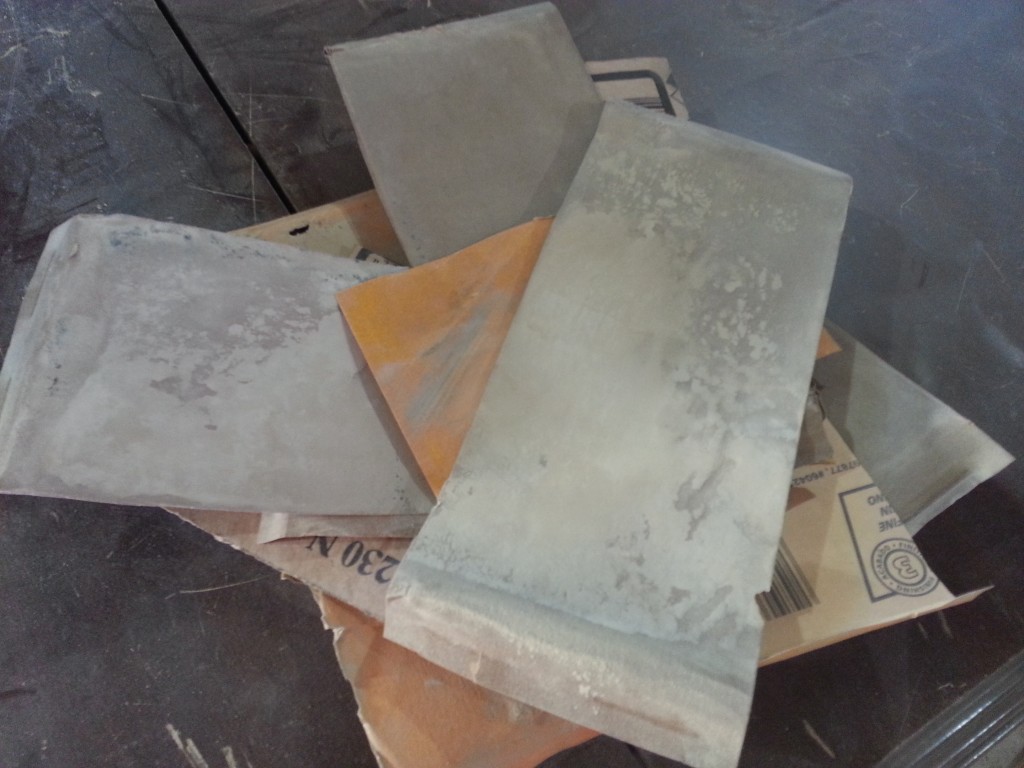 Once everything was sanded, I wiped it down and stained the top with Minwax Dark Walnut.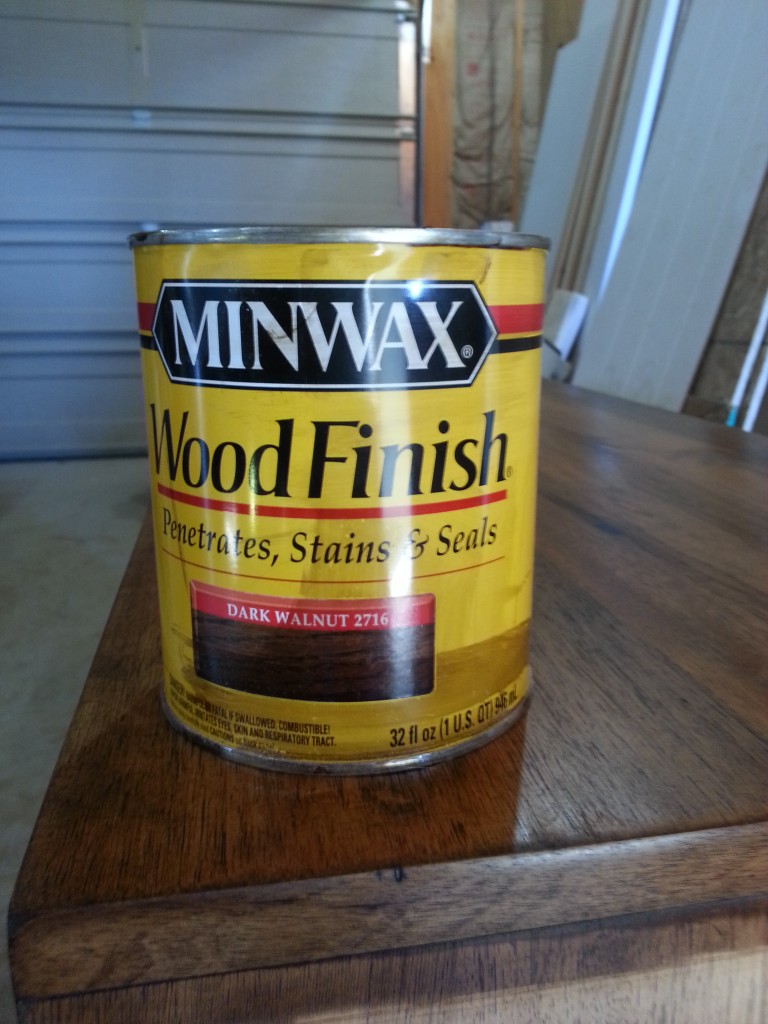 Everything else was stained with Minwax Golden Pecan.
This combination was quite lovely as it was, but I knew I couldn't chicken out on my vision.
I let the stain dry, then gave the entire thing a light whitewash.
No picture for this step, sorry. Totally spaced it.
Basically, I just dipped the tip of my paint brush into plain white paint, then dipped it in a cup of water. I sporadically brushed it on, let it set for a few seconds (just enough for it to dry a smidge), then I gently wiped it off.
I was left with this: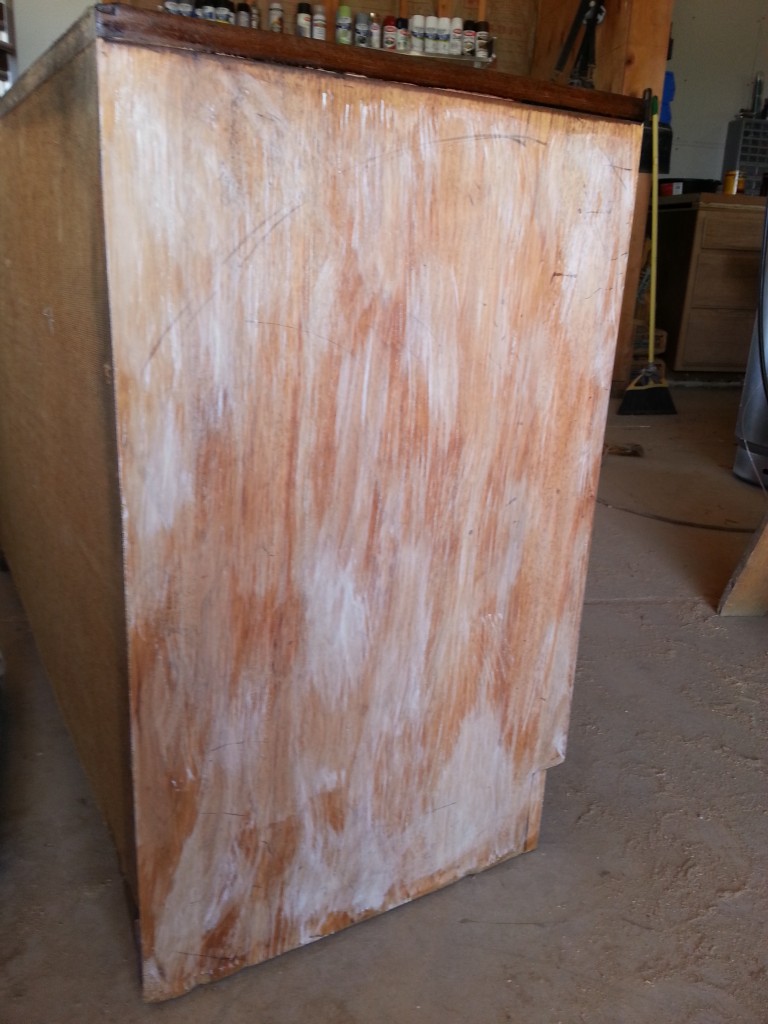 After that, I took some medium grit sand paper and randomly sanded spots…
To protect the top for regular use, I sprayed it with a couple of coats of water based semi gloss poly.  I let it dry, then gave it a light sanding.
I gave the original hardware a good cleaning and then reattached it. With that, the dresser was done!
I love how the whitewash gives it an aged appearance.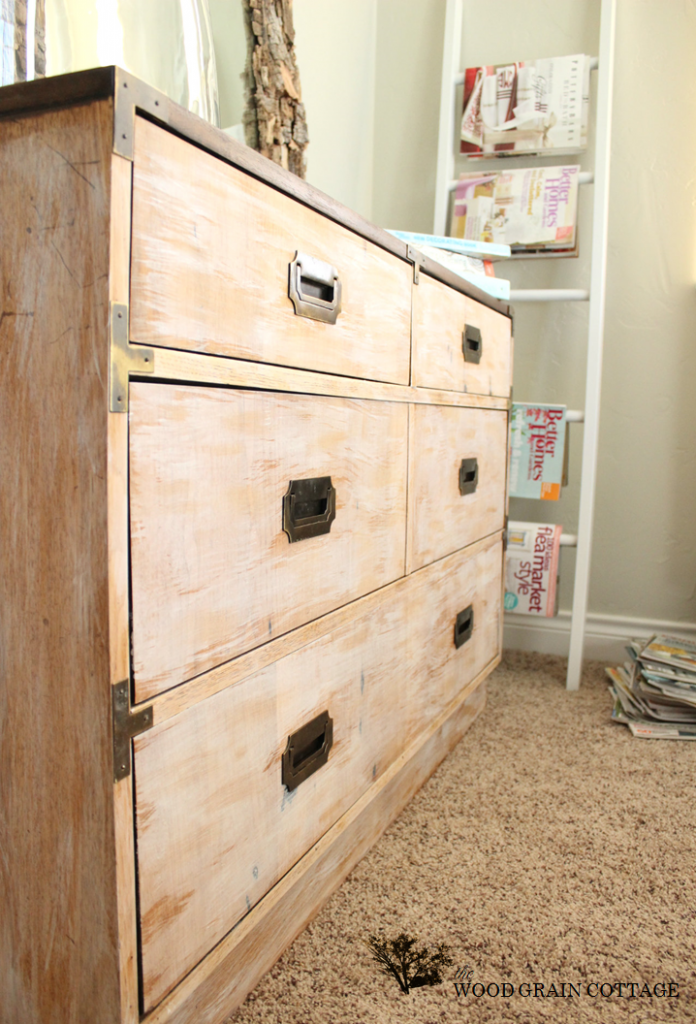 And the combination of the dark walnut top and whitewashed front and sides is lovely.
The original hardware adds that extra bit of character too…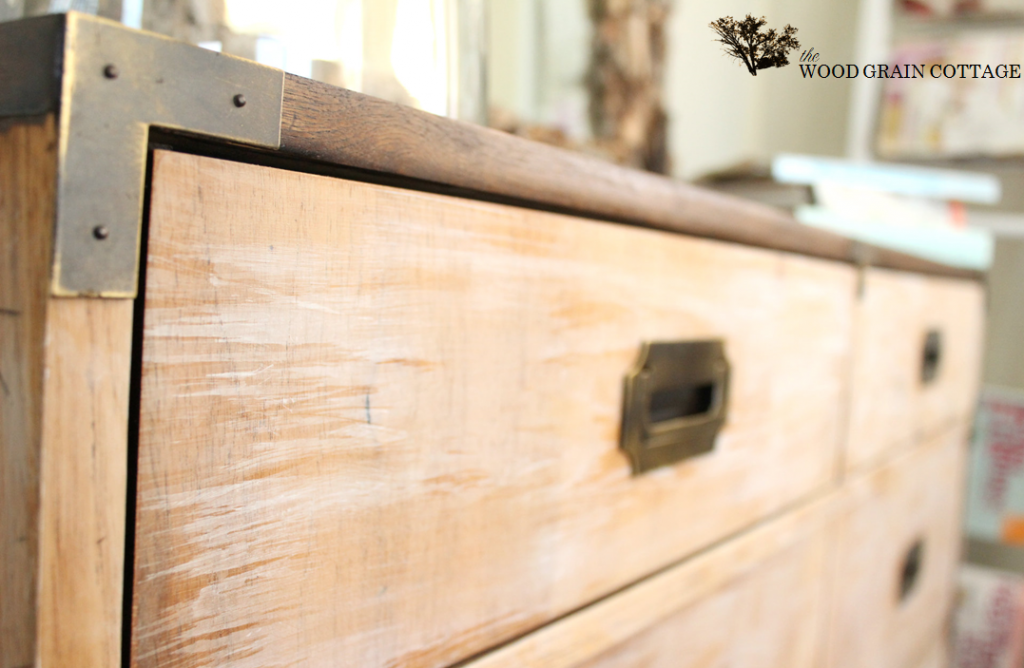 It's come such a long way, this little farmhouse dresser.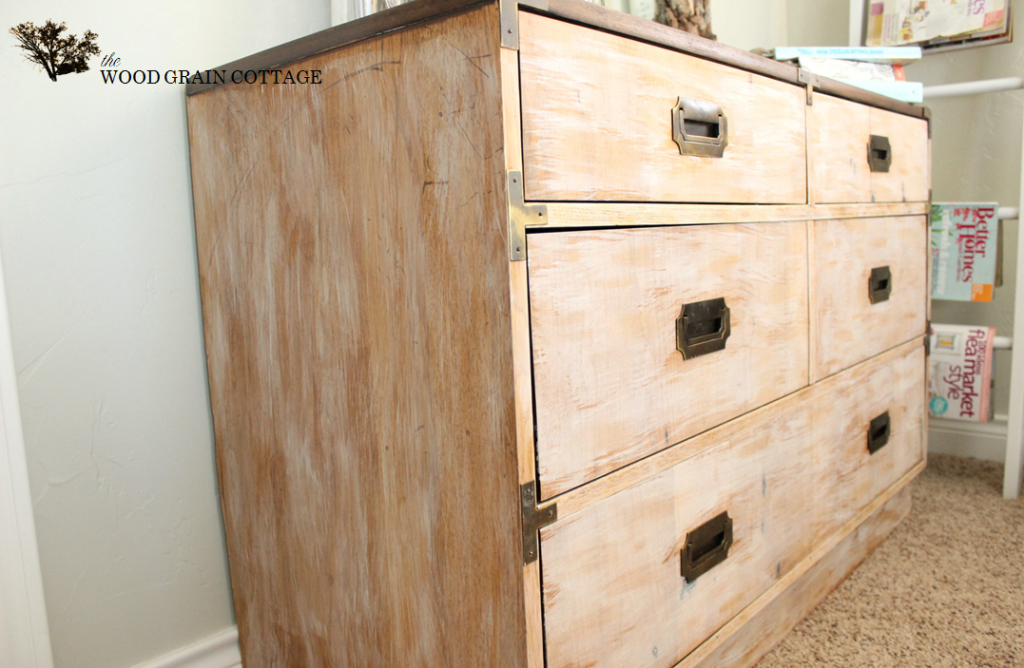 Plus, I'm positive it was meant to go with our new driftwood mirror. They look stunning together.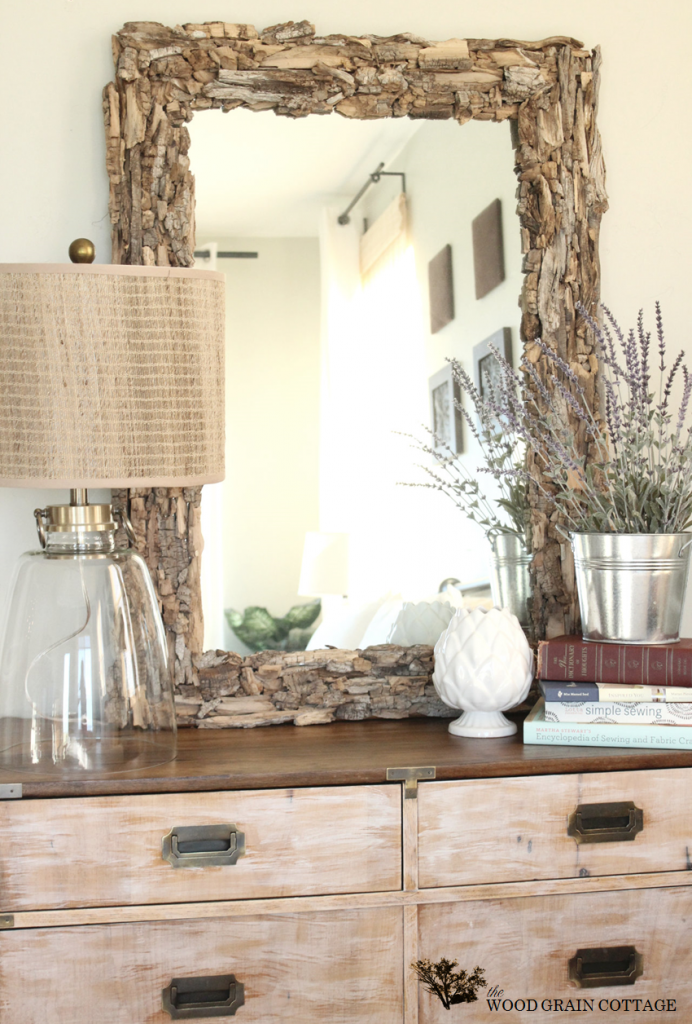 And there you have it!
See, stepping outside of the comfort zone can be a good thing! I'm so happy I did!
Have a great weekend!

Linking up to: