Our home has seen it's fair share of changes over the past few years. It's also safe to say it will see plenty more. I like switching things up, always finding a new way for things to function even better than before. I was looking at our home tour page the other day, and realized how out dated that tour is…
Because I didn't do a spring home tour this year, today's post is more of an "updated home tour". It focuses on the projects and things we have accomplished, but it's not filled with too much "fluff". I've been patiently waiting for the trees to bud out, and they're just starting. Soon, I'll share a post with all of the beautiful branches, which are my very favorite way to decorate throughout the seasons. It's also free, so you can't beat it!
Speaking of our home tour page, I get so many e-mails asking "Where did you get that…?". I'm working on creating a home source page, which I think will really help you find what you're looking for. I'll let you know once it's live.
So, here's what our home currently looks like.
Please note: Some of the links in this post are affiliate links, which allows us to make a small commission from your purchase, but your purchase price stays the same. Thank you for helping support our blog! We greatly appreciate it!
After I went through these pictures, I was once again reminded how much I am a "neutral" girl. There's not a lot of color in our home, and I rely on my accessories to bring in the fresh color. When we don't have fresh tree clippings, our home stays pretty neutral. It's pretty much my favorite, because when I do want to add color, the foundation is already there.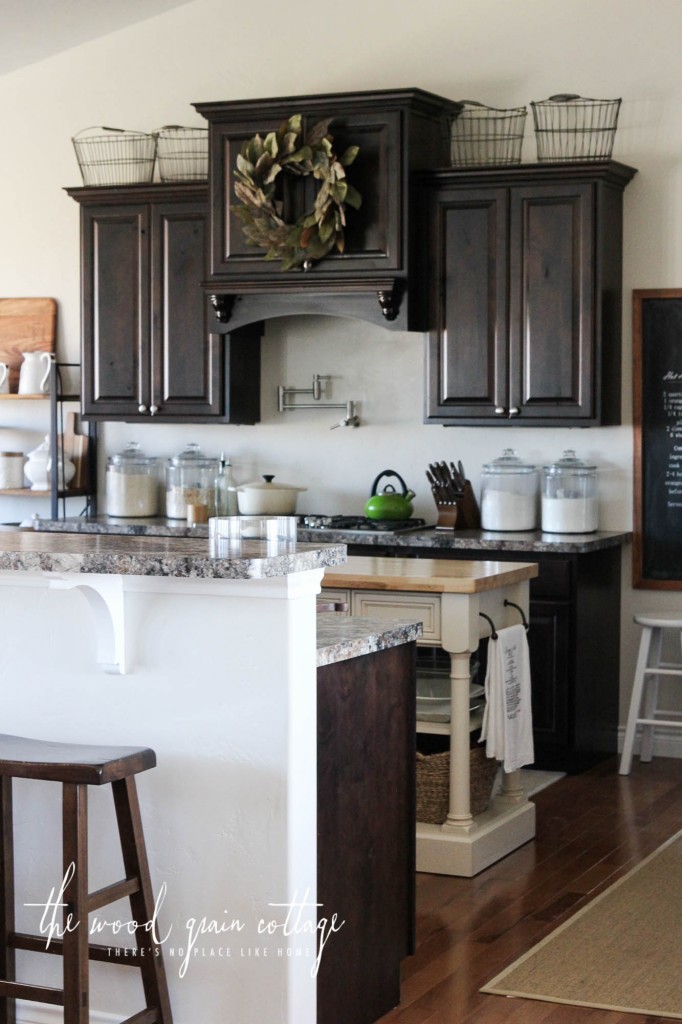 Our kitchen is one of the only rooms we haven't made a bunch of changes to. It's not because I don't want to, they just happen to be on the expensive side. I'm saving my pennies, and don't worry, I'm not paining our cabinets. 🙂
In the mean time though, I do really love my kitchen. I spend the majority of my time in here, and it functions like a dream.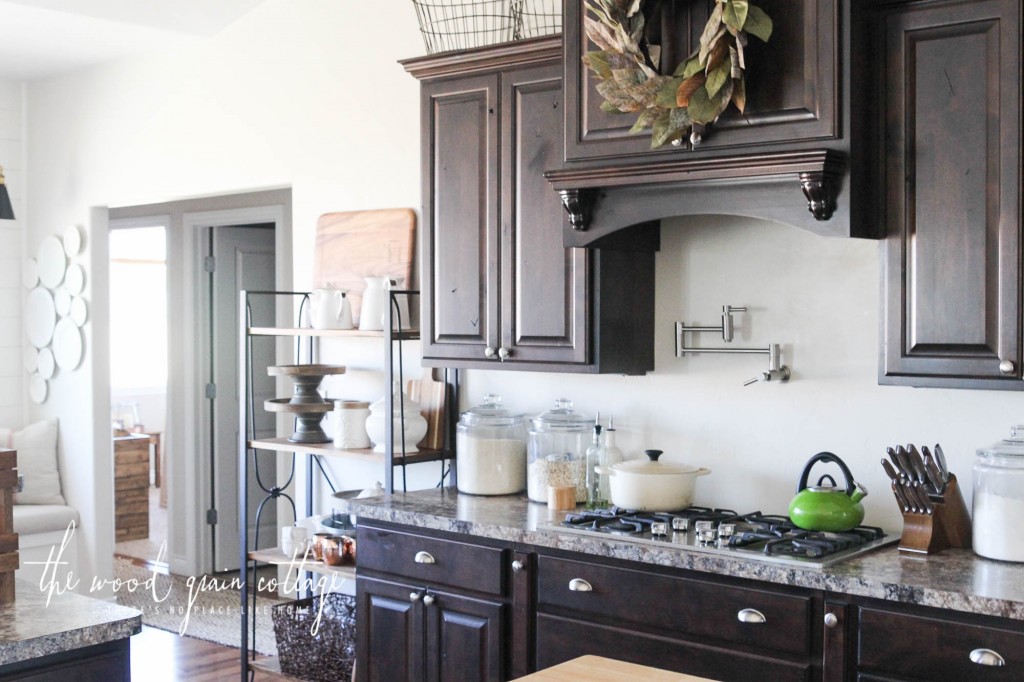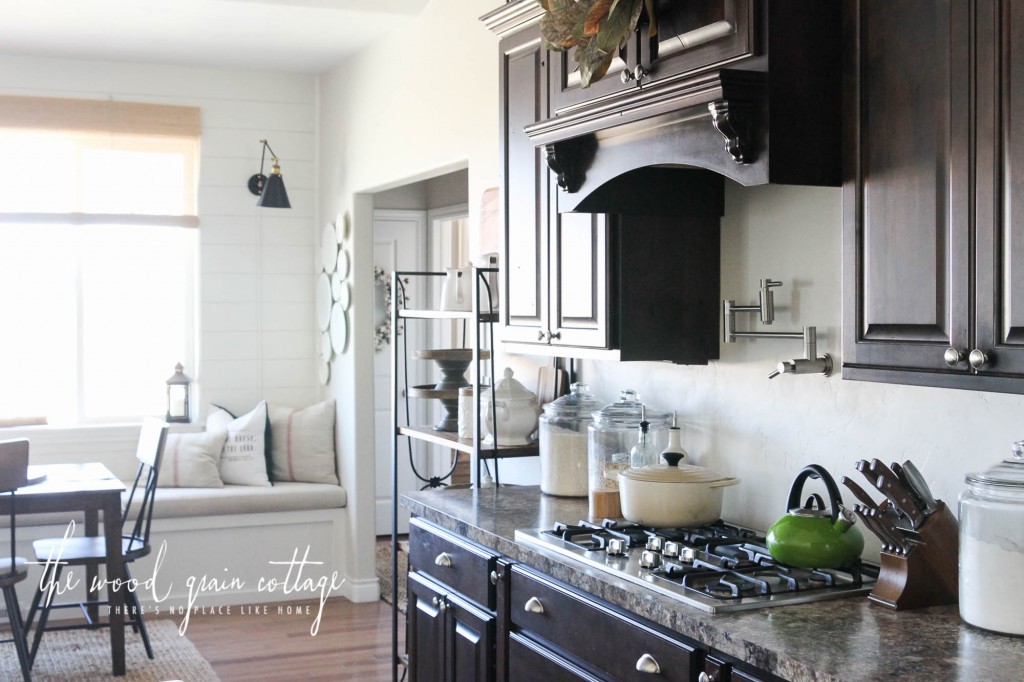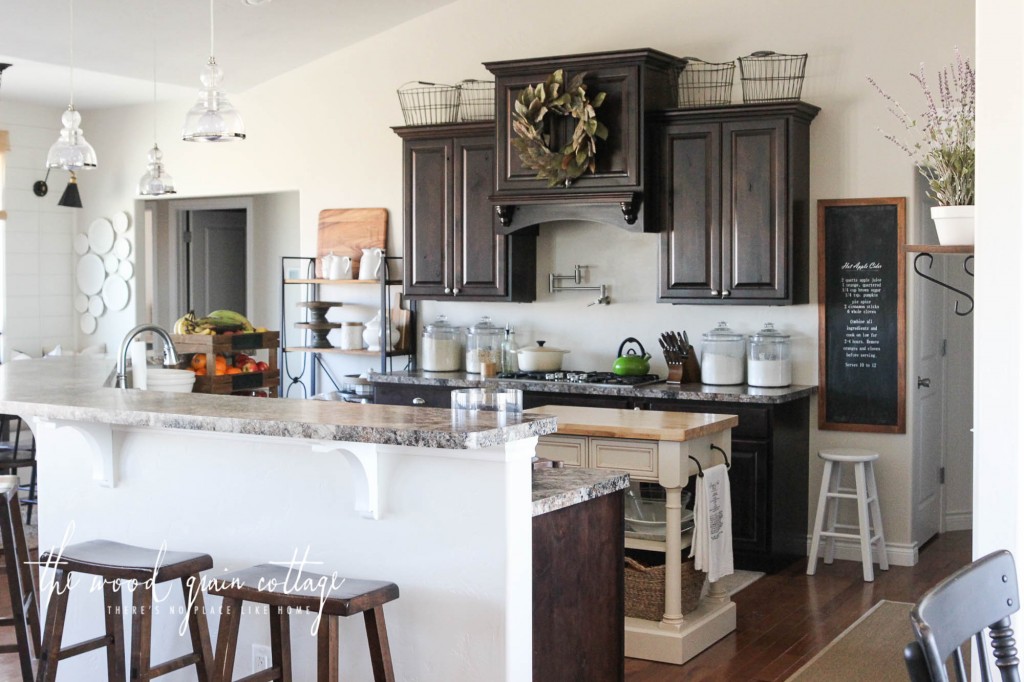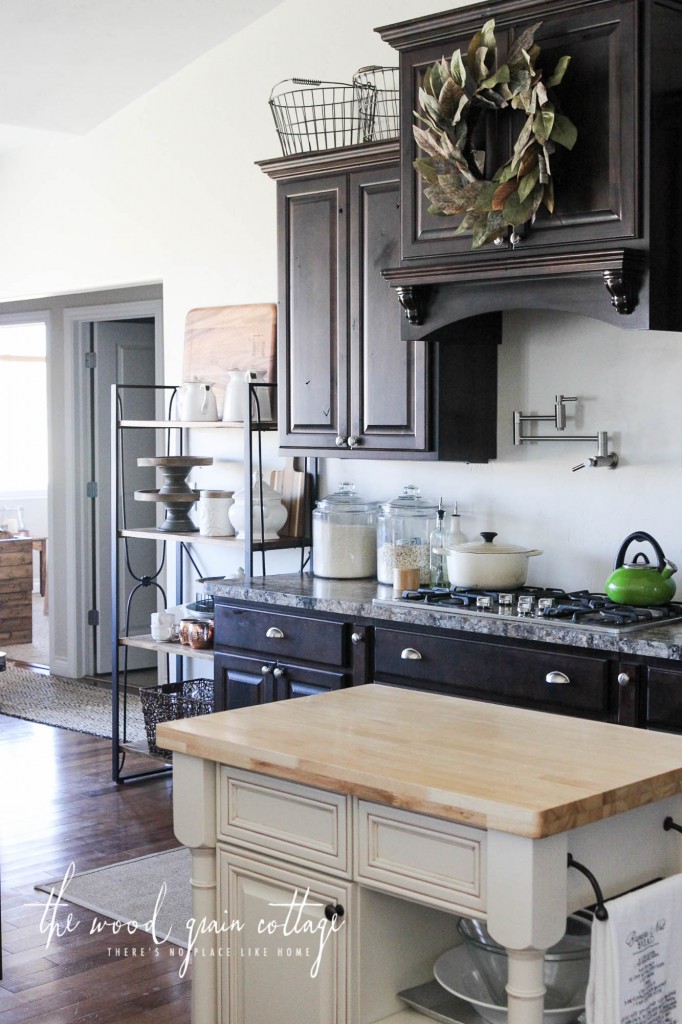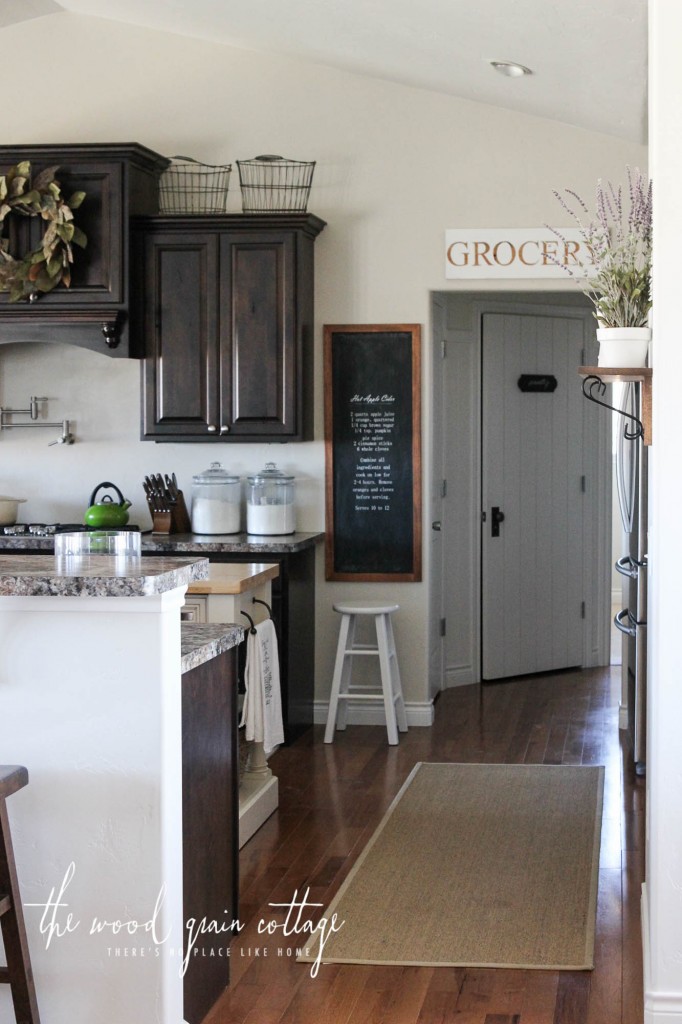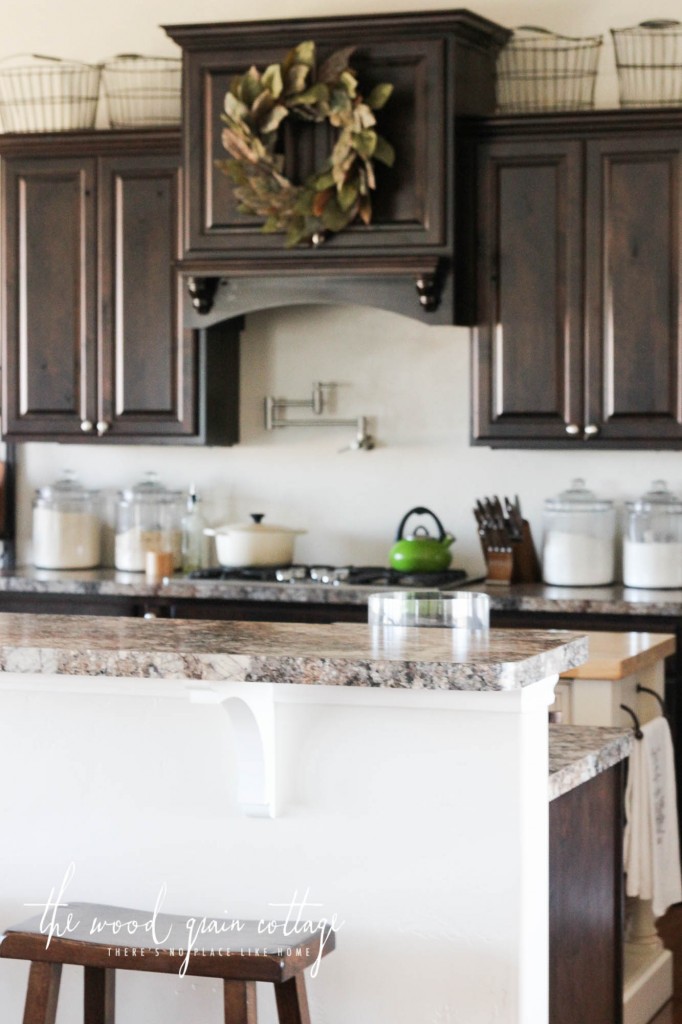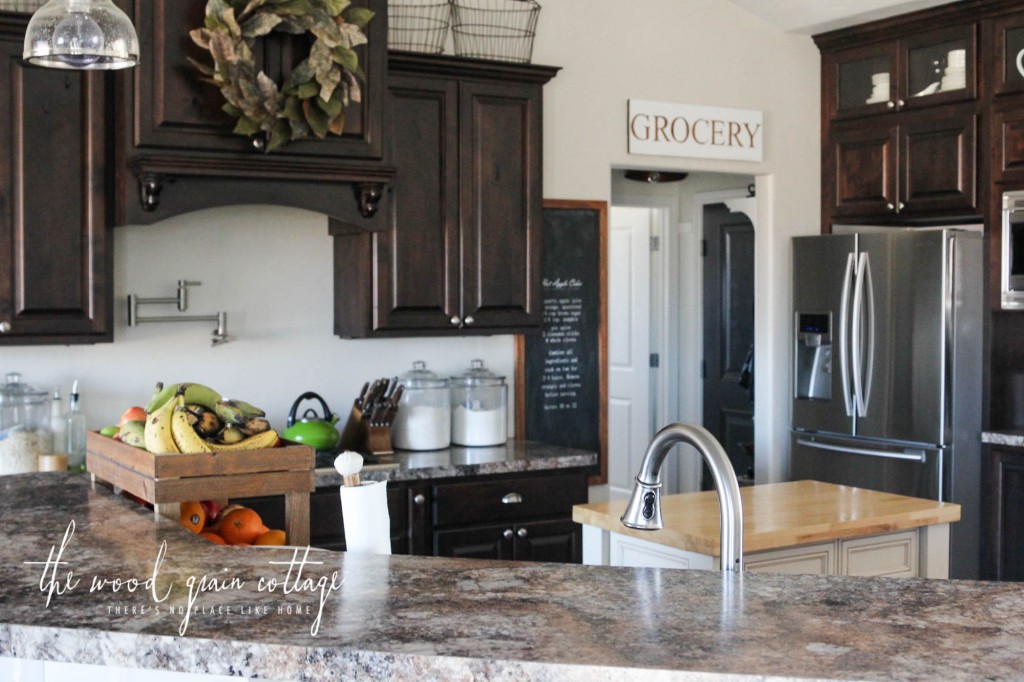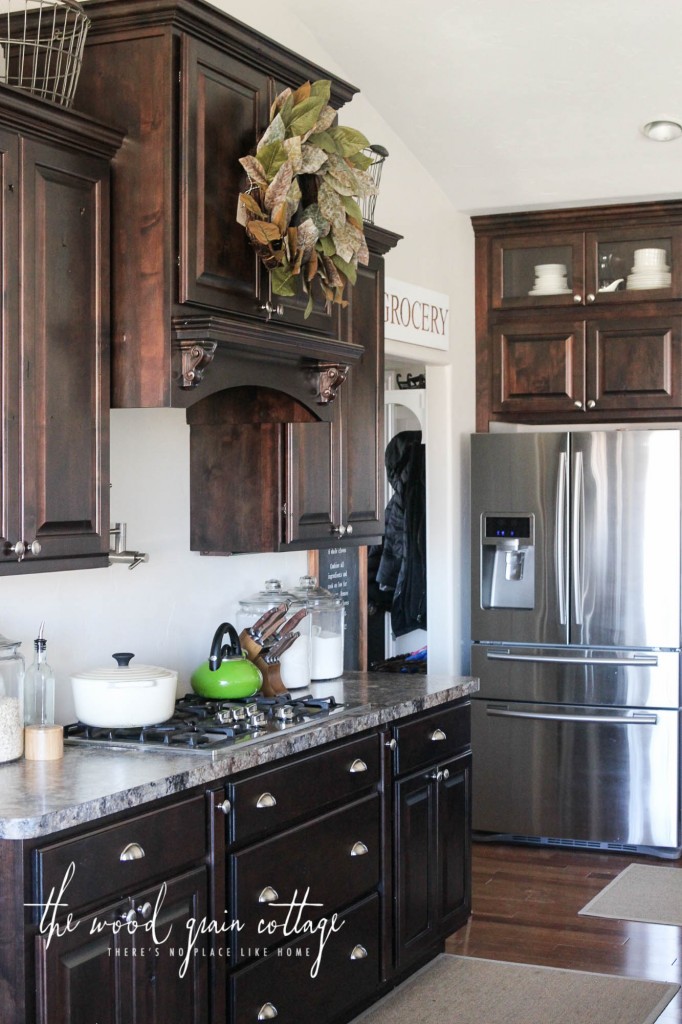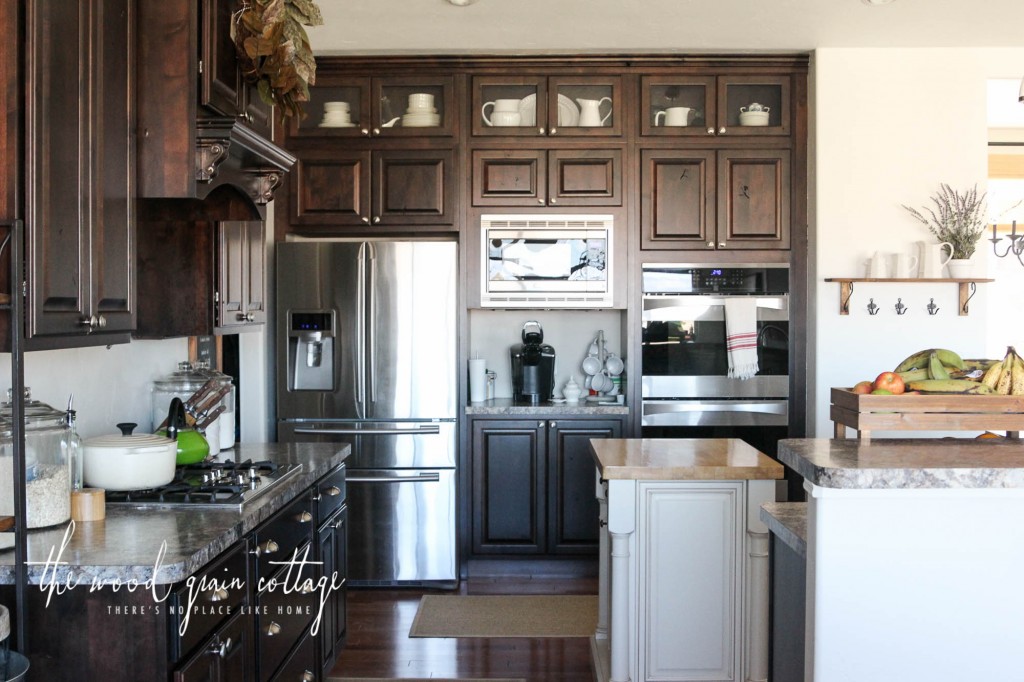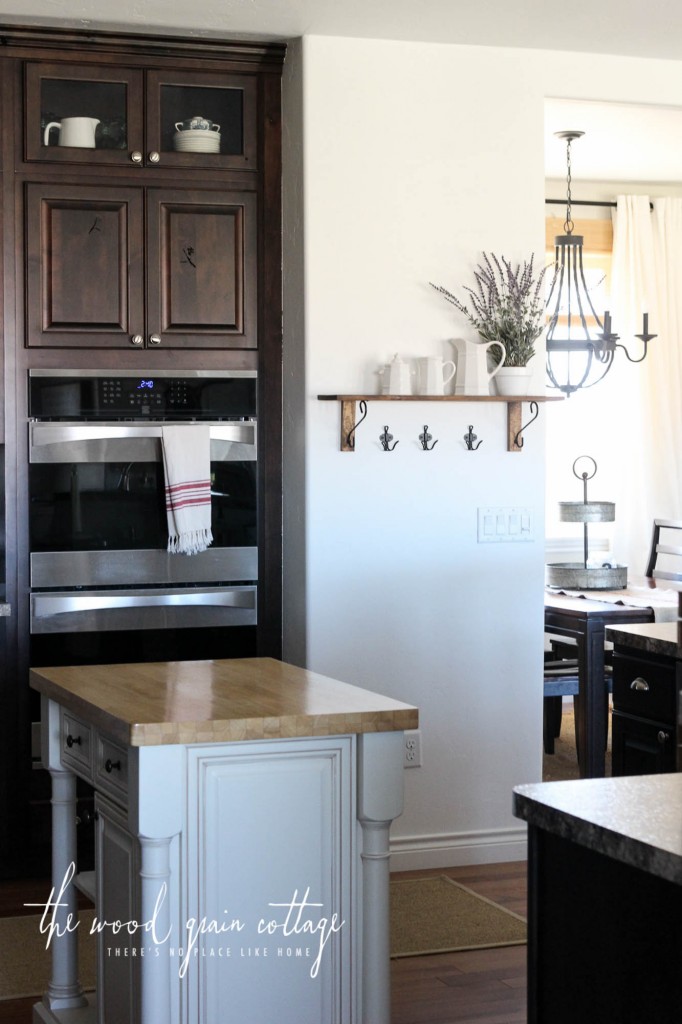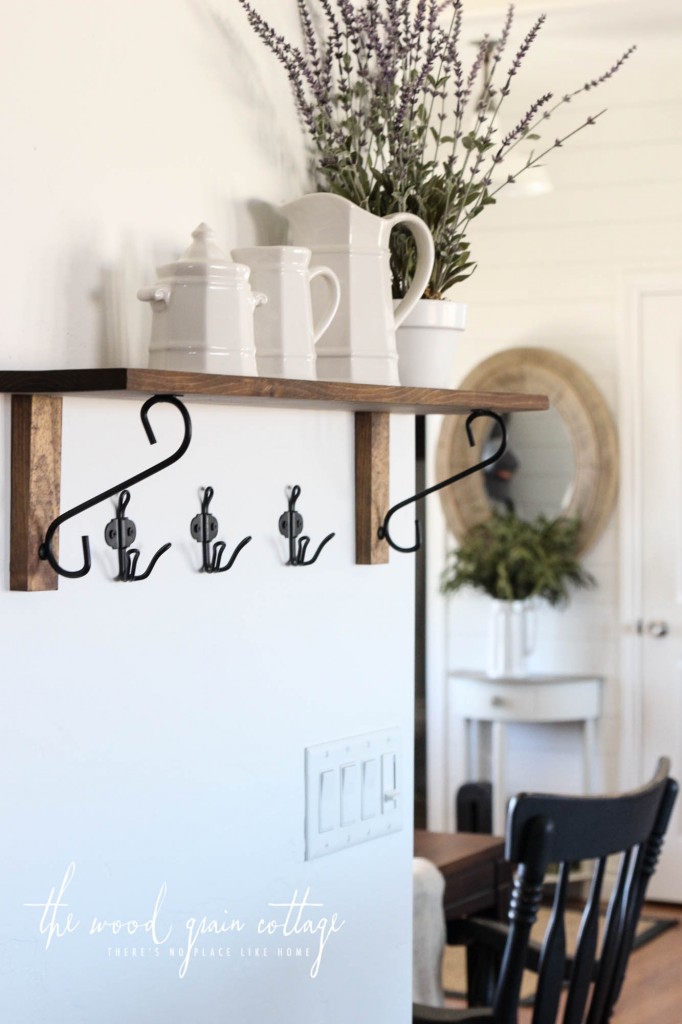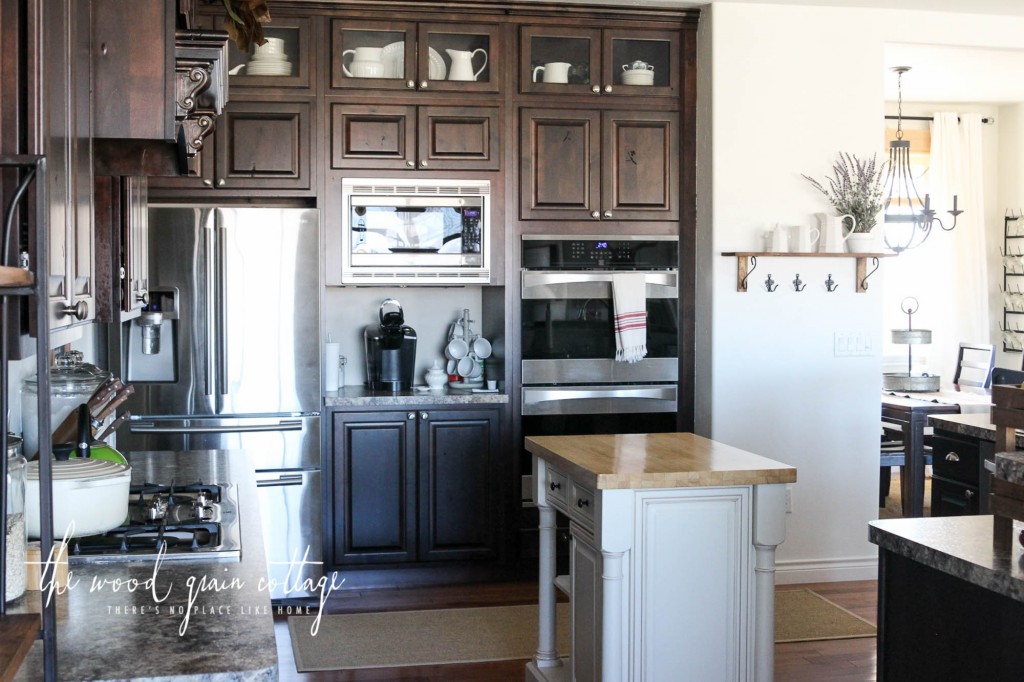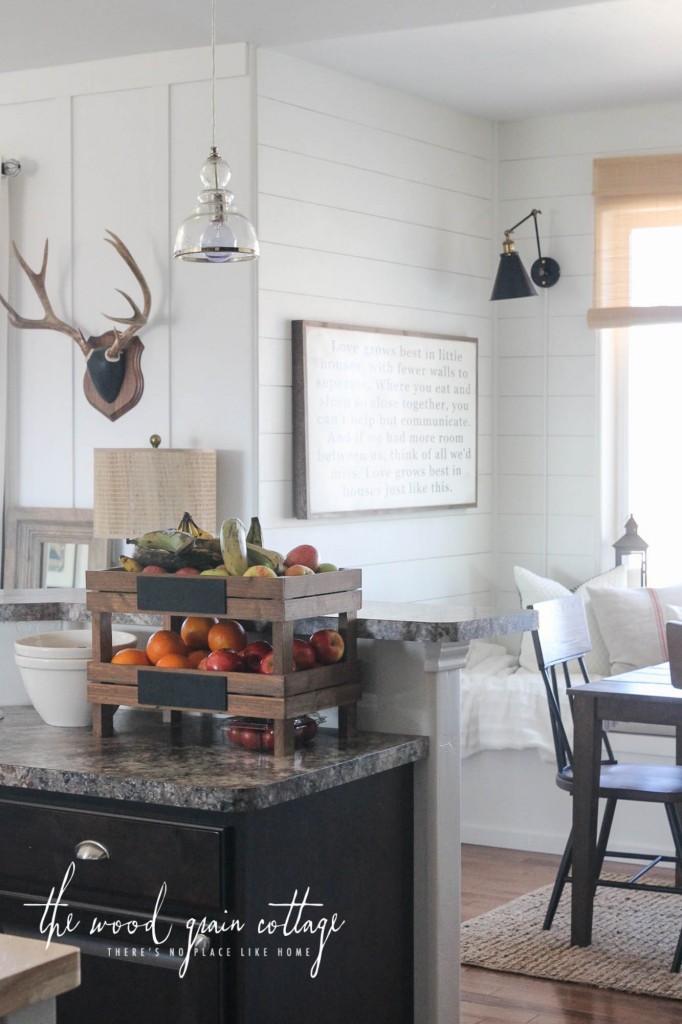 Believe it or not, our stackable crates were one of our very first DIY projects. I love them even more than the day we made them, and it's so amazing to be able to sell them to others in our online shop.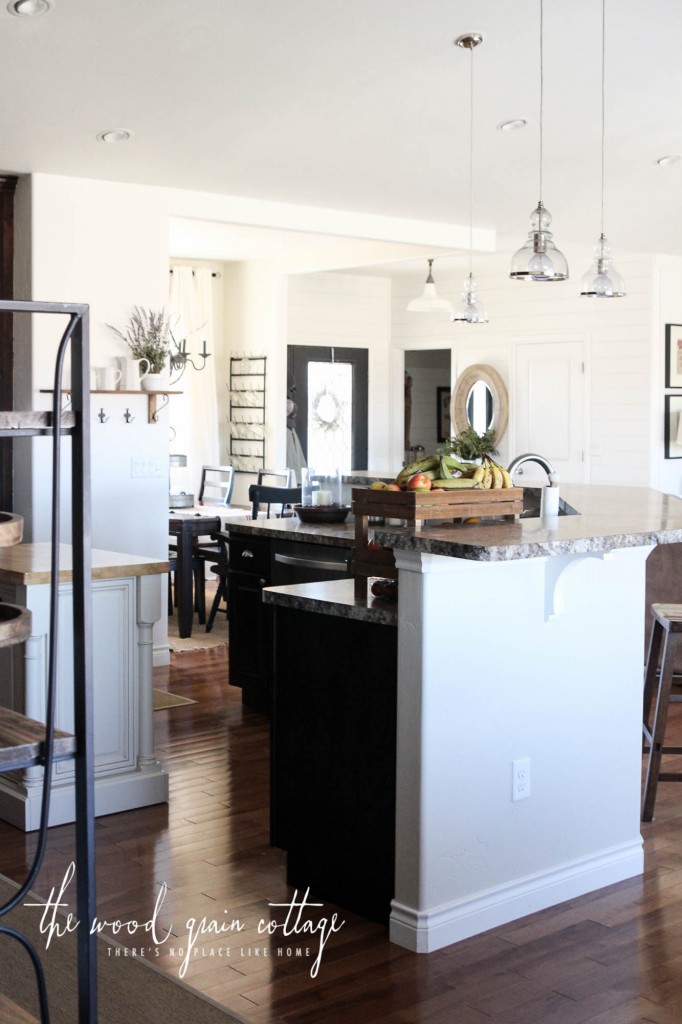 Kitchen Sources:
Kitchen Cabinets: Custom Cupboards, Stain Color: Carrington // Kitchen Island: Home Depot (Read About It Here) // Appliances: Sears // Large Chalkboard: DIY // Glass Canisters // Fruit Crate: DIY // Pot Filler Faucet // Dutch Oven // Wreath- Our Shop // Kitchen Shelf: DIY // Hooks Under Shelf // White Dishware: Thrift Stores // Grocery Sign: DIY // Wire Onion Baskets Above Cabinets // Jute Runners // Shelving Unit: Hobby Lobby (This is similar) // Metal & Wood Cake Stands // Copper Mugs // Red Stripe Towel //
Kitchen walls are painted Edgecomb Gray by Benjamin Moore in eggshell.
Our breakfast nook recently had a bunch of changes. You can read about the evolution of this room here. It's come a long way!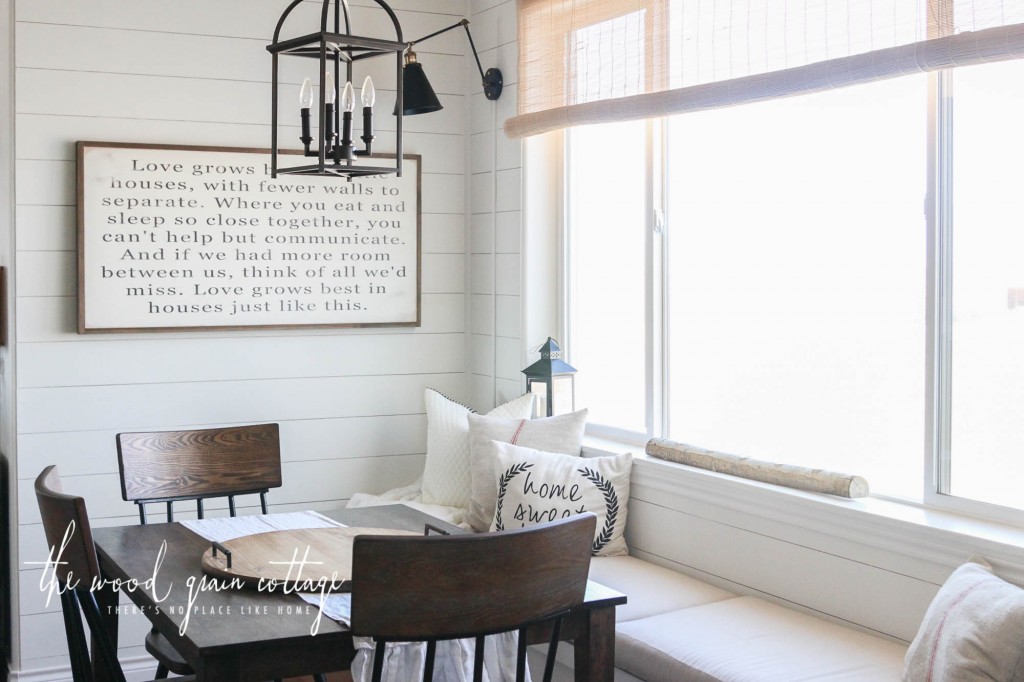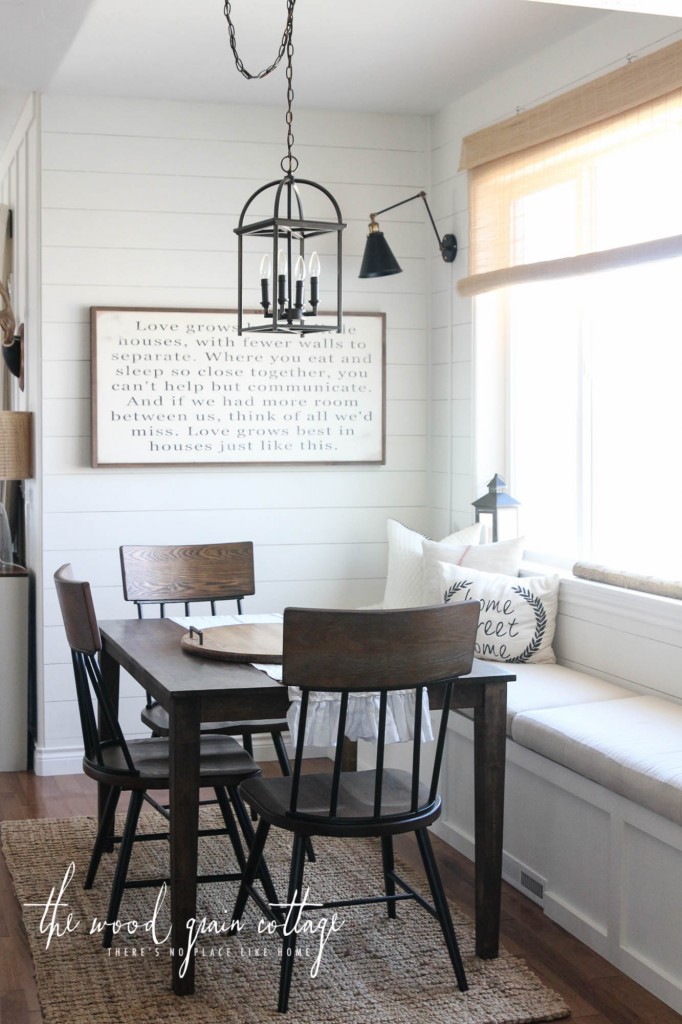 I still have a few things I'd like to change in here too, but I'm perfectly content with what it looks like today. Seriously, read the evolution post. It's night and day difference.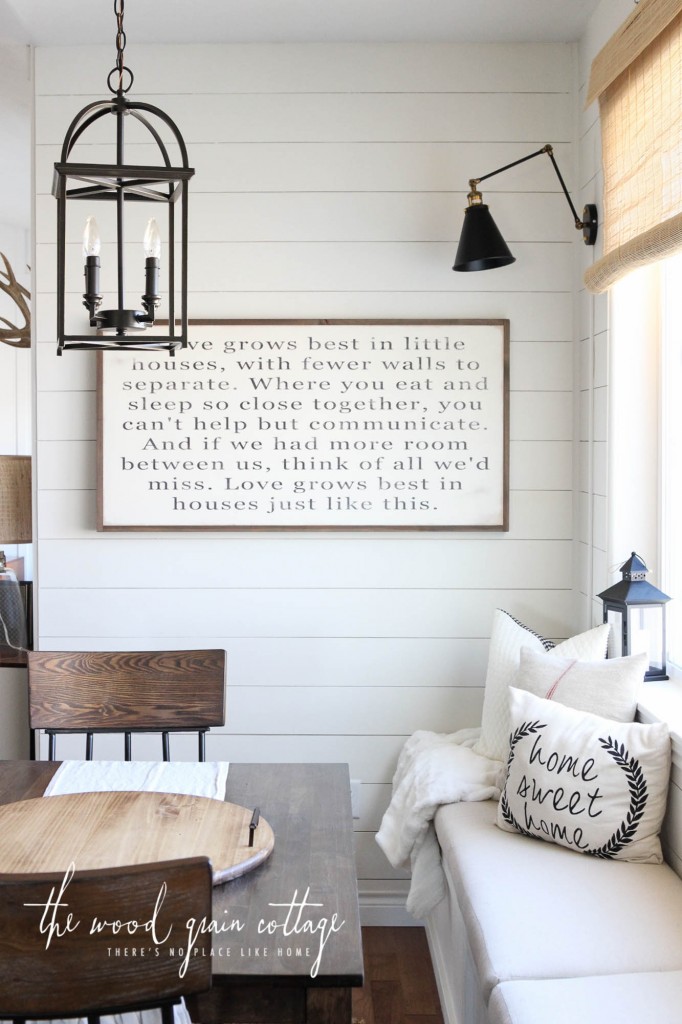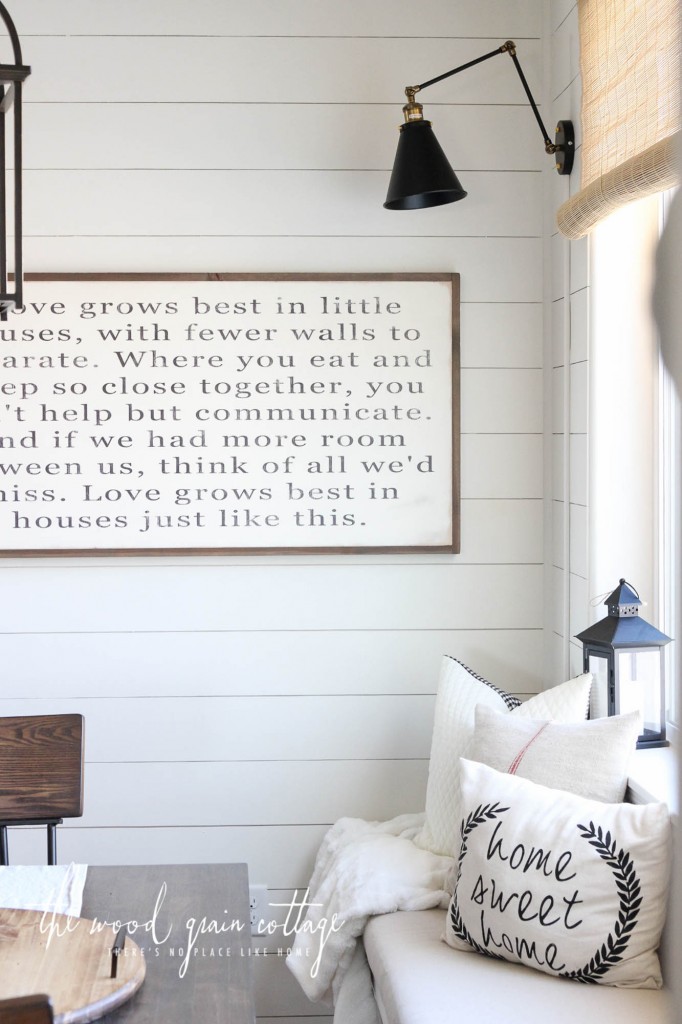 Breakfast Nook Sources:
Love Grows Best Sign // Ceiling Light // Wall Lights // Bamboo Blind // Table: Bought It In College Several Years Ago // Chairs– No Longer Available // Serving Tray: DIY // Home Sweet Home Pillow: DIY // Grain Sack Pillow: DIY // As For Me & My House Pillow // Table Runner: DIY // Jute Rug // Black Lanterns // Plate Wall: DIY
The breakfast nook is painted White Dove by Benjamin Moore in eggshell.
And then our breakfast nook opens into our living room, which is a small cozy room.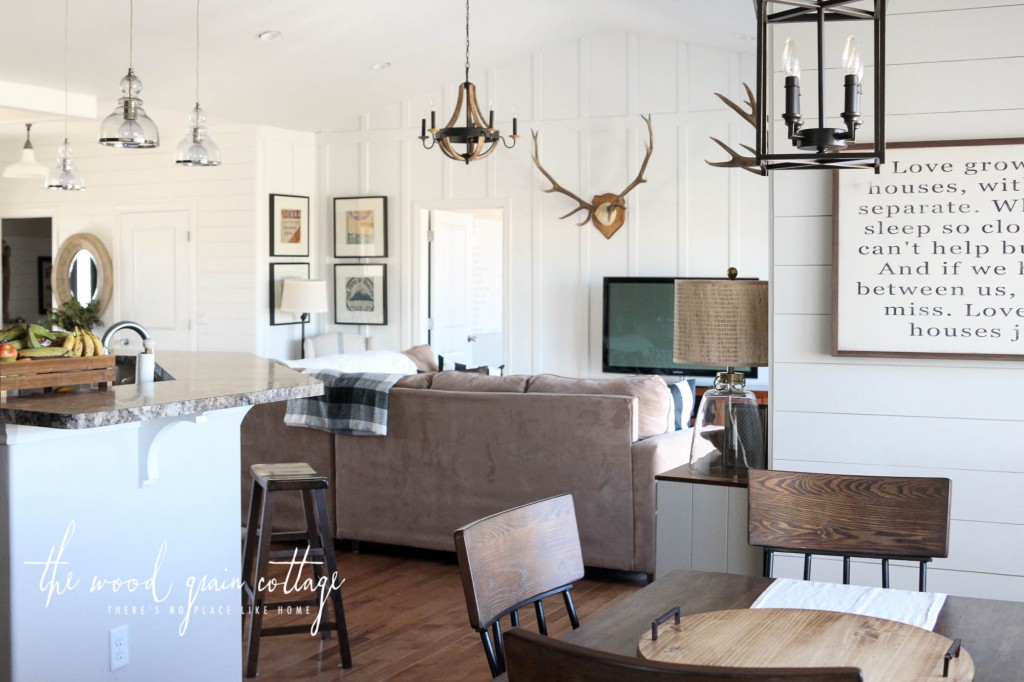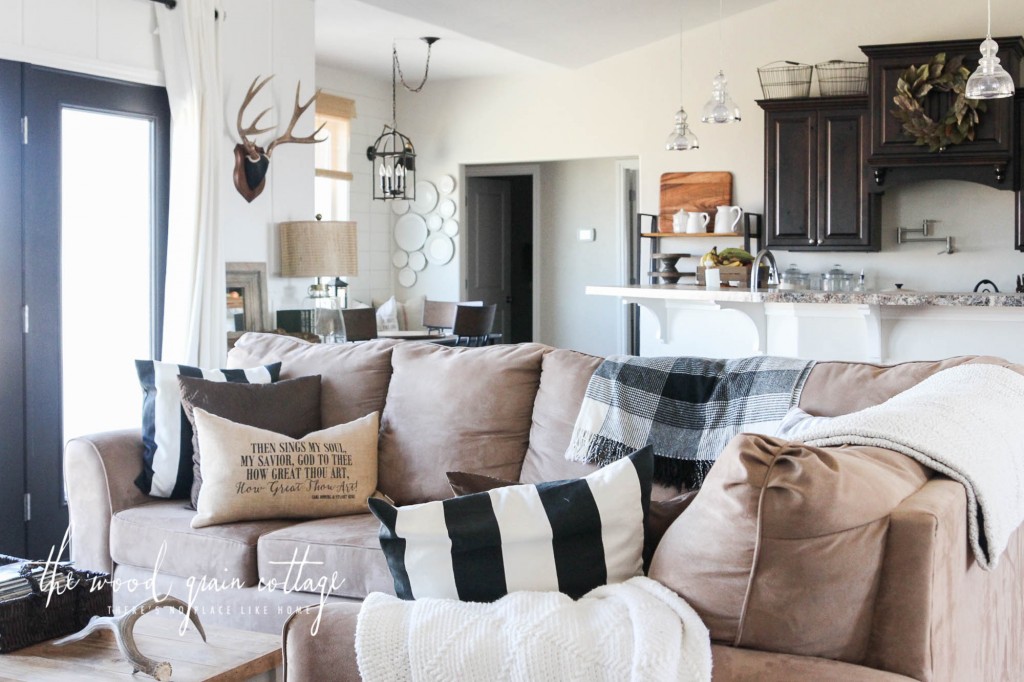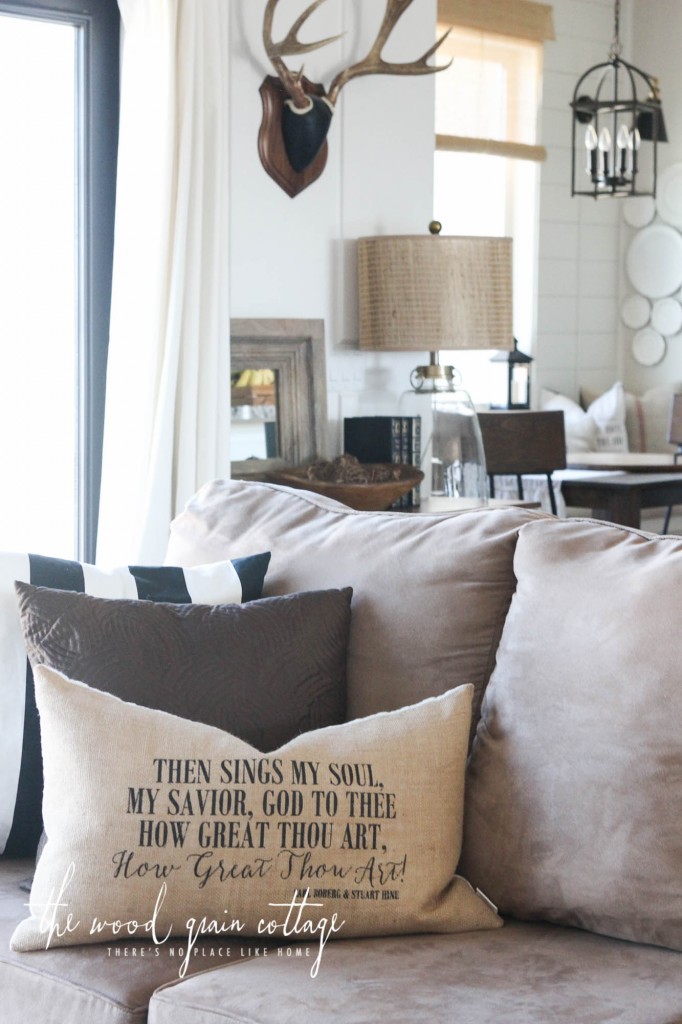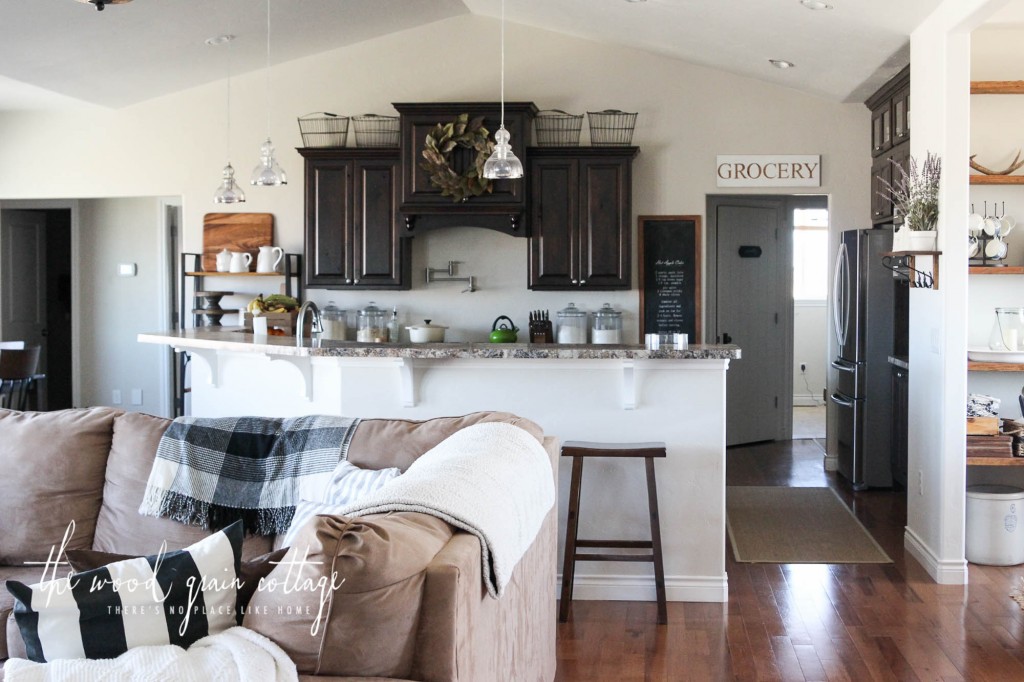 Living Room Sources:
Couch: AFW // Coffee Table: DIY // Dresser: DIY (Update Here & Here) // Dresser Lamp: JC Penney (A Few Years Ago) // Antlers: Anthony // Square Mirror: AFW (In Store) // Black & White Pillows // How Great Thou Art Pillow // Black & White Throw Blanket // Cream Throw Blanket: Great Grand Parents // Jute Rug // White Jute Rug- This is similar // White Curtains // Curtain Rod // Ceiling Light: Home Depot
Board & Batten Tutorial Can Be Found Here. Walls are Super White by Benjamin Moore in eggshell.
From our living room, you look right into our entry…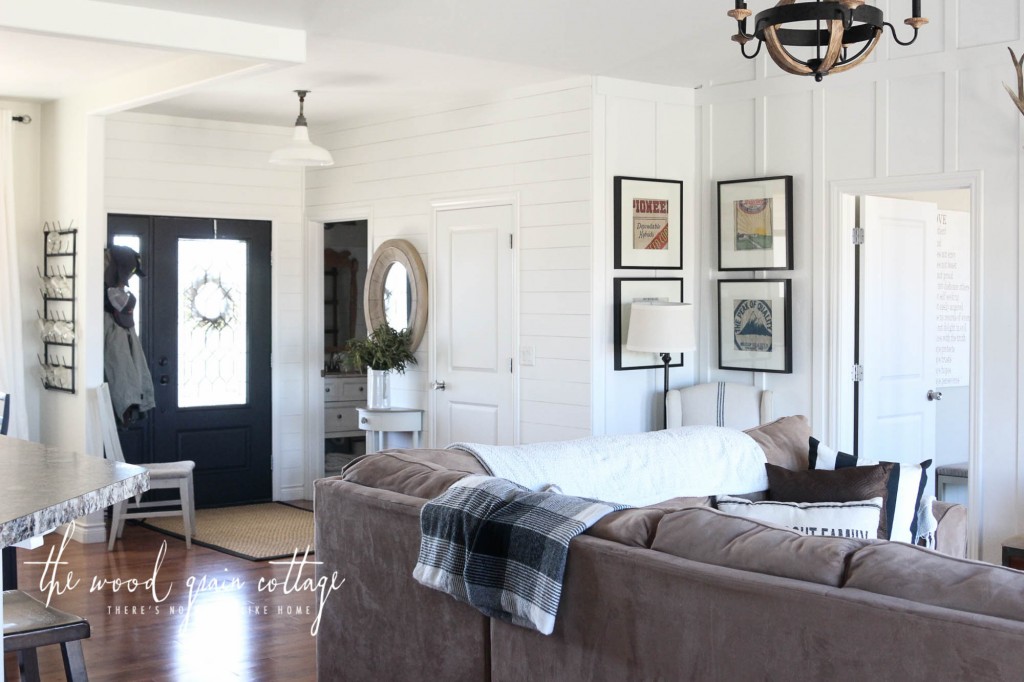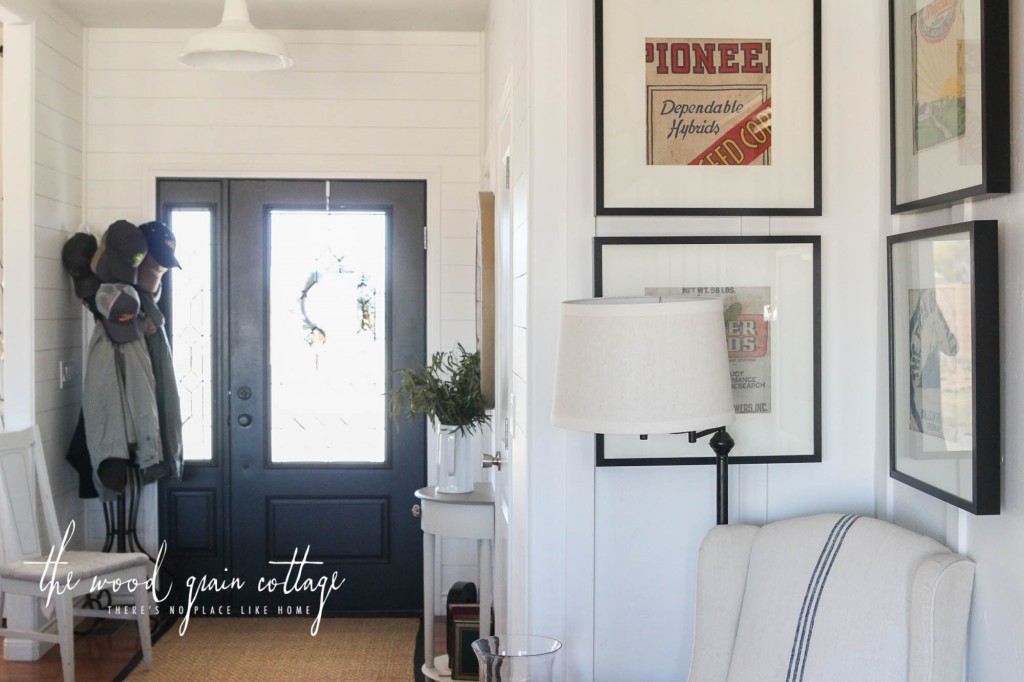 This is another room I need to do an "evolution" post on. It's changed drastically, and I'm still not done with it. Not even close…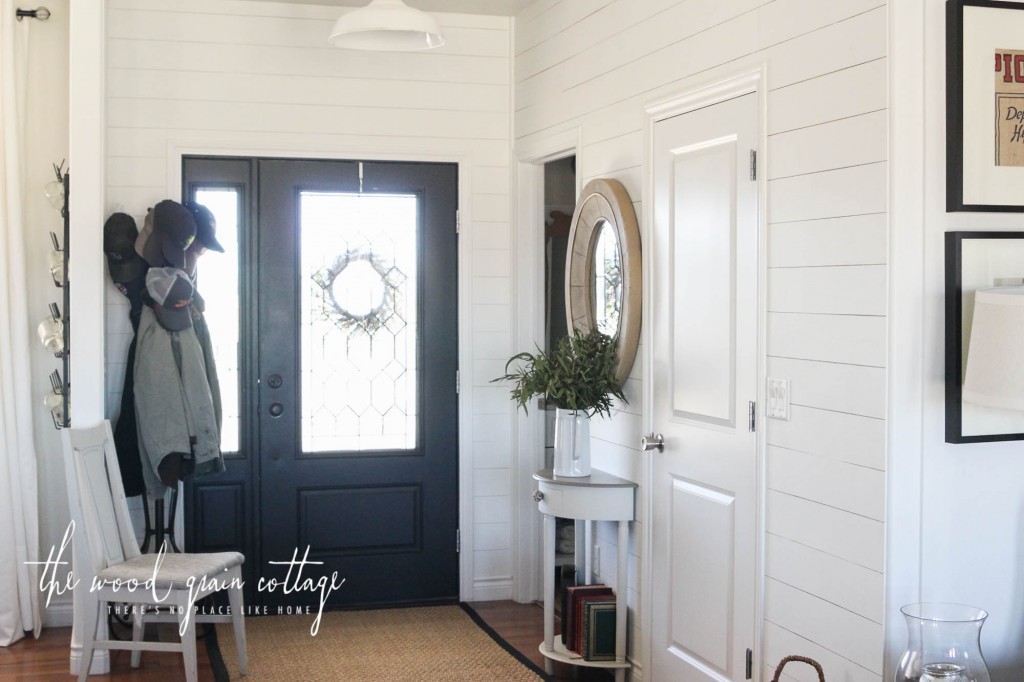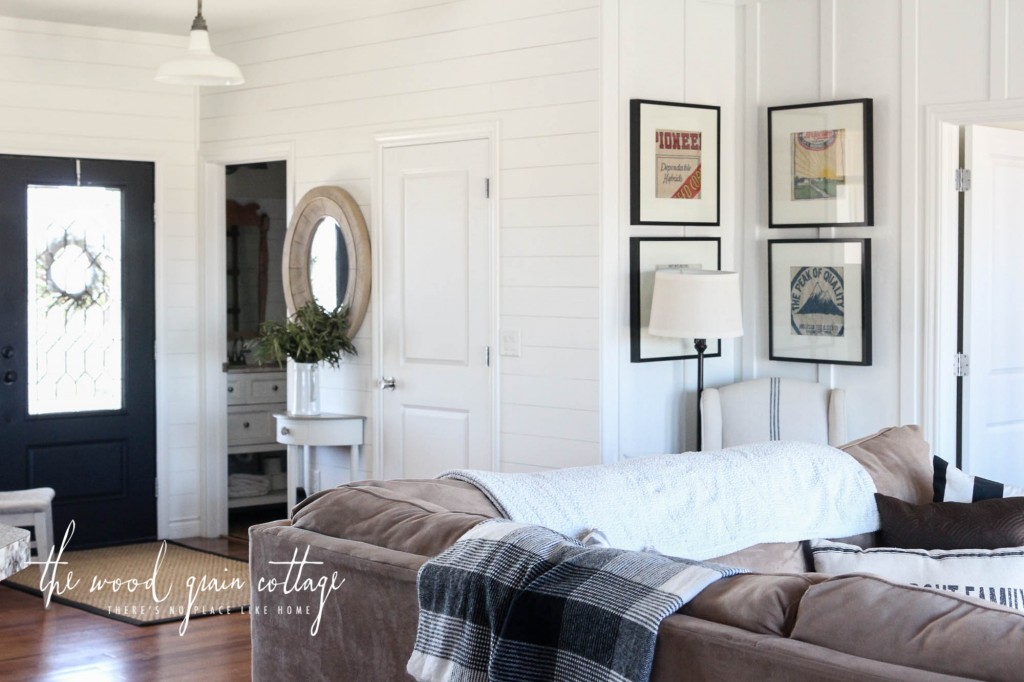 Entry Sources:
Framed Feed Sacks: DIY // Swing Arm Lamp: DIY // Grain Sack Chair: DIY // Wall Mirror: World Market (No longer available) // Side Table: Home Interiors (Years Ago) // Rug // Ceiling Light // Side Chair: DIY // Coat Rack: DIY //
Planked walls can be found here. Wall color is Super White by Benjamin Moore in eggshell. Door is Onyx by Benjamin Moore in satin.
From our entry way, you have a pretty great view of the whole house…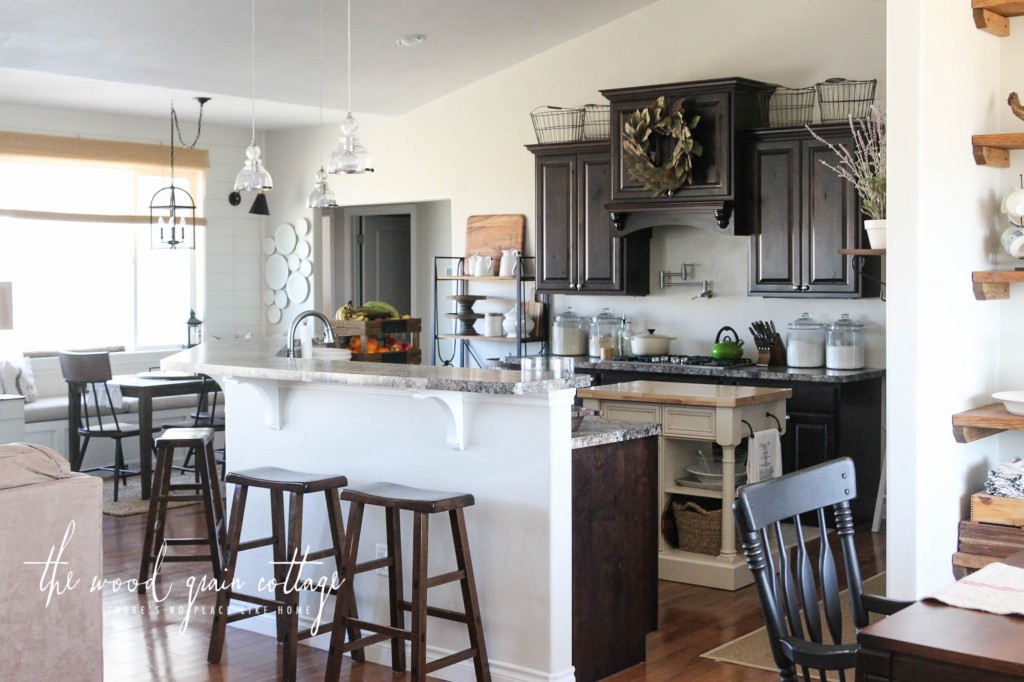 Our dining room is right off the entry…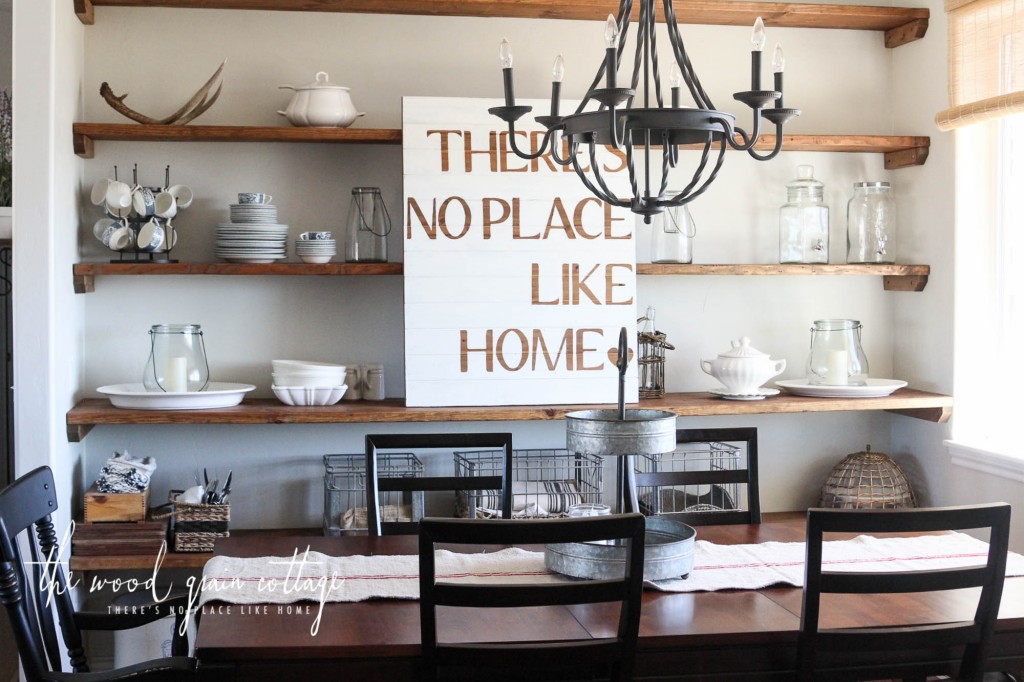 I love how our wall shelves are visible from the window when you come up our walkway. They're such a statement for the room, and because we have such an open floorplan, they're really a statement for the whole house. And yes, they've held up beautifully.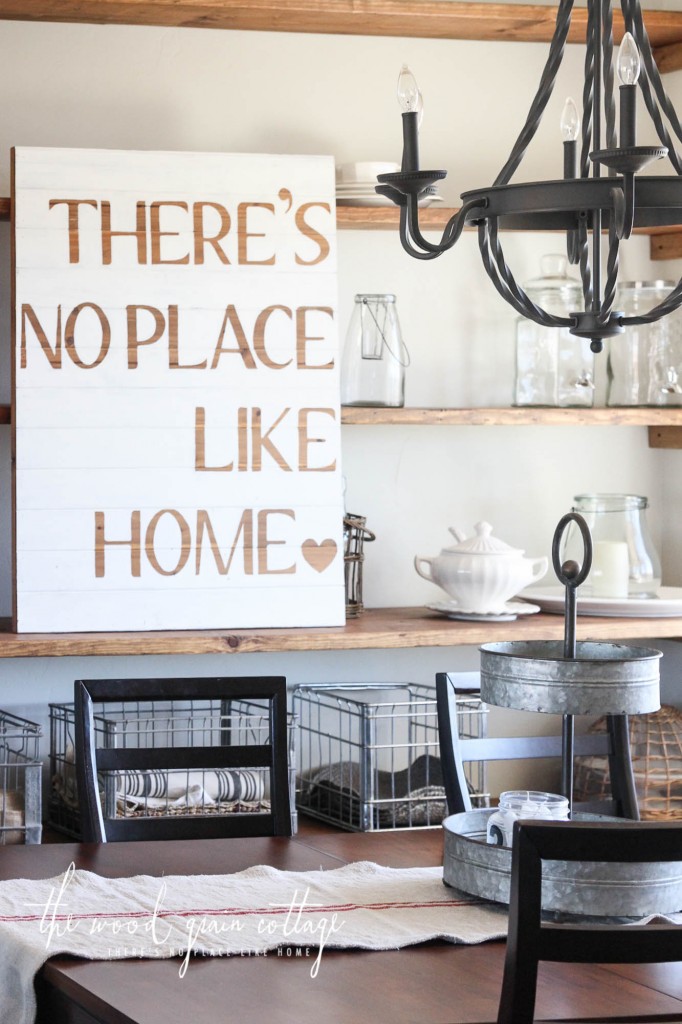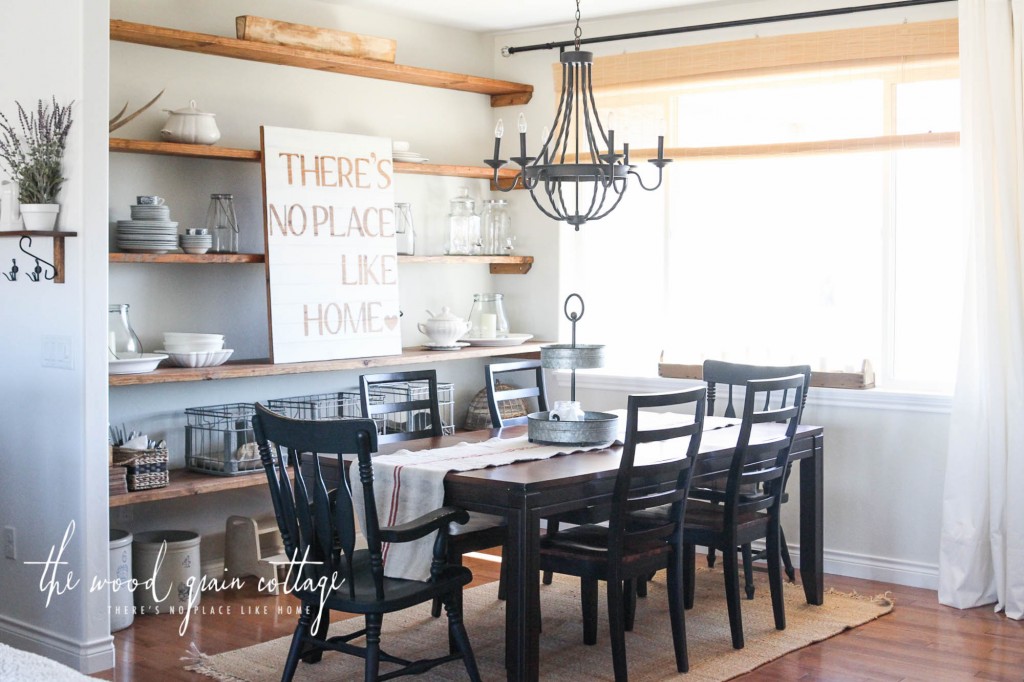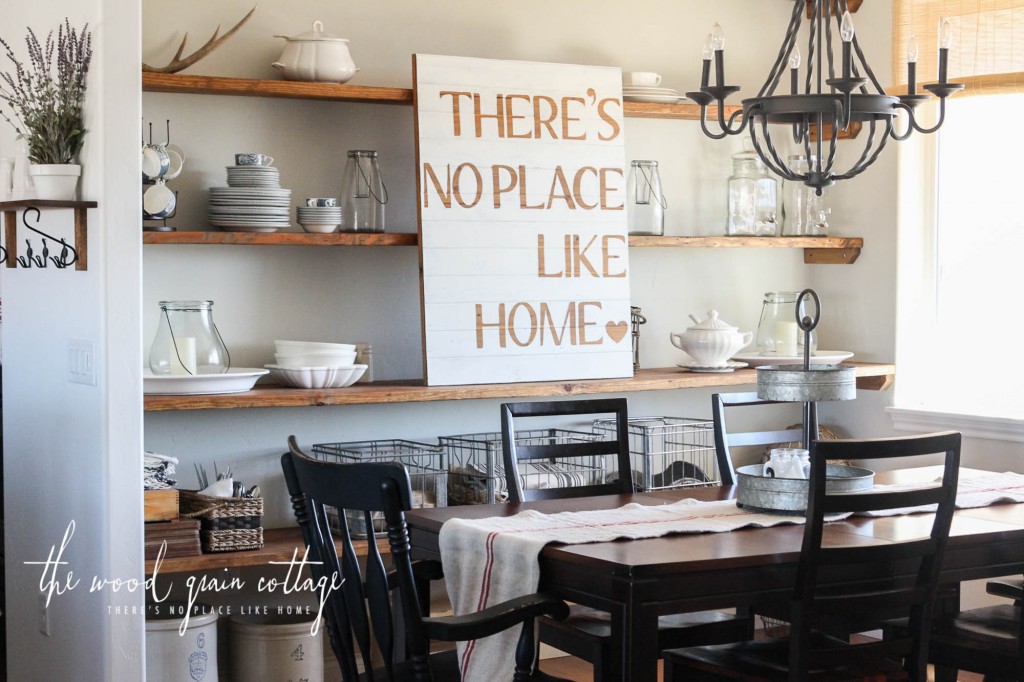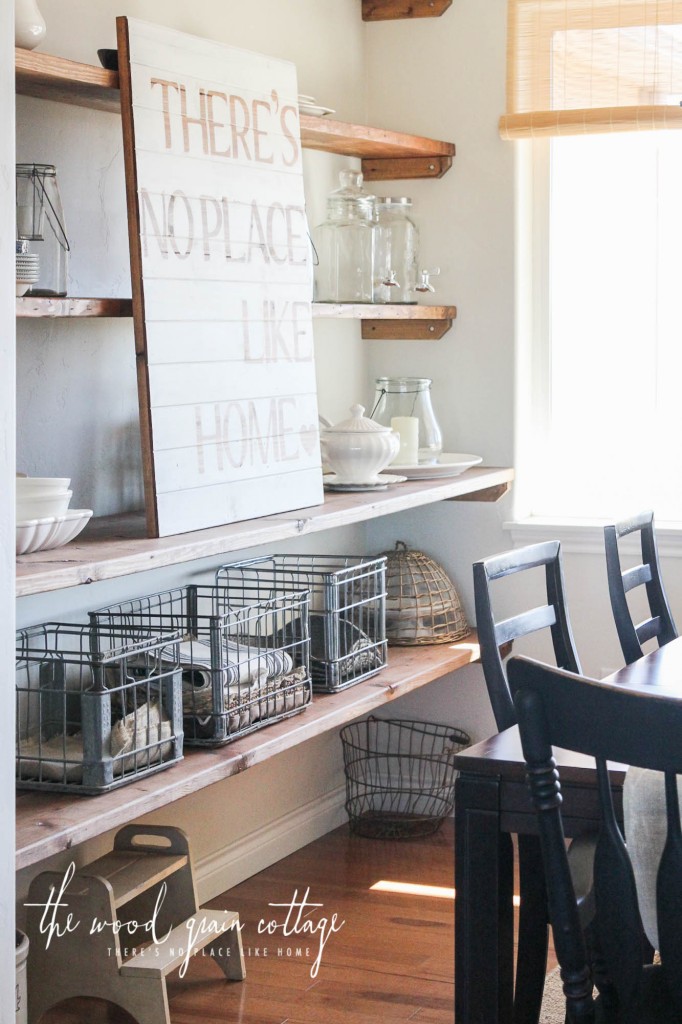 Our dining room has also come such a long way. It's so hard for me to think it was once blue. My how things have changed.
Dining Room Sources:
Wall Shelving: DIY // Table & Side Chairs: AFW // End Chairs: DIY // Sign: DIY // White Dishware: Thrift Store Finds // Metal Baskets: Family Finds // Step Stool: DIY // Chandelier: Details Here // Curtains // Curtain Rod // Bamboo Blind // Table Runner //
Wall color is Halo by Benjamin Moore in eggshell.
And here's a few more views that give a pretty good perspective of our floorplan…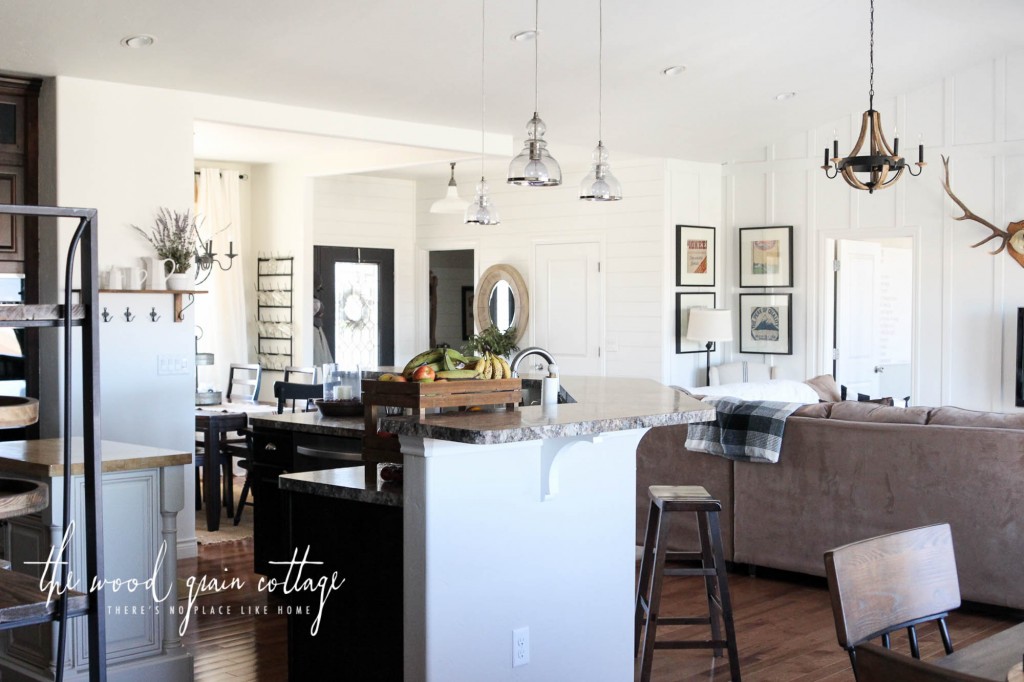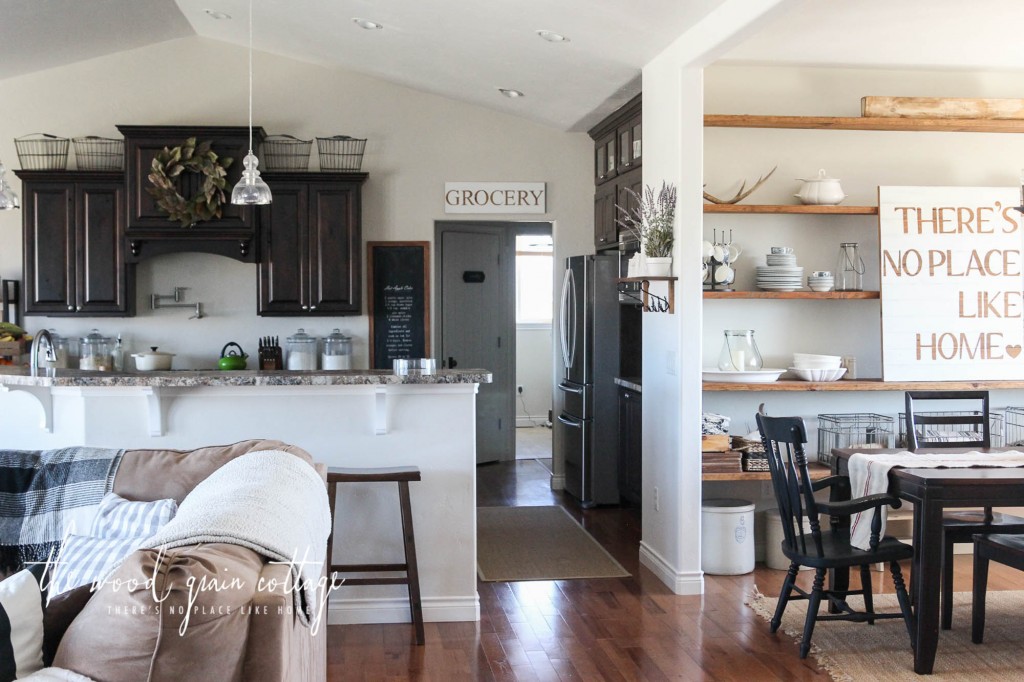 I hope you enjoyed seeing our home. I'm hosting a baby shower for my cousin on Saturday, so I'm planning on cutting a bunch of fresh tree branches. They're finally to the point of a really pretty green, which will make them a perfect backdrop for the decorations I have planned. You know me, I'm keeping it pretty simple, but there will be plenty of fun pops of color. Baby girl will be showered in style! 🙂
I'll share the details, and plenty of pictures, of the baby shower a bit later!