I hope you had a fabulous Thanksgiving! I took a few weeks off for the holiday, and it was very much needed, but I've been busy behind the blog scene prepping for Christmas! I've been decorating up a storm, creating new ways to celebrate Christmas in our home and I'm loving the fresh new perspective I've gained on our home. There are so many changes getting ready to hit the blog, and I'm so excited to share more about the things we've been busy changing up and moving around!
In the midst of Christmas decorating, walking around plastic totes filled to the brim of decorations, moving furniture around and switching things up, we had time to switch out and update the hardware on the dresser in our living room. This has been something I've wanted to do for a year or so, but it wasn't ever high on the priority list. But… as I was shuffling things around in my office (total nightmare zone currently, and more on that coming a bit later), I found the box of new cup pulls just sitting there waiting. The time had come to finally finish that project. It took about 10 minutes (good thing I kept putting it off, hahaha! 🙂 ) and it's made such a big difference on the dresser!
Here it was before, just in case you forgot what it looked like…
And here it is now…
Such a nice, fresh change!
The new pulls are made of cast iron, which I love. I've actually considered adding these to our online shop, so if they're something you're interested in purchasing, let me know!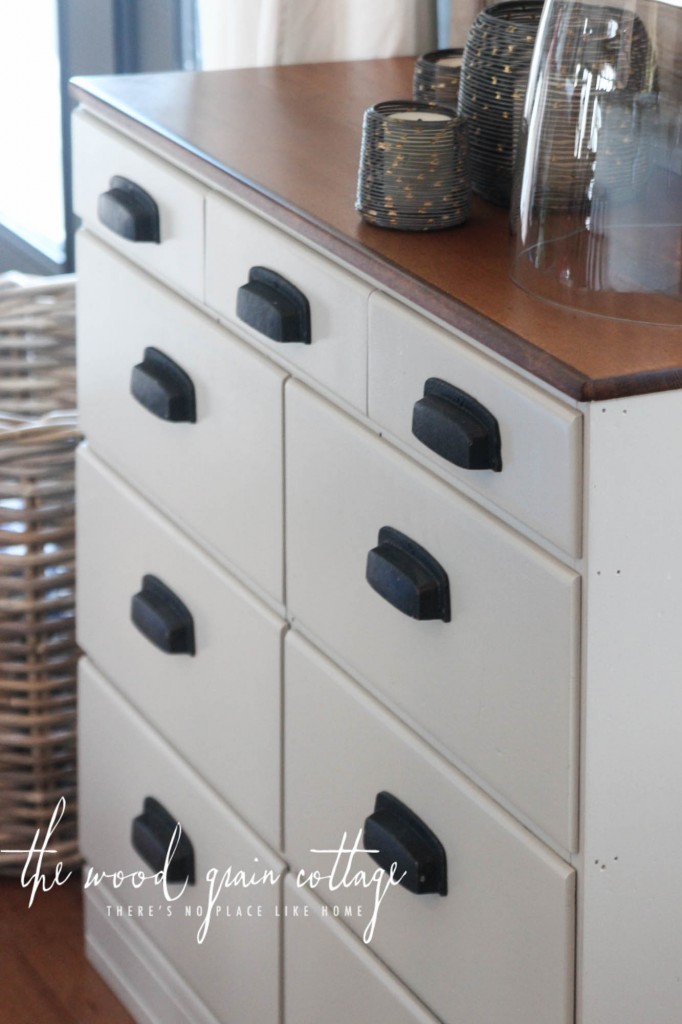 And if you look closely, you'll see a few changes to our breakfast nook. A few other new additions are on the way, and should be here tomorrow! I'm looking forward to sharing more! 🙂
I'm so happy this project is finally finished! In the midst of Christmas totes filling the floor, piles of faux and fresh greenery laying throughout the house, random furniture scattered here and there…. this little spot is nice to look at! 🙂
Needless to say, there are lots of Christmas posts and projects coming your way very soon, I just have to clean up this mess first… 😉
Happy decorating! 🙂