I'm sharing a full, side by side tour of The Willow House before and after our remodel. It's such a great makeover and it's hard to believe where we first started!
Even though we sold our Willow House and it's in the hands of a new owner, I wanted to share all of the before and after views of the house. It deserves it.
This house was in really, really rough shape when we bought it. Most of our family thought we were crazy to take on such a huge project, but the potential was always there and I couldn't help but want to bring this house back to life.
Every time we finished a room in the house, it felt like a monumental moment. We lived there for three years and even though the house was officially finished right before we sold it, enjoying each and every space we finished was such a wonderful feeling!
The Willow House Before & After
The exterior
We started on the exterior first. We painted the entire house, brick and all, replaced the roof, the soffit and fascia, the windows, garage doors, back patio, put in a new sprinkler system, garden boxes and all new landscaping.
We also added a pergola to the front of the house and it completely transformed our tri-level home.
Before:
After:
Before:
After:

The Entry Way
With this space being the first room you saw when you walked in the house, we knew we wanted to add plenty of our personality. Not only did it get fresh paint on the walls, new flooring, doors and lighting, but we also bought a new console table and hung new artwork.
Before:
After:

The Living Room
This space always felt like the first room in the house to be finished. We needed a place to rest without projects staring us in the face. New paint, flooring and windows with larger trim made the biggest difference, but we also scrapped all of the popcorn ceilings throughout the entire house.
Before:
After:

The Dining Room
Our dining room may have been small, but I maximized the space by adding a tall cabinet to the corner. We also installed vertical planking to the walls, added a new light fixture and switched out the dining room table many times until it finally felt right!
Before:
After:

The Kitchen
Our lovely kitchen was one of a several rooms in the house that received a full remodel. We had our work cut out for us in this space. We completely demo'ed out the space, added new sub-flooring, a new window, new flooring, paint and vertical planking. Then we added in new cabinets, laminate countertops and backsplash, new appliances, light fixtures and more!
I loved this sweet little kitchen and how much personality it had! See the full room reveal here!
Before:
After:
Before:
After:

The Downstairs Living Room
This room was by far the most budget friendly makeover we did in the entire house. Painting the brick fireplace made a huge difference, but then we also added new trim work around the fireplace, installed vertical paneling behind the built in shelves, added new lighting and suddenly, this was a completely different space.
You can see the full fireplace reveal here.
Before:
After:
Before:
After:

The Downstairs Bathroom:
We completely reworked the downstairs bathroom. What once started as a tiny powder bathroom turned into a much larger full sized bathroom with a shower. We worked hard to embrace all the ductwork running throughout this room and it created so much character. The ledge under the window was one of my favorite elements in the bathroom, as well as the custom made vanity.
You can see the full reveal here.
Before: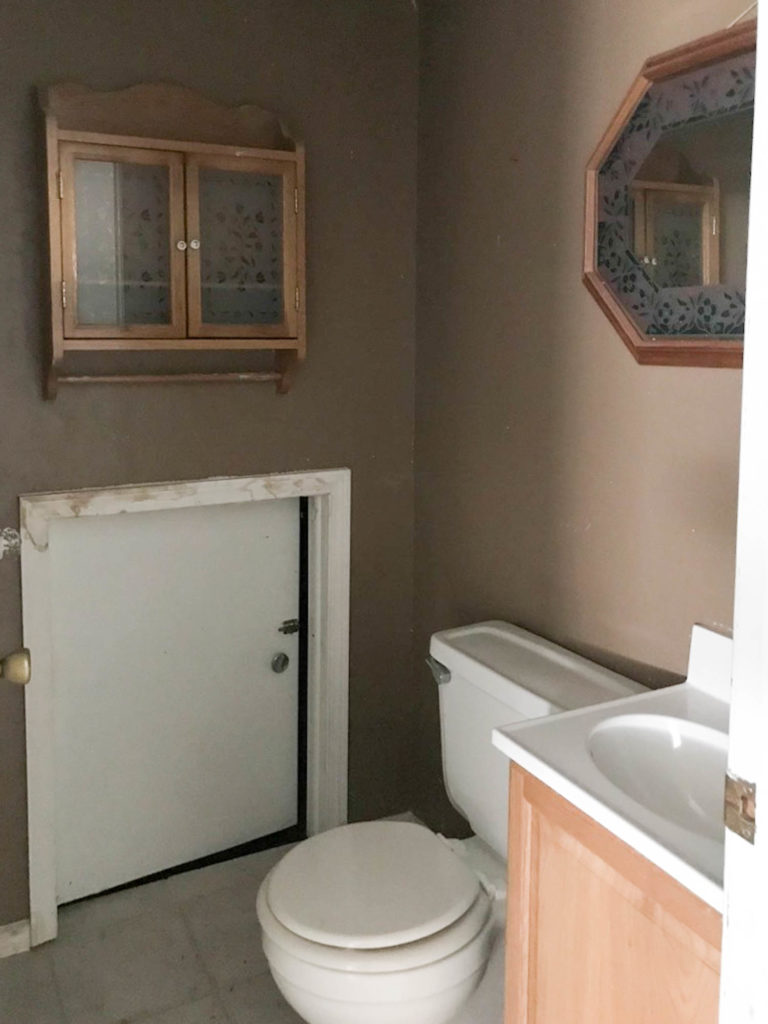 After:

The Stairs
Giving our stairs a makeover was one of the most transforming projects we did! We installed new stair treads and risers, as well as a new handrail.
Before:
After:
The Hallway
Yes, even our hallway got a makeover! Not only with new flooring and paint, but we also moved the attic access to the end of the hall, removed the swamp cooler access when we installed the new HVAC system and we installed new lighting.
You can see the full reveal here.
Before:
After:

Ania's Nursery
All of the upstairs bedrooms were easy to update with new carpet, paint and trim, but we put a little bit more time into Ania's nursery by installing moulding on her walls. Her room was so sweet and fit her so well.
You can see the full reveal here.
Before:
After:

The Guest Bedroom
Never before seen on the blog, but this teal room transformed very easily with new paint, carpet, trim and closet doors.
Before:
After:

The Master Bedroom
Our master bedroom came such a long way! We removed the old carpet, installed full size wardrobes, new carpet, new paint and new lighting! We even made a new headboard for the room and painted new nightstands.
Before:
After:

The Master Bathroom:
This bathroom was one of my very favorite makeovers in the entire house. We completely demo'ed this room down to the studs and started over. And even though this wasn't a very large bathroom, it felt so much larger than it actually was.
You can see the full reveal here.
Before:
After:
Before:
After:

There are a few spaces I didn't get final pictures of, like our upstairs hall bathroom and our laundry room. I'm kicking myself over it. Like every other space in this house, they were a dramatic makeover.
This house came a long way, and it was honestly such a fun experience giving it a complete transformation. Of course, there were hard times, frustrating time and times we didn't want to do another project… but we always knew what our end goal was and we loved seeing the final transformation too much to stop.
I hope you enjoyed seeing all of the before and after pictures too!