I'm sharing the hall bathroom design plan! See our plan to give this bathroom a big makeover on a budget!
There are several rooms in the Willow House that are getting completely gutted down to the studs, with walls moved and rearranged for better functionality. The hall bathroom is one of them, so today I'm sharing our design plan. Since we're planning on finishing this bathroom first, and will be using that primarily until we get around to the master bathroom, we're going full steam ahead on getting it put back together in time to move-in. 
First, let me refresh your memory on what this bathroom originally looked like…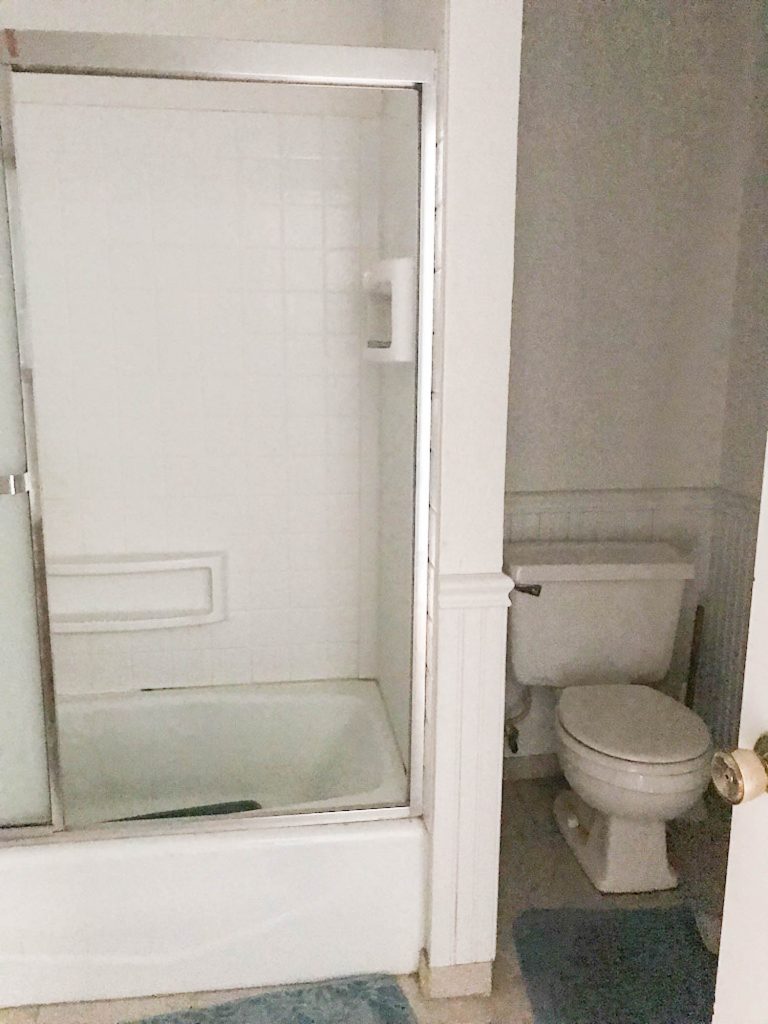 Not only was this bathroom disgusting, but incredibly outdated with the most awkward layout. We couldn't wait to start demolishing everything in the room and starting over.
If you've been following my stories on Instagram, you've seen quite a bit of behind the scenes action. We've been documenting all the details, and as soon as we started breaking things apart, we found so many more issues… which can be said for the whole house. The original plumbing in this house has been leaking in practically every room there's a faucet, so we quickly discovered mold in a few of the walls and rotted sub flooring. There was no way we were going to go through all the work we've done, just to put this bathroom back to it's original odd floor plan. With that, a new plan for the bathroom was born and we're so excited to see it come together we can hardly stand it!
Here's what the floor plan started out as….
And here's what we're changing it to…
The Hall Bathroom Design Plan
(Please note, those aren't to scale, just a rough drawing to show the layout change.)
Removing the closet, and moving the shower/ tub was key to making this bathroom function so much better. Instead of immediately walking into the shower wall, and having a tiny vanity, the room is so much more open, with a large walking path. By moving everything around, we had room to bring in a larger vanity, and install a linen cabinet. Overall, the new floor plan should make this bathroom feel twice as big as when we started.
The exciting part is definitely picking out new design pieces, and figuring out how we want to put it all back together. For this bathroom (and the entire house really), we're going with a traditional modern design. When I was thinking about the hall bathroom, I knew I wanted to keep it bright and airy, but still have black cabinetry that would ground the space. Here's the plan, which we're so excited about:
I can't wait to see this bathroom come to life. We've basically ordered everything, and packages have been arriving the past couple of days, making everything feel like Christmas! And the good news is, that we're so close to putting this bathroom back together, that it won't be too long before I share another update with progress!