Like I mentioned in our laundry room update post this week, we set out on a quick trip to Ikea a few weekends ago, and decided to spend some much needed "down time" in Denver while we were visiting.
Even though we've both lived there (ages ago), we'd never really stayed downtown and took in the sites. This was finally the weekend though, and we had so much fun walking 16th Street Mall, shopping and visiting a few local restaurants from Diners, Drive-Ins and Dives. We both love watching the show, so we planned ahead and picked where we wanted to go. After a few long months of work, it's exactly what we needed.
On one of our walks back from breakfast one morning, we stopped and admired the Byron White U.S. Courthouse. It's made of marble and the details were incredible.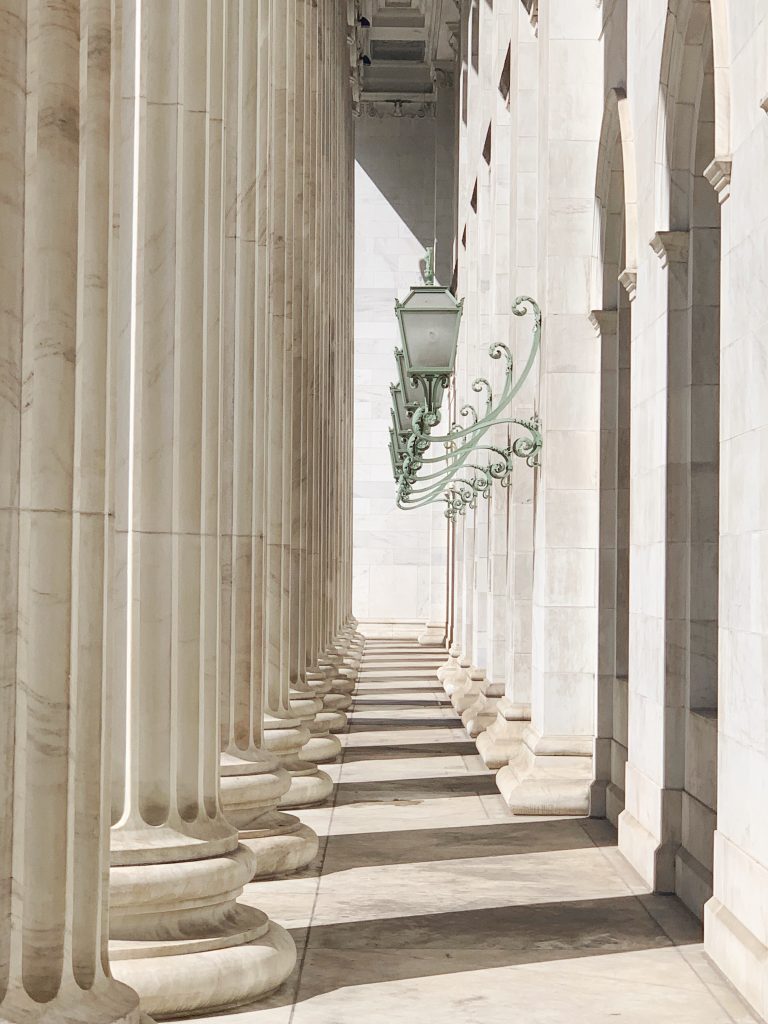 Do you love Diners, Drive-Ins and Dives too? You can search by state to see all the restaurants that have been featured on the show. (Just scroll down.) We love trying out restaurants this way whenever we visit someplace new!
Aside from the cabinet doors and drawer fronts, we've needed a few other things from Ikea. And now, since I'm officially working from home on the blog again (woohooo!), office furniture was definitely on the list of items we needed to plan out and purchase. The room for our office isn't very big, so we spent time measuring and laying things out to try and get the best use of space. I'll be sharing more about the design next week.
We had a full cart at Ikea. Here's what was in it:
On our way home from Ikea, we decided to grab lunch before leaving Denver. It was looking a little bit cloudy, so we checked the weather to make sure all the doors and furniture we'd purchased (that was just wrapped in cardboard boxes) would be safe in the bed of the truck and on our trailer. The weather forecast didn't show rain, so went in to eat. Fifteen minutes later the clouds combined, and it started down pouring. Cats and dogs. It would. not. stop., and we had just barely gotten our food. Our hearts sank, knowing the cardboard would never offer enough protection to the thousands of dollars we'd just spent. We quickly ate, paid and left. We tried our best to drive out of the storm, but the traffic was terrible and it took so much longer than it should have. It was stressful, and the only thing we could do was keep driving until we got out of the storm. Once we were finally out of the rain, and the sun was shining, we stopped at the nearest Walmart to buy towels, blankets and plastic. We spent two hours in the parking lot removing cabinet doors from boxes that were literally disintegrating. We towel dried everything, then carefully wrapped it back in blankets, before covering it with plastic and driving the four hours back home. We were heartbroken, and didn't know what to expect when we got back. Some of the items couldn't be unboxed because there were too many pieces to try and keep eyes on, so we had no choice but to leave them in the boxes and pray they'd make it. Luckily, everything turned out ok and we didn't have any ruined items, but we certainly would have if we wouldn't have stopped and dried off what we could. Lesson learned. Any time we go to Ikea now, we'll be pulling an enclosed trailer.
We did a little shopping at H&M while we were in Denver. I bought these towels for the kitchen, and these shorts, in black. I'm in love with the shorts, especially for the price! They have a nice stretch to them, and the length feels appropriate.
Here's to another weekend! We'll be busy working on our sprinkler system… I'm hoping this is the weekend where we finish it and start on the landscaping! Wishing you a fabulous weekend!