It's time for another TGI-Friday, and this week I'm including a home office update. Honestly, since we've been knee deep in exterior projects, we haven't made a ton of progress, but that's about to change!
A little while back, I shared the design plan for the office. We've been buying several of the items, and I can't wait to start putting the room together. One of the big key factors, is going to be getting the closet shelves finished. Right now, it's basically just full of boxes making the room hard to organize. We also need to buy a small filing cabinet, because as much as we've been able to go paperless, there's still papers that need to be kept and filed.
I did get the furniture built, which instantly helped this room feel like it's on the right track…
We were also able to get our monitor hung up on the wall…
Overall, we've made such good progress. Organizing is going to be a big part of this room, so as soon as the closet is done, I can start putting everything away and really focus on finishing this space.
Affiliate links are provided below. Full disclosure here.
In other news:
Next week I'm sharing our first ever fall home tour in the new house! It's been so nice to shift my attention back inside after making some incredible exterior progress these past few weekends! I've been fall nesting hard, and it's felt so amazing to start rearranging things around the house. House puttering is one of my favorite activities. (I'm sharing a sneak peek of what I've been working on below!)
With all the nesting going on, I've ordered a few new living room furniture pieces that will be arriving next week. We don't have the largest living room, but I still wanted end tables on either side of our couch. After searching basically everywhere, I found these and they are perfect! I love the shape and style and the small footprint they take up. I'm anxiously awaiting their delivery!
The time has finally come! We have sprinklers, and earlier this week we had hydro seed sprayed on the front yard!! We're so excited to see the grass start to grow… that alone will be the best thing! We've worked so hard on the yard this summer… it's nice to finally have that project off of our to do list for the year.
Our back patio was installed last week and it was like Christmas! I'll be sharing an update on it soon, but I can't tell you how much of a difference it's already been. It's made the back exterior look drastically better and we love spending time outside enjoying the new patio… even if our furniture is too small.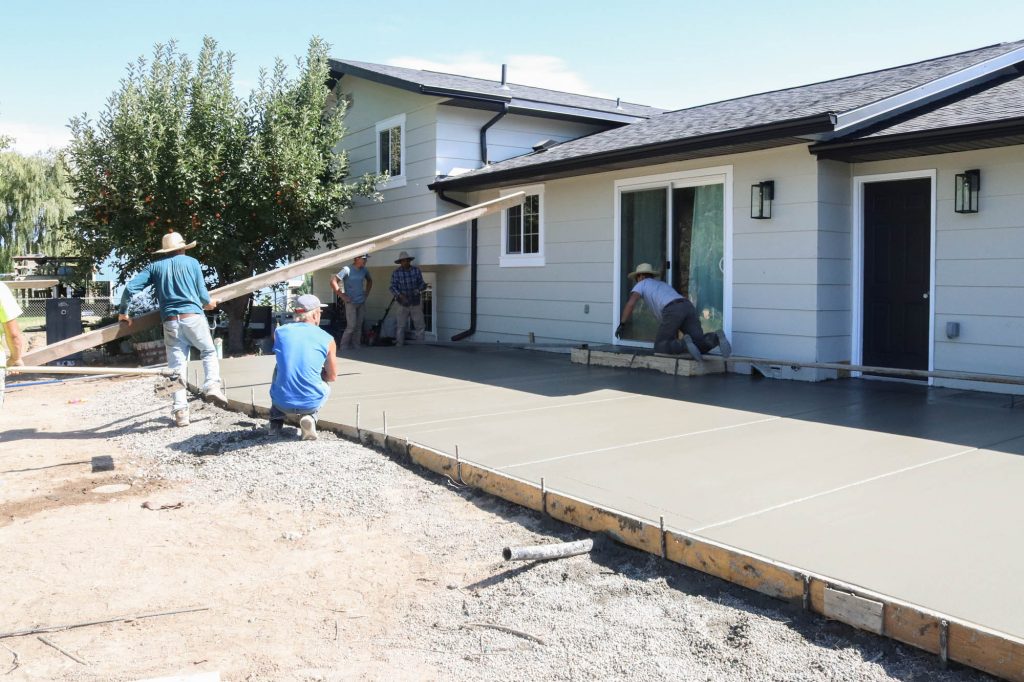 Almost every morning while I'm getting ready for the day, I listen to either music or podcasts. My iPhone speaker does alright, but my JBL speaker is my favorite. The sound quality is excellent, and I can keep it in one room and hear it throughout the house. If you're looking for a small, but mighty speaker, consider this one!
My olive tree came last week. I can't even tell you how gorgeous it is! I am so impressed with the quality and how real it looks. I bought it for the office, but I'm having a really hard time moving it out of the living room… it may just stay there! I would highly recommend it if you've been looking for an olive tree!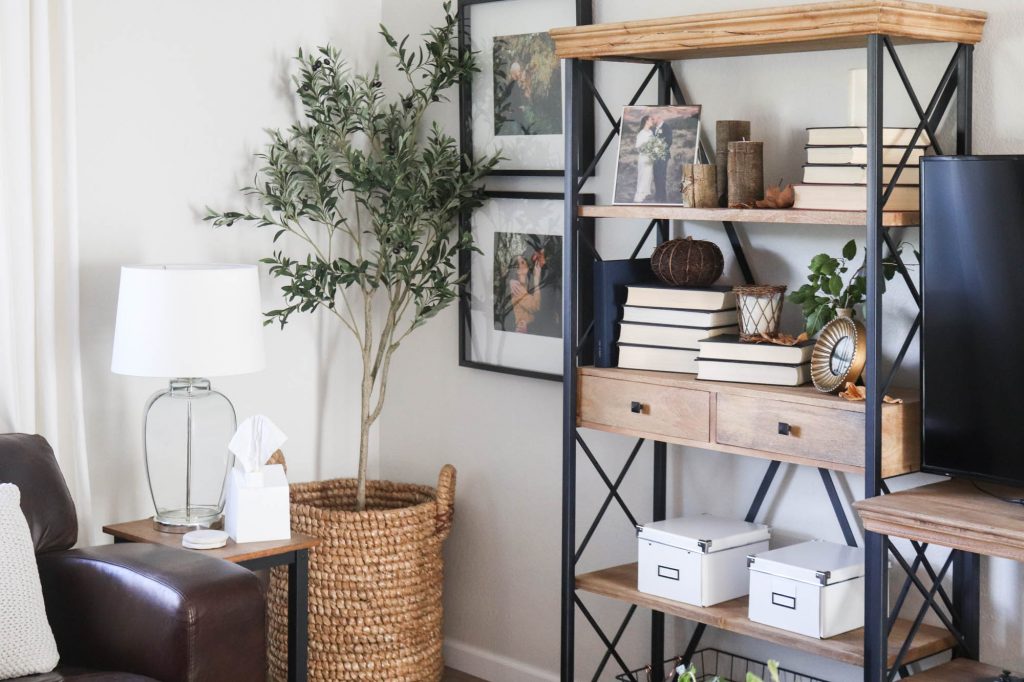 With summer coming to an end, we've been looking forward to shifting our focus back inside. We're looking forward to completing several projects and I can't wait to see how much more finished the house will look. At the top of the list, is installing the rest of our doors, door knobs and trim. We'll also be cleaning up our garage and organizing so we can actually find what we're looking for. That should help motivate us to keep the project train moving!
Wishing you a wonderful weekend!