Is today really Wednesday? These past few weeks have completely flown by, and suddenly it's June! What the what?
I have been working my booty off with the online shop. There is so much that I never even thought about doing, but as I kept making progress, things kept popping up, one by one.
In the mean time, I've joined a group of amazing ladies for our Celebration of Summer! I've been so excited to spend some time outside, so I knew exactly what I wanted to share for the summer series, a stump side table.
If you've been following along for awhile, you may remember my first project with stumps, my split stump side table. I think it's safe to say, I like stumps. Plus, they're free. Can't beat that! 🙂
Here's how I made it (or them, since there are two). It's such an easy project!
First, grab your stump. Mine were still covered in bark…
I used my hammer and bar to knock off the bark, which came off very easily…
Then, I used my sander and went over the entire stump (top too), to remove any remaining bark.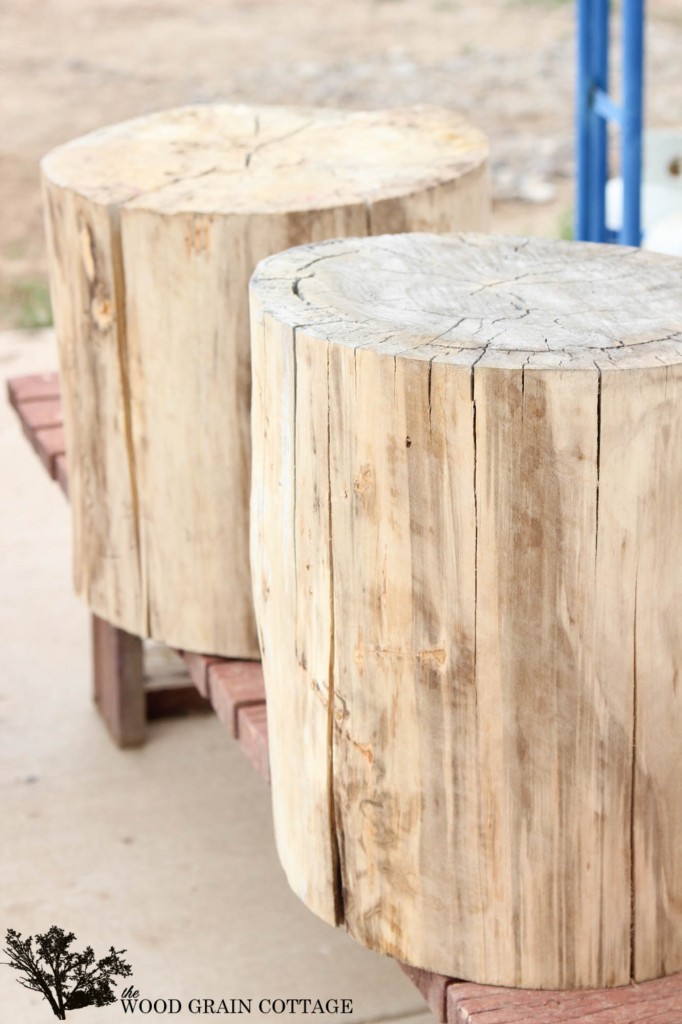 Once it was sanded, I wiped off the dust and applied some painters tape. No method to it, I just guessed where I wanted it to be…
With the tape in place, I used some white exterior paint in semi-gloss…
And once the last coat of paint was on the stump, I pulled off the tape…
I let the paint dry overnight, then flipped the stump over to attached the castors….
I just placed them evenly around the stump, then attached them with long screws…
With that, they were done and ready to use!
I am so happy with how they turned out! They're the perfect accent to our new patio furniture, which received a massive makeover. I can't wait to share it with you!
And I really love that they move around easily because of the castors. It makes cleaning and hosing off our patio so much better. Those babies are heavy!
I also must mention the incredible texture on the top…
Yowza, right? I particularly love setting out there in the morning sipping on a bit of hot tea…
Overall, I am completely loving these stump side tables!
Now, be sure to take a peek and see the other ladies, and what they have come up with for their summer project!
1. Making Home Base 2. House By Hoff 3. Life on Virgina Street
4. Everyday Enchanting 5. The Happy Housie 6. Tell Love and Chocolate
1. Rain on A Tin Roof 2. The Blissful Bee 3. The Turquoise Home
4. Just A Girl and Her Blog 5. View From The Fridge 6. making it in the mountains
1. Bless'er House 2. Delineate Your Dwelling 3. Maison de Pax
4.Up to Date Interiors 5. The Wood Grain Cottage 6. Migonis Home
You can join us in the summer celebration by using the hashtag #summercelebration on Instagram!
Happy Summer!
P.S. If you love my stump, you'll love this one too! I didn't see it until later, but great minds think alike! Oh- just go ahead and check out her home tour too! Drool! 🙂