Here we are again with another stick and twig project! The best part? It was completely FREE! Score!
Over the past month I've been working on several projects to try and spruce up our entryway and front porch. It's been so fun, especially since I've been bringing out my crafty and making all sorts of good stuff.
If you'll remember, I started a new series this week:
(Just in case you missed Part 1 & Part 2)
Banners are everywhere. This is certainly not the first or last one you will ever see. But I might as well jump on the bandwagon since it's something that I've always loved, just never done. However, I think the stick letters punch it up a level.
Again, it's so very easy to create. I used the same tutorial as my fall saying for the letters.
The banner was equally easy.
Here's what I did:
1. First I decided on the size for the actual banner.
2. Then I traced my original banner and made several copies.
3. Once all of my banner flags were cut, I began laying them out with jute rope to determine the length of the banner and the distance between each flag.
4. After I had the length I wanted, I began hot gluing the rope to the burlap flags.
5. Once the rope was glued to the burlap, I put a bead of hot glue on the outside edge and folded it over to cover the rope.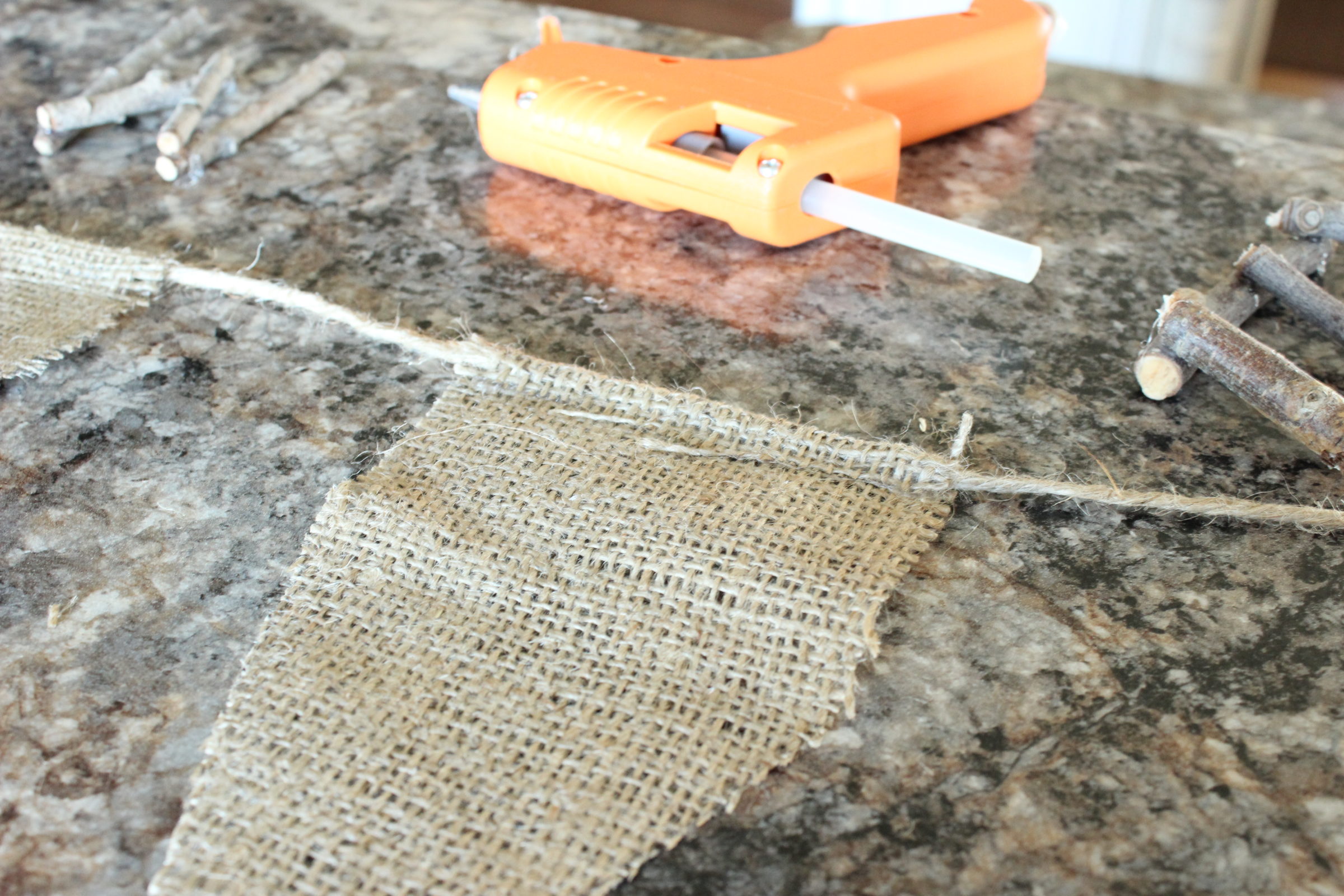 6. Flip your banner over, and put each letter on the appropriate flag. Just a suggestion, make sure you spell your word right… I may or may not be talking from experience. 😉
7. Once the letters were in place I hot glued them to the flags.
From there I simply hung it up on the trim piece of our front door with hot glue. So far, it's holding up beautifully! Even with one major windstorm!
I can officially say that I'm done with our front porch. At least I think. 😉
The Welcome banner and "Happy Fall" pallet sign definitely punch up the front porch. And I still can't believe that they were both FREE! Especially since they add such warmth to the space.
Big Smiles!

I'm linking up to: