I am so excited to share our latest project, shelves in the master bathroom! If you read the recap of our trip to the Vintage Whites Market (or attended the event! 🙂 ), you might have noticed the shelves we were selling. I absolutely adored them (and they were really popular!), so I wanted to incorporate them into our house as well. They look amazing!
Back when I envisioned our bathroom, I could see they would look wonderful against the black wall, and once we had it completed, it actually blew away my vision! They look so good together!
Today, I wanted to share how we installed them…
For the shelves, we used old wood from my parents farm. They have piles of it, and it's been aged to perfection. Of course, we give them a good cleaning (and we don't have to worry about bugs in our dry climate!). For the bracket, we actually used one we'll be selling in our online shop. Here in a few weeks I will be adding a bunch of new stock, and these brackets will be included! I love their simplistic farmhouse style, and I think you will too!
Please note: Some of the links in this post are affiliate links, which allows us to make a small commission from your purchase, but your purchase price stays the same. Thank you for helping support our blog! We greatly appreciate it!
Before I share the tutorial, I want to say that these shelves are heavy. If you follow this tutorial, and don't install as heavy of a board, you can adjust your mounting hardware.
To start, we placed the shelf on the wall, arranged it how we wanted, and marked where the screws would need to go…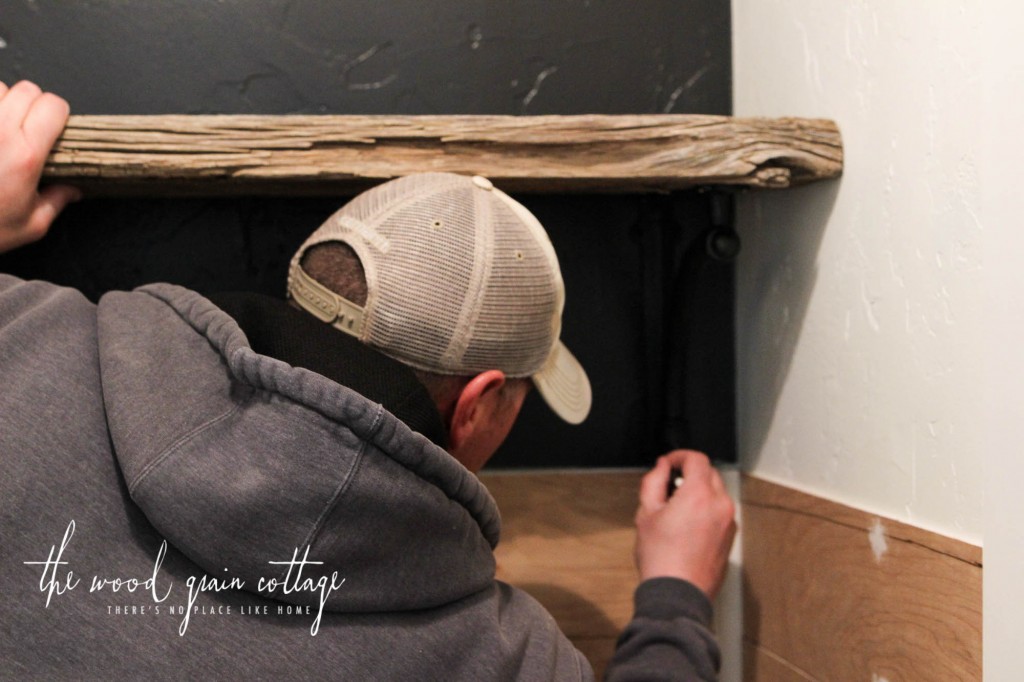 To mount the shelves, we used these screws, which we purchased at our local Ace Hardware, but these are really similar
…
Each one of these holds up to 70 lbs, and since we installed 4 per bracket (into the drywall, no studs), we shouldn't have any issue.
They're quite easy to install, just pound them into the wall with a hammer…
In the wall, they look like this…
Then, we removed the actual screw, leaving this…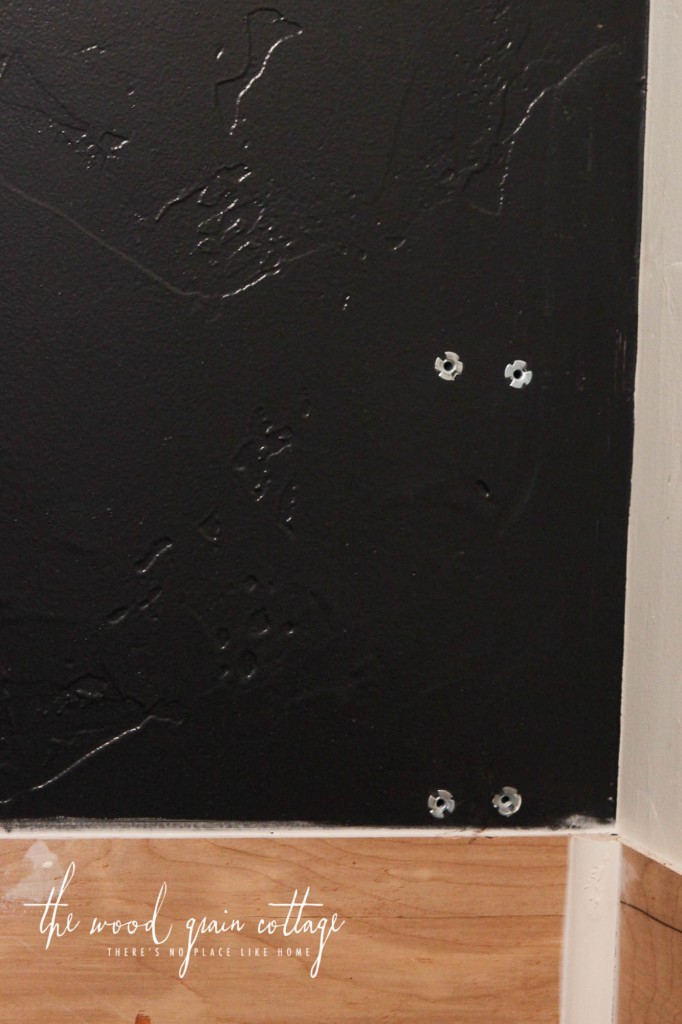 To install the shelves, we simply positioned the bracket holes over the wall holes, and used the screw to secure them…
Here's what it looked like with the first shelf in place…
Following the same steps, we installed the second shelf…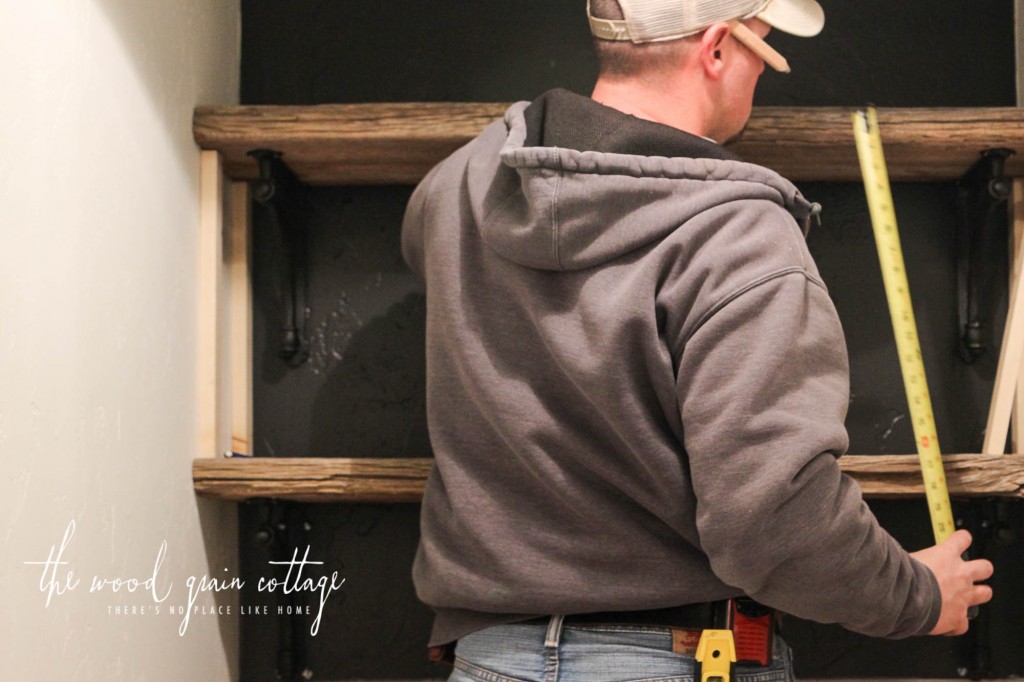 Those wood blocks on each side of the shelf made it much easier to measure. Have I mentioned those shelves are heavy?
With the second shelf installed, we were left with this…
They truly look wonderful, and they completely transformed the room. Here's what it looks like now since everything has been painted…
Since I took these pictures, I did go in and touch up the silver screw heads with black paint. You don't even notice them now. 🙂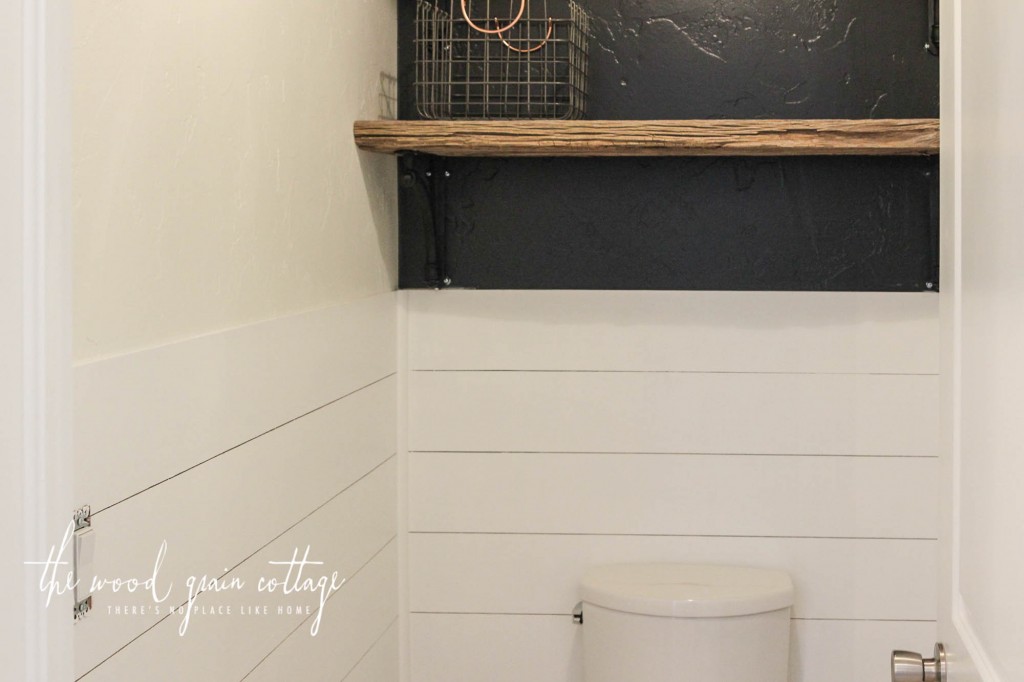 I still haven't styled them with anything, but I couldn't help but add a cute basket I picked up at Target. Even without the shelves styled, I am in major love with them…
More on the bathroom soon!