Hey there! I'm back today with another powder bathroom update!
Because we love wood grain at the WGC, we decided to make a unique wall hook rack for our powder bathroom… with railroad spikes!
Woo wee, we love this thing and how it looks in there!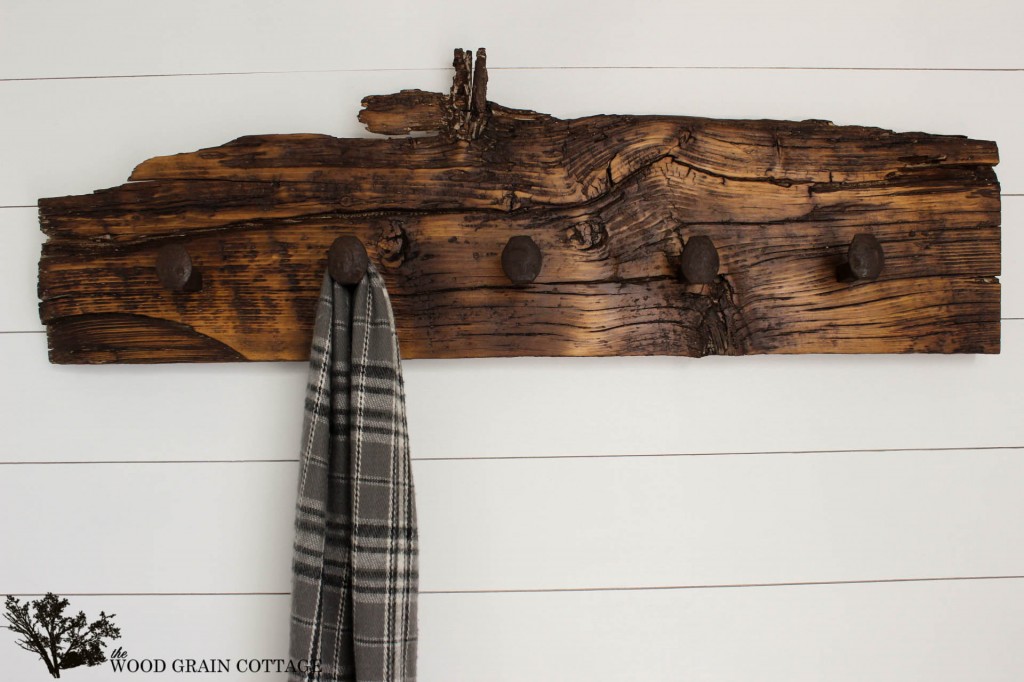 Here's how we made it:
I raided my parents farm (again) and found a lovely weathered board…
It had naturally come to it's unique shape and distressing and I loved all the knots in the wood. I had Anthony cut it down to 3 foot.
I also loved the color, but for the powder bathroom I was really craving something rich to pop against our white plank walls.
In order for the board to absorb the stain, I had to lightly sand it to remove the weathered finish…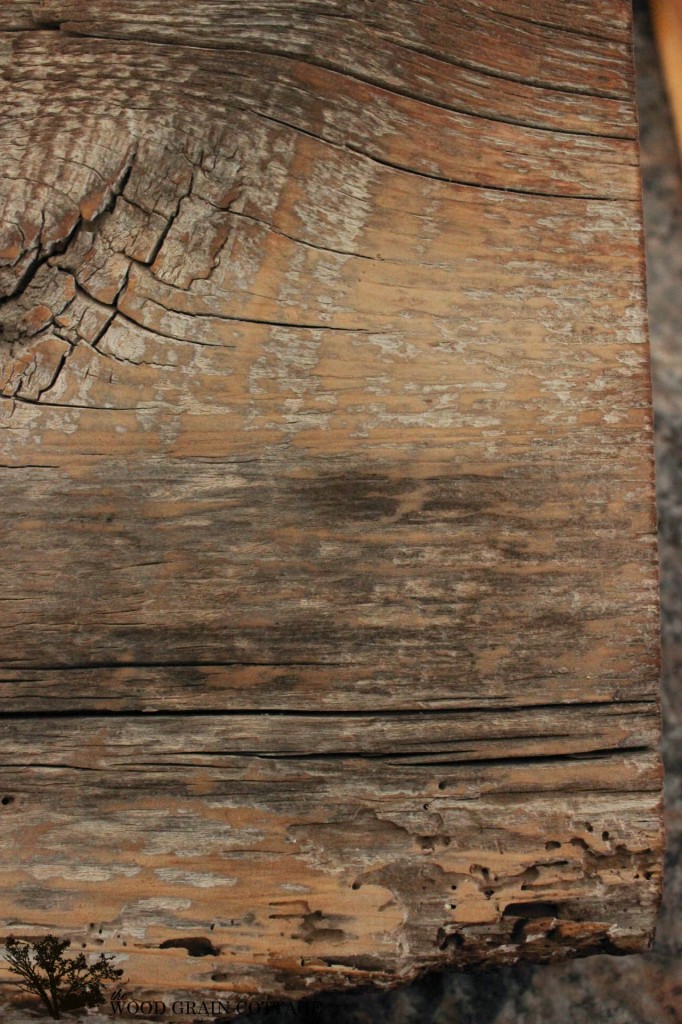 Then I stained it with Early American by Minwax… Love that color!
Because the board had a lot of little pits and holes, I used Annie Sloan's dark wax to fill them in. It gave it a fabulously soft finish.
Here's what it looked like after I waxed it…
Now, for the spikes, our town is redoing our rail road tracks and a friend of ours owns land directly next to the rail road. I asked if he could grab me a few of the old spikes and he did! Can't beat that!
Anthony took them to work and cut them down to 3 inches, then he drilled and tapped them. After all that, they looked like this: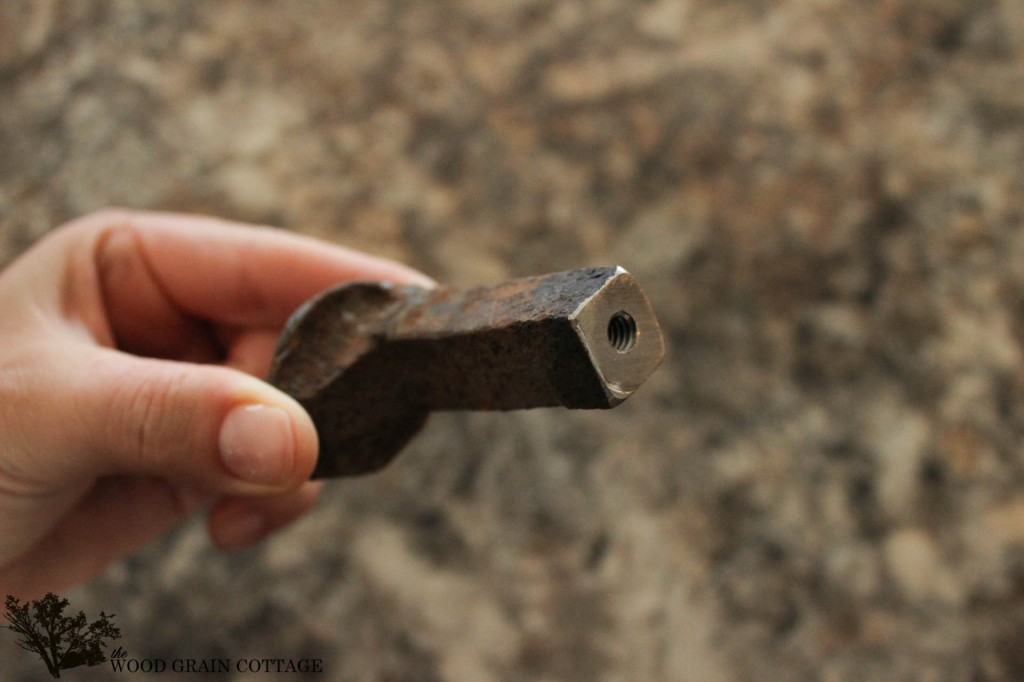 We put 5 of them on the board and spaced them evenly…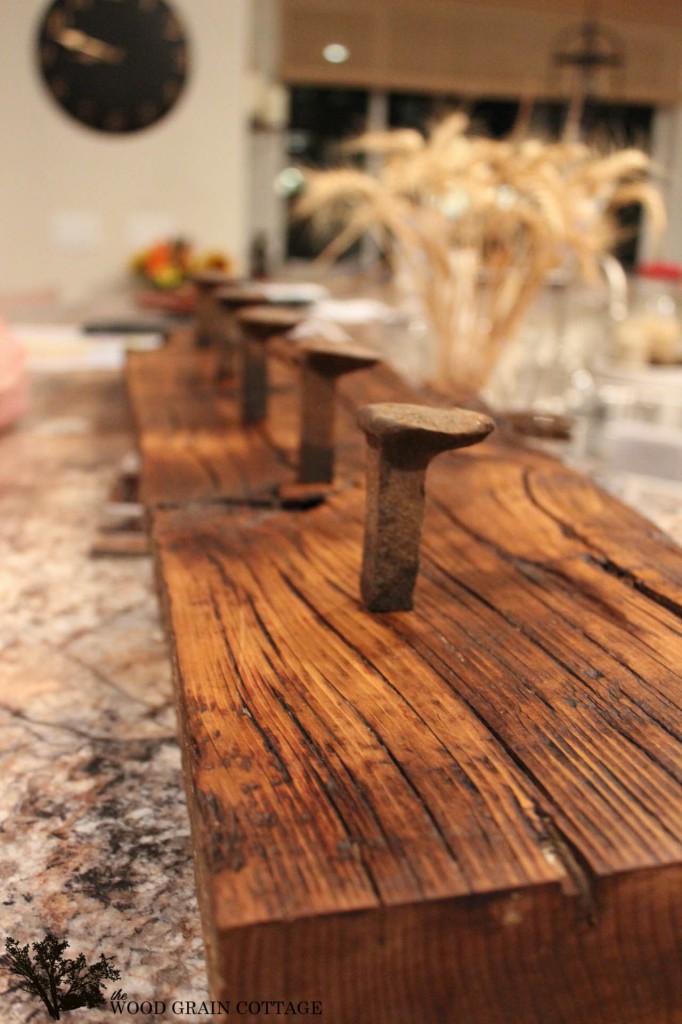 The next night I had a softball game, so my handsome hubby drilled a hole for each spike, then attached them to the board. He didn't take pictures. Sorry!
I bought these heavy duty picture hanging hooks and screwed them into the back of the board.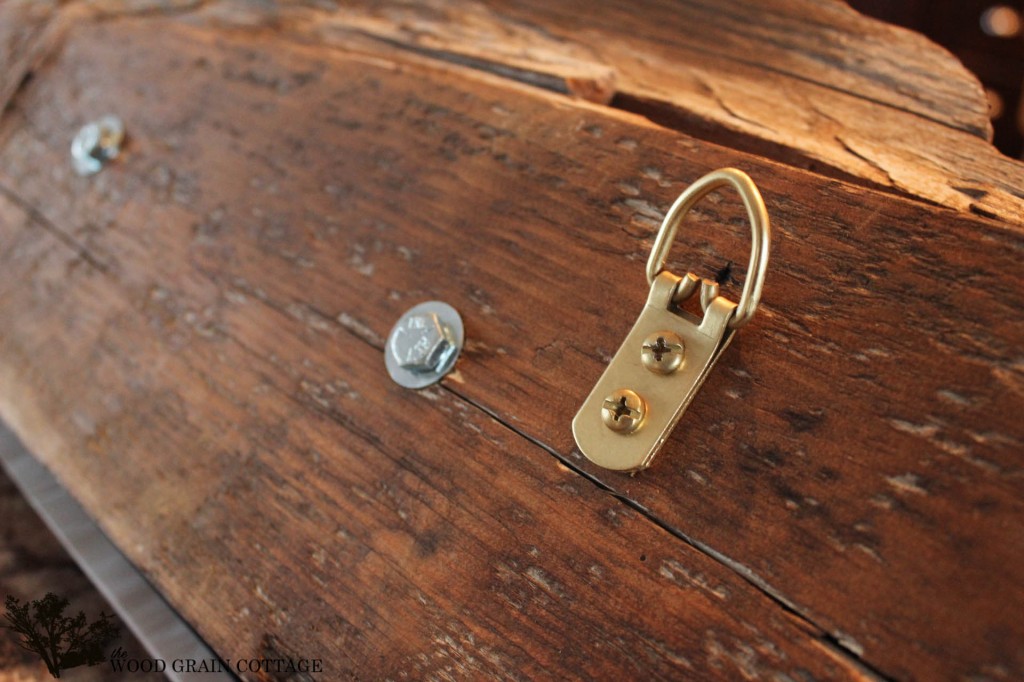 Once they were in place, Anthony attached it to the wall.
It's perfect for the bathroom!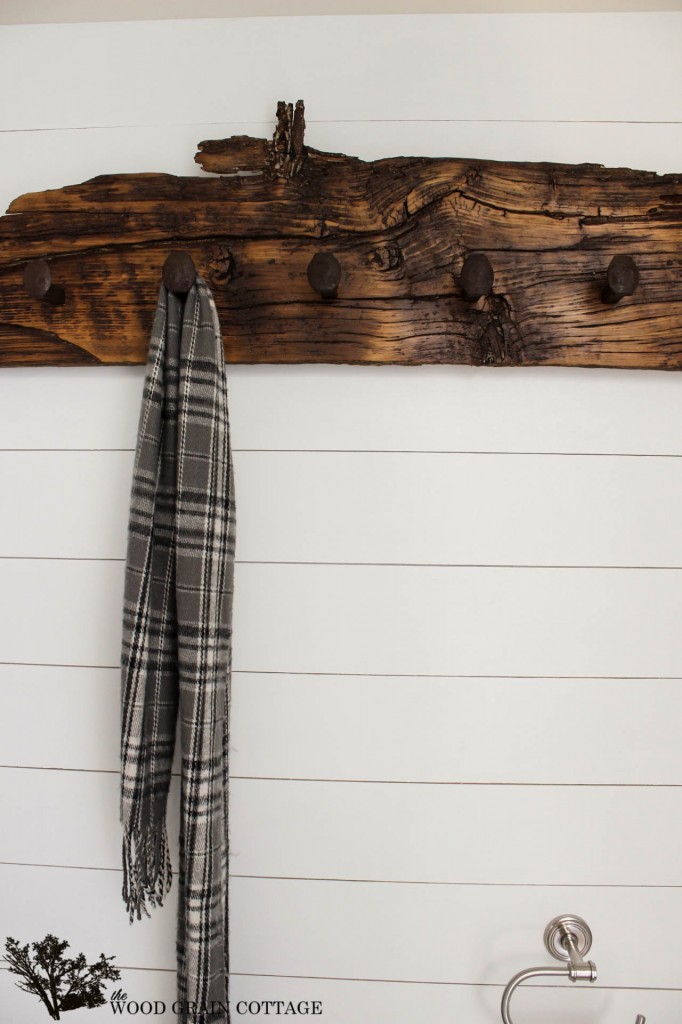 The same night that Anthony attached the spikes, he also cleaned them with lacquer thinner (to remove the oil that coated them), then he sprayed them with a few coats of clear poly. They're the perfect hooks!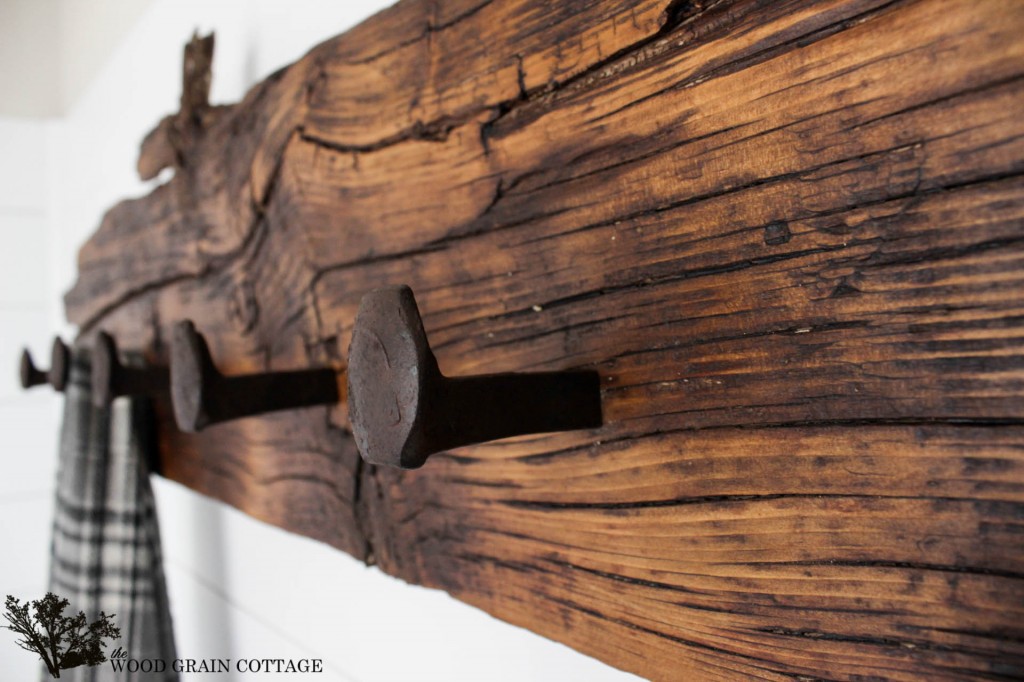 This piece is exactly what I envisioned for the room!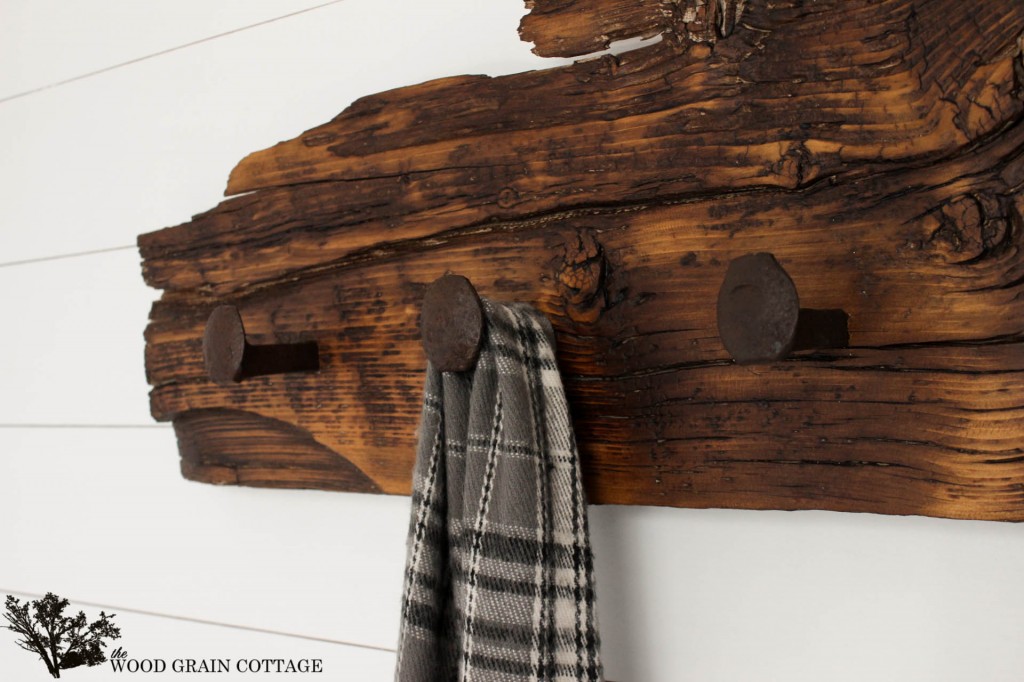 And it appeals to both me and my Mr.!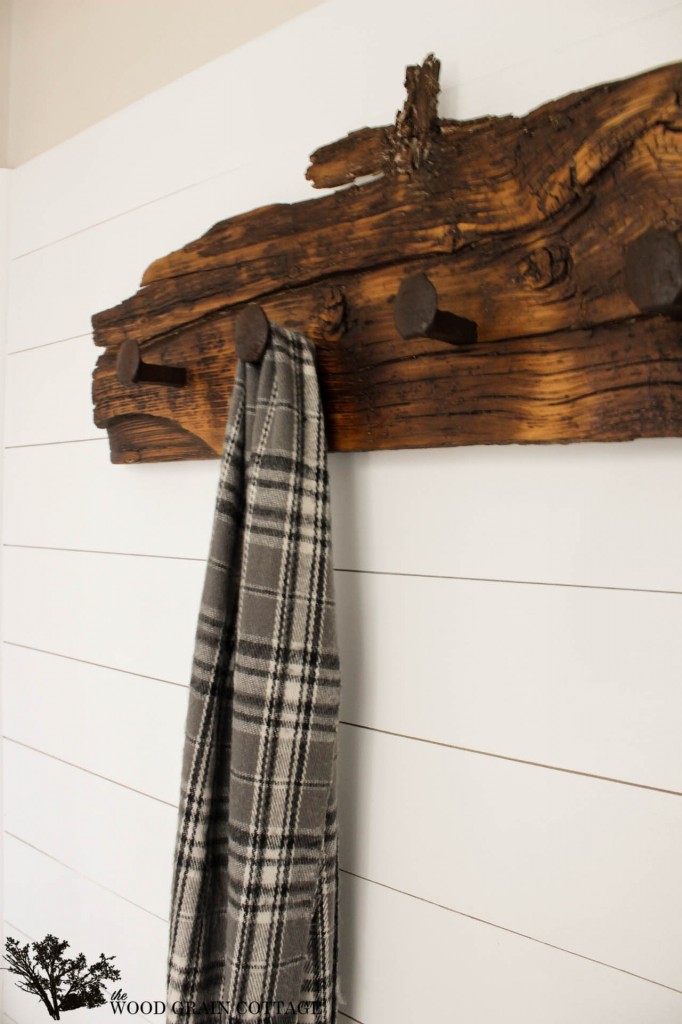 This little bathroom is coming together beautifully! I can't wait to add all the little details that I've been collecting. It might just happen this weekend!

Linking up to: