I have several projects that I really want to accomplish this year. We made so much progress last year, and I really want to build off of that.
Like I mentioned in my 2013 project goal post earlier this month, I like to use these project goals as a general guideline, rather than a to do list. And I'm really excited about everything I've put on the list this year.
First up, is the kitchen backsplash. If you've been following the WGC for a while, you know how badly I've wanted to get this done… I still can't believe it's not done. We bought the supplies around May of last year. I'm hoping that January is the month… if not, I might panic a bit because Anthony will be starting tractor work for the 2014 farming season really soon.
Second, I really, really want to finish the office. I just repainted it, and it made such a huge difference, but I'm ready to have it organized. Not only will it be nice to have another room completed, but we desperately need this room to be efficient and organized. I've been over this room since we moved in, two years ago. I've limped along and done the best that I could with what we've had, but this is the year! I have some projects lined up and several pieces of furniture to paint.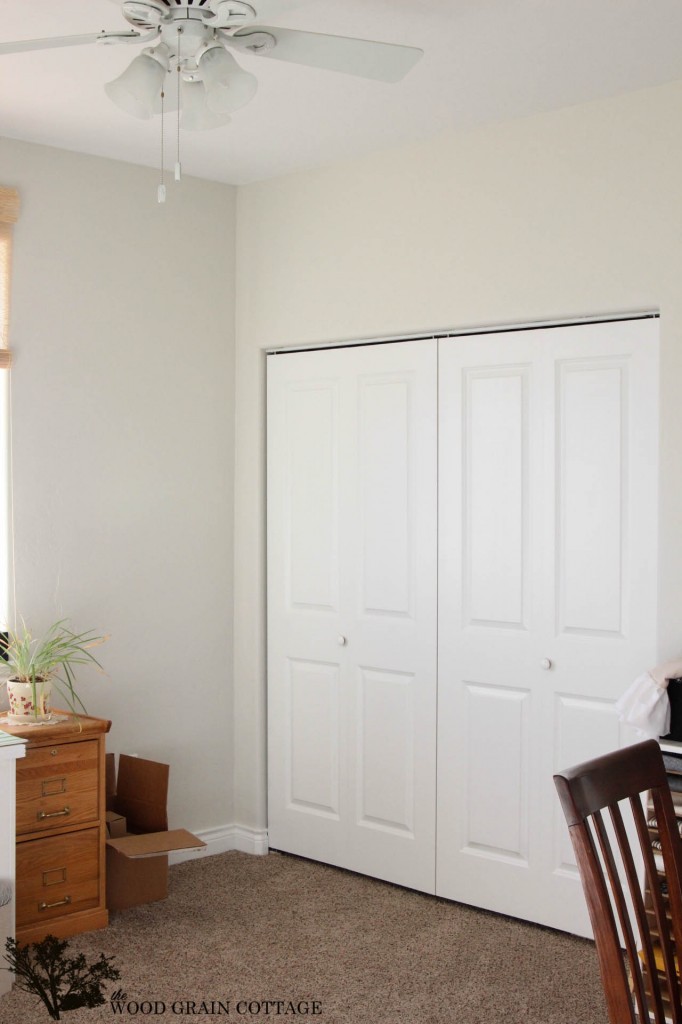 Third, finish the laundry room. This room is basically done, but we have a whole bunch of little things that need to be finished. We need to install a little bit of quarter round to finish out the plank wall, and we need to install the cabinet hardware. I also really want to organize all the cabinets, they're a bit random, and I want to add a few more accessories. We did the brunt of the work in 2013, so the list in this room is pretty short and sweet.
Fourth, the powder bathroom. It made its own progress in 2013, but we never got around to installing the beadboard on the ceiling. It's conveniently sitting in the garage… I can't wait to see how it looks in there! I also want to add in a few more accessories.
Fifth, the living room. The board and batten that we just installed, was a spring board of inspiration for me. Sometimes it takes me a while to see what I want to do to a room, but once I do, I have a hard time waiting. Much like our kitchen, we spend a great deal of time in our living room. It's also the first room you see when you walk in our front door. I really want to hang our tv on the wall, get a new media stand (oh the plans I have for this) and maybe hang a mantel. We also really want to switch out the ceiling fan, which we never use, and add a new light. You should see plenty of this room.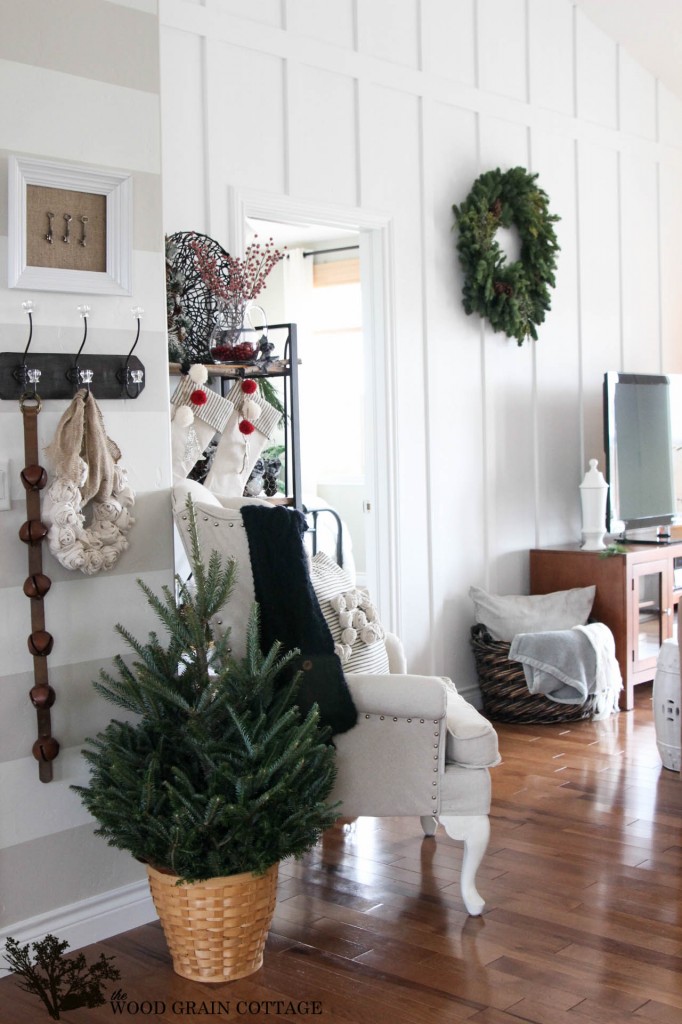 Sixth, our master bedroom and bathroom. They were both on our list in 2013, but I'm adding them again. While we did make a bit of progress in our master bedroom, it wasn't near enough. Since we've moved in, our master bedroom has kind of become the catch all for any extra decor. I have a few projects in the works, but I'm really hoping we can install the board and batten that I've really wanted to do.
Seven, the dining room. I've been waiting to start on this room for just about a year now. Like I mentioned above, it's really hard for me to sit tight when I can actually see the finished results in my mind. Anthony has two big projects that he needs to complete for me, the shelving and table. I'm patiently waiting, but really hope we make progress this year.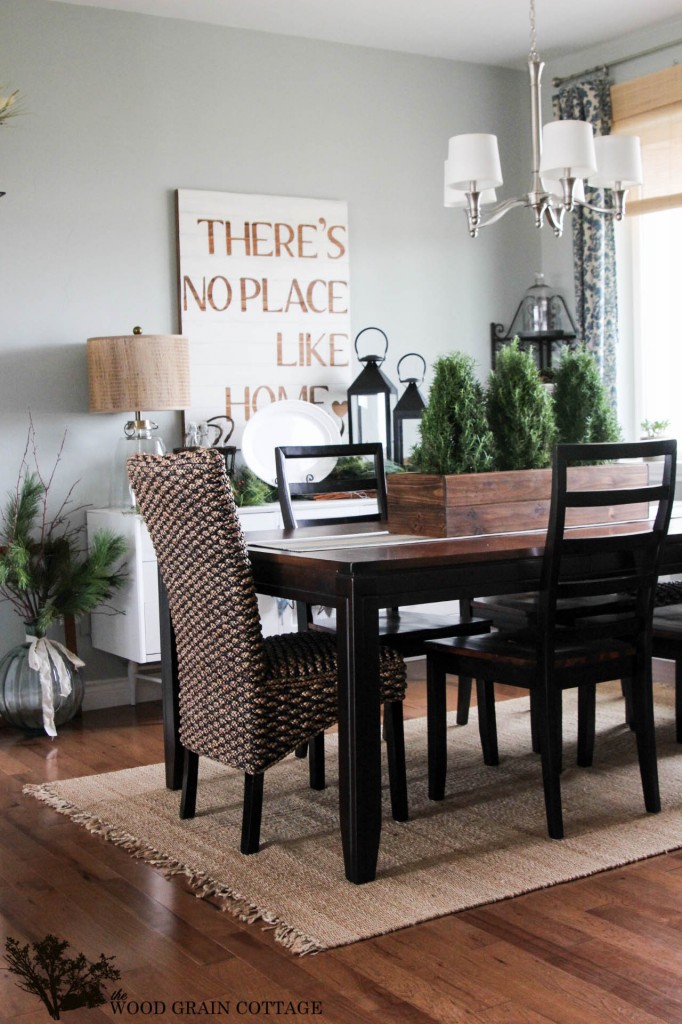 Eight, our patio. Last year the only project that we completed on our patio, was adding a fence picket table top to a round table that I snagged for free. I love it, but we really need to add a bit more furniture and make it more functional. It's such an amazing place to spend time in the summer. Our views are outstanding, mountains in any direction you look, and we're surrounded by our own crops. I really, really, really want to spend more time out there this year.
Nine, landscaping. I'm not even sure I need to add it to the list again because it's going to be on every list, every year, but we do have a few projects that I want to finish. We have a bunch of rock that we still need to add to our borders, flowerbeds that need to be built, boxwoods that need to be planted and so. much. more. Heck, I'll just be happy if we can finish the projects that we started last year. Like hauling rock…
I'm anxious to get started… and I'm hoping to bring you an update on the kitchen backsplash really soon!