At the beginning of 2013 I made a list of all the projects I wanted to accomplish throughout the year. It was my first time making a project goal list and I didn't really know how well we would do throughout the year. ..
So, how did we do? Let's find out!
1. Finish the Breakfast Nook.
Before:
After:
We made some serious progress in this room! I'm so proud of everything we accomplished. For the most part, this room is done. I still have a few little projects I'd like to do, and I'm still adding to my collections, but I'm really happy with how this room looks. The breakfast nook bench and the plank wall completely changed the room.  I'm so happy we did them!
2. Laundry Room Makeover.
Before:
After:
This room was definitely priority on my list. This was the only room in our entire home that I had major issues with. 2013 was the year we handled most of them! We installed a surround around the washer and dryer, I re-painted, we added a plank wall, Anthony made 3 large sorting crates for our laundry, he built me a side table and I made a new light for the room. We still have a few minor things to finish, and a few more accessories to make or buy, but this room is almost finished. And the most important thing? We both LOVE it!
3. Install a Backsplash in the Kitchen.
Much to my dismay, this project was not completed. I tried, man did I try. We even went so far as to buy all the supplies to do it. They're conveniently sitting in the garage, laughing at me every time I trip on them. 2014 is the year, I can feel it, and I'm hoping January is the month it's happening in.
4. Install Planks Around the Island.
We didn't get this one done either. I think it would look fabulous, but I decided to focus my attention on a few other things, like the powder bathroom.
5. Install Board and Batten Wall in Master Bedroom and Powder Room.
Our master bedroom has made some serious progress since we've started. We didn't get around to installing the board and batten in the bedroom, but I still think it would look wonderful in there. Especially since you can see it from our living room. And we all know how much I love the board and batten in the living room. Let's just say I decided to swap the master bedroom board and batten for the living room. And I'm completely happy with it!
The powder bathroom also had a lot of changes. I switched my thoughts on the board and batten and installed planking 6 feet high and painted the vanity white. Such a game changer for the little room. I'm looking forward to working on it more in 2014.
6. Master Bathroom Paint & Curtains.
Let me just tell you that we didn't do a single thing in this room. Not one thing. I had originally hoped to repaint the bathroom so that it flowed better from our master bedroom, and I really wanted to add new curtains. It's still on the list, I'm just not sure how much of a priority it is now. However, I do think you'll see more of this room in 2014.
7. Built In Book Shelves in the Dining Room.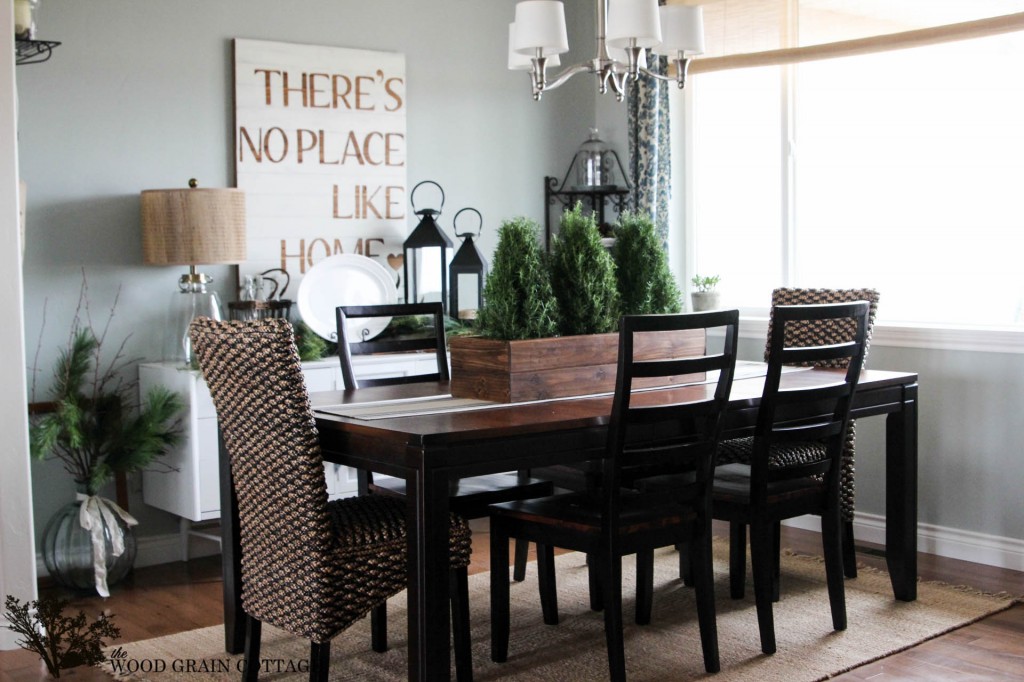 I knew this one would be wishful thinking, but that doesn't change how anxious I am to install them. It's going to be a complete change for the room and such a statement! Plus, it'll give me the room I need to display the collections I've been working on!
I have a serious obsession with shelving, my dedicated pinterest board is proof of that!
8. DIY Outside Shutters and Window Boxes.
We spent a lot of time last year working on the exterior appearance of our home. We built in the middle of a field, so we started with a completely blank slate. I really wanted to install shutters and window boxes. Like, really, really. Anthony wasn't as excited about it, especially since we'd have to drill into our stucco siding. Someday I hope to get this done.
9. More Landscaping.
Before:
Progress:
We definitely added more landscaping last year. We added plants, trees and rock and really worked on our grass. There's still so much to do and I would love to spend more time on this! 2014 should bring a bunch of outdoor/ landscaping projects! I already have my eye on a few of them.
10. Organization, Organization, Organization!
OH man! I had such high hopes for organizing in 2013. I just knew I would get more done. I would have bet on it, and I don't bet. Sadly, it didn't happen and I'm feeling it. From closets to the office, I have my work cut out for me!
Since 2013 was the first year that I made a project goal list, I can see that it's more of a guide, if you will, than a check list. Things happen throughout the year and my priority on projects seem to fluctuate. I think that must be normal because one minute I'm entirely focused on one thing, can see that I'm not going to get Anthony on board, and switch my attention to something else. That's just an average day here at The WGC. Some days I honestly feel a little bit bad for that sweet husband of mine, but then I remember that he married me, so he must have known what he was getting himself into. Plus, I'm not sure his life would be complete without me randomly springing a new project on him.
2013 was a great year, but I'm excited to see what we accomplish in 2014! Stay tuned for those project goals, because I definitely have them!