Remember when I showed you a sneak peak of our powder bathroom? We're still making great progress, but today I'm sharing how I transformed our vanity!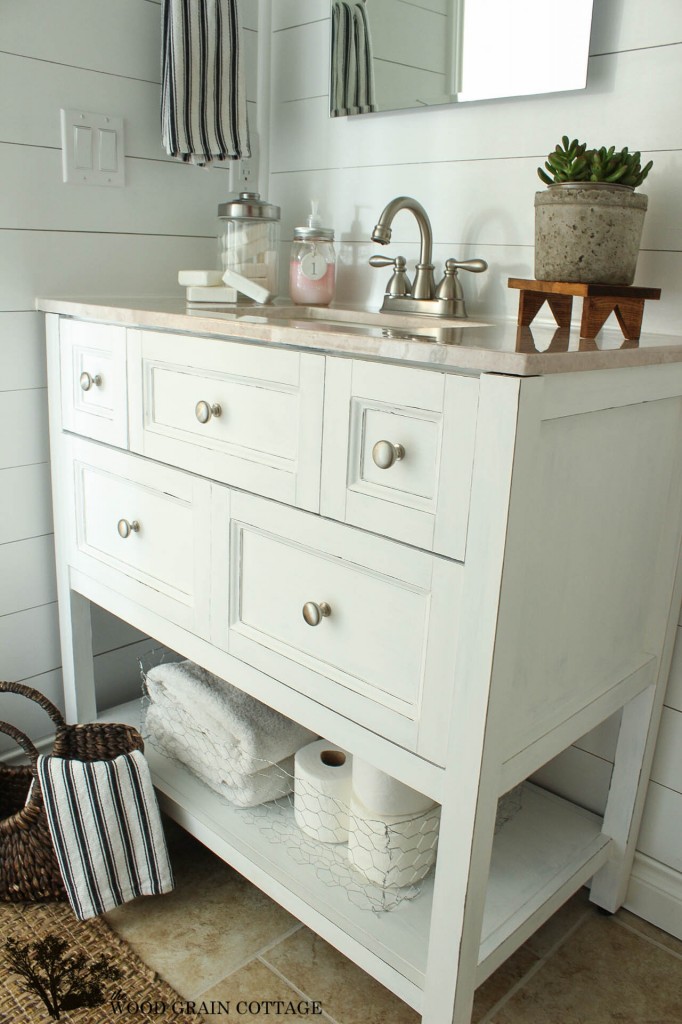 Because our powder bathroom is such a small room, I really wanted it to be light and bright. Don't get me wrong, I liked the way the vanity looked with the dark finish, but lately it made the powder bathroom look like a black hole- the exact opposite of what I wanted.
Once we had the vanity removed from the bathroom, I took off the drawer hardware and wiped everything down with a clean rag.
Then I started painting. For this, I used the new Chalky Finish paint from DecoArt and used their new color, Everlasting.
I took full advantage of the chalk paint reputation and didn't sand an inch before I painted. I started on the drawer. The coverage was great and after two light coats, the majority of the previous color was covered.
Using long, even brush strokes I added the third and final coat…
I really loved the way a tiny bit of the dark finish peeked out from beneath the white, so I left it and moved on to distress.
I lightly distressed the edges with fine grit sandpaper. The original vanity color peeked out just enough to give it a great layer of depth!
After distressing, I wiped the vanity down again, then went over it with cheesecloth to remove any remaining dust. I waxed the vanity with DecoArt's new Clear Cream Wax. It went on beautifully!
After buffing the wax, I let it sit for a little while, then installed the drawer and hardware.
With the plank wall finished, we reinstalled the vanity.
It's never looked better!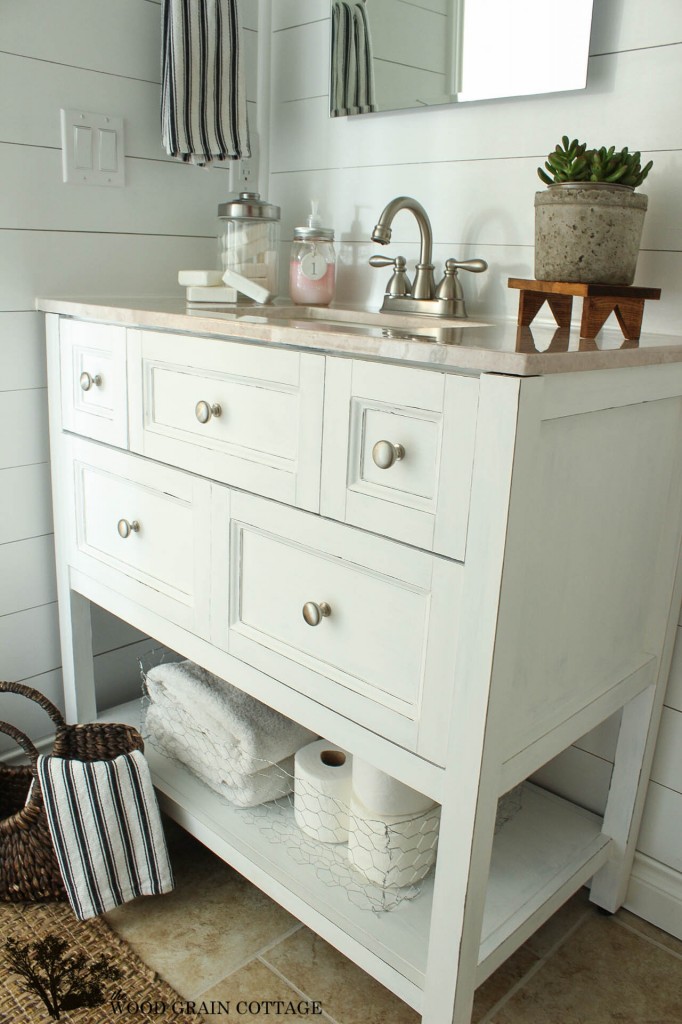 I am so happy with the finish. I love that's it's semi-transparent.
And I love, love, love the light distressing! It made everything pop!
It looks simply fabulous!
I love the way our powder bathroom is coming together and the vanity has had a huge part in that. I have a few more projects to share, so stay tuned!
You can find the new Chalky Finish paint online at Home Depot! They have so many fun colors to choose from too! Happy Painting!
*This was a sponsored post by DecoArt. However, all opinions about the new Chalky Finish paint and our powder bathroom vanity makeover are my own! For my full disclosure policy, click here.

Linking up to: