Happy March 1st! Today marks the end of my "Adding Meaning to Our Home" mini series, and I'm wrapping up everything I've done to make our home extra special!
But before I do that, we have one last thing that makes me happy, happy.
If you follow on facebook, you might have noticed that I posted a picture a while back of my gallery wall in progress. It's still not done but I can show you a few of my favorite parts- which just happen to mean a whole lot.
Right after Anthony and I got married (4 years ago this May- time flies!), my mom came to visit and brought a surprise present for our home. Love her!
It was my first painting- and I absolutely love the serene little cottage scene. She knows me well. 😉
I posted a while back that I was getting ready to make a few changes to our powder bath. One of those changes is the addition of a gallery wall. I wanted a big statement for the little room, so a floor to ceiling display was the way to go. And I used that lovely cottage painting as my main source of inspiration.
Then, I added in several other art pieces that had their own special meaning.
I got this painting from my great grandparents. They had it hanging in their house forever… It's such a classic piece.
And then I added a whole bunch of my own photography- like this picture, which was taken at my parents property. Many of my summer days were spent sitting under this tree daydreaming! True story.
This lovely tree has inspired me in so many ways- including my blog design and header. It's that special!
All three of them "touch" on the gallery wall- and in my heart!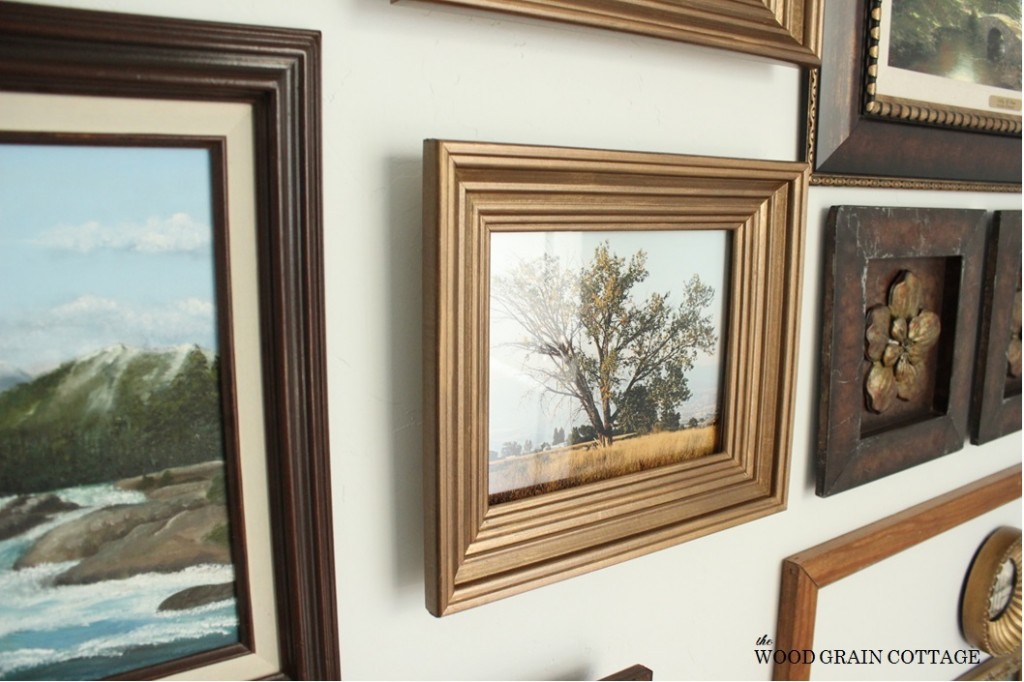 Like I mentioned above, the gallery wall still isn't finished (hopefully soon), but those are a few of my favorite parts! I can't wait to show it to you once it's finished.
And that, my friends, is a wrap… for now!  I'm sure that I'll continue adding meaningful items, but until then, here's a breakdown of everything that makes me ooey gooey inside and even more in love with our home!
In my first post, I showed you several easy ways to incorporate old with new:
One of the easiest ways is to use pictures: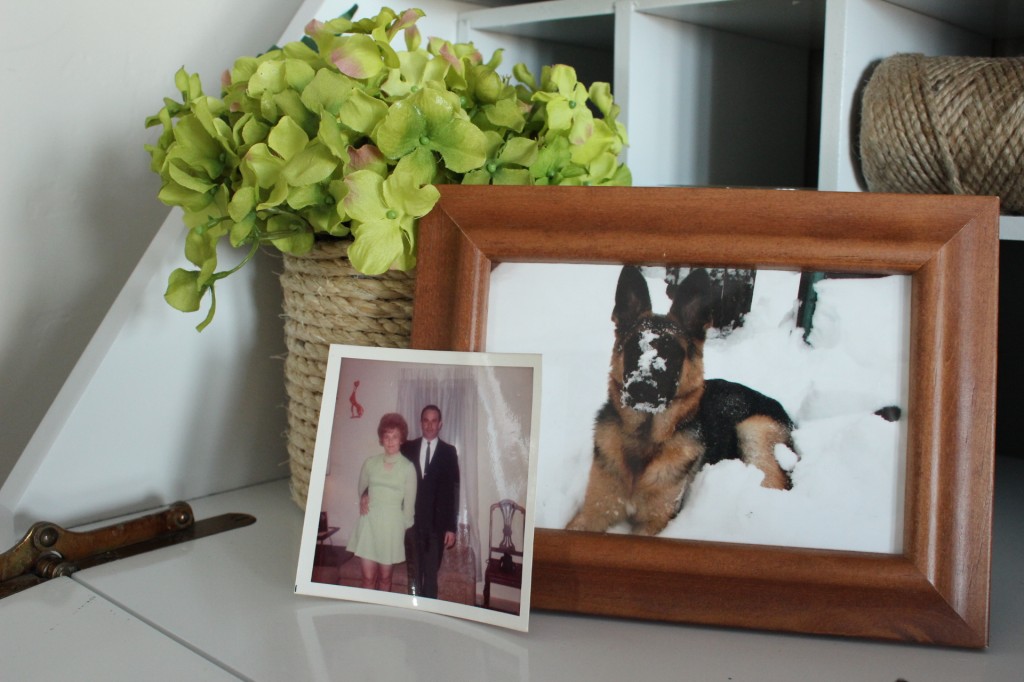 Using items that have been handed down is also equally easy:
And refinishing a piece of furniture that's been in the family for generations is a splendid way to keep family heritage alive:
A childhood collection can quickly turn into DIY art:
Spicing up the kitchen is easy when you add vinyl to your canisters– especially when you choose a font that's similar to your grandmothers:
Taking old onion baskets and re-purposing them is really easy…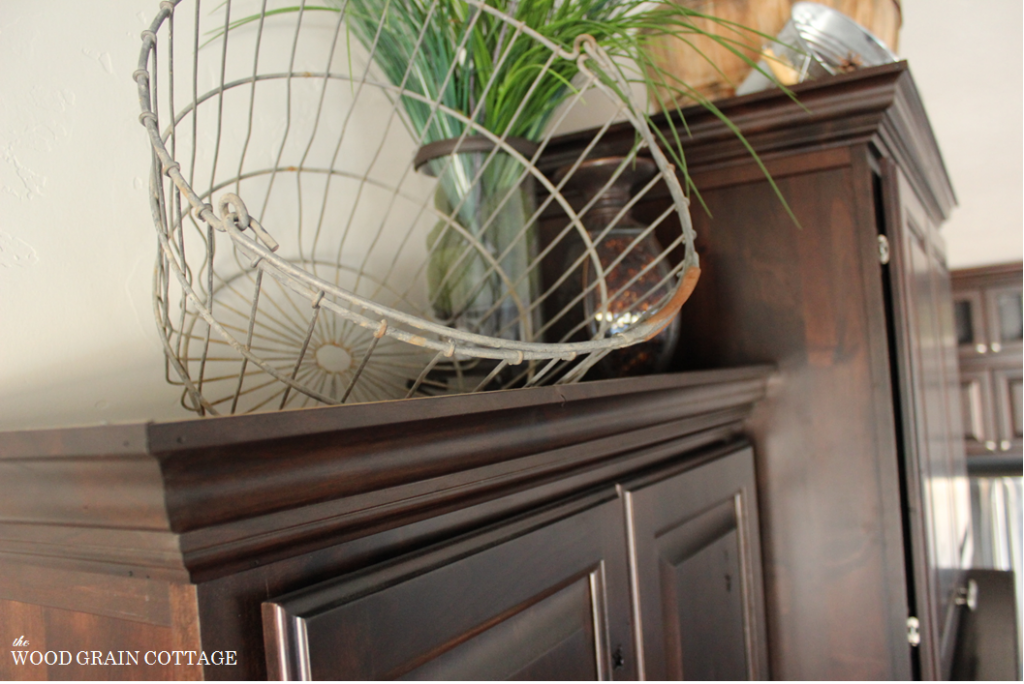 Writing a favorite recipe on a thrift store plate is not only cheap, but a great way to display those cherished family recipes:
And finally, adding art is easy when it's something you love- and given to you by really special people.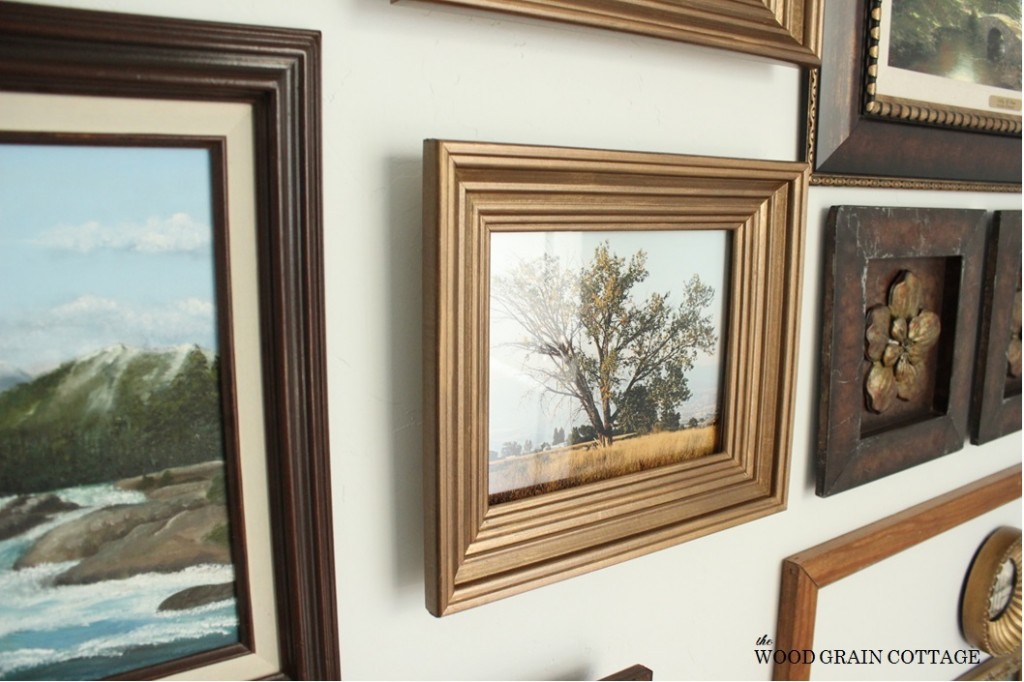 There you have it! Several different easy and super meaningful items! Each time I see them, my heart feels a little bit fuller.
🙂
Making a house your home doesn't mean you have to make the most money, or buy expensive things. It's about adding things you love and cherish- things that make you want to come home at the end of the day.
Happy Friday, friends! I think you're all the best! Big hugs!