I'm back today with more progress in our master bathroom. We've been able to get several things completed, and it feels amazing! This room sat unfinished for months upon months, so seeing progress is wonderful.
One of my very favorite elements, is planking. That comes as no surprise to most of you, but if you're new here, we love us some planking. We started by planking the wall in our breakfast nook several years ago, and have slowly continued adding more throughout several rooms in our home. It feels very cohesive now, which was my goal when we started adding the plank walls. I didn't want just one plank wall in the house, but instead an even "flow" of them throughout the house.
Planking in the master bathroom is our latest project, and I must say, it always brings in such an amazing vibe. It gives the walls texture, while providing the perfect backdrop.
I reached a little bit outside of my normal "white" comfort zone, and painted the upper part of the wall black, Onyx by Benjamin Moore. Can I just tell you how much I am utterly in love with it? Be ready to see more black floating around the house, because it's definitely going to happen. 🙂
To plank the walls, I knew I wanted them to stop somewhere around the height of the light switch, which with 6″ planks and taller trim, made the planking come up the wall to 52 1/2″. It's the perfect height for the room.
We started our first plank at the bottom of the wall, right above our trim…
And continued planking the wall until we reached the last plank, right above the light switch…
Anthony started planking the wall on the opposite side…
And did the back wall behind the toilet last, followed by the quarter round in each corner…
With all of that done, I went in and started filling the nail holes, and caulking the corners, seams, top, etc.
It's always a messy job, but well worth it! 🙂
Once the caulking was dry, I painted the plank walls Super White by Benjamin Moore. The portion above the plank wall is White Dove (also Benjamin Moore), and the back wall is Onyx, by Benjamin Moore. Here's a peek at how it turned out!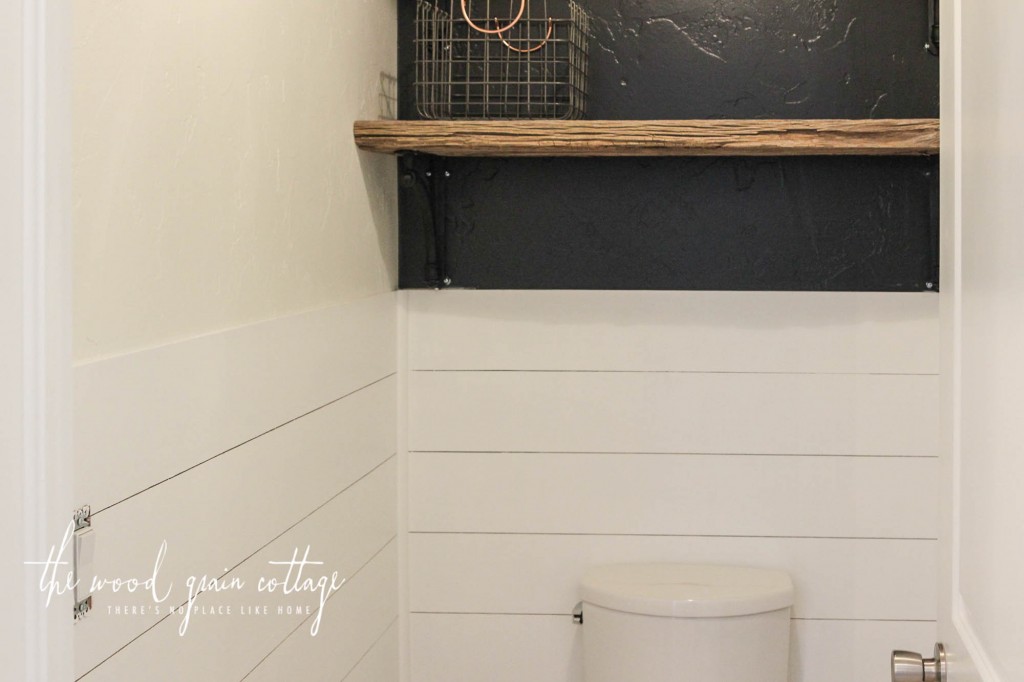 Oh my! Do you see that lovely shelf? Just wait until I show you more… that's the next installment in our little bathroom redo. There's actually two shelves, and they have totally made this room!
I can't wait to share more, really soon, but in the mean time I'm absolutely loving how everything is coming together! I'm like…