It seems that lately I'm following through with projects I've had on my "someday" list. And while I'm not sure why I ever included painting the inside of our front door on that list, it's done and completed and beautiful.
And now, I have no clue why I waited to paint it. I've known for at least a year what I wanted to do, but it's always fell to the end of my list, which we all know, is quite long. Since we added our dining room shelving, I decided it was time to get our entry way in shape too. Suddenly, it's started to feel like the odd man out, and changes are definitely coming its way.
Knowing what changes I want to make, painting the inside of our front door felt like the right first step. Enter in ScotchBlue™ Painter's Tape, and we have a painted front door. And it's basically life changing for our entryway…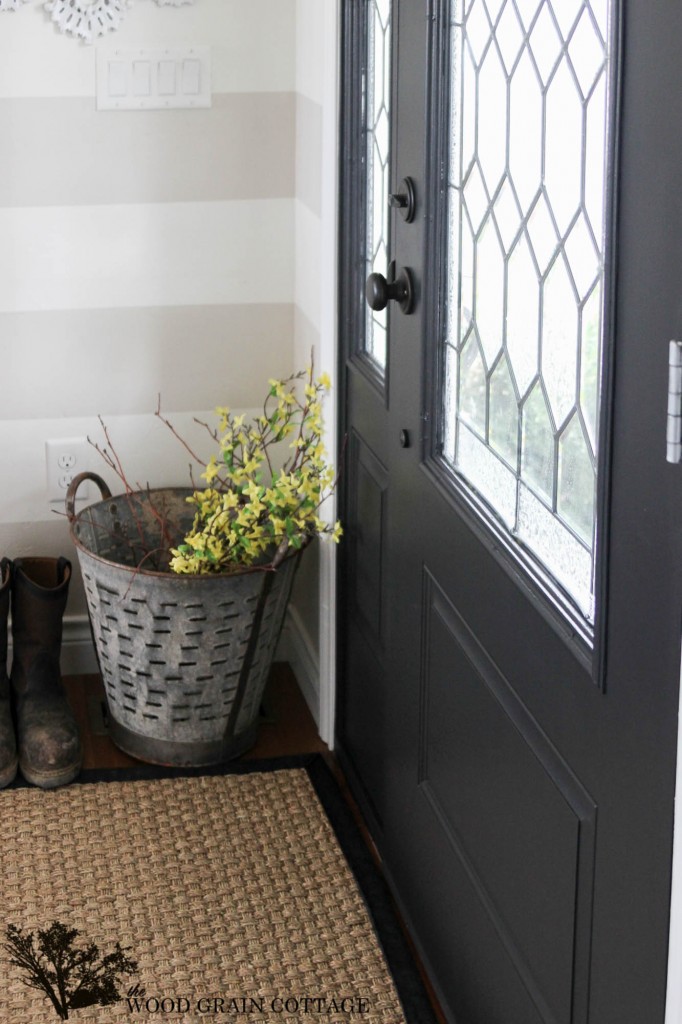 Here's what we started with… a plain white door that needed a little character….
Here's my list of supplies:
-ScotchBlue™ Painter's Tape for Multi-Surface with Advanced Edge-Lock™ Paint Line Protector (2093EL): ScotchBlue.com
-Paint
-Angle Brush
-Foam, super smooth roller
-Small Craft Brush
-Razor Blade, Optional
—-
I knew I wanted to keep the white trim around the door, so I grabbed my ScotchBlue™ Painter's Tape and started taping.
Step 1: Tape off the door:
I taped off our door knob and deadbolt…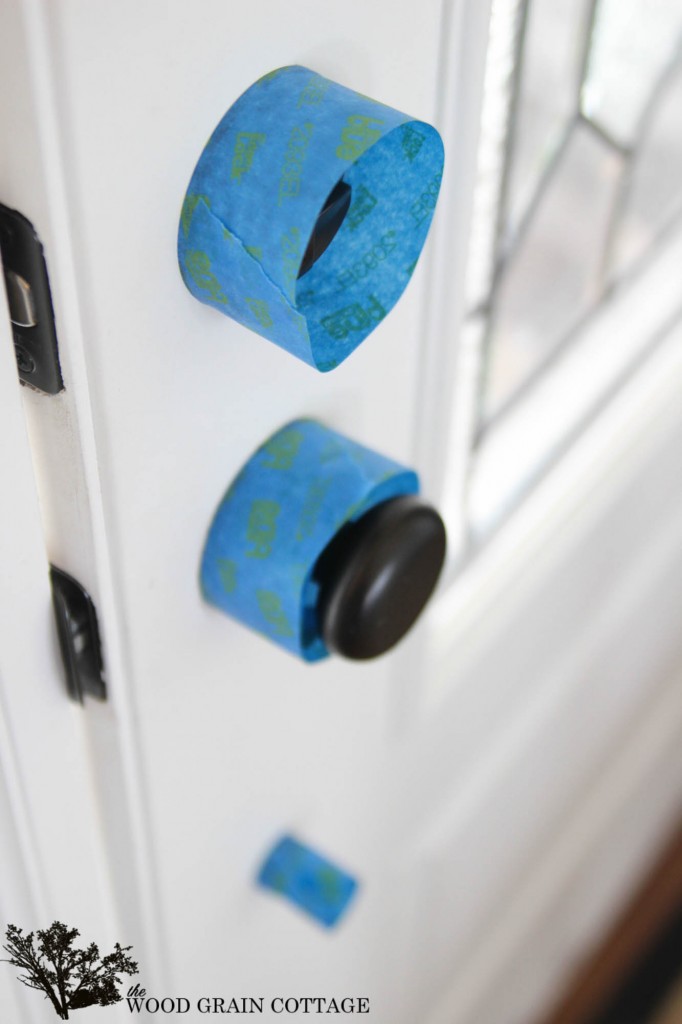 And the trim around the door…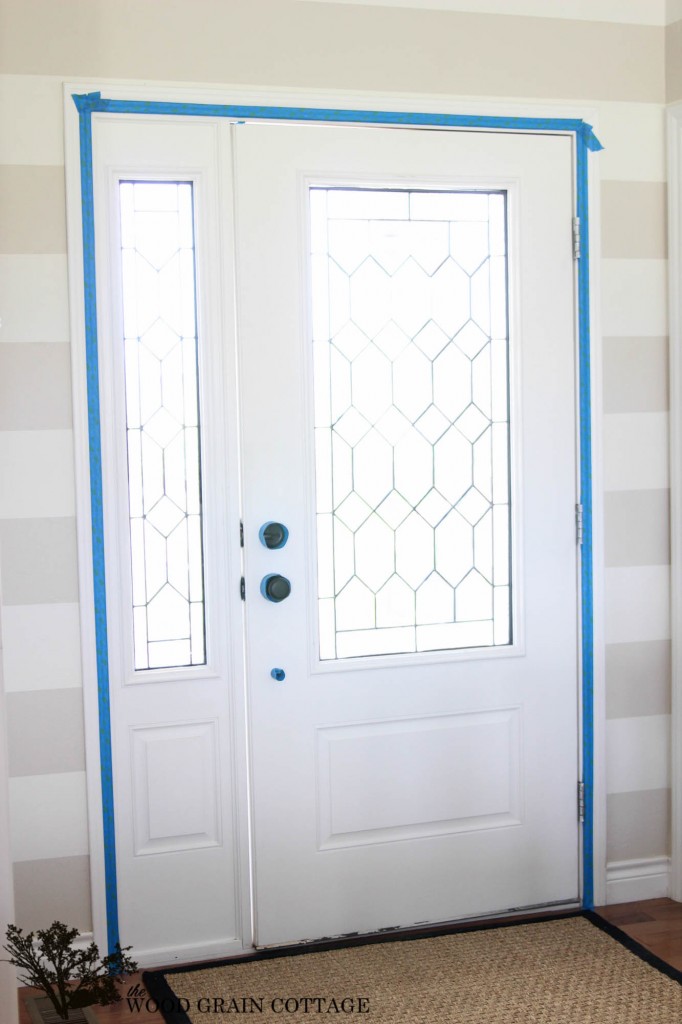 And the inside of the door where our outside color meets the inside…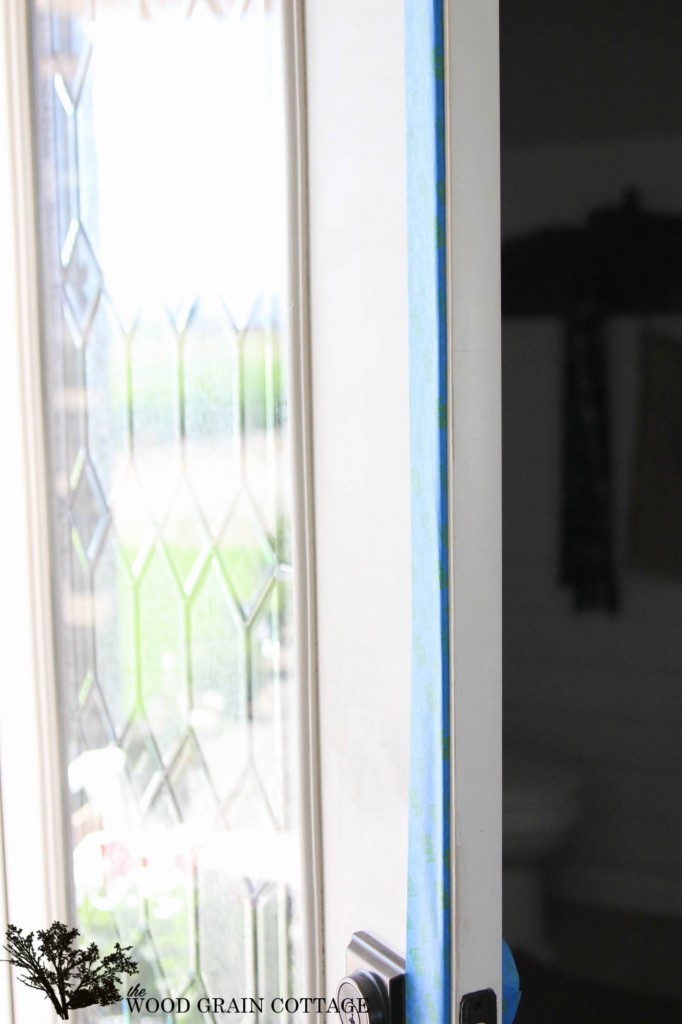 And because we had to replace our original door hardware a few months back, I didn't tape around the lock because Anthony had to drill a bigger, wider hole and I wanted to use a craft brush to get inside those tiny areas.
Step 2: Paint
Once everything was taped, I started painting. I used the same color as our mudroom door, Onyx by Benjamin Moore®, but instead of using semi-gloss, I used satin. It definitely doesn't leave the different roller marks, which semi-gloss had a tenancy to do on doors.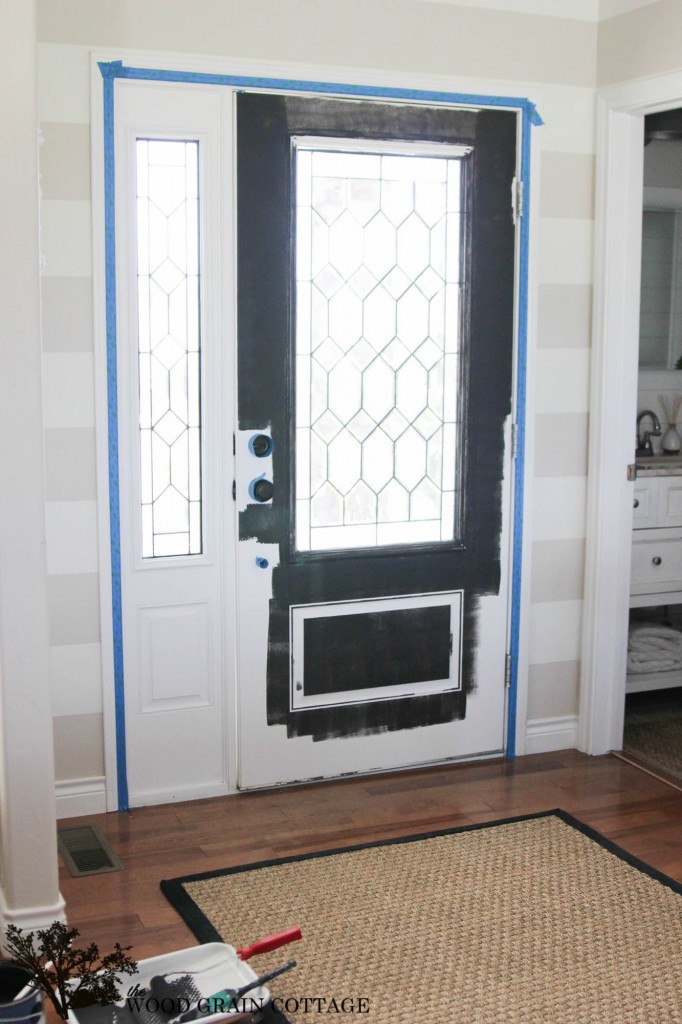 After a few coats, it was looking much better…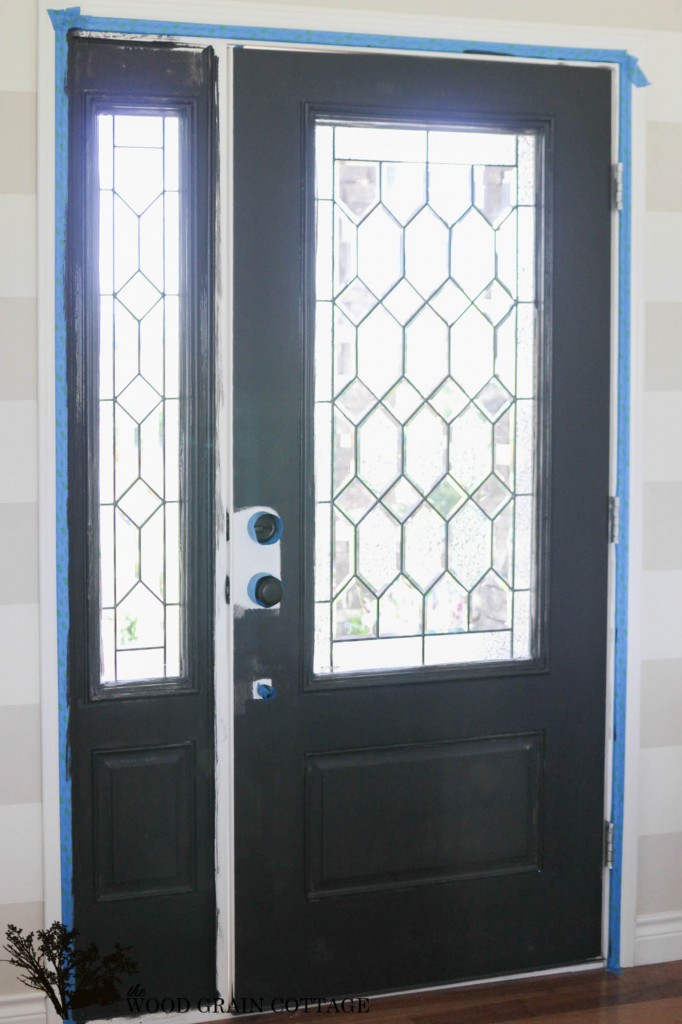 I used my angled brush for the grooves of the door, and around the door knob, which I quickly rolled over with my smooth roller…
And for the areas next to the trim, I also used my brush…
Step 3: Remove the tape:
As soon as I had my final and last coat of paint on the door, I started pulling off all the tape. I was left with super sharp lines…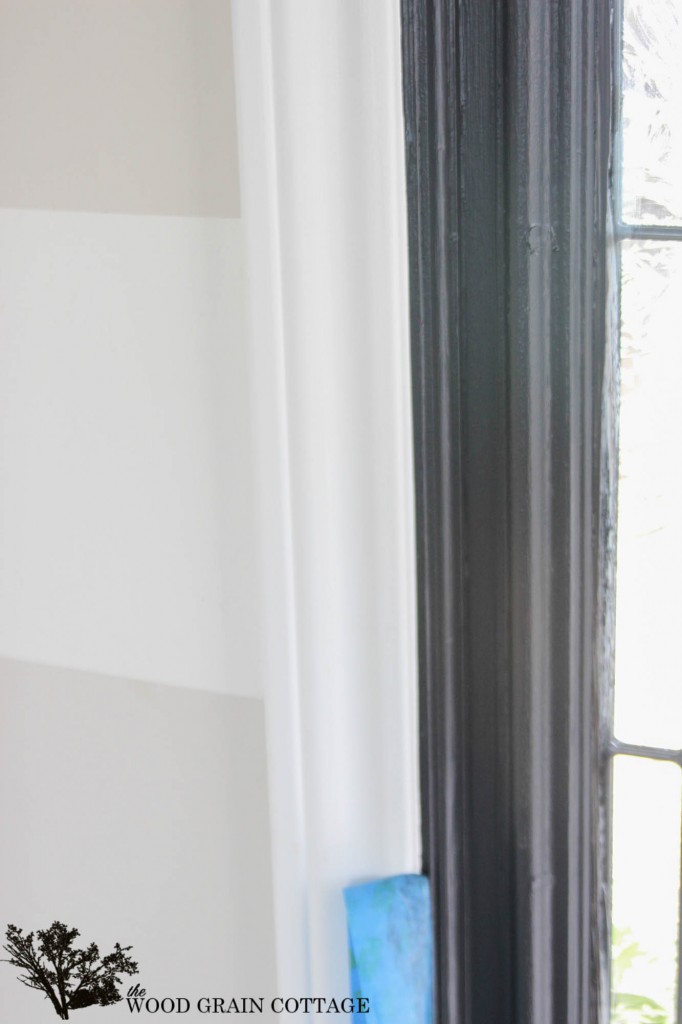 The key to get sharp lines, is to press the tape firmly against the surface right before painting, then to pull off the tape as soon as the last coat has been added. The paint cannot dry on the tape.
And for all those teeny, tiny areas that my regular brush couldn't reach, I used a small craft brush. Works like a charm!
Also, I didn't tape around the glass portion of the door because we had a few areas where the glue had seeped out from underneath the trim during manufacturing. Instead, I used a razor blade to trim off what I could, then painted over it, let it dry and used the razor blade to gently remove the excess paint. It comes off really easy. If we didn't have the glue issue, I would have taped the glass as well. But as is was, the tape wouldn't have given me a very straight line over the lumpy and bumpy glue. Razor blade to the rescue! 😀
Here's how it looks now…
I'm so, so happy I decided to paint it….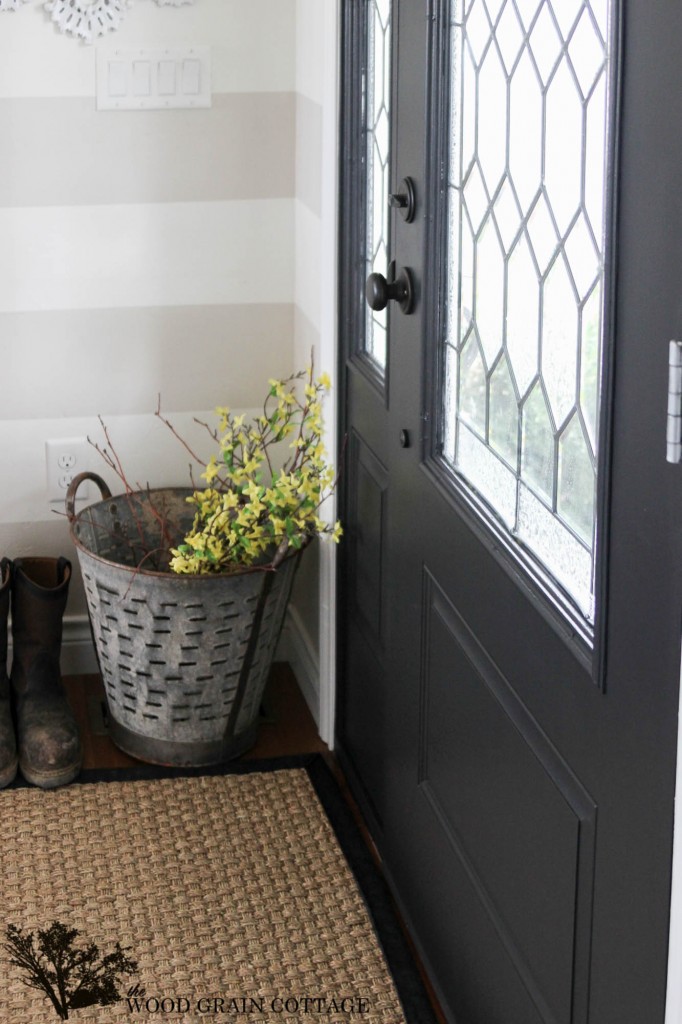 It makes such a huge difference in our entry way. Kind of like night and day difference.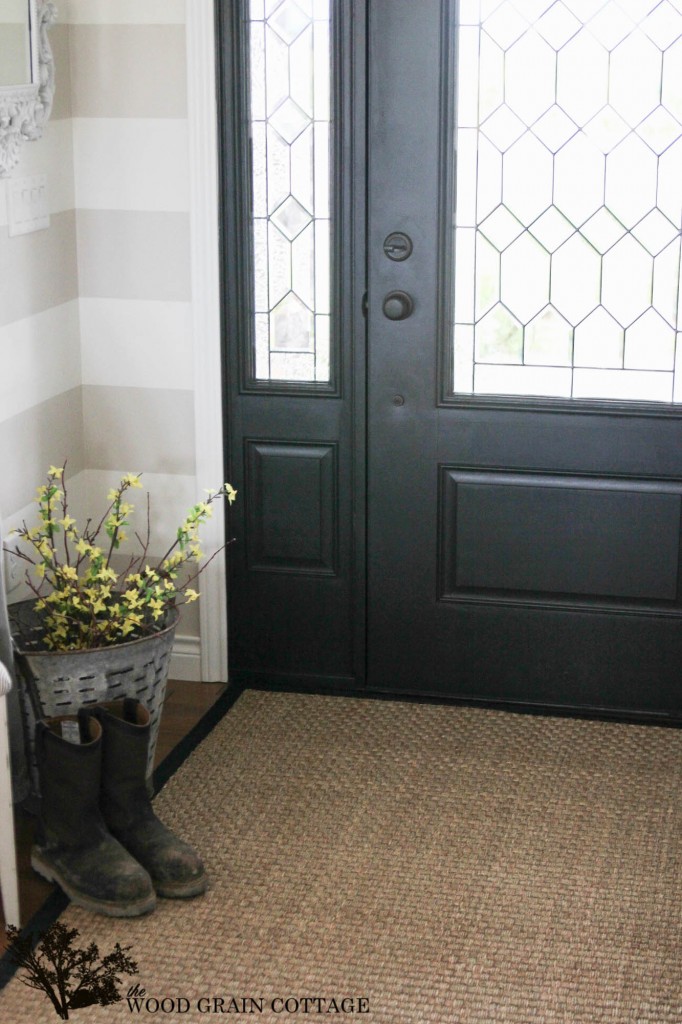 And now, we have a pretty black door that's set the stage for the rest of our entry way…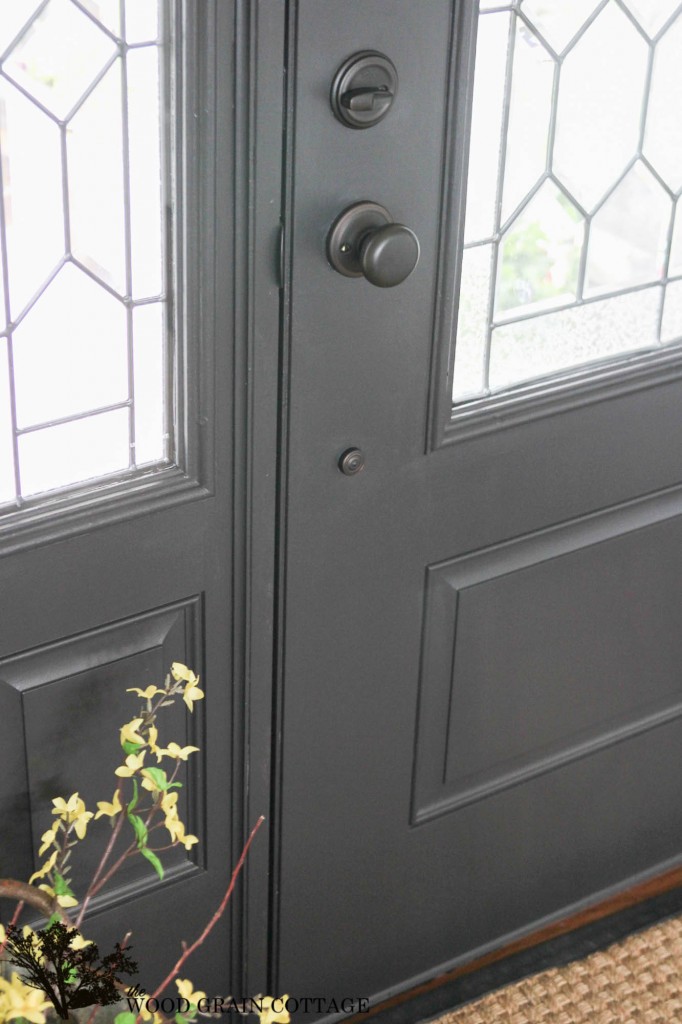 I can't wait to get started, but in the mean time, I'm enjoying our new front door…

Enter the Home of ScotchBlue™ Painter's Tape Contest at www.scotchblue.com/homecontest October 1 through November 15, 2014 and you could win $5,000 to put towards a home makeover!
The first 500 to submit an eligible entry will receive one (1) roll of the new ScotchBlue™ Painter's Tape with Advanced Edge-Lock™ Paint Line Protector!
Check out this project as a featured project example in the contest!
Contest open to legal residents of the U.S. and D.C. (excluding AZ, MD, NJ, ND, TN and VT), who are 18+ (19+ in AL & NE and 21+ in MS) at the time of entry. Void where prohibited. Enter from October 1, 2014 at 12:00:01 a.m. CT through 11:59:59 p.m. CT on November 15, 2014. All contest communications, entry/judging criteria and details subject to the full Official Rules. To enter and for Official Rules, visit www.scotchblue.com/homecontest. Sponsor: 3M Construction and Home Improvement Markets Division, St. Paul, MN.
You can also follow along here:
ScotchBlue.com
ScotchBlue™ Facebook page
ScotchBlue™ Twitter page
ScotchBlue™ Pinterest page
I am proud to be a 3M sponsored blogger, and, as part of my responsibilities, I get the opportunity to evaluate ScotchBlue™ Painter's Tape. Opinions are my own and additional products used in the project were selected by me.