There are a few existing things in our house that we're temporarily keeping until the time comes to upgrade and replace them… our front door and the stair hand rail being two of them. In order to stay and blend in, they both desperately needed painted. I'll share more about the handrail later, but when we painted our exterior, I went ahead and painted the exterior side of our front door as well. Since we were still knee deep in demo'ing out the inside of the house, I didn't spend the time painting the interior side, knowing it would get scuffed up.
After we moved in, the interior side of our front door looked really out of place. I put it off for a little while, making it out to be a bigger project than it actually was, but as soon as I had it finished, the inside of our home looked drastically better. Never underestimate the power of paint, or painting your front door.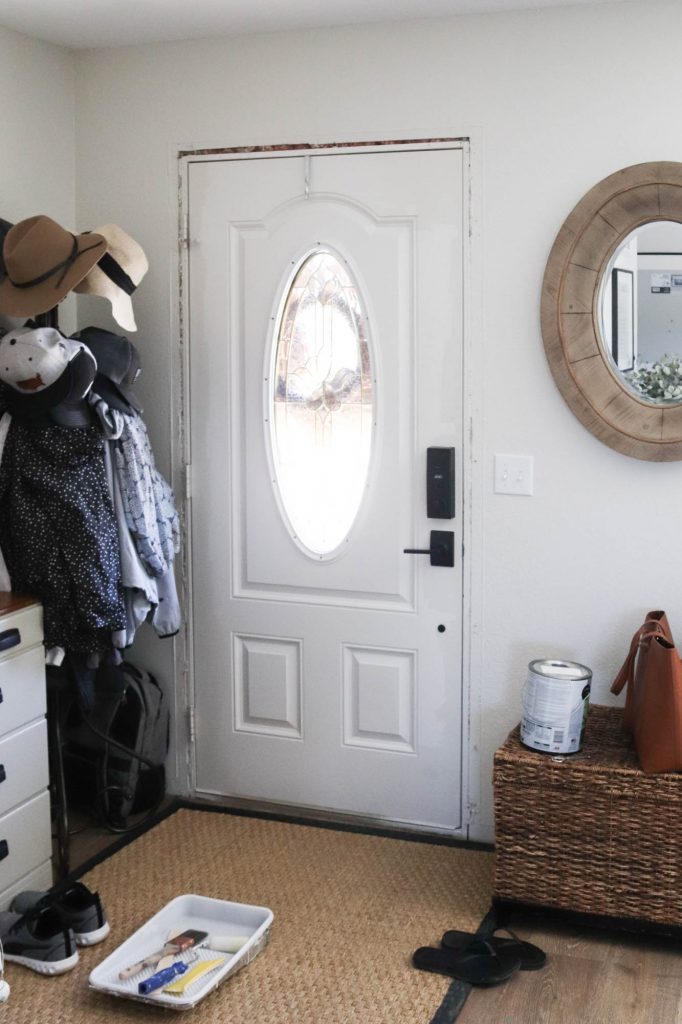 I toyed around with the idea of painting the interior of our door a different color than the black exterior, but decided to make it all the same for now. We still have so many things we're working on in the house, so I decided to keep it classic. There's a possibility it may change colors as we continue to get a firm grasp on the direction of our entry, but the black paint has done wonders.
I used Onyx by Benjamin Moore in satin. It took about three coats and it was incredibly easy. Because we don't have trim installed yet, I didn't need to tape anything off. I also discovered long ago that using a razor blade to scrape any paint off of the glass portion of the door works wonderfully.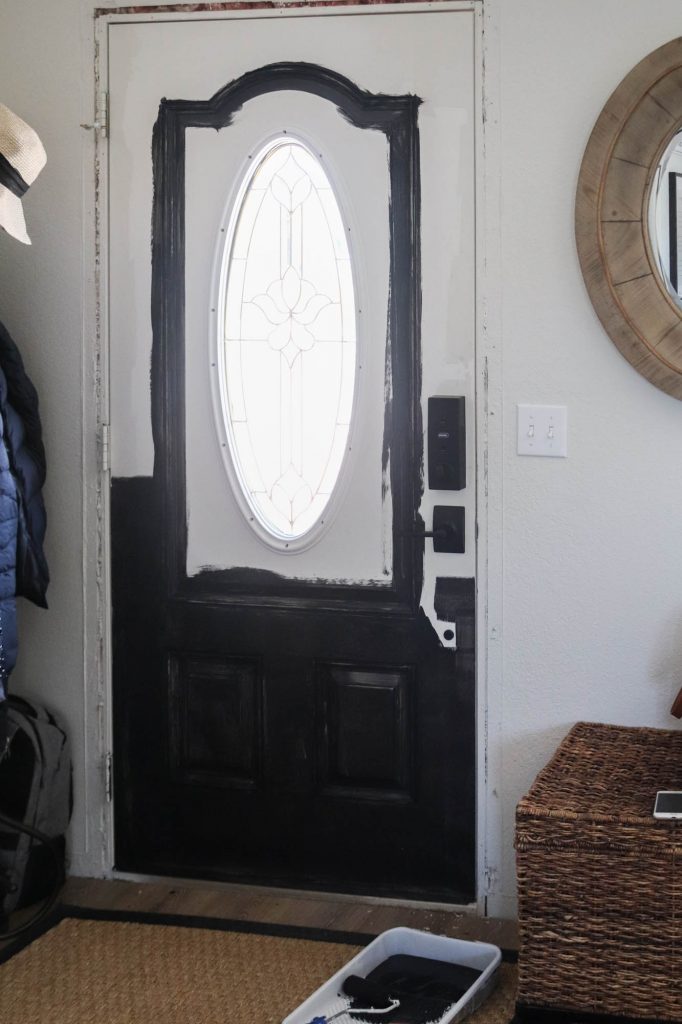 Even though we still don't have door trim installed (hopefully soon), this was a major upgrade that didn't cost us anything since we had everything on hand already.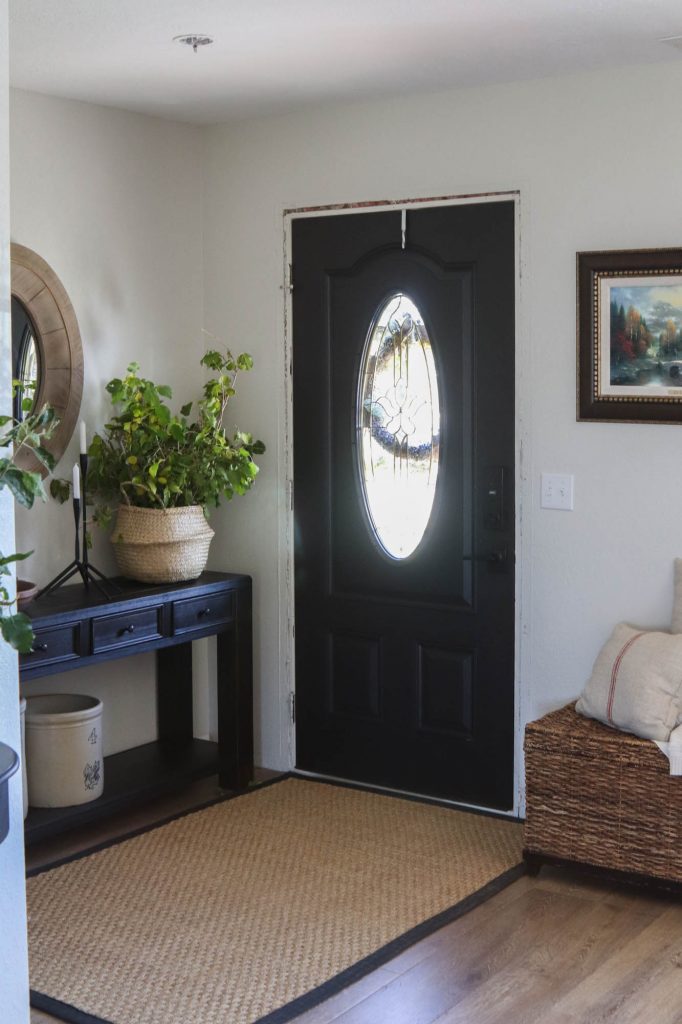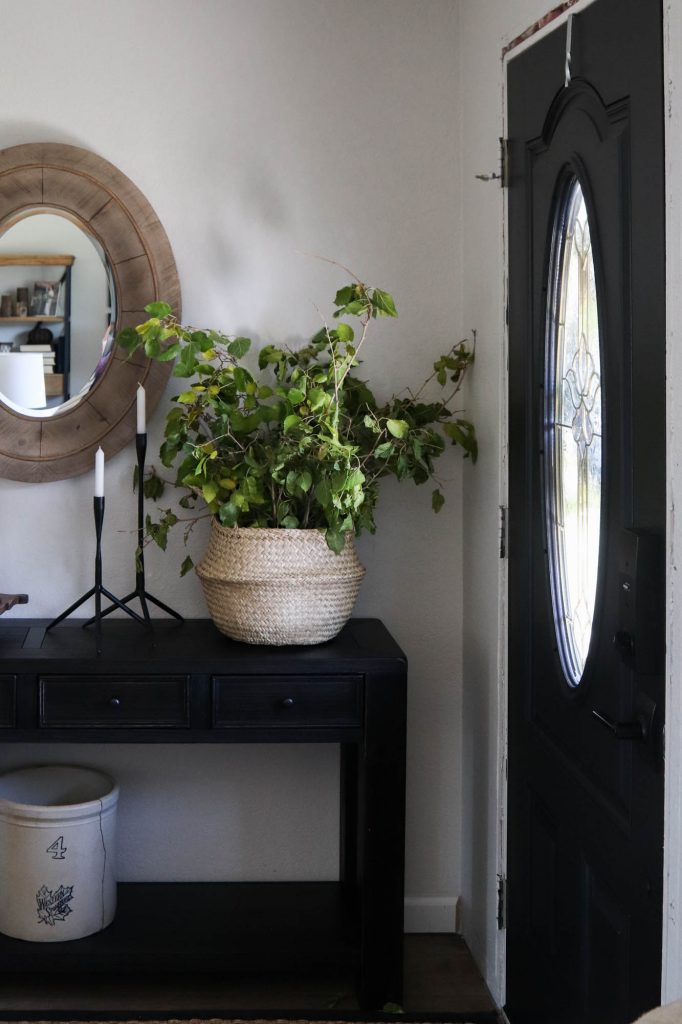 Paint has such a magical, transforming ability. The door definitely isn't our style, but since we're not planning on upgrading it for a little while, the black paint has made it feel much more like us.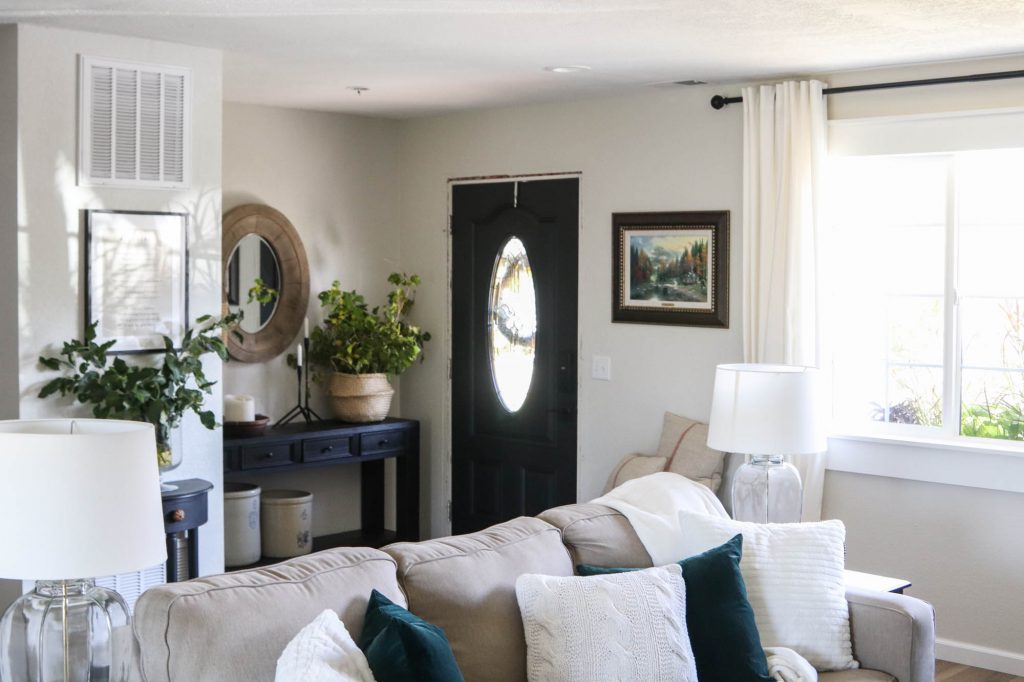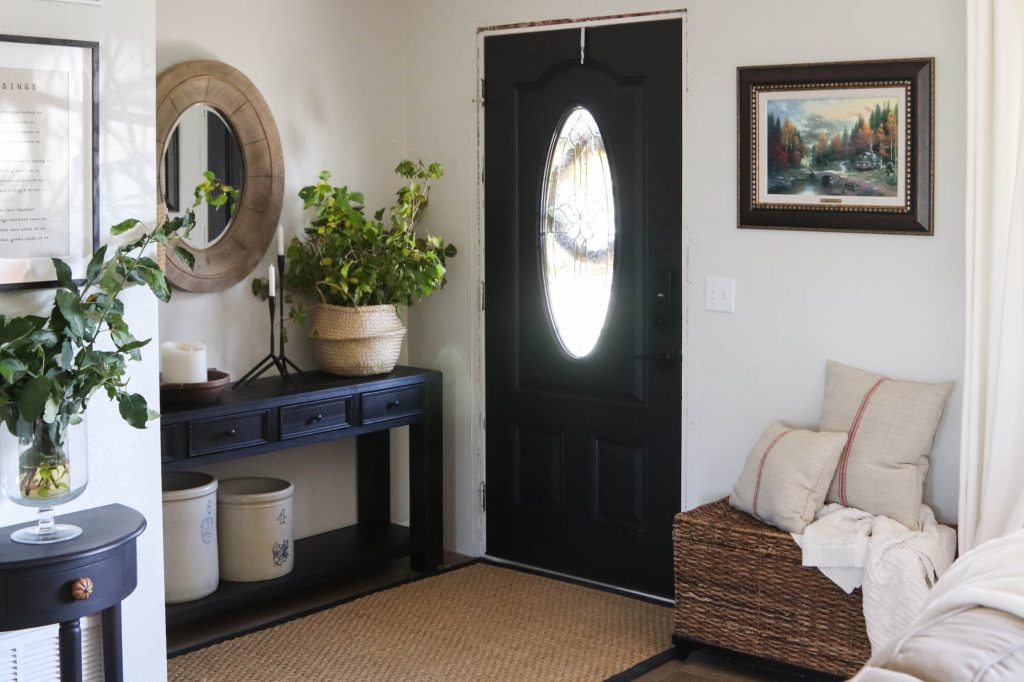 If I'm honest, painting the door black was the start of our entry way really coming together. There's still a long list of things to do, just like everywhere else in the house, but it's already come so far!
Here's what it looked like, right after we moved in…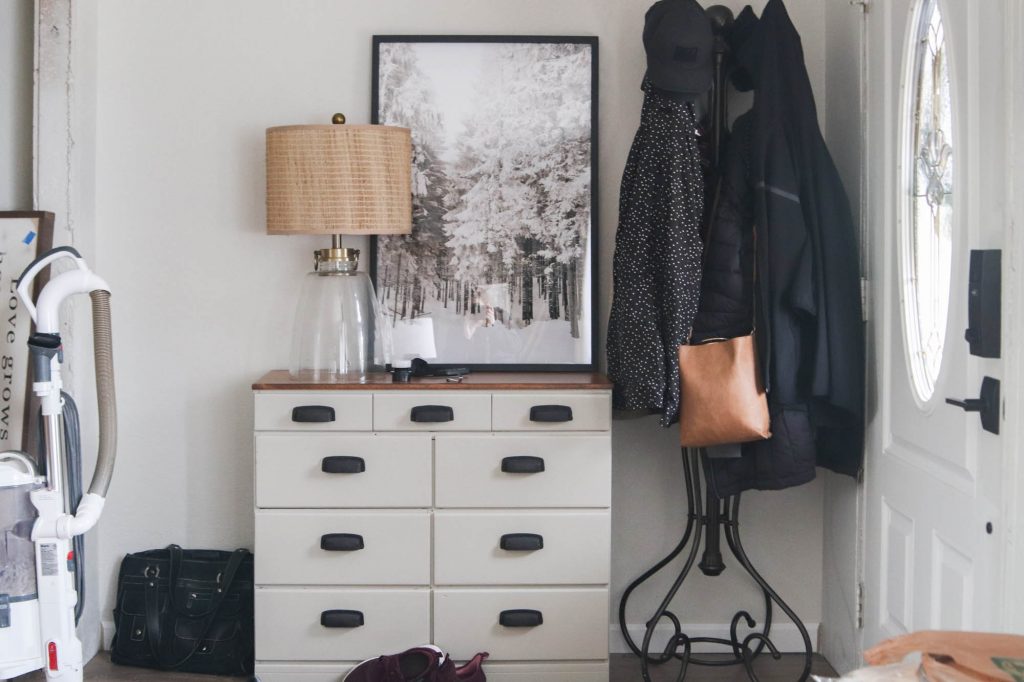 And here's where we're at today…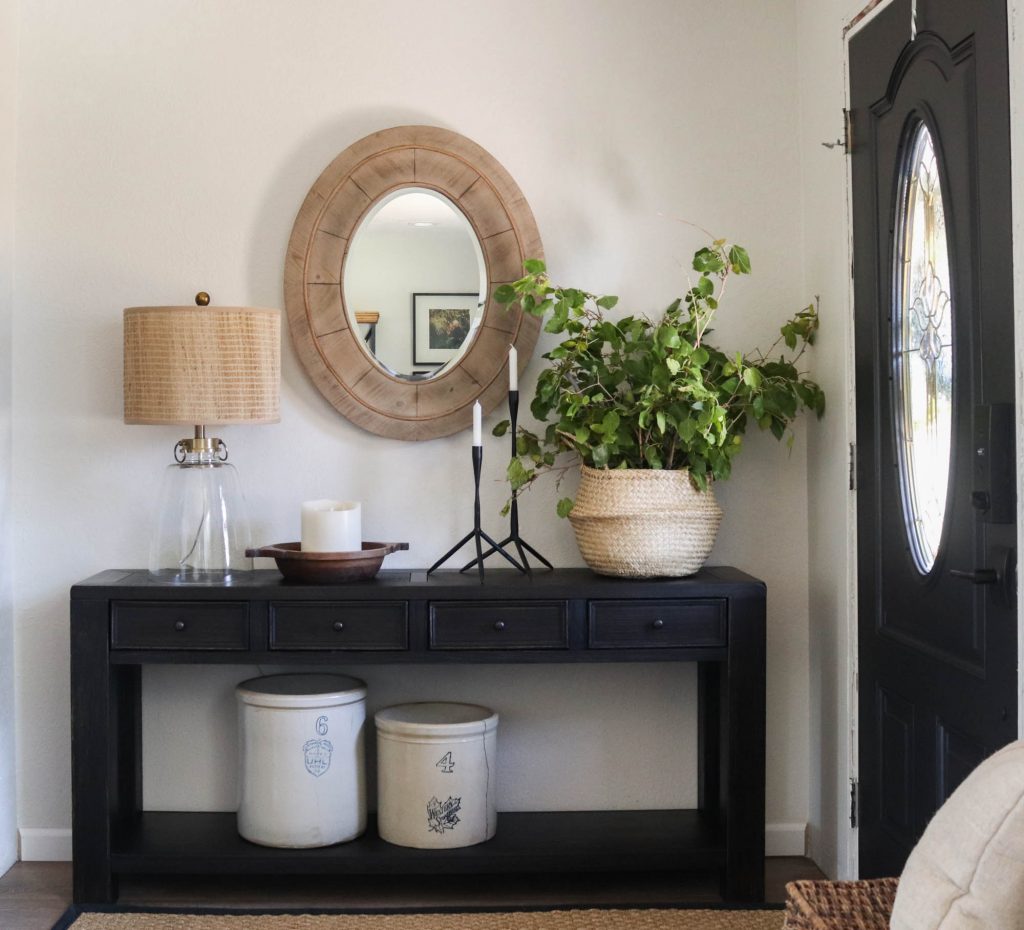 Shop The Room:

I'm looking forward to building from here and seeing how much more our entry transforms!
Pssst… I just went back and looked at our first home tour… wow, we've come a long way!