I'm here sharing our first home tour in the Willow House! I've always loved looking back on past home tours. It's fun to see the progress that's made and all the changes that happen year after year. This tour will be one we'll really enjoy looking back on. We have so many projects in the works, and so many unfinished projects, but even through the chaos, we are loving living in this home. We love going through the house, piece by piece, making it ours and really putting our stamp on things.
As we've been living in the house, we keep coming up with new ideas and plans for the future. And I'm sure it will change 100 times over, but actually living in the house always brings a different perspective on how we can improve the house and the space we're given. We have so many projects… and I know there's so many projects we haven't even dreamed up yet!
This tour is raw. I didn't move a single thing. I walked around the house the other day while I was resting from my oral surgery and started taking pictures. As frustrating as it can be sometimes to be living through a remodel, it's just as big of a blessing. We have a home. We have a roof over our head. We get to create and mold this house into a home… our home.
Since I've taken these pictures we've already made even more progress. Here's our kitchen, with the cabinets just barely installed, and some of our appliances in place.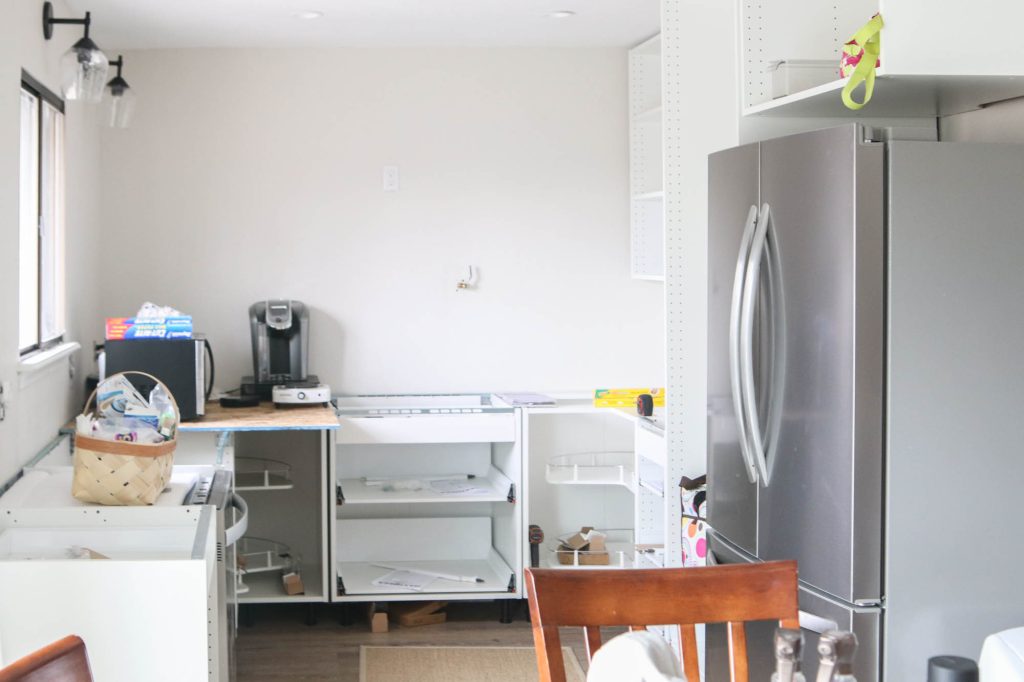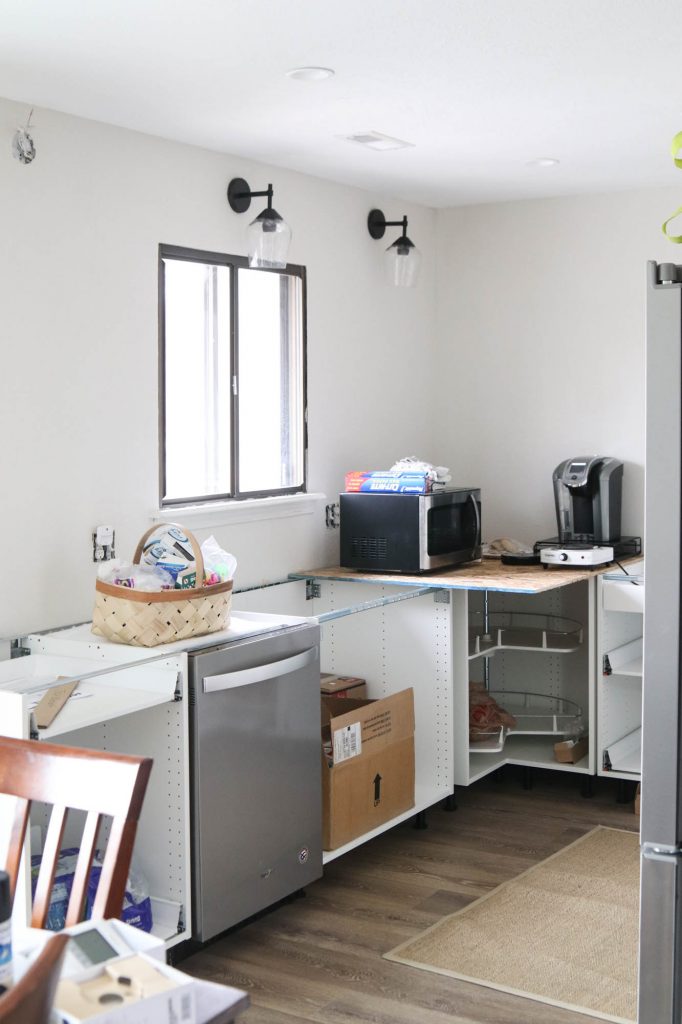 I have so many projects to share, but we were finally able to get our Ikea cabinets built and installed. We've been working on painting the doors and we're still waiting on countertops. The kitchen not being finished has easily been the hardest thing to live with.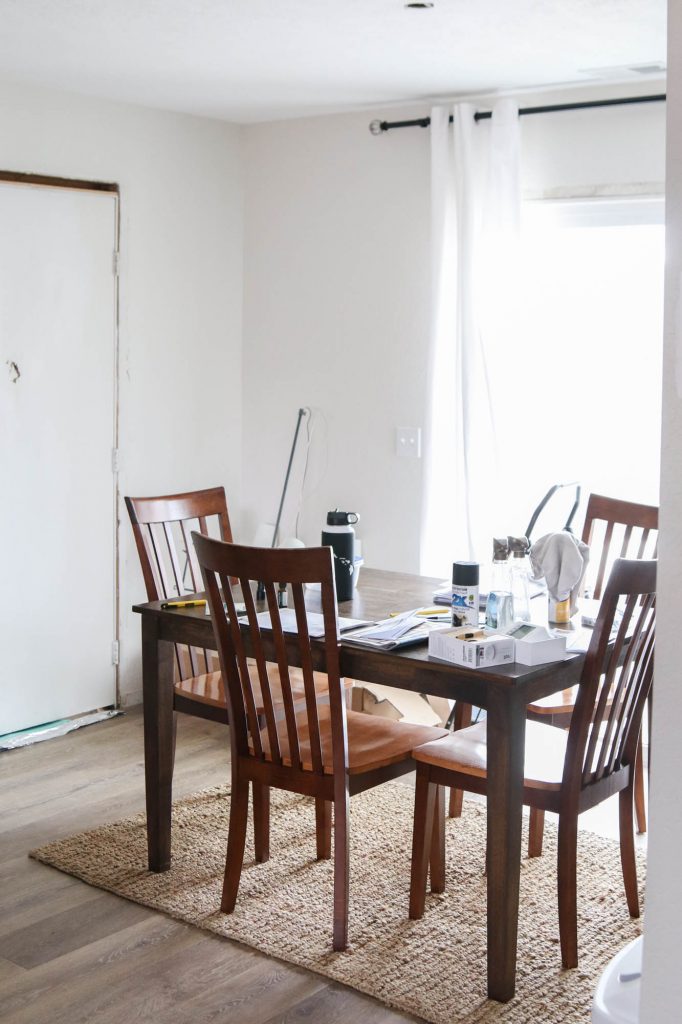 We've been budgeting out our monthly projects, so it will be fun to see what we accomplish each month. For March, we've budgeted out several interior doors. We can't wait to replace the one in the dining room that goes to the garage.
Once we get the new doors installed, we can finish installing our baseboard and the trim. It's such a small thing, but I'm really looking forward to it!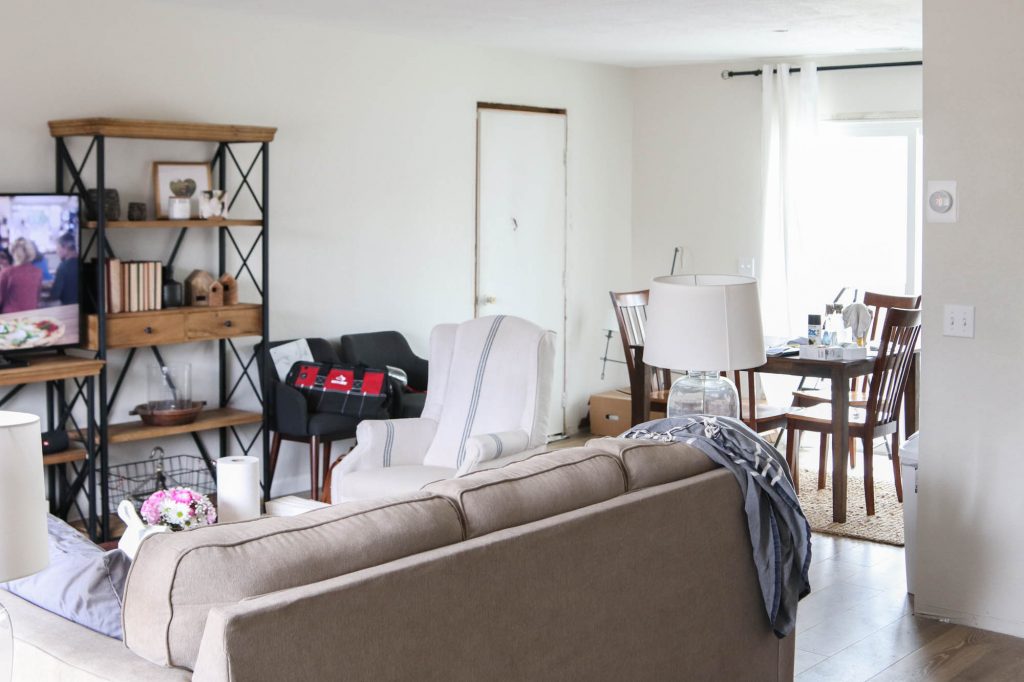 In the midst of all these projects, I'm enjoying dreaming up those new ideas that will really make this house feel special.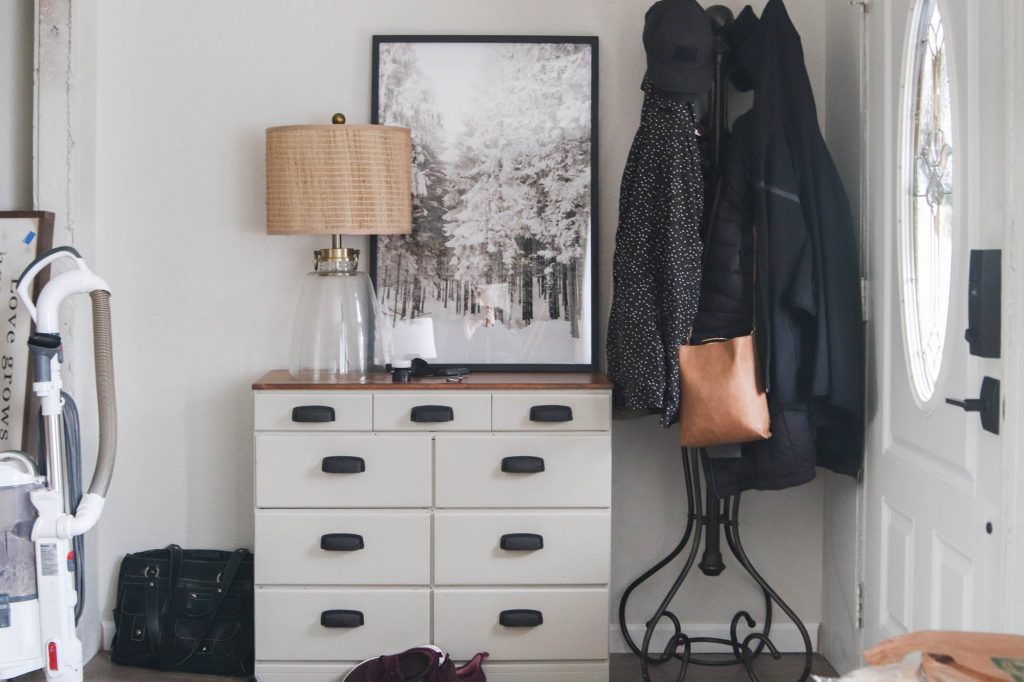 One of our top projects over the next month or two, will be finishing the stairs. We have some beautiful oak treads that we'll be installing, along with new risers. Like several other projects on the list, I'm really looking forward to seeing this one finished! As for the railing, we'll be completely replacing it. It's broken, wobbly and ugly.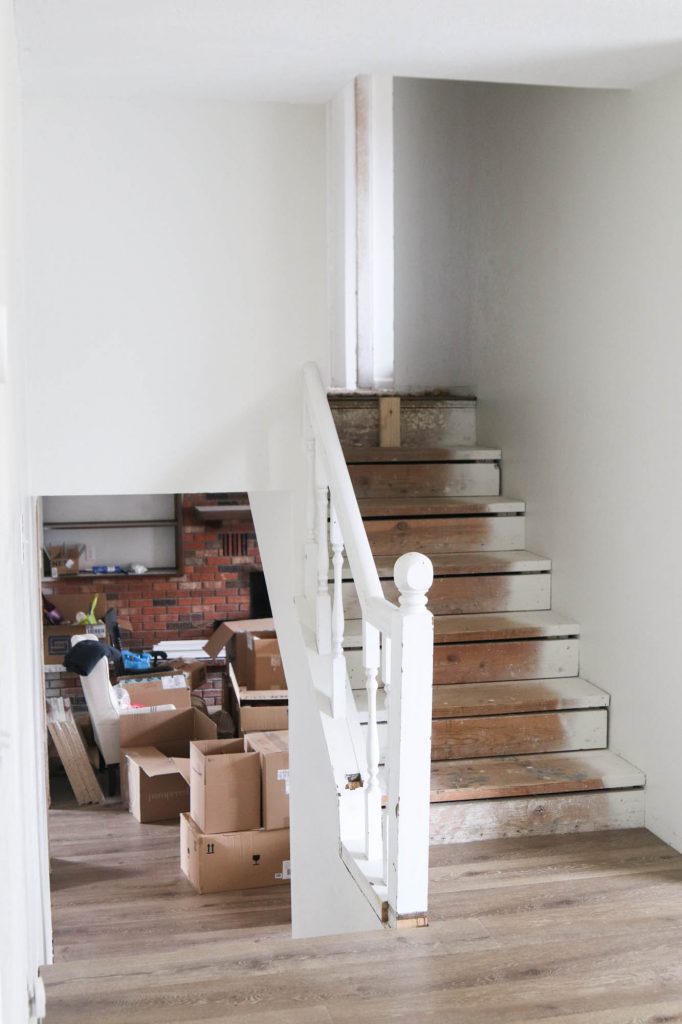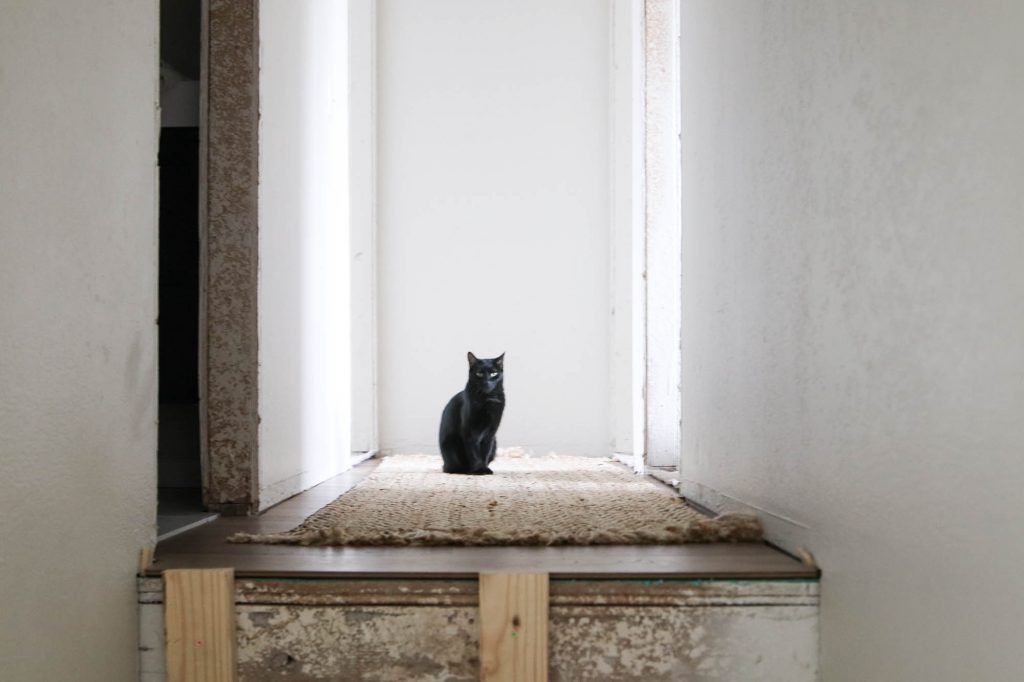 As for the office, well… it's just a room full of boxes! We actually don't have any office furniture, so it will be interesting to see where this room falls on the list as we start tackling different spaces. We'd both love a functioning office.
The guest bedroom is currently full of clothes. One of our "priority projects", is building/ installing the rails for the closets. None of them currently have any rails or shelves. When we were demo'ing the house, we removed everything that was existing. It was poorly installed and gross. Honestly, just having the closets usable will be huge… we'll finally have a place for all of our clothes!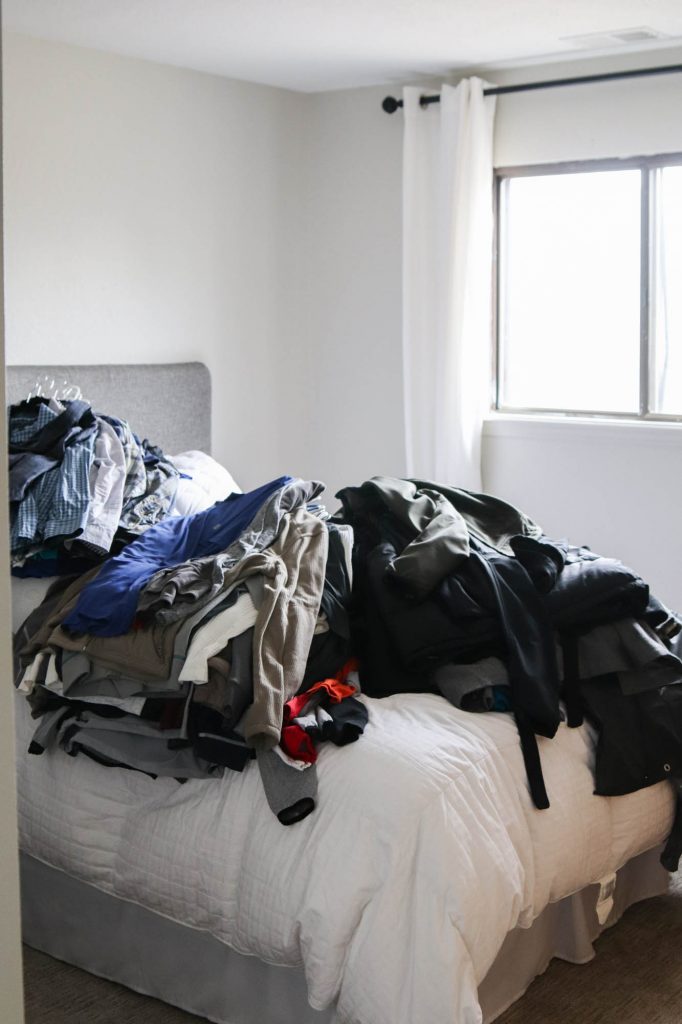 The master bedroom is a little bit better… but, it's definitely just a temporary set up. We've since installed some towel racks in the bathroom, but we were using chairs, boxes and anything else that would work…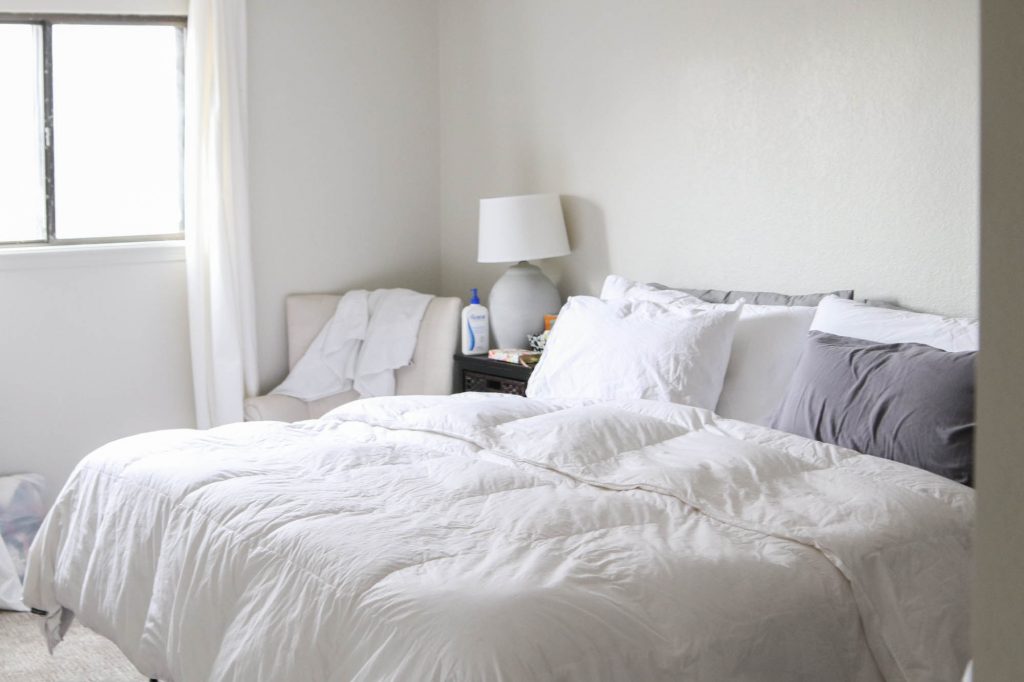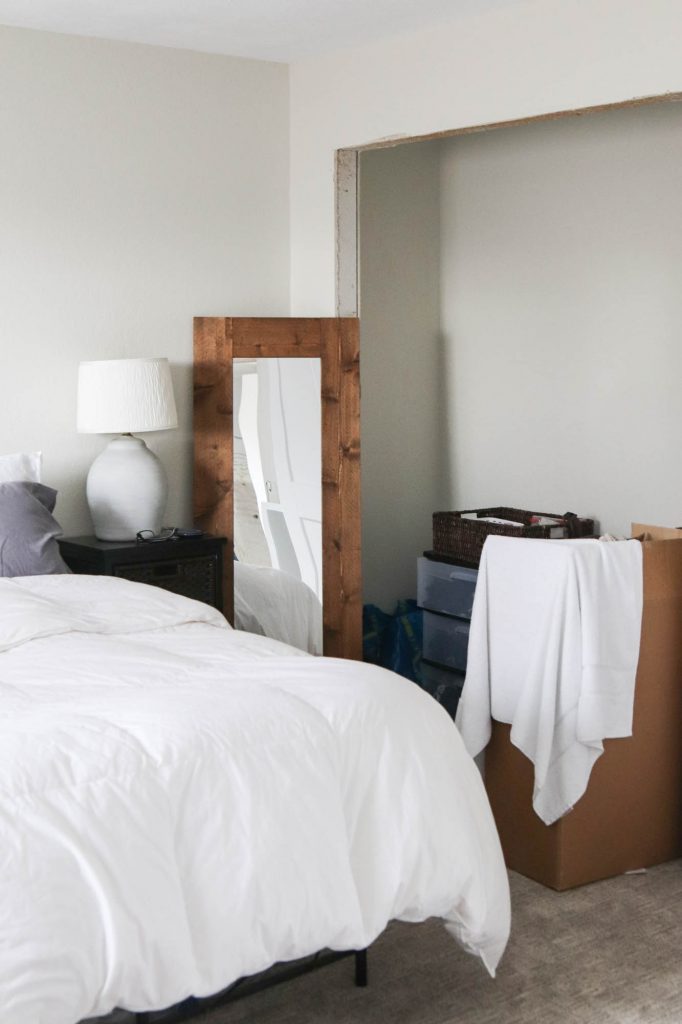 One project we were able to start before we moved in, was installing our Ikea Pax Wardrobes. The closet in the master bedroom left a lot to be desired, so installing these wardrobes was critical. Luckily, the bedroom had the perfect place for them. We still need to finish trimming them out, but they're usable in the meantime.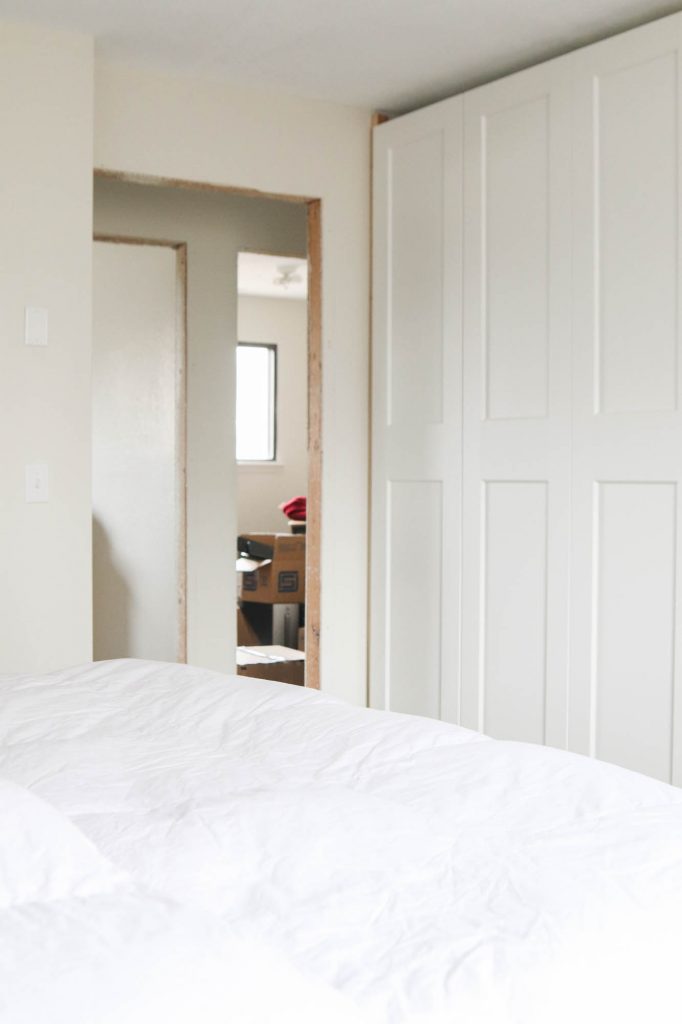 As for the master bathroom, well, we gutted it and left it at that. We're hopeful to start on it later this year. Until then, it's storage.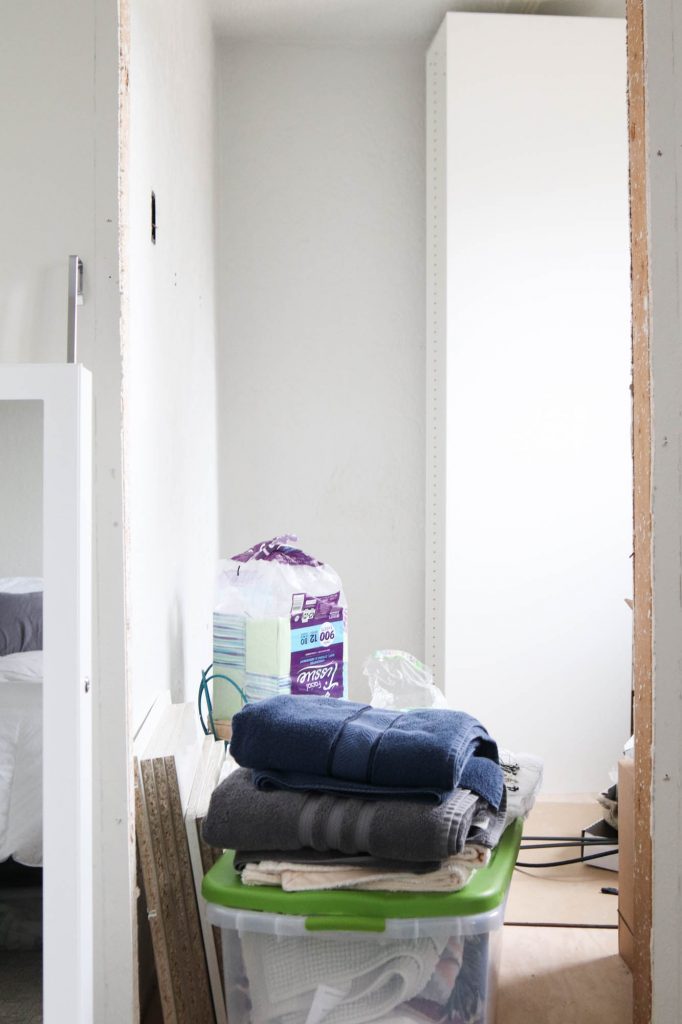 I can say, we've made a pretty great amount of progress in the hall bathroom. There are plenty of projects left to finish, but it's definitely usable and we love how everything has come together so far! I'll be sharing more about this room soon.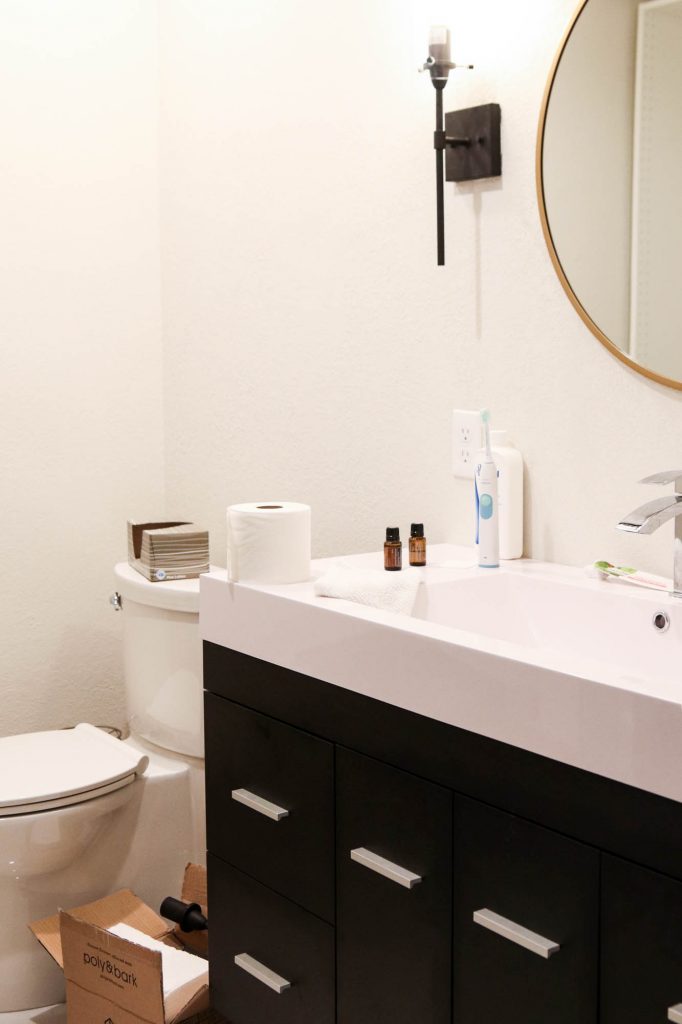 As for the basement…. well, it's pretty much a disaster. Since this picture was taken, we've added even more boxes and we're hopeful to get them unpacked as soon as the cabinet doors are installed in the kitchen. Until then, it's pretty much a wreck.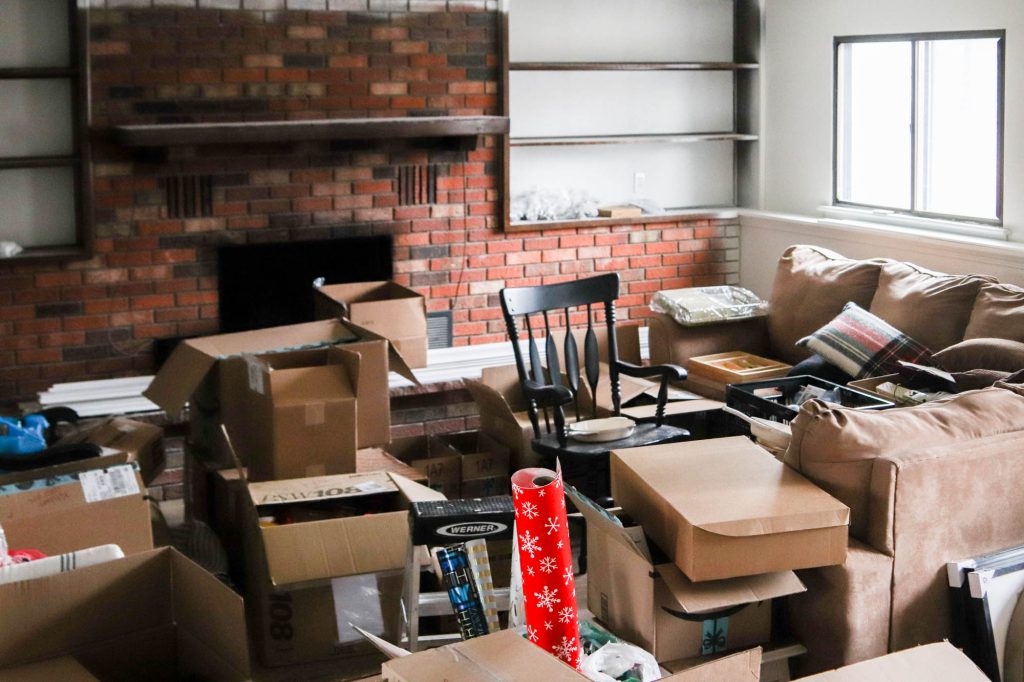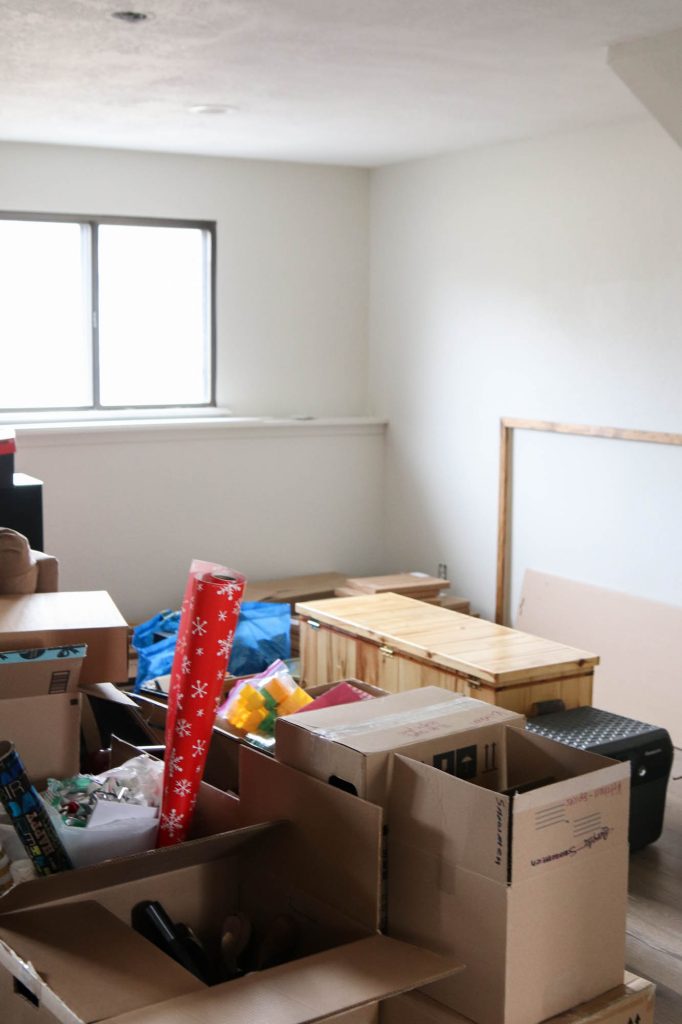 I can't wait to update the fireplace. I think about it daily, always creating a new plan of how we'll do it. I haven't decided on anything yet, but whatever we do will make for a great makeover!
We'll also tackle these stairs the same time we do the others…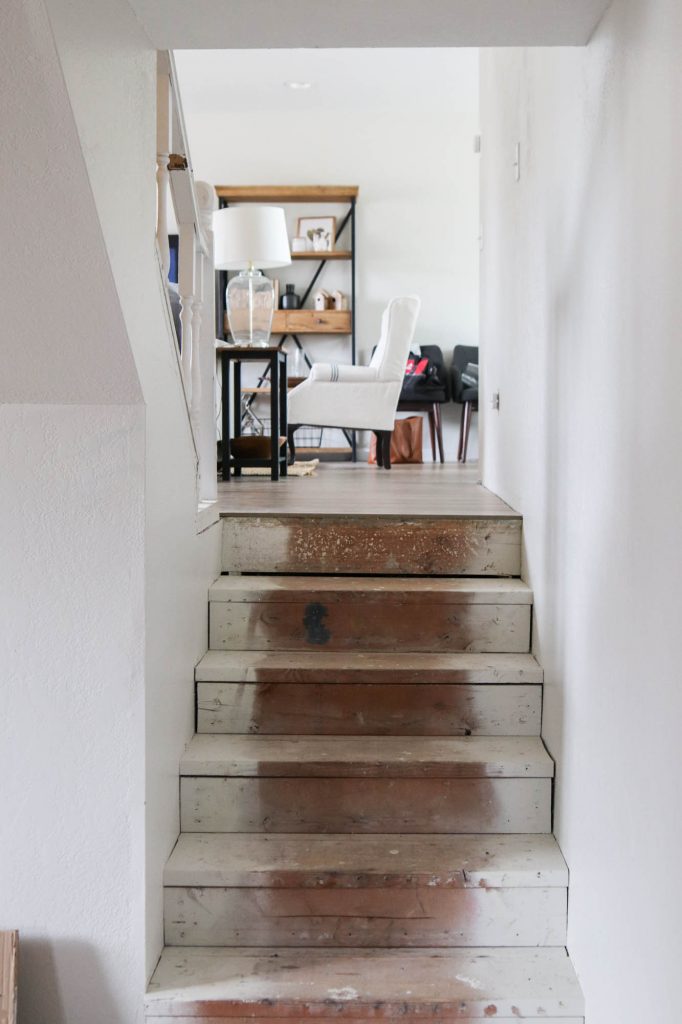 The laundry room is functional. That's about all I can say right now. It's a mess… but there's so much potential. One project at a time…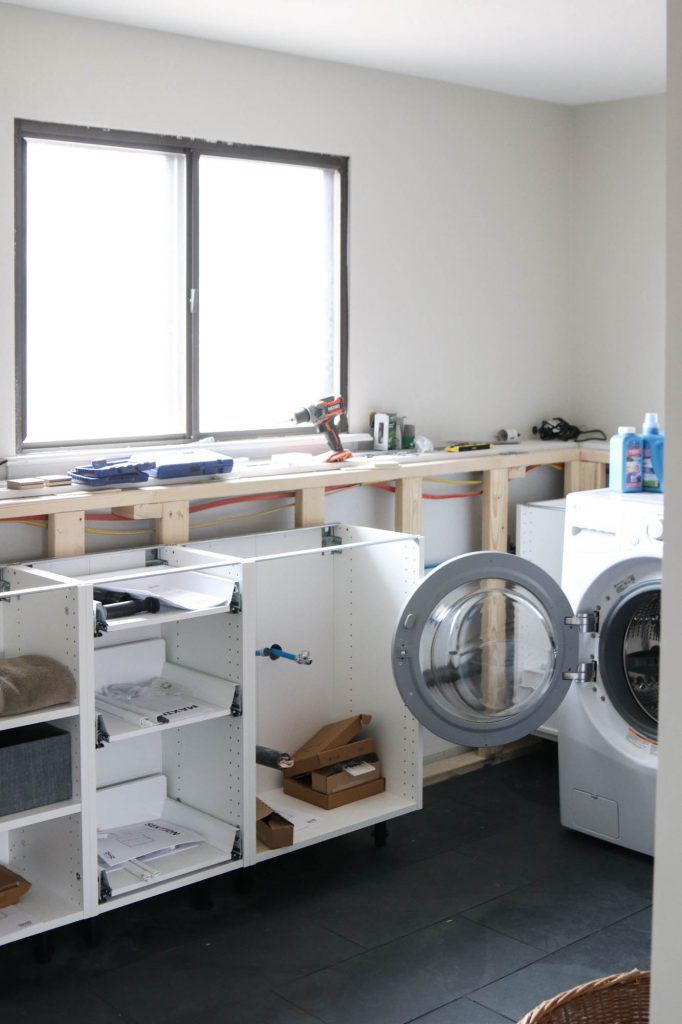 Hopefully we'll be ordering doors for all the cabinets soon. In the mean time, the large pantry cabinets are fully functional.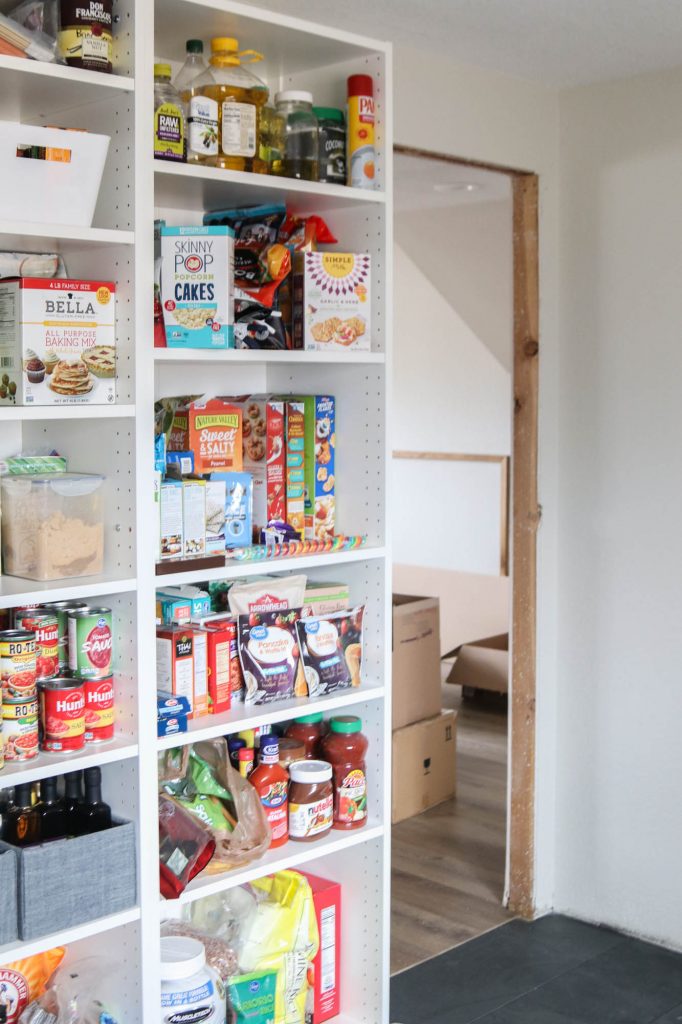 And, since we don't have a kitchen sink, we installed a utility sink in the old basement bathroom. It's better than doing dishes in the bathroom sink or tub. Like I've mentioned before, this room will be the last one we finish.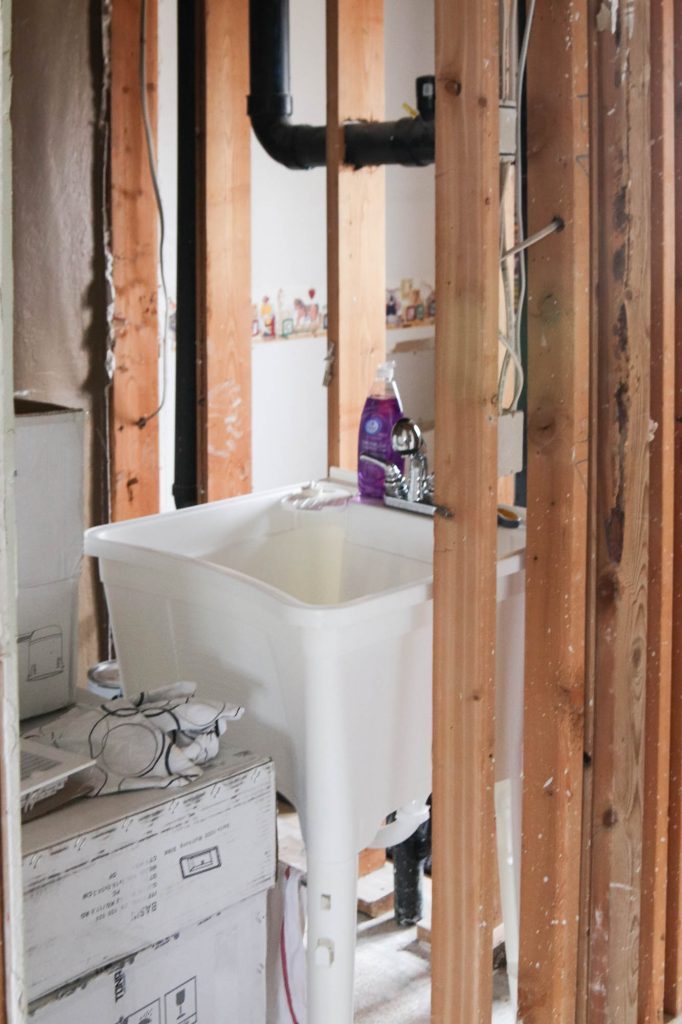 There's not a single organized space in the entire house… and it only gets worse in the garage. We have our hands full.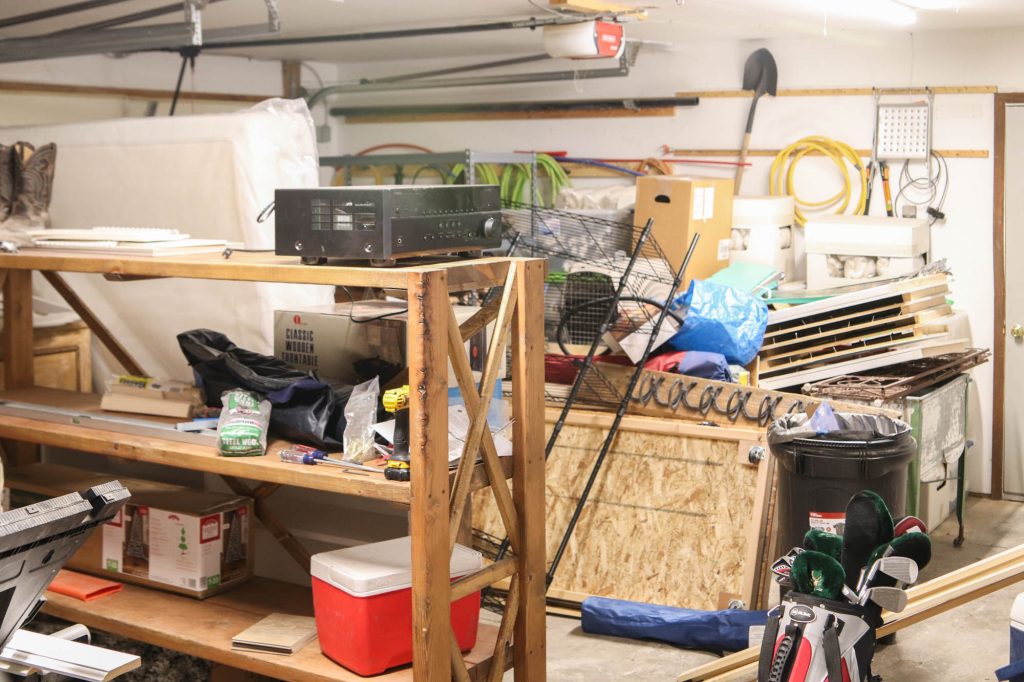 We're planning on having a huge garage sale this spring once the weather warms up, and I'm considering selling some of my home decor in my online shop. We have 3 more storage units that are full… there's just no reason to have that much stuff! I've made a promise to myself, and every single person who helped us move, that we will be downsizing. You reach a certain point where it's all just overwhelming and too much.
Here's to seeing what all we can get done… I'm looking forward to sharing my next home tour, whenever that may be, and seeing the progress we make!