It's hard to believe a month ago the room for our office was stacked full of boxes. We couldn't even walk around in there. Every day I'd walk by completely overwhelmed and frustrated with not being able to find certain things we'd be looking for. As soon as I knew I'd be back to blogging again, putting the office together became a priority. So today, I'm sharing the office design plan and I'm so excited to see it come together!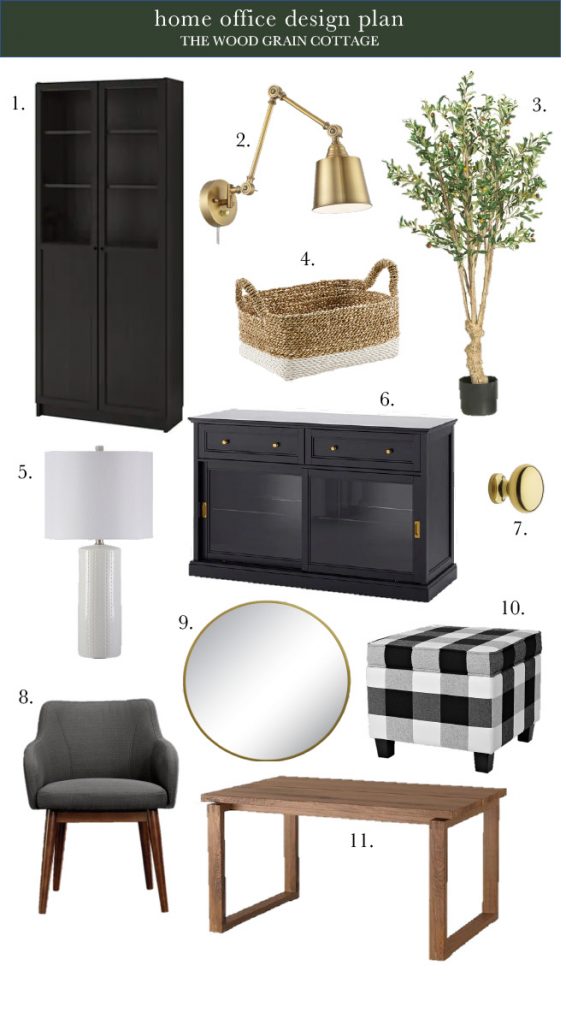 Affiliate links are provided below. Full disclosure here.
Since Todd and I will both be using the office, I wanted it to be a nice balance of feminine and masculine… but we all know how much I love black paint and furniture. It wasn't really a hardship. It's also a really small room, and we'll both be sharing the desk, with a chair on each side for our designated space.
With it being small, there's not a lot of storage space for office or craft supplies. We needed something that could store a bunch of stuff, and look good while it does it. After looking at so many different options, we decided on the Billy Bookcases from Ikea. I loved how customizable they are, but also how they looked. We also decided to use a dining room table as our desk. After looking at different options, the table made the most sense for the space we have, as well as the overall layout we were looking for the room.
Here's a breakdown of what we'll be including:
Ideally, with all of our other projects going on in the house, the office design needs to be easy to pull together. I'm really not wanting another room that's full of partially finished projects just waiting until we can complete them. This plan should accomplish that.
I also can't forget to mention how nice it will be to have a room that's "finished" in the house. I say "finished" lightly, because, uh, is a room every really finished? But having a room that feels pulled together is something we're both really looking forward to!
Office progress coming right up!