Our office….Sadly it's become the "catch anything and everything" room. And because of all the Christmas crafts, sewing projects and normal "office" and bill paying duties, our office literally looked like a tornado went right through it.
Anthony and I have both agreed that the office needs some serious help and a better organization system for my crafts, sewing, and daily household/ bill chores. 2014 is the year for a office makeover. Promise.
Those were really pretty, right? Ha!
My first step: clean everything out and paint the office! It's not typically the most fun part of the makeover, I'll give that to collecting all the accessories and putting everything back together, but the paint is such a huge part of the transformation. Time and time again I am completely impressed by the power of paint, and this is no different.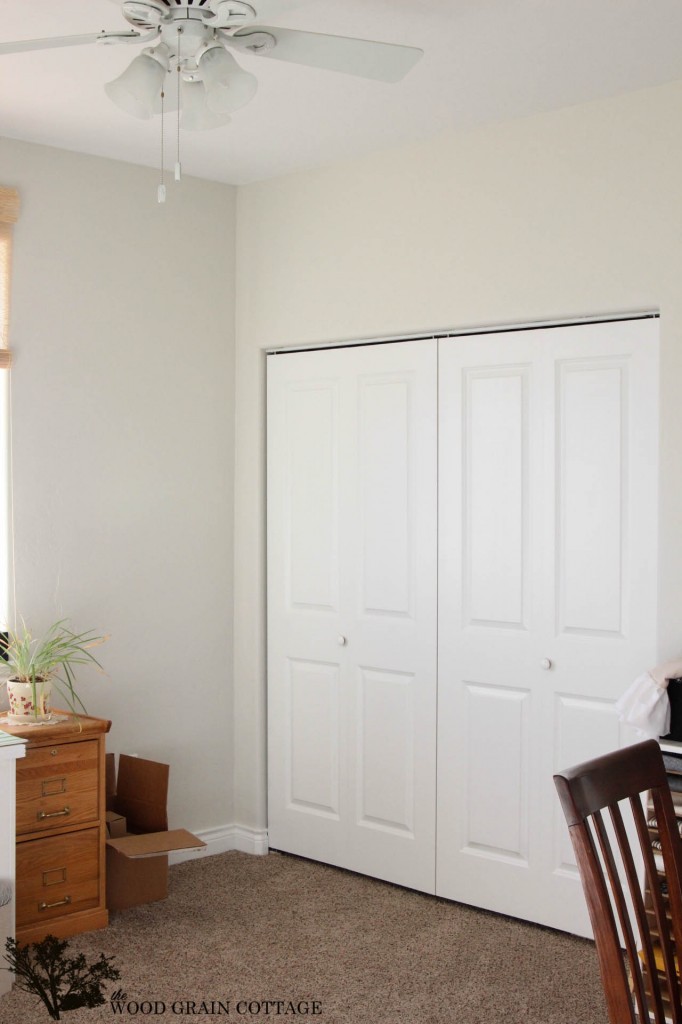 I've been straying away from a lot of the original paint colors that I chose for the house, because quite simply, we like neutrals. Palladian Blue, pretty as it was, is not a neutral color. And I'm ok with the decision that it's not the best color for our home.
And while I was at it, I painted the closet doors too. They're painted in my favorite bright white, Super White by Benjamin Moore. It's the same color that's on our living room walls and the trim throughout our home.
So, in comes Halo from Benjamin Moore. It's the same color that I painted the laundry room. It's got just a whisper of color, which I really love. I also know from the laundry room, that it looks divine with wood tones:
Yes, you can guarantee that this office with have plenty of that white and wood combo that makes my heart skip! After all, what would the Wood Grain Cottage be without wood?
I have a few DIY office projects coming your way really soon, and I'm just happy that things get worse before they get better!