I know I'm suppose to be focusing my time and attention on our office makeover… but inspiration struck hard for our mudroom and it was one of those, we must get it done now, types of projects for me (they happen sometimes). That, and I was really tired of the way our mudroom was functioning. Actually, let's just say it wasn't functioning and that we needed a better organization system. There, that describes it better.
The first thing I really wanted to do was install planking on the walls to give them a bit of character. Not surprising, right? I mean we've already planked three walls in our home (here, here and here), and I happen to know it's a sure winner for us.
So today I'm sharing our new mudroom planking, but first let me remind you what our mudroom looked like before we started…
I've been itching to install planking on those walls for as long as I can remember… finally!
This time for the planking though, we decided to install it vertically and used the v- groove paneling sold at Home Depot.
Anthony measured our space, then we cut down the panels with our table saw…
To attach them to our walls, he just nailed them on…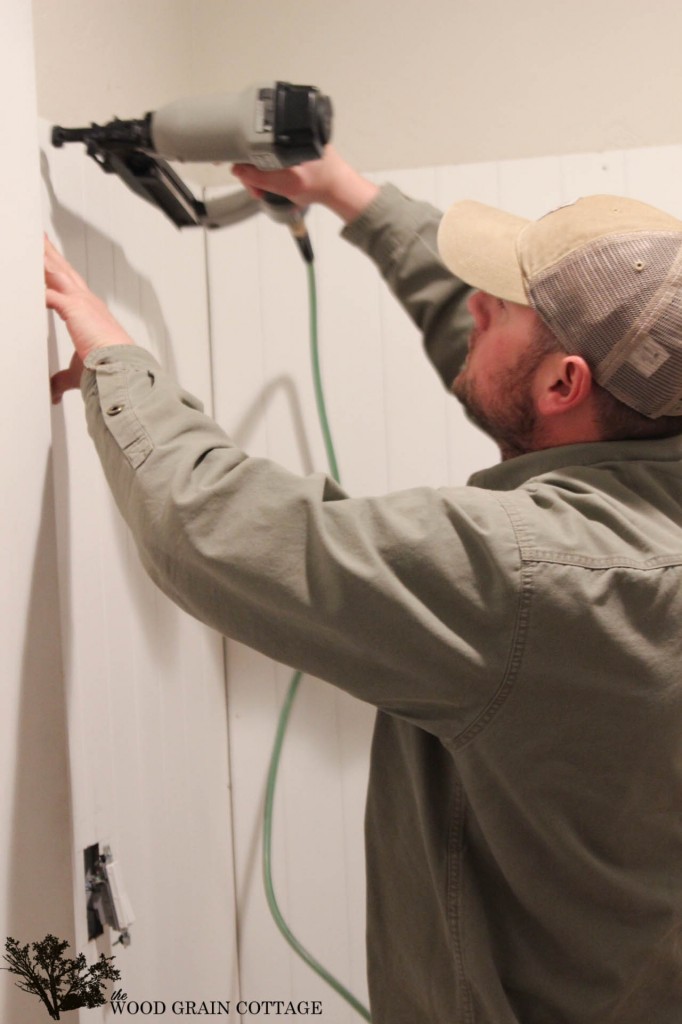 And to cut around our existing outlets, he just measured where they were, then drew a template on the paneling and cut them out with our jig saw…
Once the panels were attached, he started putting the finishing board at the top…
He made sure it was level…
Then just started nailing it on…
Here's what it looks like installed on top of the paneling…
Once he was finished, I grabbed my trusty caulking gun and started filling in all the gaps and nail holes…
Caulking is one of the most important steps in the whole process. It makes everything look seamless and adds that finished look.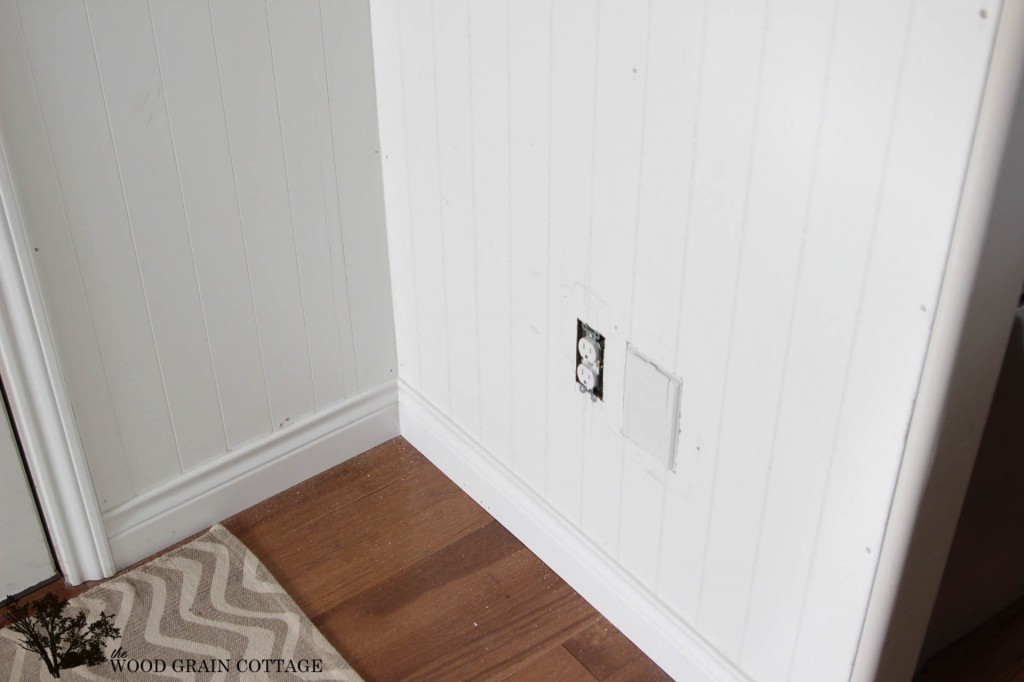 Once the caulking was dry, I started painting the walls super white by Benjamin Moore. I love this bright white.
Now I'm trying to decide what color to paint our back door… Do I go with a bright color (yikes, and probably won't happen. Neutral girl, remember?), a semi- neutral color, white, or black. That's a toughie… It's never been painted, so it really needs it. I know, just call me a slacker…
I'll be back later this week to share a few more tutorials, like that shelf you can see in a few of the pictures. This little mudroom has made wonderful progress and I'm so excited to start adding all the finishing touches!
Stay tuned!