Our master bathroom renovation is moving right along! The tile guys finished installing the tile on Monday, then finished with the grout and caulking Tuesday! I can't even tell you how excited I am. Not only for the fact that we basically have a new bathroom, but for the simple fact that we get our house back. Renovations are tough. Dust and dirt lands on every available surface, items are out of place, and the normal rhythm of "home" is gone. But it's all worth it for the cause.
I mentioned in my previous post that the demo was done, and we were ready to start over with new tile. I snapped a few progress pictures, but for the most part I tried to stay out of their way as they were cutting and installing the tile…
Yes, we went with subway tile! I know it's such a hot item at the moment, but we really love it…
As you can see from the picture above, we decided to have the subway tile around the tub run up the wall and around the window. I thought it would look the best, and that it would also make the tub and window seem like one. They've always felt a little disconnected, but the tile completely solved the problem.
And even though we don't have any neighbors, just a corn field, I'm still really anxious to get our new window covering. I have it picked out and am going to order it today. Anthony will have to drill into the tile to install it, but they're easy enough to pop out and re-grout. I honestly can't wait to get it installed. It's going to bring in great texture and warmth. I'll share more when we get it installed. 🙂
One of the reasons I chose subway tile, was strictly because of its classic look. It doesn't date. Just like white cabinets, it's been around forever. Anthony and I both didn't want trendy, and while subway tile really does seem like a hot trend, I know deep down it's really not. Plus, white goes with everything, and since I change my mind about every other day, this will be able to keep up and still look great. 🙂
And as much as I wish I could say the demo went flawlessly, it didn't. Our tub was nicked in a few places…
I won't kid you, I'm peeved about it. If you have any suggestions on how to fix it, please share. I know it won't be perfect, but I'd at least like to make it look as minimal as possible. I'm going to give it a good scrub to try and remove the grout residue, so hopefully that will help, but it won't take away the crack or nick.
But having a pretty shower does make up for it a bit…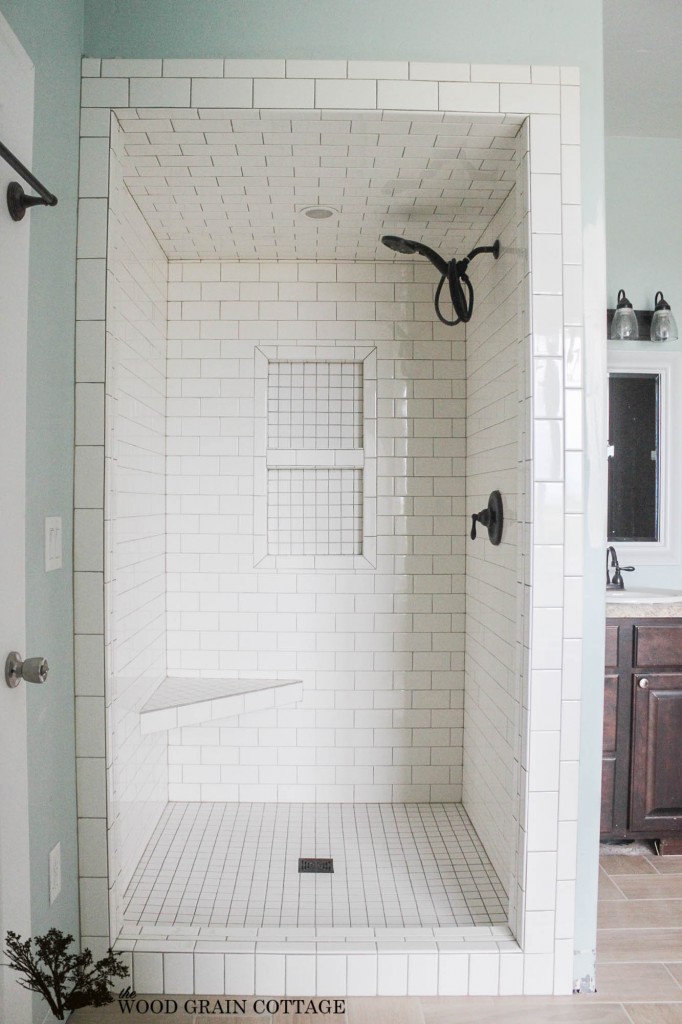 Again, I went with the clean and classic combo. The square tile mosaic on the floor, shelves, and bench seat were exactly what this bathroom needed for a bit of interest…
I was a little bit nervous about mixing the square mosaic with the rectangle subway tile, but I am so glad I went with my gut decision. I absolutely love the combination of the two.
We also need to get a glass door ordered. When we built the house originally, we didn't have a shower door in the budget so we used a plastic curtain. While that's completely fine, and we're going to be using the curtain until the new door is installed, I can't really make myself just put a curtain up anymore. The shower is so pretty. It needs to be finished.
And, now for the floor…
Just like in our fixer upper, I had them installed the tile in a herringbone pattern. It's subtle, but perfect.
Anthony and I searched high and low for the floor tile. I spent so much time visiting local shops, looking online, and trying to figure out what I wanted without spending an arm and leg. As you probably know, tile can be very expensive. Interestingly enough, we ended up purchasing our flooring from Home Depot. It's what we liked the best.
Plus, it had to have the right color tones to fit against our really dark brown cabinets. So many of the tiles were too brown, and it made the whole bathroom feel off. This tile is a soft light brown, but it also has a lot of gray, which brings in a different depth of color. And because I wanted the flooring to be simple, I chose to have the grout match the majority of the lighter tones throughout the tile. Often times grout can be too dark, and all you see are the grout lines. I absolutely didn't want that. Anthony wanted a bit darker, I wanted a bit lighter, so we compromised right in the middle. We're both thrilled with the outcome!
Now, apart from the bathroom being very, very dirty, we are in love! I've been painting color samples on the walls, and I think I have the new paint color picked out. Once the bathroom is painted, we can install the new trim and baseboards…
I'm looking forward to giving this bathroom some character. We need some shelving, additional storage baskets, and a back splash, just to name a few.
There's nothing like having a leak, that leads to a remodel. Who would have thought we'd have an entirely different bathroom 4 years down the road? Not me friends, not me. 🙂