I'm sharing all the details on our new hallway rug and how much character it added to this space. Plus I've included several similar rug options below!
I finally upgraded the rug in our hallway… The little brown rug that we had in there the past few years was wore out. It had a few snags, the rubber backing was starting to peel from regular washing's, and it had a couple of clorox stains by accident. It was time to upgrade. 
I knew I wanted a jute runner of some sort, and something that had a longer length to accommodate our long hallway… not just anything would work. I also wanted something with a subtle pattern, so that made it even trickier. I've looked and looked, but couldn't find the right combination of length, pattern and price.
New Hallway Rug
I memorized the dimensions just in case I ever stumbled across something on any of my shopping trips. And, as luck would be the case, I did just that…
While on a little shopping spree to World Market, I ran smack dab into a rug I loved. (Unfortunately, it's no longer available, but this rug is very similar!)
It was the right size, had the perfect subtle pattern and was on sale, making it a fabulous price! I couldn't wait to get it home…. it unrolled beautifully and fit our hallway perfectly. New rug for the WIN!
That pattern though…
It's especially lovely with the dark gray threading in the mix… it's exactly what I was looking for!
Needless to say, I'm quite happy with my purchase… And it's amazing what the right size rug can do for a space… Our hallway went from "conflicted with a tiny rug" to its own, cohesive space.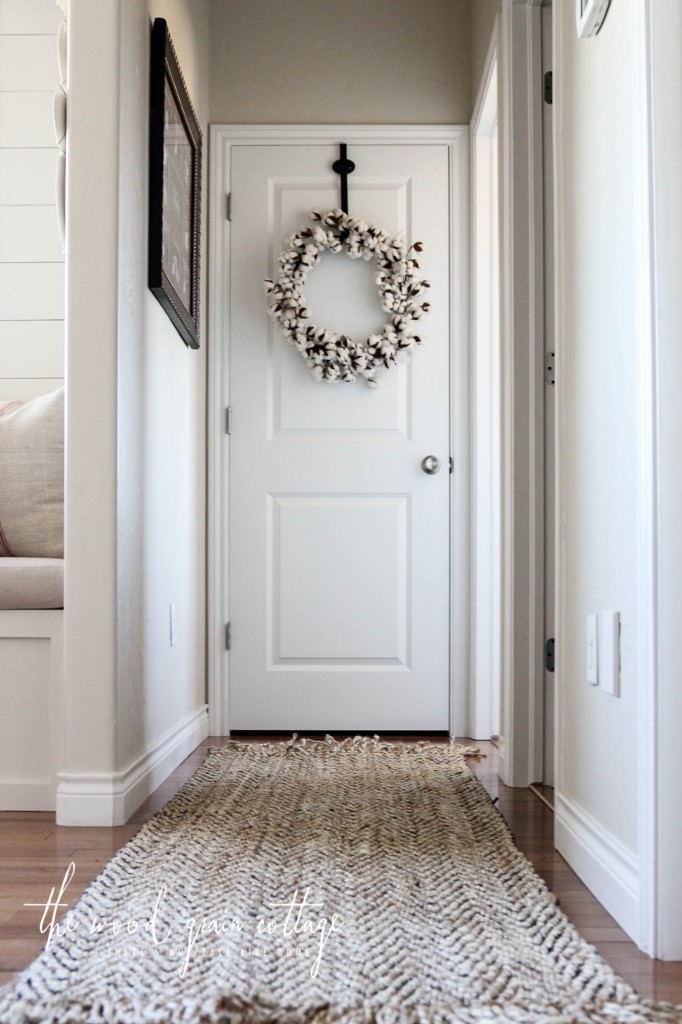 I love it when things like that happen! 🙂
---
 Looking for a similar rug?
Here are a few great options!

---
Stay tuned for later this week… I'll be sharing sources for all the rugs in our home. It's a tricky business, those rugs, so I'm happy to share anytime I find some I love! 🙂